N258 Million New Notes: Our Hands Are Clean, Sterling Bank Clarifies Alleged Cash Hoarding in Abuja Office
Sterling Bank has released another statement about the N250 million found in its Abuja office
The Banks stated that it never hoarded the money as it was cash meant for other branches
The statement also said that the Bank's Chief Operating Officer alerted the ICPC of the money in its vaults
Sterling Bank has again debunked claims by the Independent Corrupt Practices and Other Related Offences Commission (ICPC), accusing it of stashing N258 million in new naira notes at its Abuja Office.
A statement by the Bank's Public Relations Manager, Ademola Adesina, said that a monitoring team from the ICPC visited the Bank's regional office on Tuesday, February 7, 2023, and observed that the Bank's ATMs were dispensing all denominations of new naira notes.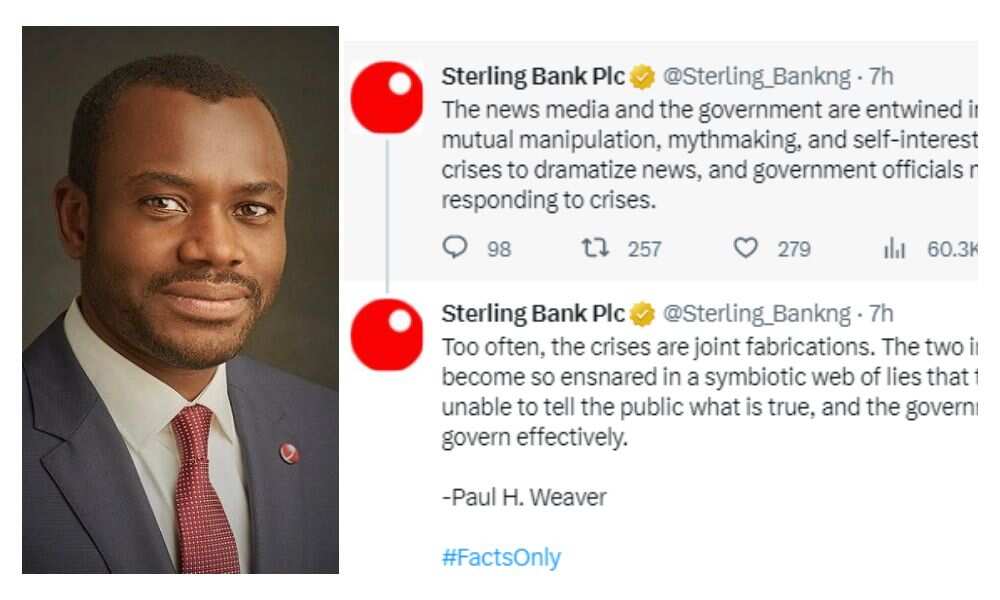 Sterling Bank listed branches meant to receive the N580 million
The Bank stated that its Chief Operating Officer, Raheem Owodeyi, told ICPC officials about the presence of the N258 million as the branch serves as a hub for cash distribution to other regional branches.
The statement listed branches serviced by the regional office, including Utako, Wuye, Seda Close, Kontagora, and the National Assembly offices.
According to the statement, the monitoring team visited other branches to confirm the Bank's statement about the cash disbursement, and the ICPC team reviewed records at its Utako branch to find out about the Bank's claims.
In the statement, Sterling Bank said it responded satisfactorily to ICBC's questions during the inspection.
Sterling Bank said:
"Approximately one hour later, officials of the ICPC, accompanied by the monitoring team, returned and invited two of the branch's staff for further questioning at the ICPC headquarters in Abuja; the two bank representatives returned to their offices on the same day with no charges levelled against them.
"The regulatory monitoring team members were informed of the sums contained in the branch's vault before the inspection. These sums were confirmed with a review of the records as presented by representatives of the Bank.
A Report said that Sterling Bank said the statement became necessary to provide an accurate report of the event and to counter what it calls a misleading narrative by the ICPC on Tuesday, February 7, 2023.
The statement said that amid the current cash crisis, Sterling Bank has consistently dispensed new notes via ATMs, made over-the-counter payments, taking the pains of Nigerians to heart, as evidenced by videos on social media showing it giving out refreshments to Nigerians at their various branches, the statement said.
ICPC bursts popular commercial bank, discovers N258m new notes hidden in vault, makes arrests
Legit.ng reported that The Independent Corrupt Practices and Other Related Offences Commission (ICPC) has made a new arrest, as the scarcity of the new naira notes persists.
The ICPC in a statement disclosed that its operatives found the sum of N258 million stashed in the vault at the head office of Sterling Bank in Abuja, The SUN newspaper report confirmed.
This finding came as a result of one of the Commission's operations to ensure that commercial banks and other interest groups did not disregard the apex bank's direction says a statement by ICPC spokesperson, Mrs. Azuka Ogugua.
Source: Legit.ng