Airbus Says Nigeria Will Need 159 Additional Aircraft, 17k Technicians, 14k Pilots, Others in 2042
Airbus' Marketing Director for Africa, Joep Ellers, has revealed that the Nigerian aviation industry will need a lot of innovation
Ellers said the Nigeria market will require as many as 159 aircraft by 2042 due to the country's population
He stated that the industry would need more pilots, technicians, and cabin crew members in the future
According to the multinational aircraft manufacturing company Airbus, airlines serving Nigeria would need an additional 159 aircraft by 2042.
The company's marketing director for Africa, Joep Ellers, revealed that this number of aircraft includes the 131 single-aisle planes.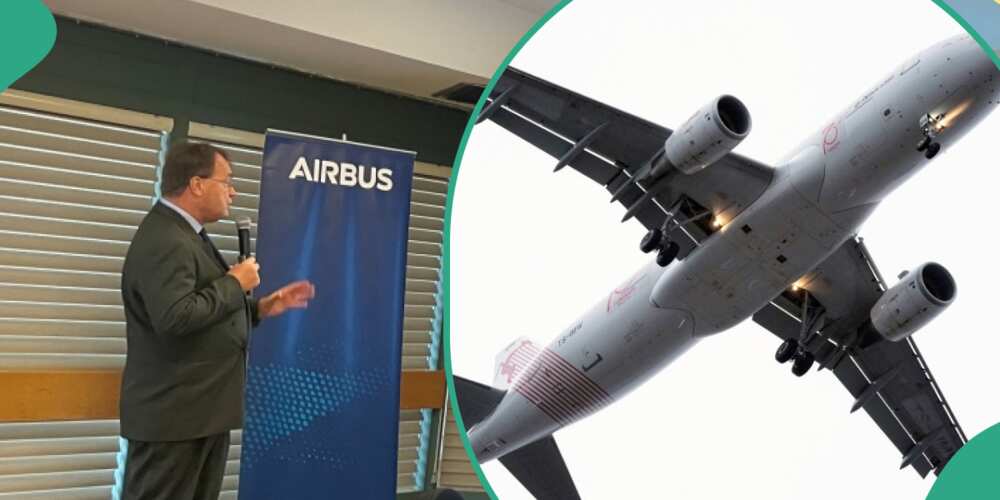 Nigeria's population requires more aircraft
He disclosed to journalists at a media briefing held on Tuesday, September 12, 2023, in Abuja ahead of the 7th Aviation Africa Summit and Exhibition.
PAY ATTENTION: Follow us on Instagram - get the most important news directly in your favourite app!
Ellers said the forecast is based on the country's current growth rate, adding that Nigeria's aviation industry holds an enormous economic opportunity for international and domestic investors.
He noted that non-African carriers carry 80 per cent of traffic into Africa.
Airbus also predicts that the aviation sector growth on the African continent will drive average yearly service demand up by 4.1%, from $2 billion to $7 billion.
More pilots, technicians and crew members required
The company said the industry has created about 7.7 million direct and indirect jobs in Africa, predicting that about 17,000 technicians, 14,000 pilots, and 23,000 cabin crew positions will be open across Africa in the next 20 years.
In the wider African continent, Airbus predicts that 1,180 new aircraft will be needed for the continent by 2042, made up of 295 widebody and 885 single-aisle aircraft.
The Sun reported that Ellers revealed that airlines in Africa will require or move to new generation types aircraft to bring significant enhancement and the needed reduction in carbon emissions per passenger.
He asked airlines to acquire new-generation aircraft, noting that they were better, more energy-efficient and profitable in the long run.
Per Ellers, 75% of aircraft flying globally are old-generation type aircraft, while only 25% are the latest generation.
Aviation very critical in economic development
He added that aviation is pivotal in driving economic development across the African continent, job creation, and aiding domestic, intra-African, and global trade and regional integration.
"We're Disappointed:" Air Peace boss says 15 aircraft grounded abroad, CBN withholding firm's $14 million
Legit.ng reported that the Chairman of Air Peace, Allen Onyema, disclosed that the company spent about N78 billion on maintenance, and the funds went to foreign firms.
Onyema revealed that the airline has about $14 million stranded with the Central Bank of Nigeria (CBN), and about 15 aircraft are grounded abroad.
He said these during his address at the Annual Conference of the Nigerian Bar Association held in Abuja.
Source: Legit.ng