From Zero to Millions: Man Hits Goldmine in Snail Farming, Now Wants to Teach Others
Nigeria's expanding agricultural industry offers numerous opportunities for individuals to engage in various sectors, including snail farming. Snail farming presents a highly profitable business venture and ranks among Nigeria's most lucrative farming enterprises.
PAY ATTENTION: Сheck out news that is picked exactly for YOU ➡️ click on "Recommended for you" and enjoy!
Also referred to as heliculture, snail farming involves the cultivation of edible snails for human consumption or cosmetic applications. Despite its potential for sustainable income generation, snail farming often goes unnoticed by many Nigerians.
One man cashing out from snail farming is Henry Akpor Etineh, the CEO of Arapel Agro Farms Limited.
He specialises in growing the giant African land snail species for various purposes like meat, pet, slime, calcium, and snail blood.
In this interview, he talks to Legit.ng about how he started the practice, his techniques for growing giant snails, and how he plans to transfer the knowledge to other farmers.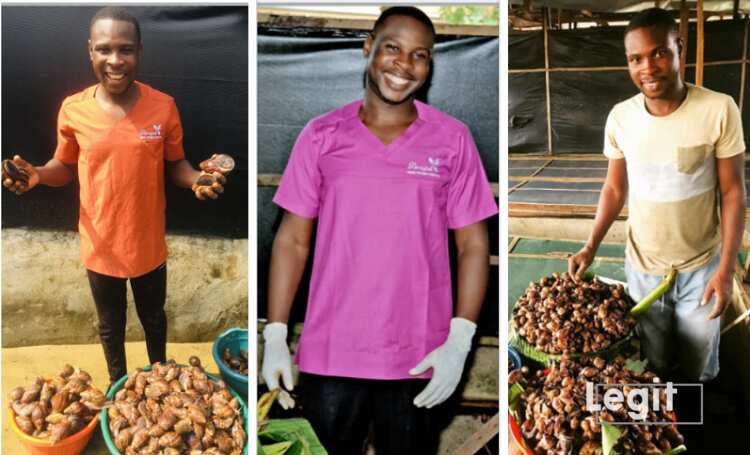 PAY ATTENTION: Сheck out news that is picked exactly for YOU ➡️ find the "Recommended for you" block on the home page and enjoy!
Going into snail farming
With a relatively modest initial investment, individuals can expect significant profits from snail rearing, Etineh says. He tells Legit.ng how he started the snail business, which has become an essential part of his daily activities and a great income source.
"I started this business in 2016 in Iyara, Warri, Delta State, with a goal to grow 1 million snails every year. I started in an abandoned 20ft X 35ft waterlogged space.
"I picked snail farming because I wanted to focus on a premium product that the market is not saturated. And snails fit perfectly into the vision.
"At first, growing them to market size was very challenging, but I have crossed that bridge with a new model I invented called The Henry Snail Model. This model helps me grow snails in and out of season and cuts down growth period by almost six months. Now I have thousands of snails that lay eggs and grow all around the year." He said.
A rewarding farming endeavour
Snail meat, also known as escargot, has become a delicacy in many Nigerian dishes. Snails are rich in nutrients such as calcium, protein, magnesium, Iron, phosphorus, copper, vitamins and folate.
Notably, snail meat commands a premium price, particularly during the dry seasons. Not surprisingly, Etineh gets a lot of patronage for the high sort-after livestock product.
He says he partners with I partner with animal nutritionists to produce highly nutritious feed for snails at different stages of their lives.
"I produced 10000 snails in my first year (2016) and sold out in weeks as growers because I couldn't grow them to adult dye to lack of space. I market my snails on social media like Facebook, Instagram and Twitter as Arapelfarms and get customers from all over the world.
"Now I sell various sizes like growers, Point of Lay and medium (breeders). People refer me to family and friends because I am very honest with my business."
There are special techniques involved in snail farming, Etineh says. Each process, like every other aspect of farming, has to be duly followed and monitored to have a good harvest.
"Firstly, you have to be a trained expert. You need to have a minimum space of 4ftx4ft for backyard/cage system or 20ft X 20ft for commercial snail farming.
"You need to build your snail house. You need to care for the snails every morning and evening, and you also need to feed with both formulated feed and vegetables. "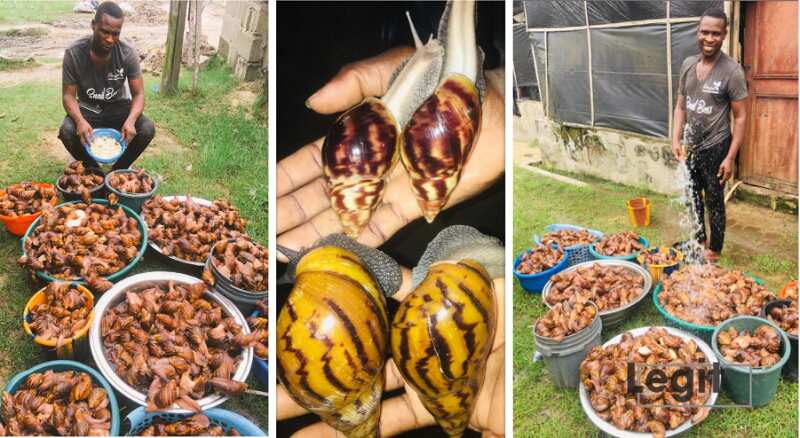 Financial gains of snail farming
Snail farming in Nigeria is widely recognised as a sustainable agribusiness, offering promising returns on investment over time, depending on the chosen scale. The demand for snail meat is high in the local and international markets, making it a lucrative business. Unfortunately, the demand, however, surpasses the supply.
Despite being unable to meet the market demand, Etineh says he earns an average of seven figures annually. He lists the economic impact of snail farming as follows:
"Snail farming business contributes its quota to the nation's gross domestic product (GDP). The shells from the snails are raw materials for manufacturing industries, and having more people getting into snail farming reduces unemployment."
Snail farmers typically distribute their products to hotels, restaurants, market vendors, large supermarkets and even explore opportunities for export to other countries.
Attracting government support
Like every other business venture in Nigeria, the practice still needs a lot of government support and investment from private investors. Etineh lists some of the ways interventions can be made:
"We can talk about subsidising feed ingredients. Government can also make loans for agribusiness available and accessible while allocating specific amounts to snail farmers.
"Also, create global awareness about the Giant African Snails through sponsorship opportunities for snail farmers to showcase their products at international conferences and exhibitions for farmers worldwide."
Advice for those interested in snail farming
The business opportunity in snail farming allows for flexibility, as it can be conducted part-time.
The investment required for snail farming in Nigeria is relatively low, and the ongoing operational costs remain minimal.
Etineh offers online and onsite training with 12 months of free mentorship for people who want to start a commercial snail farm.
His advice for those interested in the practice is:
"Forget about what the Google farmers say and get a consultant who has experience with results. You must learn patience. Agribusiness is not a money-doubling business, so you must be patient.
"Commercial farming is capital-intensive. You can't invest 60k and expect to make millions. If you want to make seven figures and above in agribusiness, you must be ready to invest same.
Snails hold significant value as an export commodity. Nigeria's climate provides an ideal environment for snail breeding, further enhancing its potential as a profitable venture.
Nigerian man goes into fish business, builds 6 ponds with millions
In related news, Legit.ng reported that as individuals actively seek diverse income streams, an enterprising Nigerian man ventured into the fish farming industry, investing millions into this endeavour.
Through a TikTok video, he generously shared the step-by-step process of constructing six ponds and implementing the necessary plumbing systems.
Encouraging others not to fear the financial requirements, he emphasised that the capital involved should not dissuade potential investors.
In one clip, he provided a rough estimate of his expenses, excluding the costs of acquiring land and a water tank. Notably, he paid N450,000 for borehole excavation, while the plumbing works for the ponds amounted to N250,000.
The construction of the ponds consumed N1.5 million. However, he acknowledged that costs could vary depending on the location.
Source: Legit.ng