Sterling Bank Reacts to Allegation of Hoarding N258 Million by ICPC
Sterling Bank has reacted to the allegation of hoarding N258 million at its regional office in Ab.uja
In a message posted on Twitter, the bank accused the government and media of working in cahoots
Sterling Bank, however, stopped short of either confirming or denying the allegation by ICPC
Sterling Bank has reacted to the allegations of hoarding N258 million new notes in its regional office in Abuja by the Independent Corrupt Practices and Other Related Offences Commission (ICPC).
The bank posted what many considered a cryptic message on social media in response to the ICPC finding.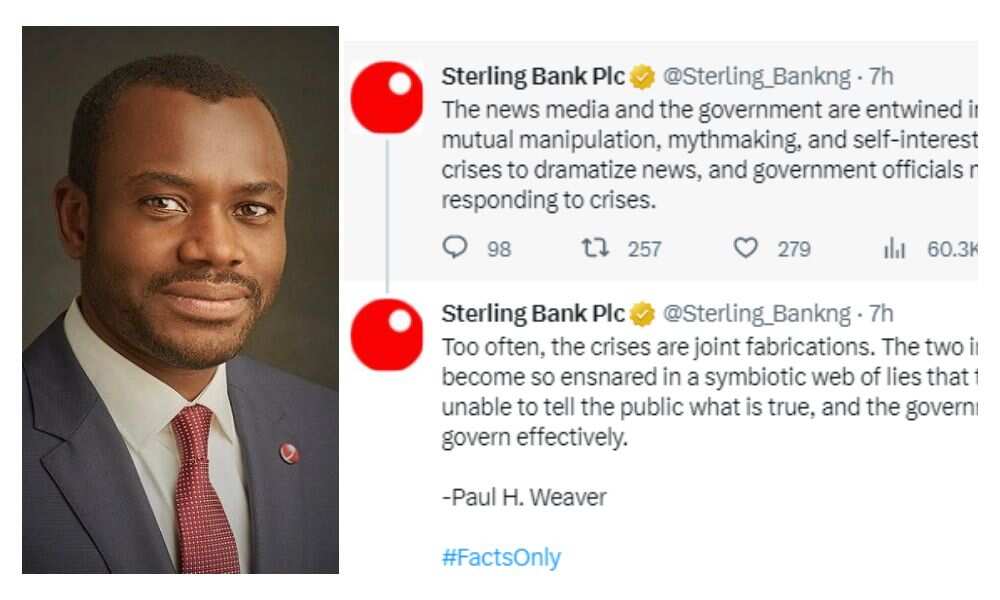 Bank accuses government and media of conspiracy
The bank wrote:
"The news media and the government are entwined in a vicious circle of mutual manipulation, mythmaking, and self-interest."
Quoting a statement from the Assistant Managing Editor of Fortune Magazine, Paul H Beaver, the bank impliedly denied the allegation of hoarding the said cash.
Sterling Bank's post did not deny nor confirm ICPC findings amply reported by the media.
The bank further stated:
"Too often, the crises are joint fabrications. The two institutions have become so ensnared in a symbiotic web of lies that the news media are unable to tell the public what is true, and the government is unable to govern effectively."
A 'sterling' record dented?
The bank is reported to be one of the few banks in Nigeria that has consistently dispensed new naira notes via ATMs, evidenced by queues at its branches across the country daily, including weekends.
Many Nigerians expressed shock when they read that the bank was found guilty of hoarding cash against directives by the Central Bank of Nigeria (CBN) asking banks to dispense new notes via ATMs and set N20,000 notes across the counter.
ICPC busts another bank, discovers hidden N250m new naira notes, arrests officials
Legit.ng reported that the Independent Corrupt Practices and Other Related Offences Commission (ICPC) says it has discovered N258 million stashed in a bank's vaults amid the country's ongoing cash scarcity.
Azuka Ogugua, the spokesperson of the anti-graft agency, disclosed this in a statement released on Tuesday night, February 7.
He said the money, all new naira notes, was found in the vault of the Abuja head office of Sterling Bank.
Source: Legit.ng