Debt Management Office Justifies President Muhammadu Buhari Continuous Borrowing as debt hit N35.5 trillion
Debt Management Office has revealed Federal government of Nigeria relies heavily on debts to meet annual budgets deficit
Nigeria's current debt level stands at N35.465 trillion as of June 30th, 2021, out of which 38.66 percent are to international creditors
Under the administration of President Buhari, Nigeria in the last six years recorded a budget deficit of N20.64 trillion
The Debt Management Office (DMO) has disclosed the Federal government of Nigeria relies on debt to finance over 90 percent of deficits contained in its annual Appropriation Acts.
Patience Oniha, director general DMO, reveals this while speaking at the Executive Leadership Workshop organised for Senate Committee on Local and Foreign Debts and House Committee on Aids, Loans and Debt Management in Niger State.
According to her, Nigeria's borrowing is instrumental in helping Nigeria bounce back from the recession caused by economic shocks which put a strain on the country's revenue.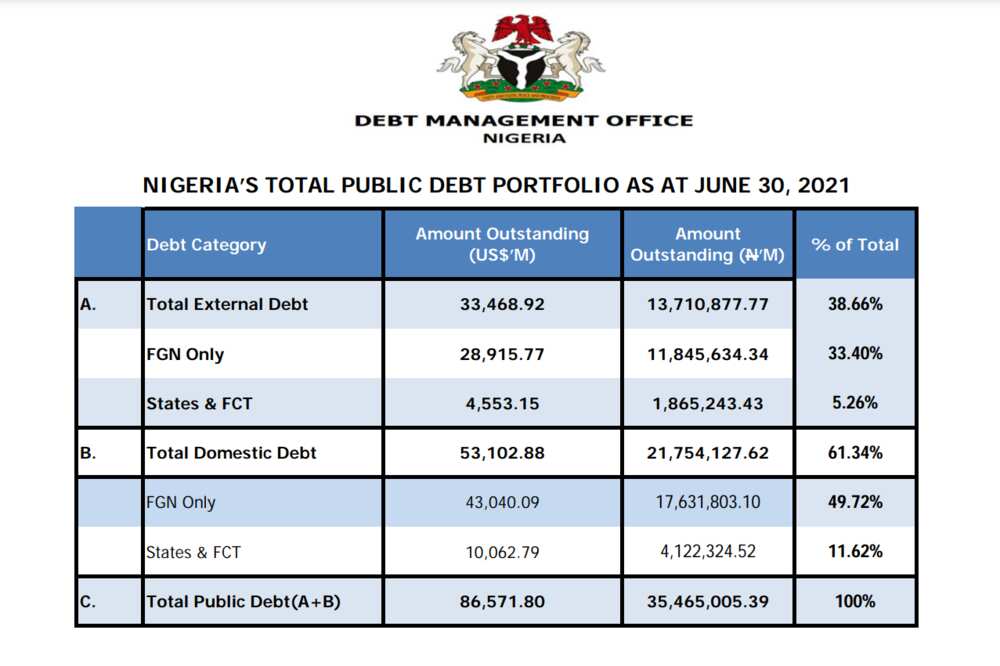 Oniha however, said the government understands the need for caution when borrowing, especially with mounting public debt and rapidly increasing debt service obligations.
PAY ATTENTION: Install our latest app for Android, read best news on Nigeria's #1 news app
She explained:
"True, the national debt has been increasing. We should recall that Nigeria has experienced economic shocks with significant revenue consequences that have led in recession twice, and borrowing has been a key instrument in reversing the patterns.
"However, in the future, a major focus should be placed on revenue creation from sources other than crude oil to guarantee that debt is sustainable."
According to her, those initiatives that have been introduced to finance capital projects through Public-Private Partnerships should be sustained to curtail the need for direct borrowing by the government to fund infrastructure projects.
Speaking further, the DG said it is important lawmakers broaden their knowledge on borrowings – how it is done and why it is done.
"Public debt and debt management are at the interest of the public at large, and because the National Assembly has the power as contained in the DMO Act and the Fiscal Responsibility Act to approve those borrowings, it only means they should be knowledgeable about debt; how we borrow and what type of instruments we borrow, and to know about the levels of debt stock so that when requests are made to them to approve new borrowings, they have an understanding of it."
While the DMO boss agreed debt is a topical issue, she believes keeping the public informed is equally important.
"When public debt has become very topical in the local and international environments. Phrases such as debt transparency, fiscal deficit, debt burden, debt trap, default, etc., have become the subject of analysis and media write-ups almost on a daily basis."
She however promised borrowing should be done with caution to meet developmental and sometimes, social needs and that proceeds are deployed judiciously.
China accounts for 81.98% of Nigeria's External Debt
Legit.ng had earlier reported that the news of China taking over Uganda's Airport stirred heated reactions from Nigerians as many fear a similar fate awaits Nigeria.
Although details of Nigeria's agreement with China are publicly not available, DMO data shows Nigeria is indebted to five countries worth over N1 trillion.
As expected, China accounts for the highest debt stock by countries and the debts were obtained through bilateral agreements.
Source: Legit.ng