How Albinos are murdered in Africa
- Albinism is a genetic mutation affecting millions of people in Africa
- Discrimination and violence against albinos is widespread throughout the continent
- Many have been killed by ritualists for their body parts
"She came back from school that day, looking sad and gloomy. When I asked her what happened she said her schoolmate beat her up because her skin brushed his own on the school veranda my daughter was quiet all through our meal and in the morning when I called for prayers she didn't join the family.
"The moment I entered her room, she was dead. She committed suicide; my daughter is gone," Madam Jones told Legit.ng amidst tears.
Many have been ridiculed, maimed, mocked and even killed, while some have committed suicide because they were not accepted by their own people. This is an ongoing and silent trauma suffered by albinos in Africa.
READ ALSO: The plague of skin bleaching in Africa
Albinism
Albinism is a genetic disorder characterised by a lack of melanin pigment in the skin, hair, and eyes.
It affects all racial types and ethnic groups. Worldwide, 1 in every 17-20,000 people is thought to be an albino, but the prevalence in Africa is much higher, with estimates for the continent ranging from 1 in 15,000 to 1 in 5,000. The figure for Nigeria is estimated to be 1 in 5,000: that is over 3.5 million albinos.
"I am born this way, no regrets. People don't want to touch me, no issues with that, thank you," Kossi Charles, a Togolese Albino in Uganda, told Legit.ng in French.
Major health challenges
In reality, albinism cannot be cured, although those living with this condition can live a normal life with a long life span if they protect their eyes and skin from direct sunlight. The lack of pigment in the eyes means albinos are unable to see well in daylight. And their skin needs to be protected at all times from burning by wearing clothes or at the very least applying sunscreen.
Contrary to popular belief, albinos do not have pink eyes. They usually have blue, green, hazel and sometimes brown eyes. The appearance of pink eyes is caused in certain light by the reflection of the back of the eye via a pale iris.
The albinos are susceptible to skin cancer and visual impairment. According to some albinos, the maximum of their stay under the sun is 10 minutes and if more, their skin will burn which will eventually lead to skin cancer.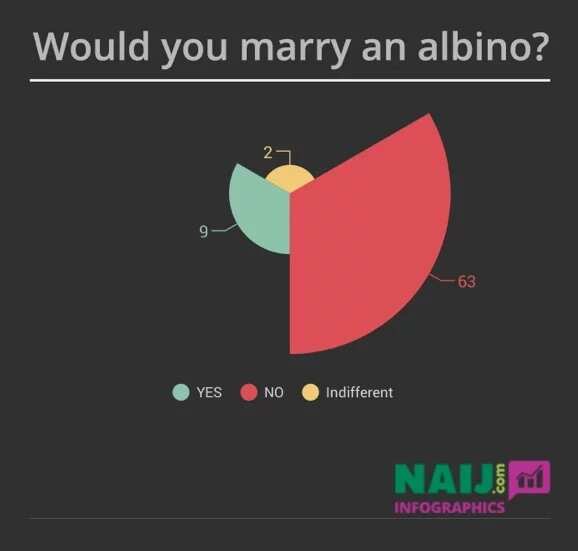 Another issue is visual impairment which they have to live with, but the appropriate sunglasses can be used. "I cannot see object far away from me until they move closer. Sometimes I see well with the aid of a medicated glasses," Donald told Legit.ng in Abuja.
Skin cancer is the largest cause of early death among albinos.
Discrimination
"They disgust me and they also smell. I cannot stand an albino. I am so sorry," a Ghanaian businesswoman who identified herself as Maria told Legit.ng.
Maria is one of many Africans who see albinism as a taboo and albinos as disgusting human beings. The albinos can rarely be seen participating openly in social events: rather, they keep with their own kind.
A manager at a Nigerian bank who pleaded anonymity said she is not interested in them: "We can never employ an albino; do you want to chase customers away from our bank? she asked.
"If I may ask have you ever seen that kind of people in any of the banks in Nigeria? See. Let me tell you something: nobody will employ them; not even as a cleaner. So don't let us deceive ourselves: it cannot work," she explained to Legit.ng
Ben, a freelance journalist from Burundi, told Legit.ng: "I don't hate them. They are humans but they should not near me."
Vendor Sall, a Senegalese albino, told IRIN: "With my job it's very difficult to sell. It doesn't work; people don't want to see us. They're scared of us. We're so tired of it. I want a better job. I've had interviews but people didn't want me."
READ ALSO: See 131-year-old 'Iya Orisa' who lives under Olumo Rock in Abeokuta (photos,video)
Mufliah Arilesire also spoke to Legit.ng from Senegal: "Yes, people discriminate against them but funny thing those people will have their complain if Oyinbo (Europeans), people do such and it is.....very very wrong!
A Togolese lamented how the government did not make any move to help its own people: "Pleas were sent to the government for the protection of these categories of people, but now, nothing is done."
There are reports of men accusing their wives of infidelity following the birth of an albino, causing them to throw the child out of their home into the street. In fact, most albinos are born to non-albino parents.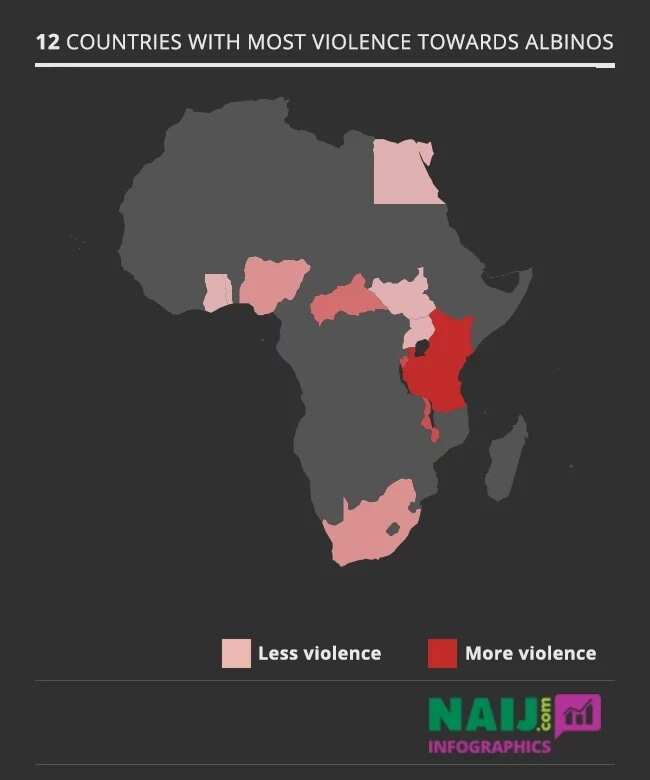 Mothers have been reported to have abandoned their albino babies at hospitals after giving birth. "After the delivery, the moment she sighted that she is albino, she just disappeared. No one knows where she went to till date. We have taken the child to an orphanage," Dr. Jude Fasheun of a local maternity home in Lagelu area of Ibadan told Legit.ng.
The denial of basic amenities is one of the problems facing albinos in Africa. They often face the discriminatory denial of their rights to health, freedom of speech and movement, education and participation in social events.
Ordeal, torture and death
Most disturbingly, ritualists in Africa have turned albinos into wild animals, hunted for their body parts which are prized sources of potions in traditional medicine.
In 2008, Vicky Ntetema a former BBC journalist from Tanzania published a report which revealed the use of albino parts in witchcraft and rituals. People selling the body parts of albinos have been arrested in several African countries, with Tanzania recording the highest number of albino murders.
There are reports in the southeastern parts of Africa of many albinos, children especially, disappearing without trace, apparently prey to kidnappers.
In some rare cases culprits have been sentenced to death for killing albinos in Tanzania, Kenya and other parts of Africa.
"Whenever I go out with my friends, people always run away from me. I got bullied by people especially young children who laugh at me and call me names. It is so bad but this is how God created me and there is nothing I can do. I make sweaters and supply schools. I am hoping to be married," Shirley Cassandra told Legit.ng.
READ ALSO: How my leg was amputated because of football and poor healthcare
Success stories
Some have been successful in their chosen careers.  They work as models, musicians, fashion designers, politicians, and advocates among other things.
Salif Keita is a successful Malian albino musician and one of the most sought-after artistes on the continent. He set up a foundation to fight the stigma of albinism, and to provide medical care for those who suffer from skin cancer.
Grace Mumbi Ngugi, a judge of the high court of Kenya, is one of the more successful albinos. She also advocates for the plight of albinos in East Africa:
"The situation may seem hopeless and depressing, but I believe the future is promising for people with albinism. We have a new Constitution that guarantees all Kenyans a right to health," she told www.albinism.ohchr.org.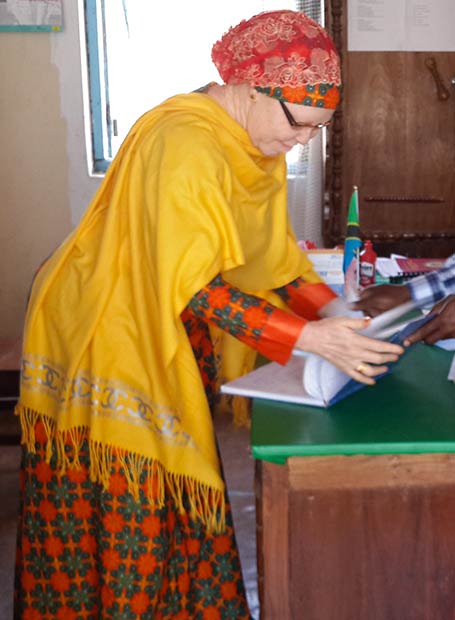 Alshaymaa Kwegyir is a parliamentarian and an activist from Tanzania, where the killing of albinos is rife: "At the height of the killings of persons with albinism, I was at the forefront of efforts to protect them from brutal killers who believed that a potion made of their body parts could make them rich," she told albinism.ohchr.org.
Protest
Salif Keita condemned the discrimination in an interview with AFP: "It is completely unacceptable for humans to sacrifice other human beings. It comes from ignorance. Albinos are born, they grow up just like everyone else. It is unacceptable to attack them."
"Just like every human, albinos need to be loved, and seen as normal people; black people with white skin. I am proud to be an albino and I am proud to be who I am.
In another chat with AFP, Yan Mambo reacted during a 'proudly albino' event in Congo: "I am elegant. I am beautiful. I have a nice size, God created me like this, why should I be hung up?
"We want to reinforce the visibility of albinos in the upper spheres of society and create role models that allow parents of albino children to not feel ashamed."
A renowned Togolese albino advocate Sossouga Dossè told Legit.ng:"Research has shown that albinos suffer discrimination of any kind in Africa, and even their physical elimination for the purpose of offering for the acquisition of power or wealth.  In Togo, the discrimination is not very thorough to them but is not excluded either.
"Moreover, the notion of minority is not yet well integrated to create laws for their protection." 
Kenyan albinos have also requested adequate protection: "We are telling the government to provide security to all albinos," Mr Wanyonyi an albino told Kenya's Star newspaper.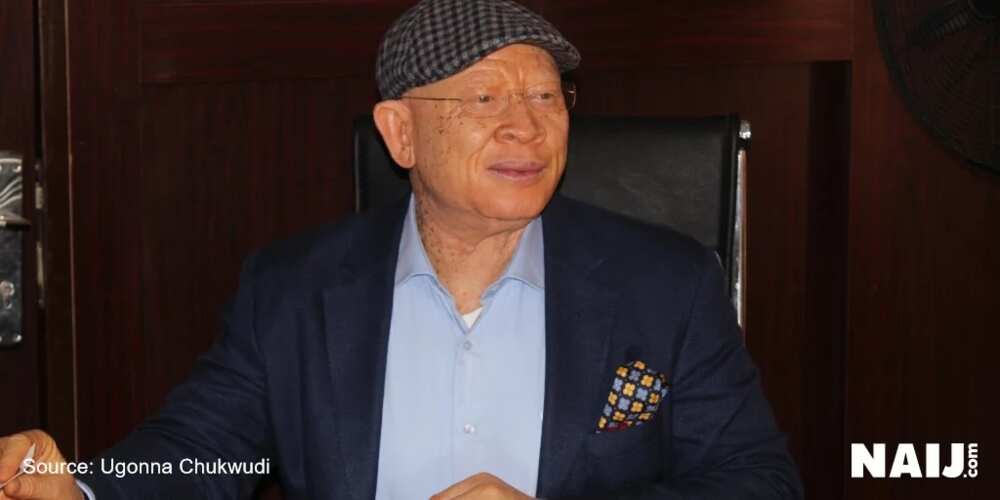 Support
Several NGOs have been helping their cause in Africa with the provision of healthcare, education and housing amongst other things.
Reacting to the sufferings of the albinos, Esther-Karim Mngodo, a Tanzanian journalist, commended the government: "Yes, I am against the killings, it is inhumane," she told Legit.ng. "I think the government is doing good after a lot of awareness raising by the media and local and international organisations. More should be done."
Dr Prabha Choksey who is renowned for charity work in Kenya, offers free eye-care service for albino children. She told star.co.ke: "For centuries, ignorance and indifference have relegated people with albinism to a life of misery. These are people.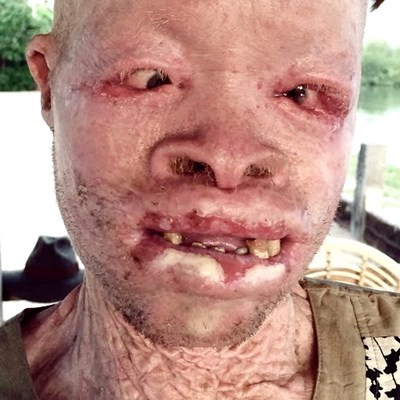 "Their only problem is that they have a genetic condition characterised by lack of pigment melanin in hair, skin and eyes."
Meanwhile, the African Union has made resolutions on the prevention of attacks and discrimination against people with albinism, as has the African Commission on Human and Peoples' Rights, meeting at its 54th ordinary session held from 22 October to November 5 in Banjul, The Gambia. Here is the link.
The chairman of the National Human Rights Commission in Nigeria, Mr. Chidi Odinkalu, condemned the discrimination in a chat with Legit.ng.
The discrimination and killings continue in Africa. The albinos are used for sacrifice and for witchcraft practices; they are forced by society to commune together.
In the light of this, what they need above all else is peoples' compassion, empathy and understanding, rather than castigation, discrimination and use as objects for rituals. They did not choose to be albino after all, as we did not choose to be who we are.
"This is my life; I am an albino. I am afraid to go out in the sun, sunscreen is expensive. I cannot afford it. I am even scared of some people so they won't use me for sacrifice, but what do I do but to continue living in fear," Thandie said.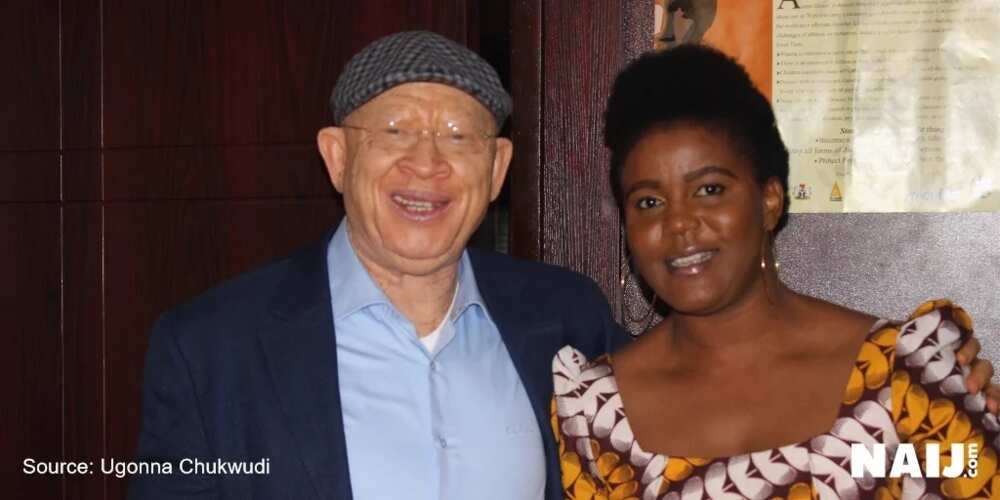 This report was researched and written by Award-winning journalist, Aderonke Bello, an associate editor and head of the sports desk at Legit.ng
Her Twitter handle is @Aderonkew
Source: Legit.ng