We Return Recovered Money To Their True Owners- EFCC
The Economic and Financial Crimes Commission (EFCC) has revealed that it returns recovered loots to the owner and not that they spend it as is being speculated in some quarters.
This revelation was made during an interactive session organised by the National Board for Technical Education (NBTE) for the anti-graft agency and its principal officers, union representatives of polytechnics and specialised institutions in Kaduna on Tuesday, November 17, 2015.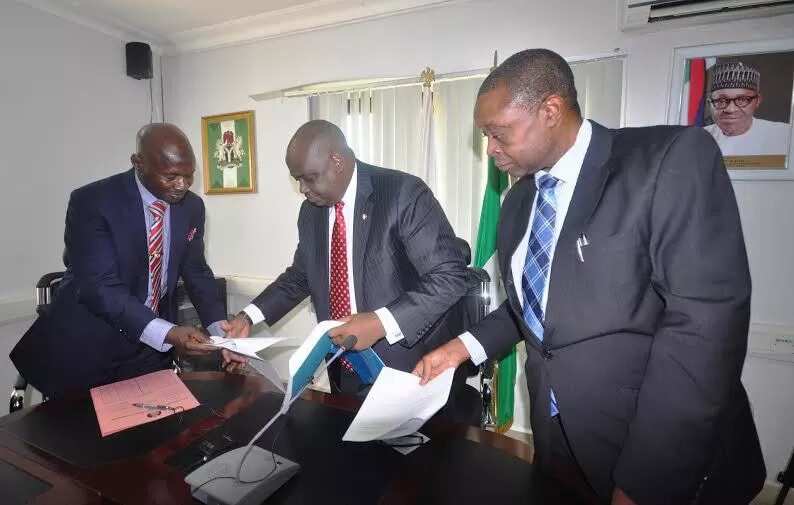 READ ALSO: Accuser Of EFCC Boss Faces Trial
[article_adwert]
Stating that it returns recovered funds to the true owners of the money, EFCC equally stated that, it is not true that it spends 1trillion naira as it is been alleged, The Nation reports.
Newly-appointed chairman of the anti-corruption agency, Ibrahim Magu, who was speaking on behalf of the agency, sounded a strict warning to looters that nobody would be allowed to go scot-free in the fight against corruption.
Speaking through Osita Nwanjah, the director, public affairs department, Magu warned that the full weight of the law would be brought to bear on anyone caught found in corrupt practices.
He said: "I must sound a note of warning to all present, that acts of fraud, corruption and other forms of economic and financial crimes, whether committed by individuals or groups will not be overlooked by EFCC."
Head of the agency's enlightenment and orientation unit, Hajia Aisha Larai Musa, who spoke in the same vein during her paper presentation, stated that the public should report any EFCC staff with dubious characters as such staffs will be made to face the full wrath of law.
READ ALSO: Again, Lamorde Takes Punch Newspaper To Court
"We felt our children lack the moral behaviours as a result of failed parenthood so we put in place programmes such as Youth and school initiative programme where we created integrity group in primary and secondary school created. Among the NYSC members too.
"We have Faith based initiative where we set up 9-man committee comprising of both religious leaders to preach and discourage participation in the corrupt practices.
"We have in place too womenCivil society sensitization initiative programme and Public private sector initiative programme such as this between the EFCC and NBTE," she informed.
Meanwhile, the former head of the agency, Ibrahim Lamorde is set to face the senate committee on ethics, privileges and public petitions over charges of corruption leveled against him.
Source: Legit.ng