Naij.com Recipe Of The Month: Coconut Rice And Shrimps
Editor's note: In recent times, jollof rice seems to have taken the centre stage especially on social media, so much so that equally delicious rice delicacies such as coconut rice have been overshadowed. Legit.ng contributor Ifeyinwa Ezeka tries to right that wrong with this delicious recipe for coconut rice.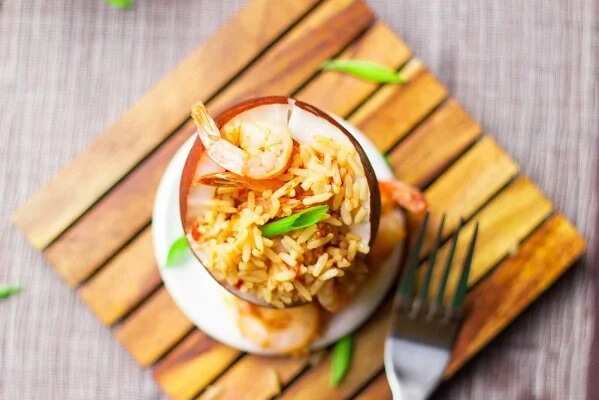 As a child, I remember looking forward to parties at one particular aunt's house, not for the jollof rice but for the coconut rice. It could have been because every party we attended, it was jollof, jollof, jollof, but this very delicious coconut rice made by aunty wasn't just available for the asking. We had to wait months for some event at her house to have the pleasure of this delicacy that was coconut rice. In fact ehn, the coconut rice used to cause "longthroat" things, I tell you!
However, there is coconut rice and there is coconut rice, if you know what I mean. There is this coconut rice that all you get from it is the taste of the coconut. In fact, the rice is so insecure that it needs stew to go with it because all it is really is white rice flavored with coconut. Well, there is a place for that if the intention is to step white rice up a notch by flavoring it with coconut. But where you need to make coconut rice that is absolutely satisfying without the need for anything else, you want to use this recipe. This is coconut rice in all its goodness and one that you certainly need in your arsenal. This rice can end wars and settle quarrels I tell you. No kidding!
READ ALSO: See 7 Great Ways To Cook Goat Meat (Photos)
[article_adwert]
For this recipe, you can either use canned coconut milk or you may choose to make your own fresh coconut milk from scratch. If making your own coconut milk from scratch, it puts a little less pressure on you to have this done ahead of time, either the evening before lunch or the morning before dinner depending on whether you are making this for lunch or dinner.
Making your coconut milk from scratch
To make your own coconut milk, crack open two coconuts, remove the flesh from shell, rinse and then grate finely (for a whiter milk you may choose to peel the dark back of the coconut using a peeler). Add two cups of hot water (approximately one cup/250 mls of water for each coconut), mix it all together and pass it through a fine sieve, squeezing the flesh to make sure you get all the milk out then pour this into a covered bowl. You should have about 600 mls of coconut milk. After the first extraction, pour in another 2 cups water just to get all the goodness from the coconut and then passed it through a fine sieve again.  This second extraction will be very light so pour it into a separate bowl and don't mix it with the thick coconut milk from the first extraction. Refrigerate (that is if you have constant light o, if you don't biko, send it to the freezer).
If using canned coconut milk, just ignore the previous paragraph!
READ ALSO: Legit.ng Recipe Of The Month: Easy Steamed Okro
Recipe (serves 8 people)
Ingredients
- 400 grams tomatoes (about six medium sized ones)
- 100 grams rodo/red scotch bonnets (about 12 small pieces)
- 400 grams onions (about 21/2 medium sized, peeled)
- 250 mls vegetable oil (one cup)
- 1 kg rice (roughly under one and half derica cups)
- 5 tablespoons ground dry crayfish
- 6 beef stock cubes (4 grams each) (alternatively replace with seasoned beef stock in the same quantity as the 750 mls water called for in the method)
- 3 tsp salt
- 600 mls coconut milk
- 300 grams shrimp (peeled and de-veined, tail on)
Instructions
READ ALSO: Read Why Nigerians, Ghanaians Are Fighting Over Jollof Rice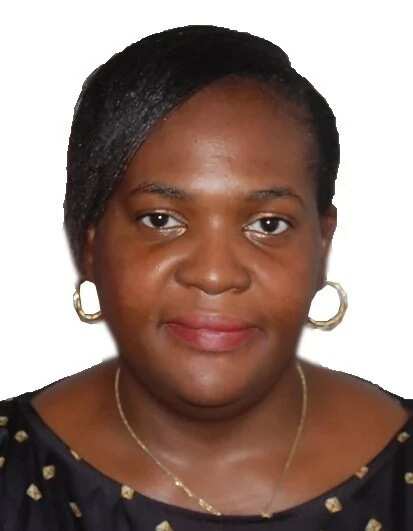 Ifeyinwa Nzeka is a Cordon Bleu trained chef, hospitality practitioner and blogger who is passionate about Nigerian food and cuisine.
Source: Legit.ng