Pastor Kumuyi Tells PMB How To Win Fight Against Corruption
Pastor William Kumuyi, the General Superintendent, Deeper Christian Life Ministry, has given president Muhammadu Buhari a piece of advice on how to win his battle against corruption in the country.
The respected clergyman, who spoke during a crusade organised by the Christian Association of Nigeria (CAN) and the Pentecostal Fellowship of Nigeria (PFN) in Lagos on Tuesday, said that he has been praying for the president to come out with success in the war against corruption and other reforms he is undertaking in the country.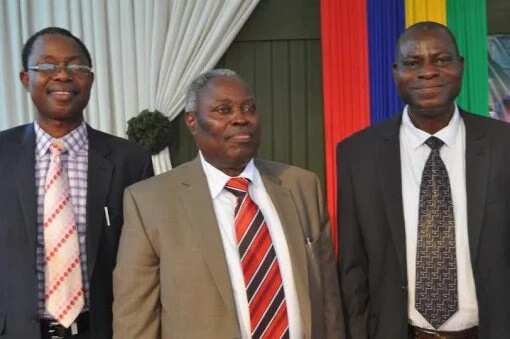 READ ALSO: PHOTOS: Pastor Kumuyi Arrives Boko Haram Troubled State
[article_adwert]
While advising Nigerians to support the president rather than complaining, he noted that Buhari needs the wisdom of God to pull through in the fight against corruption.
PM News quoted him to have said: "My prayer for the country is that the mighty change, supernatural change that God has done for individuals, He should do for our country and you see, God works in various ways and as we see all the things happening, fighting against corruption and all that, we need the wisdom of God, power of God and the support of God.
"My prayer is that God will assist the government to actually pull through until we get to the end of the tunnel in Jesus name. A change is coming and the change has started already."
While also encouraging Nigerians to put their trust in God as there is hope for the nation, he added: "The encouragement I want to give everyone is that we should have hope and we should look unto God that God is able and that God will definitely turn things around, it may not take place this very minute, but God is going to do wonders in our country and things will turn around for the better.
READ ALSO: Kumuyi: God Will Only Bless People With Right Attitude
"The Lord does not condemn sinners but to save them. Sinners must boldly take a step by confessing their sins. It is futile to think that it is impossible to live a righteous life. God is capable of saving sinners no matter the level of sin which they have committed.
"Every work of Satan in your life must be reversed. Bad luck has come to an end. Sorrow and reproach have come to an end. This is a time for supernatural change. You must leave all your sins behind. God has declared that this day, salvation has come into your life. God will not reject you."
Recall that the respected clergyman recently said that Lagos state was under siege and needs urgent divine intervention.
Source: Legit.ng