Chelsea Star Among Top 10 World Highest-Paid Football Stars
As the new season begins throughout European football, the world-renowned magazine Forbes has released a list of the highest paid athletes in the world.
Legit.ng brings you the top ten highest paid football players from that list, and their earnings in endorsements and earnings.
10. Luis Suarez (FC Barcelona)
The former Liverpool and Ajax striker is worth a staggering $21 million and earns $16.5 million annually, to come 10th on the list of highest paid football players in the world.
The Barcelona striker, who became an instant hit with the Spanish club, was also one of the highest paid players in his Liverpool days, and earns $4.5million in endorsement deals.
His controversies in world football, which have seen some of his former sponsors cancel their contracts with him, have not stopped him from earning a lot of money.
If the Uruguayan continues his fine form with the Catalan giants, it will not be too long before he rises to the top five among the world's most highly paid football players.
READ ALSO: "I Did Not Ignore Enyimba/Rangers Match For Arsenal/Chelsea"
9. Sergio Aguero (Manchester City)
One of the English Premier League's top stars earns a lot of money with his domineering influence at the Manchester-based club, despite the fact that his side could not defend their league title last season.
His $24.9million worth, $17.9million salary and winnings and $7 million in endorsement pay are signs of the player's exceptional skills, which he has displayed over the years with eye-catching performances in all competitions.
Diego Maradona's son in-law, who could not inspire Argentina at this year's COPA America, was tipped to return to Spain with Real Madrid, but it appeared to be mere speculation.
8. Radamel Falcao (Chelsea FC)
His flop with Manchester United, where he was on loan from Monaco, did not affect his rating as one of the richest football players on earth.
Falcao, who has since moved to Chelsea, is worth a whopping $25.9million, nets $21.9million in salaries and has endorsements worth $4 million as well.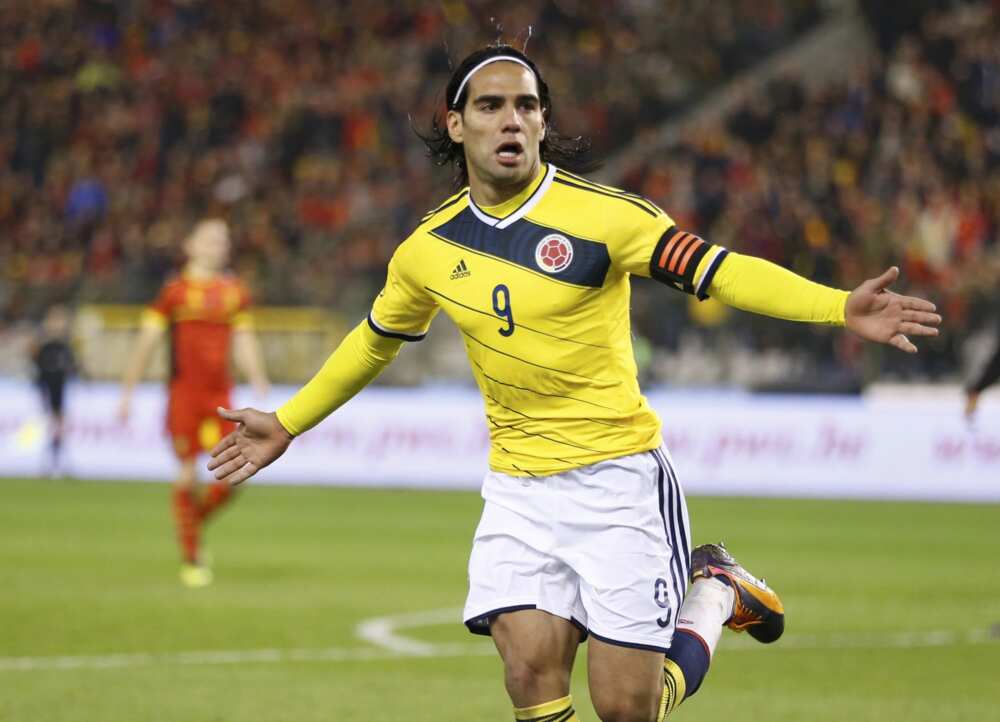 The implication of this rise in pay for the former Athletico star is that he has continued making money despite his lack of playing time and flops in major matches for both club and country.
READ ALSO: Mourinho Explains Loss To Arsenal, Wenger's Handshake Snub
7. Wayne Rooney (Manchester United)
The Manchester United skipper is one world's most talented players and, having featured for England at last year's World Cup in Brazil, Wayne Rooney's stock has kept rising, within and outside England.
Presently, the player's pay is put at $26.9million while his salary and winnings are worth $19.9million. The former Everton striker also pockets $7million in endorsements.
Rooney is England's skipper and with speculation going haywire over a purported move to PSG, the English star may have just started earning jumbo pay for doing what he knows how best to do.
6. James Rodriguez (Real Madrid CF)
He was the golden boy of Monaco before being sold to Real Madrid last summer and has since been handed the famous number '10' jersey for the White Royals.
Rodriguez was so good that Madrid forked out $108million to take him from Monaco and he has been a mainstay for the Spanish giants ever since.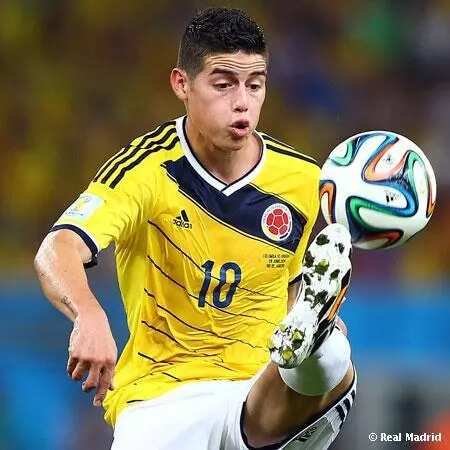 Having also won the award for the best player at the 2014 World Cup, the Colombian's present worth is $29million, with his other earnings in salary and winnings standing at $24.5million.
His high earnings have also fetched him endorsement deals in the region of $4.5 million.
READ ALSO: Manchester United Captain, Wayne Rooney Returns To Everton (Photos)
5. Neymar Jr. (FC Barcelona)
At just 23, the Brazilian youngster Neymar is already being tipped to emerge as the world's best football player in the coming years. He combines great skills with suave looks and a fat purse as well.
His arrival from Santos about two seasons ago has also given rise to his growing profile and he presently pockets a huge $31 million and has $14 million in salaries. But his love for flamboyance and apparent marketability have ensured that he makes more money in endorsements, $17 million, than his salary.
It will not be too long before this young chap rules the world of flamboyance, as far as football or sports is concerned.
4. Gareth Bale (Real Madrid CF)
Not often do British players command a huge transfer fee, especially outside the leagues within the United Kingdom.
At the time of making this compilation, one of Wales's key players, Gareth Bale, is the most expensive player in world football, after Real Madrid paid a mouth watering £85 million to secure his services from Tottenham Hotspur.
Although the player's recent performances have been criticised by both media and club fans, he has remained with the Spanish capital club, despite transfer speculation.
Bale's present pay is put at $35 million, while his salary and match winning allowances are pegged at $25.5 million. He also rakes in $9.5 million in endorsements.
3. Zlatan Ibrahimovic (PSG)
The fact that he plays in a relatively lower league, when compared with others on this list, does not mean he earns less.
In fact, Ibrahimovic, who has traversed the world of football, having played in his native Sweden, Holland, Italy and Spain, is one of the richest football players on Earth.
The outspoken Swedish striker has a cool $39.1 million as his pay, earns a staggering $33.1 million in salaries and pockets $6 million in endorsement deals.
The former Barcelona striker may be eyeing a move away from the French capital club, as reports say he announced that he may have played his last game for the big-money spending club.
READ ALSO: Biggest Sport Events This Weekend You Must Not Miss
2. Lionel Messi (FC Barcelona)
The battle for the world's highest paid football player was going to be outrightly between this Argentinian whizzkid and the current world footballer of the year, Cristiano Ronaldo.
Their rivalry has been on since Messi pipped his Portuguese counterpart to win the award on several occasions before the former Manchester United forward won it back-to-back.
Messi's pay of $73.8million, $51.8million and endorsement deals worth $22million, is only bettered by Ronaldo's huge price tag.
One of the most gifted football players ever, who has played for only FC Barcelona in Europe, has lost in two consecutive finals with Argentina; the 2014 World Cup final match against Germany and the 2015 Copa America final match to Chile.
Will he ever win the World Cup?
1. Cristiano Ronaldo (Real Madrid CF)
The highly skillful and pacy Ronaldo tops the list of the world's highest paid football players with Floyd Mayweather and Manny Pacquiao, both boxers, the only people earning more than him of all the athletes in the world.
The former Sporting Lisbon attacker earns $79.6million in pay, gets another jaw-dropping $52.6million and a massive $27million in endorsement deals.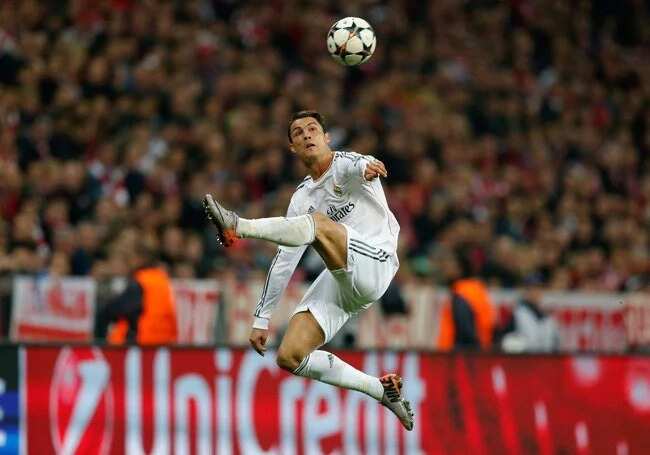 The Madrid number seven is the current world footballer of the year, winning the award back-to-back, despite the fact that his team (Portugal) did not perform very well at the last World Cup in Brazil.
Ronaldo holds many enviable records in European and world football, among which is his record of being the only player in the history of football to score 50 or more goals in a season on five consecutive occasions.
Are there players you expected on this list who didn't make the cut?
Source: Legit.ng