Exclusive: I am in competition with myself - Reekado Banks
In this exclusive interview, Mavin Records rising star, Reekado Banks talked to Legit.ng about the difference between the Supreme Mavin Dynasty and Mavin Records. He also discussed the possible comeback of the dynamic duo of D'Banj and Don Jazzy, as well as his label mates, Di'ja and Korede Bello.Naij: Congratulations on Mavin's win for Dorobucci at the MAMAs. There has been speculations on the possible comeback of Don Jazzy and D'Banj as a duo.  Such a comeback would be amazing but do you think it would affect you growth at Mavin?
Reekado: It won't affect me or anybody in the label; just as D'banj dropping a song won't affect Wizkid, Davido or anybody dropping a song.
Naij: Korede Bello and Di'Ja, your label mates, have been marvellous; do you see them as competition?
Reekado: It feels good to have them on the same label. I like the form of pressure we get from ourselves. Like, 'Di'ja, you recorded this song?' 'Who gave you that inspiration?' You get what I am talking about?  I like the pressure I get from them. It is so amazing having to beat your partner healthily.
READ ALSO: Exclusive: Rhythm FM's Omalicha Talks About Her Career, Toke Makinwa, Relationship And Sex
Naij: Among the 'elders' in the Mavin family, D'Prince, Dr Sid and Tiwa Savage and the boss, Don Jazzy, who is your biggest mentor?
Reekado: I won't be able to pick one. They have different areas of my life they touch. It will be really hard to single out one. Like Don Jazzy has inspired my music life so much that I can't push him aside, I can't choose someone over him. Dr Sid has improved my moral life, like my manliness; I can't use that alone to pick him. Everyone has been fantastic in my life. They've contributed one thing or the other that I appreciate so much.
Naij: Outside Mavin, who is your biggest inspiration?
Reekado: I draw inspiration from different sources and people but right now, I feel am the biggest fan of Chris Brown.
READ ALSO: Full Interview: I'm getting international recognition – Skales [+VIDEO]
Naij: Tell us how you came to drop three singles in three days.
Reekado: I have been working. We had those songs, we couldn't keep them so long as to drop them separately over time. So we (decided) to flood the street and make an impression. To the glory of God, so far, the impression has been made. We are grateful.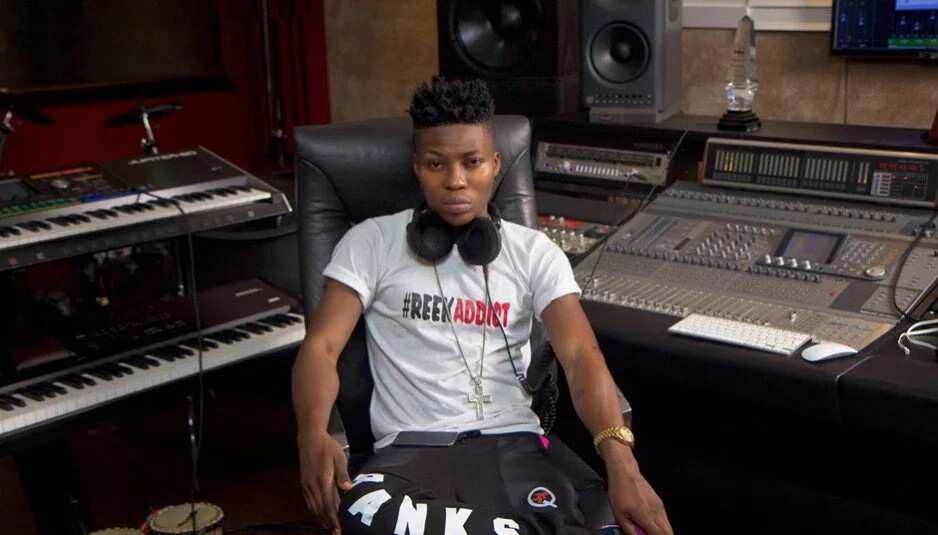 Naij: Your label is currently pushing Korede Bello, Di'Ja and you out at the same pace with you guys dropping songs simultaneously. Do you think your new singles will place you ahead of them if properly pushed?
Reekado: I am not looking to be placed ahead of anybody, I am looking to beat myself and progress. If the songs blow, glory be to God. The songs are doing well at the moment and with more push I think they will be amazing.
Naij: Why love songs? Are you a lover boy?
Reekado: The songs are not so much about love like that; maybe only Sugar Baby. There is little we can sing about and basically the most uniting topic to sing about is love and that is amazing. You will see more of them from me.
Naij: Message to your fans.
Reekado: I don't have fans yet. I have family. Thank you all for being part of me. I will keep loving you and promise never to disappoint you.
Source: Legit.ng