OPINION: Have the police turned against Nigerians? by Oke Umurhohwo
Editor's note: Oke Umurhohwo, a political analyst and strategist, writes on the widespread protests in Nigeria against political brutality, with a warning that the large processions should serve as the beginning for far-reaching reforms in the Nigeria Police Force.
PAY ATTENTION: Win a prize of N115,000, N75,000 or N38,000: participate in Big Naija Independence contest by Legit.ng
Jimoh Isiaq was a young Nigerian, and like almost every other person, have a dream. But he's no more. He fell to a bullet from a policeman, and just like that he is no more. The painful thing about his sad loss was that he died in the hands of people who are supposed to keep him safe from harm.
Isiaq's pathetic story is the reality of most young Nigerians. They are under a fierce attack from the Nigerian police. Let me point out that Isiaq was shot when many young Nigerians took to the streets to protest police brutality. According to news reports, he was a bystander and the impunity which many Nigerians are pushing against fell him and took him away from his loved ones.
I have seen a video of Isiaq's grieving father and it touched me. As the bereaved father of Isiaq wept profusely, he said in his Yoruba dialect that "Mi o ni ẹnìkankan, omo yi na ni,"– that is, he has no other person but Isiaq – as sympathisers persuade him to take heart.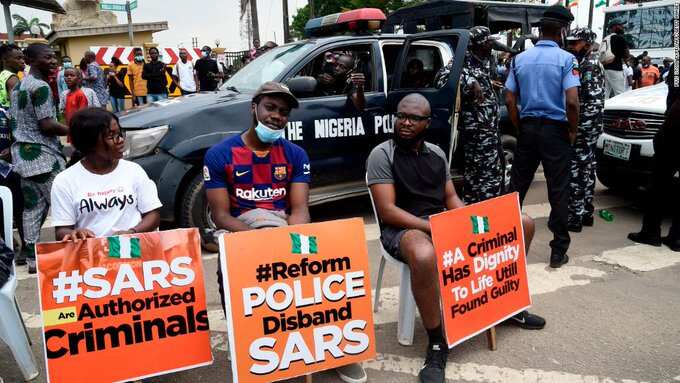 PAY ATTENTION: Install our latest app for Android, read best news on Nigeria's #1 news app
That video would most certainly throw anyone in a disturbing mood, except for callous minds, who will watch the reaction of Isiaq's father and not be enraged. That electrified the campaign and many youths, who had hitherto show little or no interest in the demand to end police brutality, joined the push so as not to experience the unbearable pain of losing their loved ones to police brutality.
But what did peaceful protesters got? More bullets and more deaths in the hands of police. Men of the Nigerian police are recklessly shooting at armless citizens, who are exercising their rights of peaceful protest, causing the deaths of people they are being paid to keep safe.
When the Inspector-General of Police (IGP), Muhammed Abubakar, announced the dissolution of SARS on Sunday, Nigerians thought their nightmares were over. But it turned out to be the usual words with no action as policemen were on rampant in Ogbomosho, wielding lethal force on protesters and left at least three persons dead. Some accounts quoted a larger figure of casualties as a result of the brute force of policemen.
Images from that incident were so horrible and disgusting as one of the videos that circulated on the internet showed security agents dragging dead bodies on the floor and point to a disturbing but salient truth–Police have declared war on Nigerians. This is too obvious for any discerning Nigerians not to have realized. We're under attack and our attacker are the same people who swore an allegiance to keep us safe.
If the events of the last five days are not enough to convince you, look at the unnecessary tragedy that was thrown up in Surulere on Monday. Protesters, as usual, tried to sustain their campaign for reformed police but what they got were bullets flying in every direction. This caused commotion and many Nigerians were not lucky.
One of the casualties was a mechanic, who according to many accounts was a bystander, and had his hands tucked in his pocket, but the bullets of police found him and fell him. The medical team from the protesters rushed to save him but it was unsuccessful as he gave up the ghost.
A Twitter used noted:
"This man is a mechanic that works on my street. He went to get a car from a customer at Surulere. He got stuck in traffic and came out to see what was happening and got hit by a stray bullet."
Banjo Damilola, an investigative journalist, provided more insight on terror that Nigerians are going through in the hands of policemen.
Tweeting on the handle @RealBanjo, he wrote that:
"This man was killed and just as I was speaking to eyewitnesses who saw the police shot him, about 10 policemen enclosed us, arrested the man I was interviewing. I was almost taken into the van but for promptly identifying myself."
This is sad and shows the frightening situation that Nigerians are facing in their country. Up North, Boko Haram, and bandits are the terror shutting down lives and forcing people to flee their homes, but here in the south, it is the police, and that is most unfortunate. This is not something that should continue and everyone must join in the clamour to #EndPoliceBrutality so that we can be safe.
Just like Isiaq, some of our compatriots have paid the ultimate price with their lives and we must not fail them and let their deaths be in vain. We owe it ourselves too so that our children will no longer need to pour into the streets like we are doing now to trend #ReformNigerianPolice.
Disclaimer: The views and opinions expressed here are those of the author and do not necessarily reflect the official policy or position of Legit.ng.
Your own opinion articles are welcome at info@corp.legit.ng— drop an email telling us what you want to write about and why. More details in Legit.ng's step-by-step guide for guest contributors.
Contact us if you have any feedback, suggestions, complaints or compliments. We are also available on Twitter.
Angry lawyers join EndSARS protest in Lagos | Legit TV
Source: Legit.ng