How public schools in Nigeria can benefit from internet connectivity in the COVID era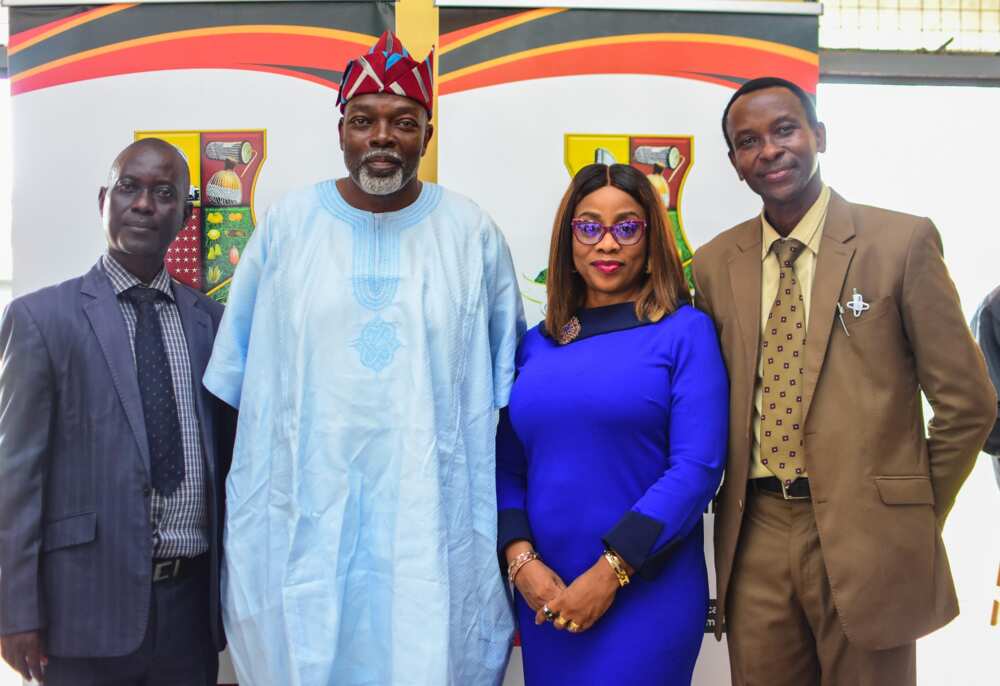 L- R: Principal, Government College Ibadan, Mr Adewale Oluwole, Chief of Staff to the Governor of Oyo State, Chief Bisi Ilaka, Group Executive Director, HR & Corporate Services, ipNX, Folashade Efiong-Bassey, and Principal, Bishop Phillips Academy, Monatan, Mr Akinwale Akinlolu at the handover ceremony of free high-speed broadband internet connectivity to public secondary schools in Ibadan, Oyo State, on Thursday, October 8, 2020.
The COVID-19 pandemic opened the eyes of many to the important role internet connectivity plays in the overall educational experience of students from primary to tertiary institutions.
If there is one positive that came out of the COVID-19 pandemic and the lockdown put in place to curb its spread, it is the opportunity it offered the world to reimagine education through technology.
According to UNESCO, globally, over 1.2 billion children were out of the classroom in April 2020 due to the pandemic. While they were stuck at home during the lockdown, the learning of many students was halted while some in the private schools took classrooms online to make up for lost hours. During the period, some secondary and tertiary institutions that transitioned to e-learning conducted examinations online and even held convocation ceremonies via video conferencing platforms.
As schools are gradually reopening across the country, the world is emerging into what some are calling a "new normal" and there are indications that the changes brought by the pandemic are here to stay forever. However, this challenge also comes opportunities.
Research suggests that online learning will increase retention of information, and take less time. According to the Research Institute of America, on average, students retain 25-60% more material when learning online compared to only 8-10% in a classroom. This is because, with e-Learning, students have more control over the learning process as well as the opportunity to revisit the training as needed.
However, one of the major setbacks hindering e-Learning is access to the right technology, internet and the cost of internet bundles, especially in the developing world. This is particularly true in Nigeria where about 50% of the population live in rural areas and don't have reliable internet access or can't afford to pay for it, where available.
It is in the bid to solve this problem of connectivity that the government developed the second phase of the Nigerian National Broadband Plan 2020 – 2025 with the goal to deliver data download speeds across Nigeria, with effective coverage available to at least 90% of the population by 2025 at a price not more than N390 per 1GB of data (i.e. 2% of median income or 1% of minimum wage).
However, like it is with most developmental challenges facing the country, significant contributions from relevant private sector players and corporations will be required to deliver on these goals.
With ipNX, a pioneering and leading information, communications and technology (ICT) company, now rising to the challenge by providing the needed technology infrastructure to public schools for free, it is easy to see the long term impact on students and teachers, and the broader education sector.
In a bid to improve access to technology for students and teachers, on Thursday, October 8, 2020, ipNX, in partnership with the Oyo State government delivered free high-speed broadband internet connection to two public secondary schools in the State - Bishop Phillips Academy, Monatan and Government College Ibadan. This initiative is the first phase of ipNX's broader CSR for Education Programme and the Oyo state Internet Programme for Schools.
With ipNX providing broadband connection in these secondary schools, students and teachers now have unrestricted access to a wealth of text, audio, and video content not found in textbooks, thus broadening the learning of students and positioning them to compete favourably with their counterparts in private schools and other parts of the world.
[Sponsored]
Source: Legit.ng