30+ funny movie quotes from iconic films to lift your spirits
Some of the world's most famous movies are so ingeniously created that they are enjoyed by many generations. These great productions wow their audiences with great visual designs, interesting banter between the actors, and of course, funny lines that make us roll on the floor with laughter. While a movie's general plot is one of its most interesting factors, funny movie quotes also aid in making the movie memorable and enjoyable to its audience.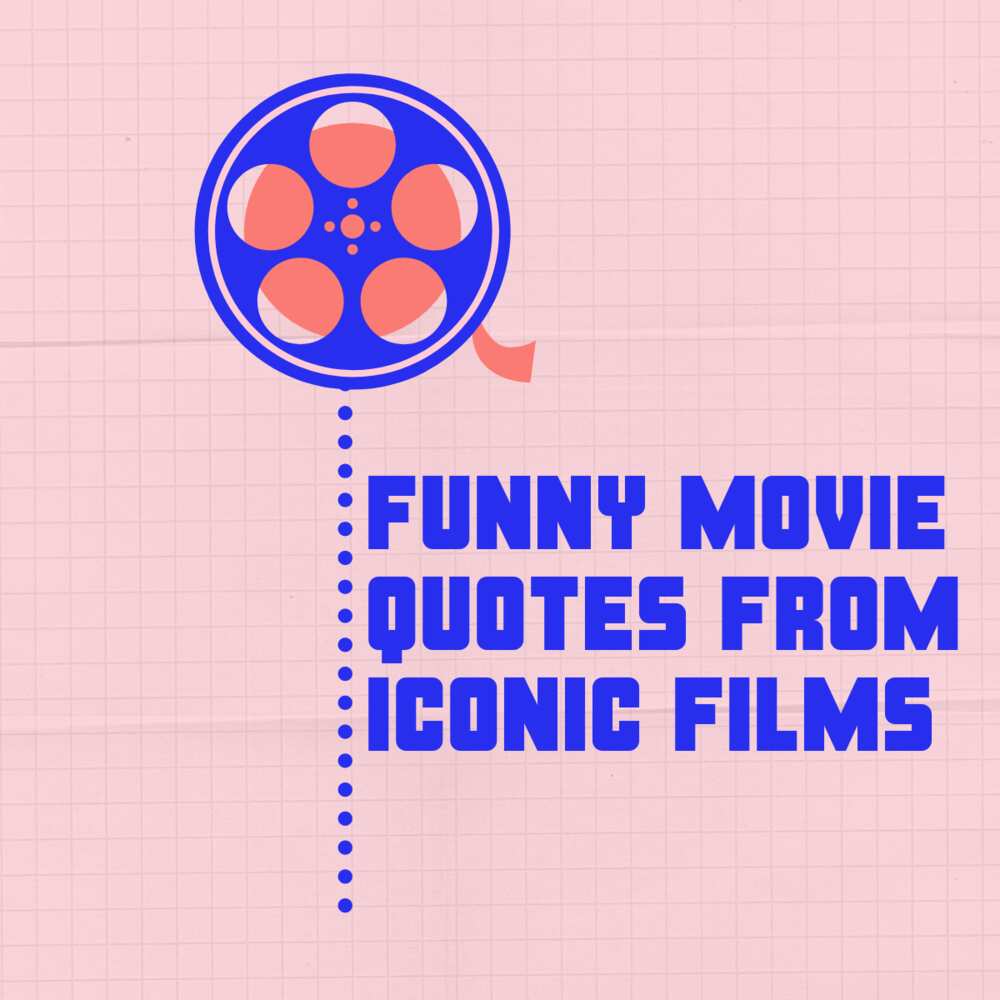 Here are the funniest movie quotes of all time.
Funny movie quotes that will crack you up
Enjoy this list of funny lines from movies.
"I'm not like a regular mom, I'm a cool mom!" — Mrs George, Mean Girls
"If I wasn't terrified of heights, I'd like this. But, I'm terrified of heights, so I don't like this." — Wasabi, Big Hero 6
"Just when I think you couldn't possibly be any dumber, you go and do somethin' like this — and totally redeem yourself! Ha Ha! — Dumb & Dumber
"I like fluffy!" — Stitch, Lilo & Stitch
"Yeah, I called her up, she gave me a bunch of crap about me not listenin' to her enough, or somethin'. I don't know, I wasn't really payin' attention." — Dumb & Dumber
"All I've got at home is one pony and two dogs and four cats and six bunny rabbits and two parakeets and three canaries and a green parrot and a turtle, and a silly old hamster! I WANT A SQUIRREL!" — Veruca Salt, Charlie and the Chocolate Factory
"Some people play hard to get. I play hard to want." — The Adventures of Ford Fairlane
"Are you insane? Of course I want to leave the Dursleys! Have you got a house? When can I move in?" — Harry Potter, Harry Potter and the Prisoner of Azkaban
"By all means, move at a glacial pace. You know how that thrills me." — Miranda Priestly, The Devil Wears Prada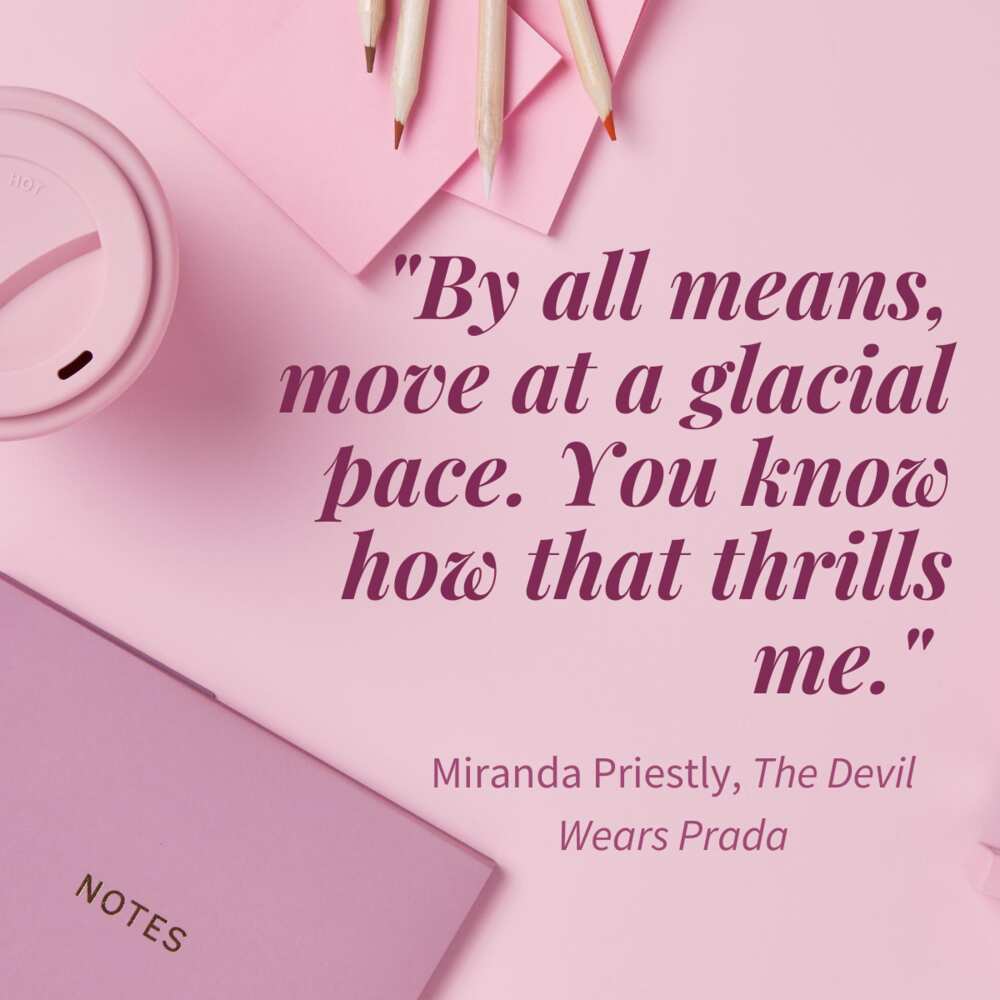 "I'm the Dude. So that's what you call me. You know, that or, uh, His Dudeness, or uh, Duder, or El Duderino if you're not into the whole brevity thing." — The Big Lebowski
"It's about time somebody stood up to Auntie Eleanor. But you, not me, oh god. She can't ever know I was here." — Oliver T'sien, Crazy Rich Asians
"You know, I've always wanted a child. And now I think I'll have one on toast!" — Winifred Sanderson, Hocus Pocus
"Do you prefer 'fashion victim' or 'ensemble-y challenged?'" — Cher Horowitz, Clueless
"Well, I've read through that Handbook For The Recently Deceased. It says: 'live people ignore the strange and unusual.' I, myself, am strange and unusual." — Lydia Deetz, Beetlejuice
"Give me some of your tots!" — Napoleon Dynamite, Napoleon Dynamite
"Doth mother know you weareth her drapes?" — Tony Stark, The Avengers
"What the hell have you people been smoking out there?" — Parker Selfridge, Avatar
"If you wear a dress, and have an animal sidekick, you're a princess." — Maui, Moana
"Can I use the facilities? Because being pregnant makes me pee like Seabiscuit!" — Juno MacGuff, Juno
"Supermodels - ha! Nothing super about them. Spoiled, stupid little stick-figures with poofy lips who think only about themselves. Feh! I used to design for GODS!" — Edna Mode, The Incredibles
"Ain't nobody coming to see you, Otis!" — David Ruffin, The Temptations
"Earth is amazing! There are these things called farms. They put seeds in the ground, pour water on them, and they grow into food, like pizzas!" — The Captain, Wall-E
"There's no top part – I definitely remember Dad having a top part!" — Barley, Onward
"Liar! Try me again, and I promise you that you and I are gonna have a Middle Passage experience, a fight for survival, and I will win. Have I made myself clear? Clear?" — Iyanla Vanzant, Girls Trip
"I share a drawer with a phone book and she's got two closets?" — Alex Fielding, Twitches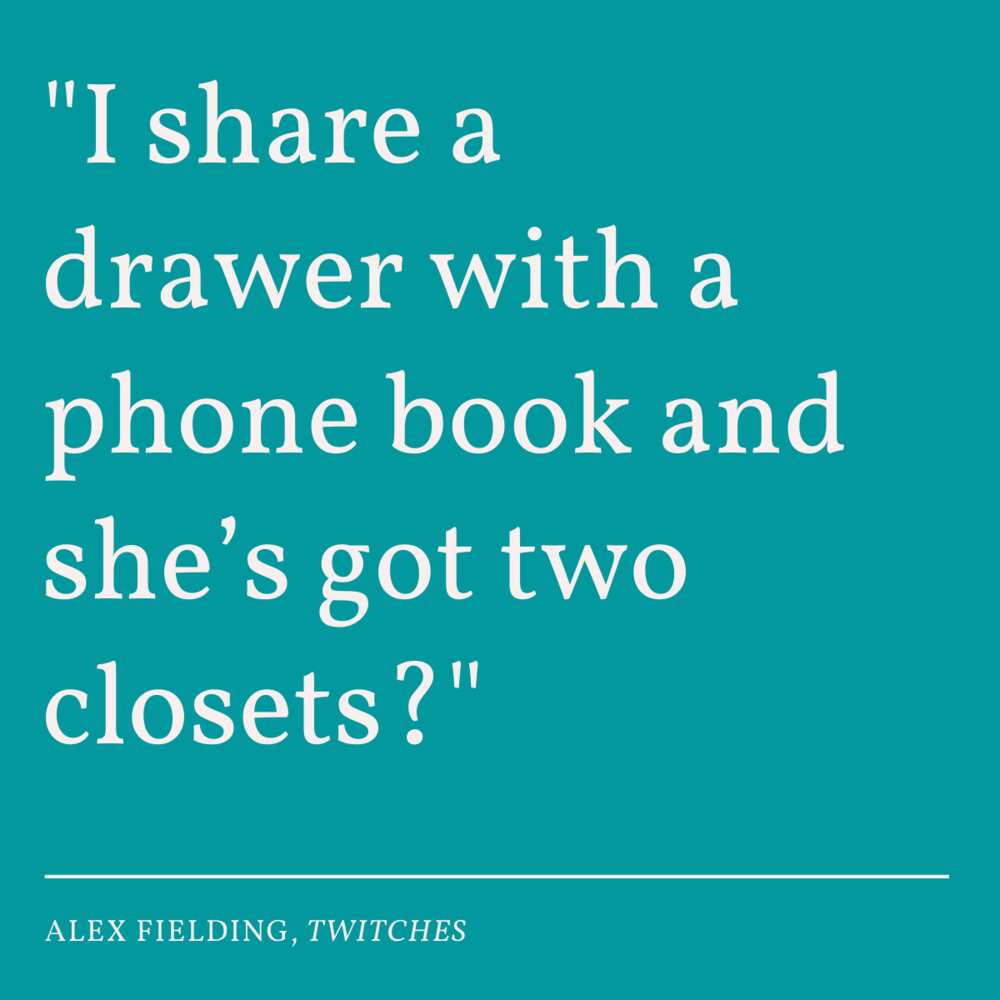 "Guys, I'm eating junk and watching rubbish!" — Kevin McCallister, Home Alone
"What is this? A school for ants?" — Derek Zoolander, Zoolander
"I know you've been embezzelin' my pizzas, and I will catch you eventually. And when I do, I swear ta God, you will neva deliver pizzas in this town again!" — Mr. Pizzacoli, Dude, Where's My Car?
"Nothing goes over my head. My reflexes are too fast. I would catch it." — Drax, Guardians of the Galaxy
"My mom, a strange creature from the time when pickles on toothpicks were still the height of sophistication." — Bridget Jones's Diary
"Get that finger out of your ear! You don't know where that finger's been!" — Rex Kramer, Airplane!
"YOU'RE nervous? An 11-year-old is cutting my hair!" — Annie James, The Parent Trap
"McLovin? What kind of a stupid name is that, Fogell? What, are you trying to be an Irish R&B singer?" — Evan, Superbad
"Gentlemen, I wash my hands of this weirdness." — Pirates of the Caribbean: At World's End
"You're like a snack-sized Denzel." — Dwyane "The Rock" Johnson, Central Intelligence
"Fourth wall break inside of a fourth wall break? That's like...16 walls!" — Deadpool, Deadpool
"Well, a guy who dresses up like a bat clearly has issues." — Bruce Wayne, Batman Begins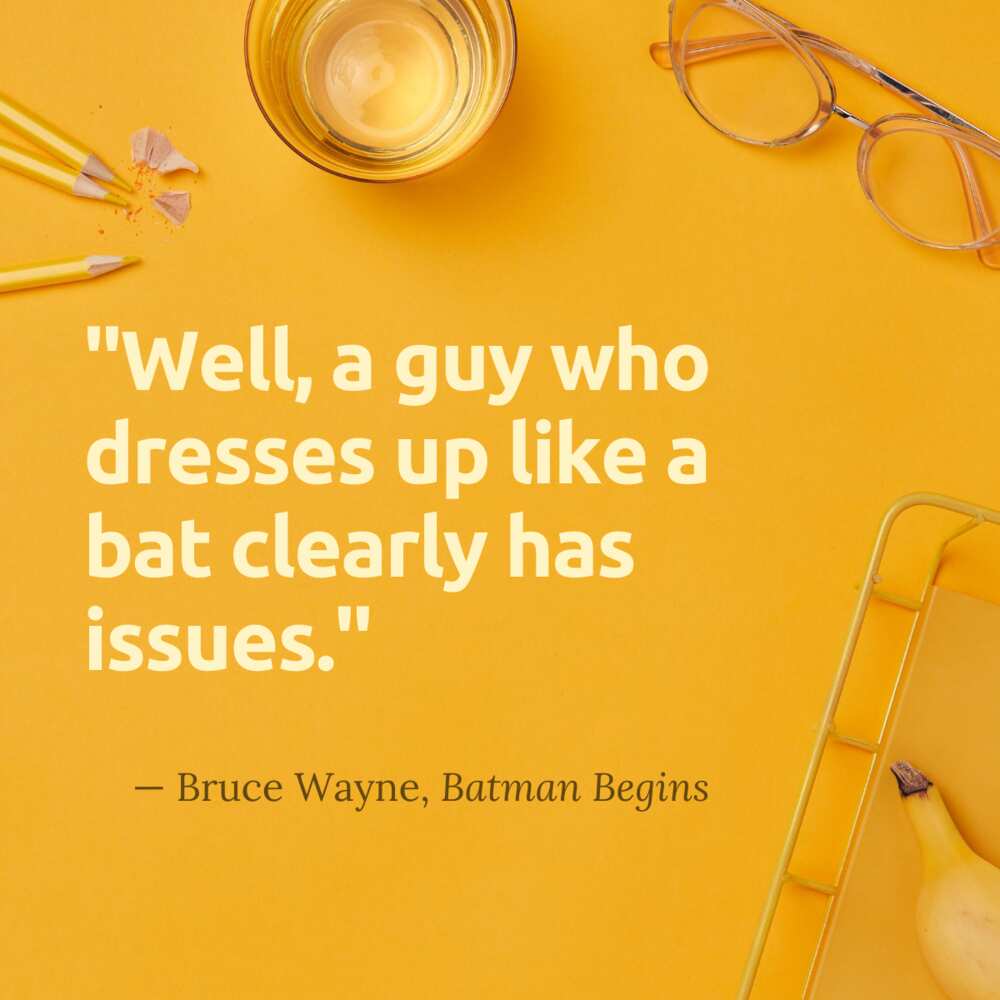 "That's it, Dishonor! Dishonor on your whole family! Dishonor on you, dishonor on your cow!" — Mushu, Mulan
"If they got me, got me got me, I got to get them, get them, get them." — Madea, Tyler Perry's Madea Goes to Jail
"Could you like, chill for a sec?" — Tess Coleman/Anna Coleman, Freaky Friday
"What... How... Oh, look at this! Sons of the pharaohs! Give me frogs! Flies! Locusts! Anything but *you*! Compared to you, the other plagues were a joy!" — Dr. Bey, The Mummy
"I may have trouble remembering my own name, or what country I live in, but there are two things I can't seem to forget: that my own daughter threw me into a nursing home, and that she ate Minny's s*it." — Missus Walters, The Help
"The best thing about visiting the President is the food! Now, since it was all free, and I wasn't hungry but thirsty, I must've drank me fifteen Dr. Peppers." — Forrest Gump, Forrest Gump
"Whoever said orange is the new pink was seriously disturbed." — Elle Woods, Legally Blonde
"Why can't you just be happy for me and then go home and talk behind my back later like a NORMAL PERSON!?" — Lillian Donovan, Bridesmaids
"See that? NYPD, means I will Knock Your Punk*ss Down!" — Jay, Men in Black
"My teenage daughter is not afraid of you, why should I be... Drew?" — Dr. James Possible, Kim Possible Movie: So the Drama
"The smell of your weird is totally affecting my vocal chords." — Bumper Allen, Pitch Perfect
Funny Disney quotes
Here are more movie quotes funny from Disney specifically:
"I can't believe it, I'm losing to a rug." – Genie, Aladdin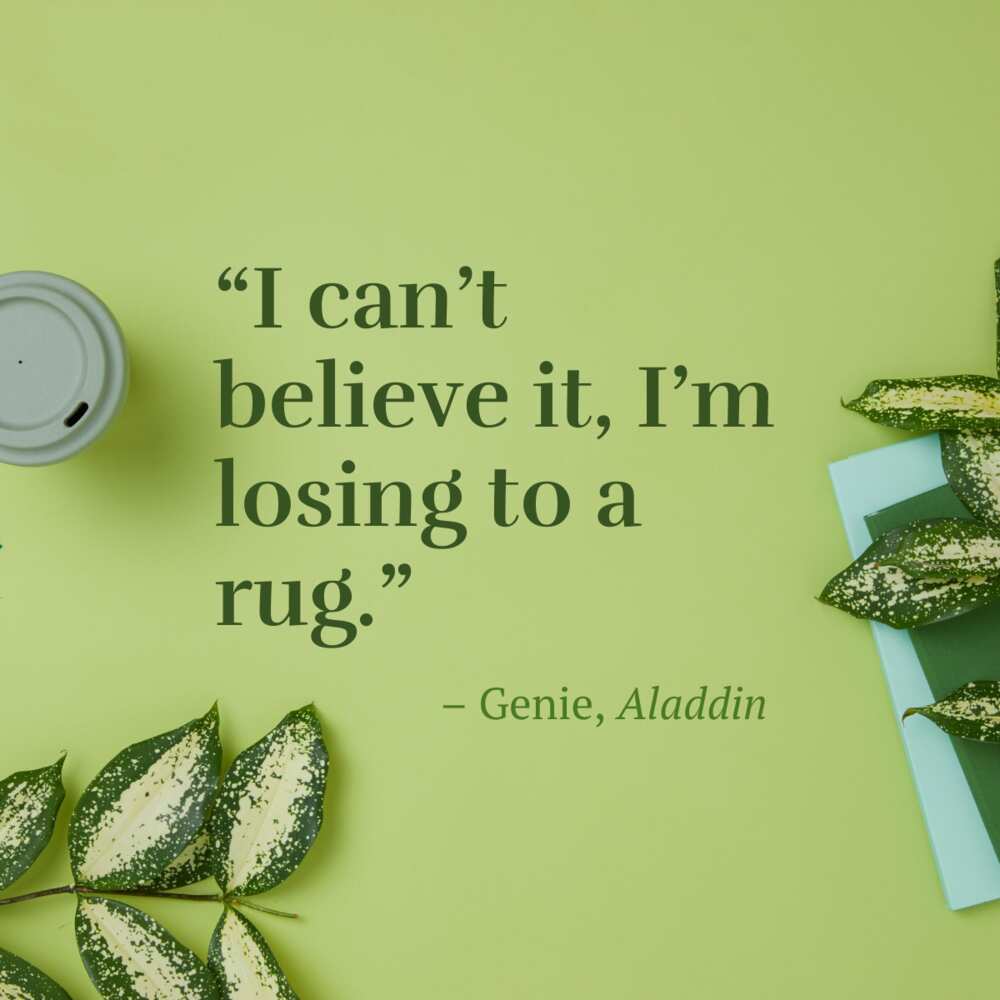 "Motto? Nothing, what's a motto with you?" – Timon, The Lion King
"I'm surrounded by idiots." – Scar, The Lion King
"You're all way past the beauty sleep thing, trust me." – Mushu, Mulan
"My bark is worse than my bite." – Grandmother Willow, Pocahontas
"Spare me your lies, temptress." – Buzz Lightyear, Toy Story 3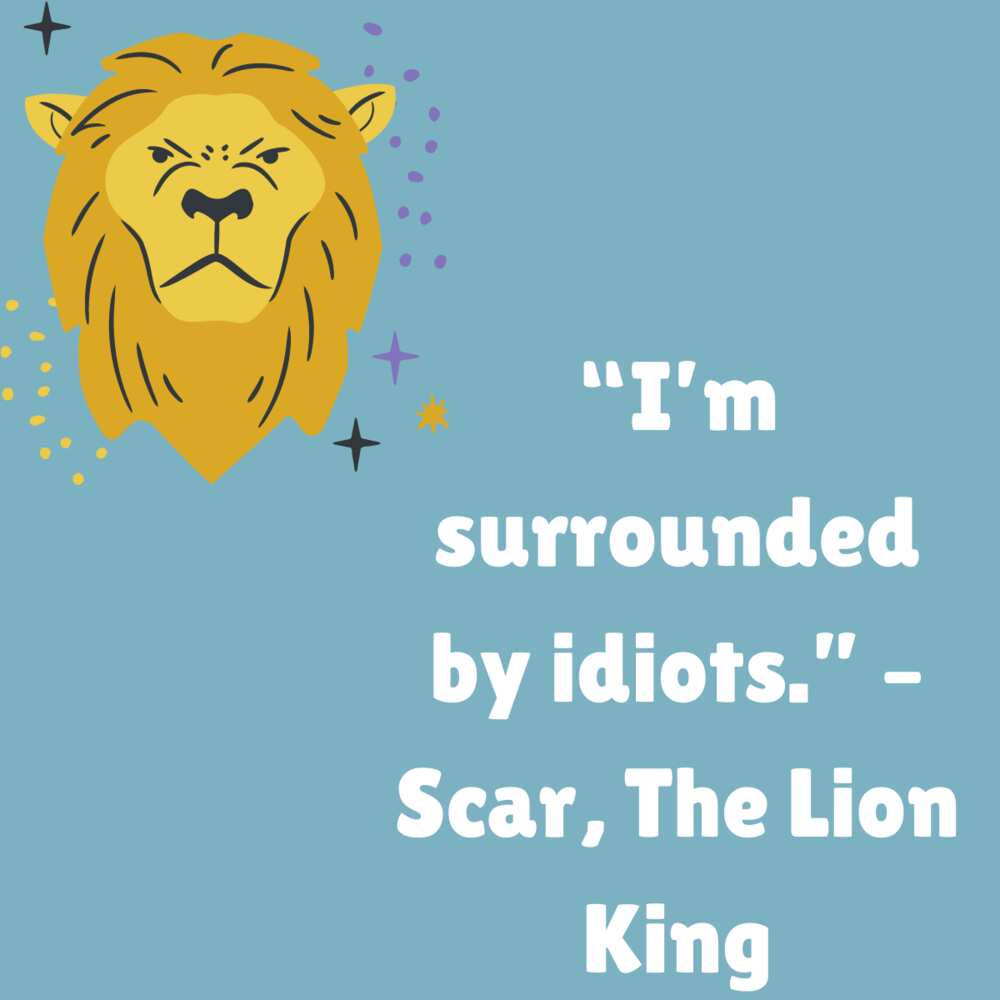 Funny movie speeches
"The key to faking out the parents is the clammy hands. It's a good non-specific symptom. A lot of people will tell you that a phony fever is a dead lock, but if you get a nervous mother, you could land in the doctor's office. That's worse than school. What you do is: you fake a stomach cramp, and when you're bent over, moaning and wailing, you lick your palms. It's a little childish and stupid, but then, so is high school." — Ferris Bueller's Day Off
"...I want to look him straight in the eye and I want to tell him what a cheap, lying, no-good, rotten, four-flushing, low-life, snake-licking, dirt-eating, inbred, overstuffed, ignorant, blood-sucking, dog-kissing, brainless, dickless, hopeless, heartless, fat-a**, bug-eyed, stiff-legged, spotty-lipped, worm-headed sack of monkey s*** he is! Hallelujah! — National Lampoon's Christmas Vacation
"I don't know if you ever heard of me before, but I used to be called 'The Waco Kid.' I was just walking down the street, and I heard a voice behind me say, "Reach for it Mister!" I spun around and there I was face to face with a six-year-old kid..." — Blazing Saddles
Funny movie memes
Here are some amazing movie memes:
Sometimes directors are just too cocky:
Seems like Spider-Man is also quarantining (Sorry, Tom):
Nothing compares to this laugh by Drax and Mantis:
Which of these funny movie quotes did you like the best? Let us know in the comment section below.
READ ALSO: 15 famous Forrest Gump quotes to get you through a tough day
Legit.ng compiled a list of awesome Forrest Gump quotes that will help you get through a tough day.
Despite being released 26 years ago in 1994, Forrest Gump is one of the best movies today. Forrest Gump quotes, on the other hand, are very relatable and are bound to make you take a step back and think.
Source: Legit.ng