30+ famous football quotes by legendary players and coaches
Football is one of the most popular sports in the world, and there are a lot of legendary athletes who have made a successful career in this field. Many of them have learned plenty of life wisdom throughout their days on the pitch, which they gladly share with their fans. Check out these meaningful football quotes that were said by the best players and coaches of all time.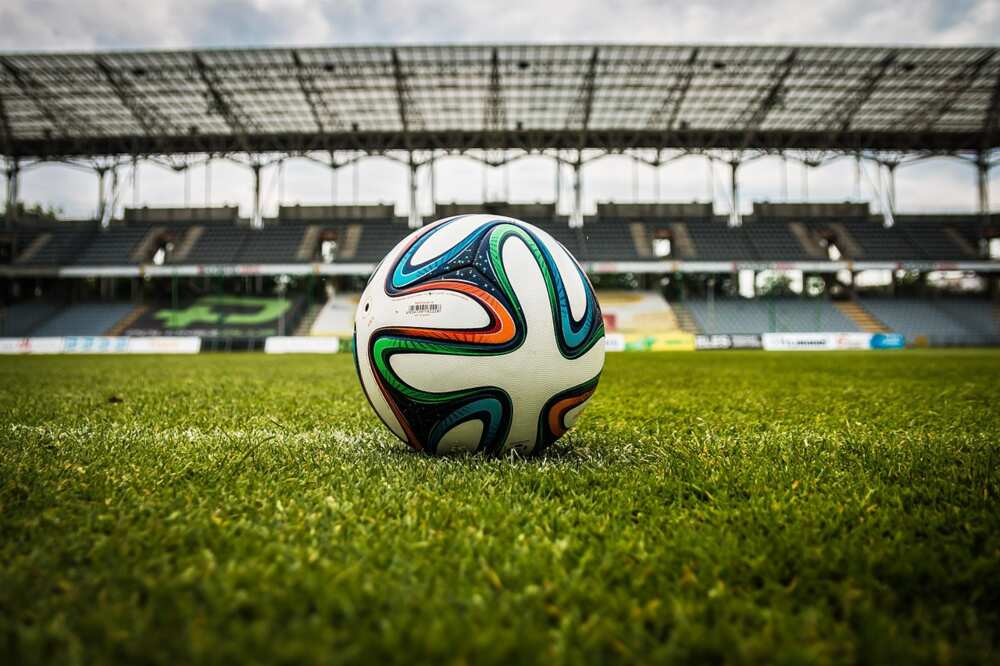 Athletes may have a hard time motivating themselves to train their skills. This is where famous soccer quotes come in.
These motivational football quotes were, at one point, said by professionals who have been through a lot of difficulties before they found themselves on top.
Here is a chance to laugh at some of the most hilarious quotes about football.
Football inspirational quotes
You can get encouraged by these inspirational football quotes. Here are some of the quotes that big-name players and coaches have used to share their deep thoughts:
"Success is no accident. It is hard work, perseverance, learning, studying, sacrifice, and most of all, love of what you are doing or learning to do." – Pele
"Your love makes me strong, your hate makes me unstoppable!" – Cristiano Ronaldo
"I only think about the pitch. I want to do great. I want to be one of the best. I want to win titles. I want to achieve things." – Paul Pogba
"I want to win and always have done since I was small. I don't know if it's in my blood or just my personality." – Diego Costa
"The secret is to believe in your dreams; in your potential that you can be like your star, keep searching, keep believing, and don't lose faith in yourself." – Neymar
"Football is about joy. It's about dribbling. I favor every idea that makes the game beautiful. Every good idea has to last." – Ronaldinho
"Money does not guarantee success." – José Mourinho
"Behind every kick of the ball, there has to be a thought." – Dennis Bergkamp
"Football's not just about scoring goals – it's about winning." – Alan Shearer
"I never dreamed about being a millionaire – I dreamed about being a football player." – Victor Cruz
Famous football quotes
Our selection of the best soccer quotes will inspire you to conquer new heights and develop persistence, bravery, and determination.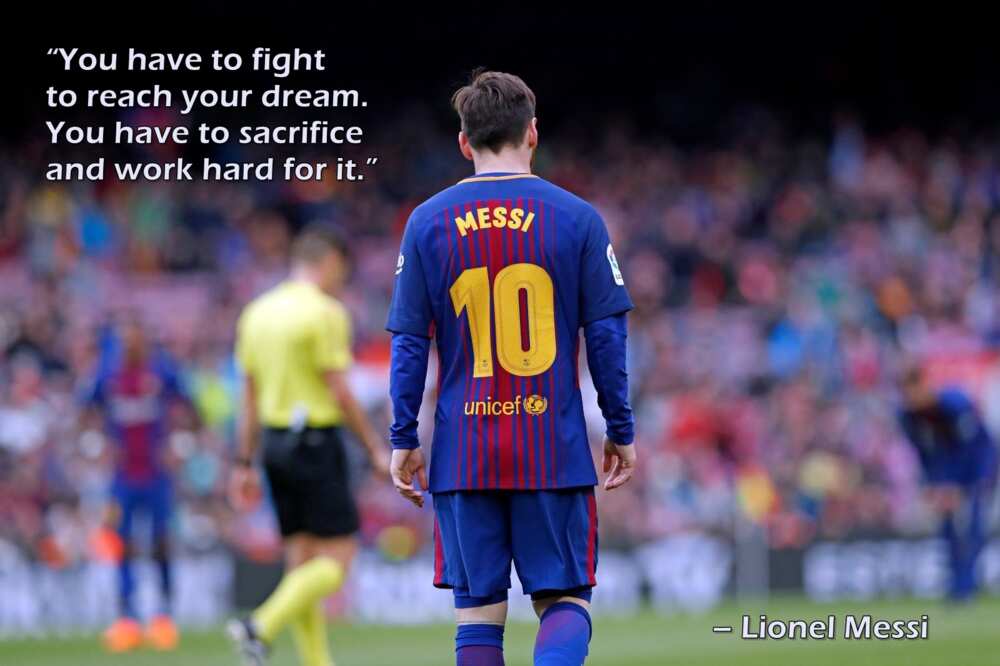 "Everybody makes mistakes, but when goalkeepers make them, it is costly. That's the nature of being a goalkeeper." – Gary Speed
"If I feel I'm not influencing games, not scoring goals or making goals, then that's the time I'd pack it in." – Ryan Giggs
"If you do not believe you can do it, then you have no chance at all." – Arsene Wenger
"I've never played for a draw in my life." – Sir Alex Ferguson
"When you win, you don't get carried away. But if you go step by step, with confidence, you can go far." – Diego Maradona
"Good players never want to sit on the bench as substitutes" – Marc Overmars
"You have to fight to reach your dream. You have to sacrifice and work hard for it." – Lionel Messi
"I don't have time for hobbies. At the end of the day, I treat my job as a hobby. It's something I love doing." – David Beckham
"Every time I went away I was deceiving my mom. I'd tell her I was going to school but I'd be out on the street playing football. I always had a ball on my feet." – Ronaldo
"I have a need to play intensely every day, to fight every match hard." – Zinedine Zidane
Soccer quotes for girls
Girls need a soccer inspirational quote from time to time, as it is not easy to prove yourself in this male-dominated field. Female soccer is becoming increasingly popular, and women who play this competitive sport are no less talented and inspiring than men.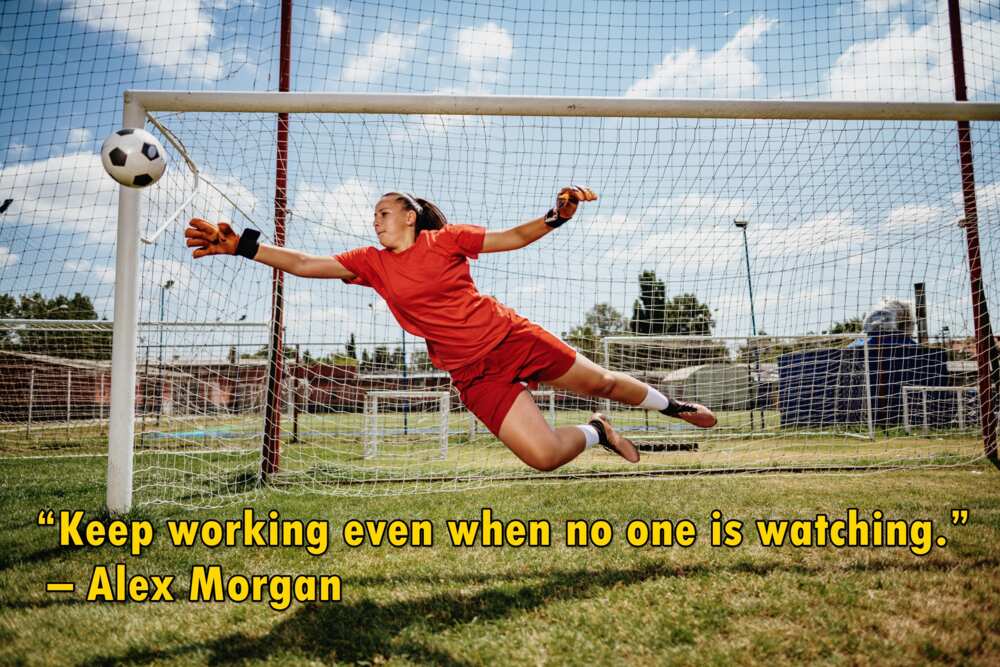 "I've never scored a goal in my life without getting a pass from someone else." – Abby Wambach
"Take your victories, whatever they might be, cherish them, use them, but don't settle for them." –Mia Hamm
"Keep working even when no one is watching." – Alex Morgan
"A champion is someone who does not settle for that day's practice, that day's competition, that day's performance. They are always striving to be better. They don't live in the past." – Briana Scurry
"When I was growing up, you didn't know there was a women's national team. Now girls grow up dreaming of playing for Canada." – Christine Sinclair
"There's no better feeling than stepping out on the field and stunning them all by doing what none of them thought you could do." — Ashlyn Harris
"It's that tingle in my stomach, that lump in my throat, and that smile on my face that tell me I am part of an incredible team." — Kristine Lilly
"It's about standing up and being counted and saying you're proud of who you are." — Megan Rapinoe
"Do what you love. If you love something, you aren't going to care about the sacrifices you're making to do whatever it is." — Kelley O'Hara
"I could have fallen off the face of the earth and sunk into a shell. It's hard to love this sport when you feel like it's crushed your soul and broken your heart into a million pieces. But you have to find the positive in every situation." — Crystal Dunn
Funny football quotes
Have a look at this collection of quotes by various personalities related to this sport. Some of these were said without the person realizing how hilarious they sound, while some are intentionally funny.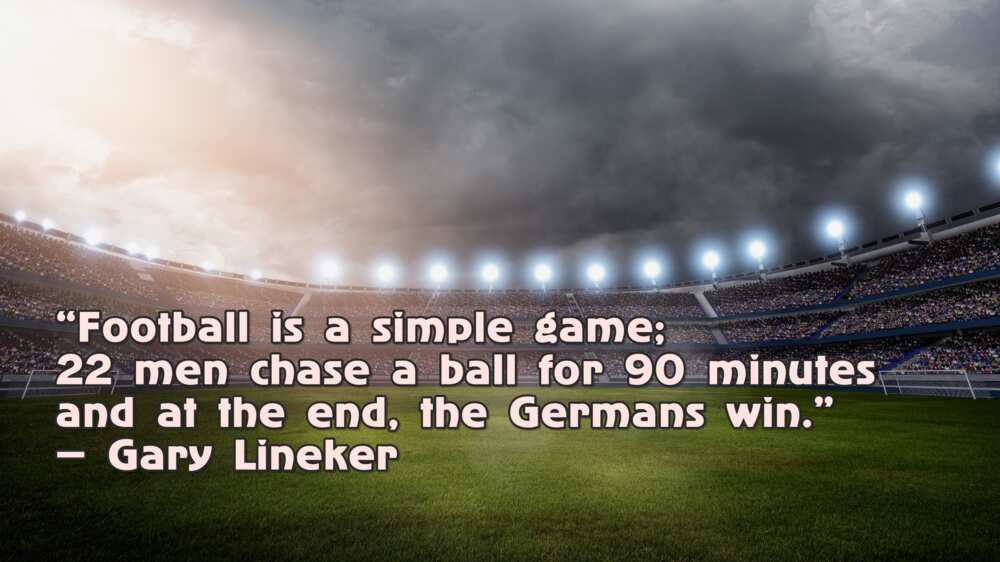 "Football is a simple game; 22 men chase a ball for 90 minutes and at the end, the Germans win." – Gary Lineker
"We must have had 99 percent of the game. it was the other three percent that cost us the match." – Ruud Gullit
"My wife doesn't like football. One day she called me 10 minutes before a game to find out where I was." – Peter Crouch
"I asked my son who his favorite player was. I expected him to say 'You, Dad'. But he said, Thierry Henry." – Didier Drogba
"Sometimes in football you have to score goals." – Thierry Henry
"I couldn't settle in Italy. It was like living in a foreign country." – Ian Rush
"We didn't underestimate them. They were a lot better than we thought." – Sir Bobby Robson.
"Chile have three options. They could win or they could lose." – Kevin Keegan.
"We lost because we didn't win." – Ronaldo.
"Well, actually, we got the winner up there with three minutes to go, but then they equalized. – Ian McNeill.
Football slogans
Most famous clubs have a slogan, which is picked up and chanted by their fans. A few of these slogans are quite interesting and inspiring.
Arsenal: Victoria Concordia Crescit (Victory through harmony)
Bayern Munich: Mia san Mia (We are we)
Barcelona: Més que un club (More than a club)
Liverpool: You'll Never Walk Alone
Manchester City: Superbia in Proelio (Pride in battle)
Real Madrid: Hala Madrid y nada mas (Hail Madrid and nothing more)
Tottenham Hotspur: Audere est Facere (To dare is to do)
Benfica: E Pluribus Unum (Out of many, one)
Everton: Nil satis nisi optimum (Nothing but the best is good enough)
Manchester United: Youth, Courage, Greatness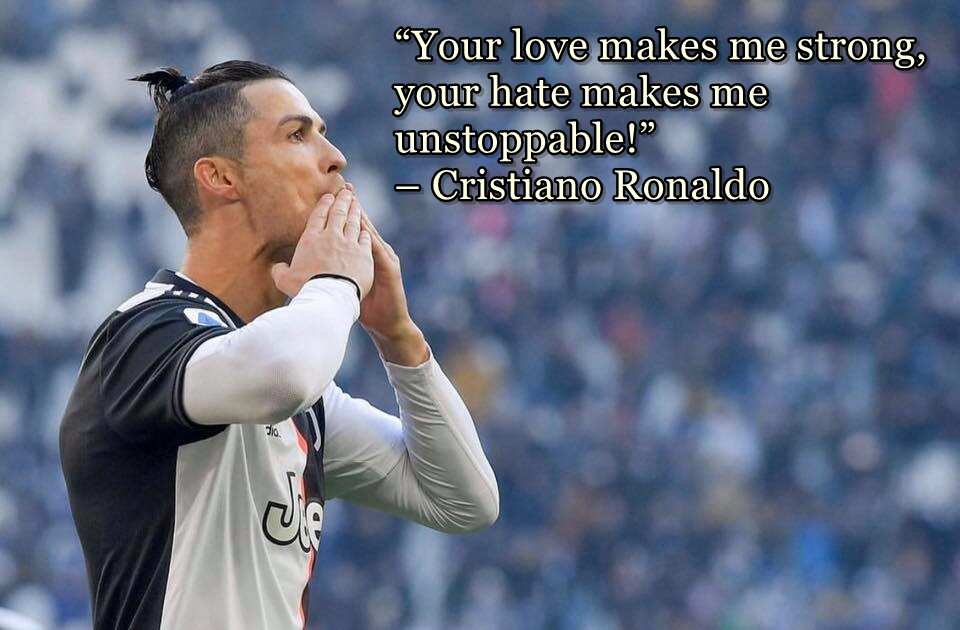 Here are some interesting football sayings for your own team:
"One team, one dream."
"All out, all game, all season."
"A team above all. Above all a team."
"Champions play as one."
"Small town, big dreams."
"All for one."
"Pain is temporary, pride is forever."
"Leave it all on the field."
"Win the day."
"Always earned. Never given."
These famous football quotes by players and coaches have enough potential to motivate aspiring players, enthusiasts, and fans.
READ ALSO: Top 5 football trophies and their worth
Legit.ng reported about the 5 most expensive and luxurious football trophies. Every player dreams of winning one and bringing honor to their team.
How expensive is the UEFA Champions League trophy, or the World Cup award? Have a look at the most rewarding trophies for every professional athlete who plays this kind of sport.
Source: Legit.ng