Wiccan holidays, also known as witch holidays, are special days of festivity celebrating the earth's natural rhythms. The holidays celebrate the earth's journey around the sun, called the Wiccan Wheel of the Year.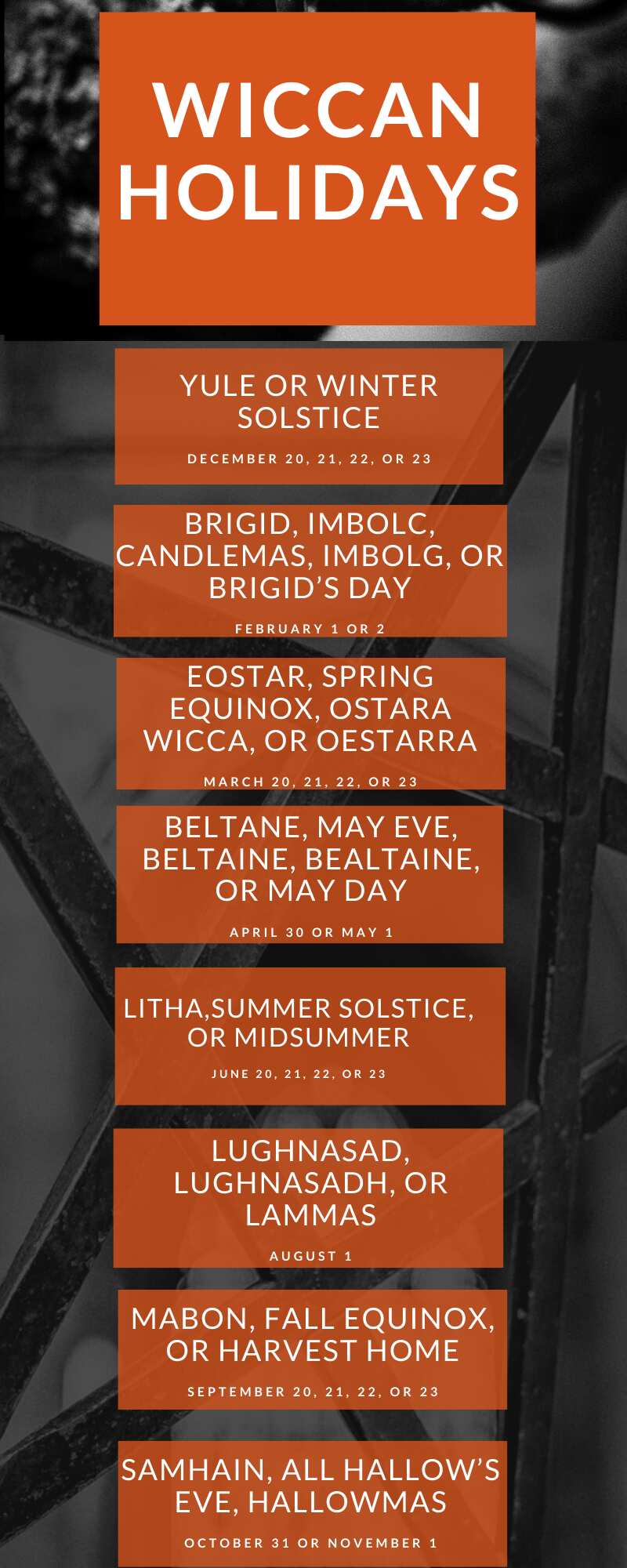 These holidays are also referred to as Wiccan Sabbats, a name that originates from sabbath, which is a gathering or meeting to practice rites and rituals. Commemorating the Sabbats is referred to as Turning the Wheel.
What holidays do Wiccans celebrate?
There are eight Wicca holidays annually. Here is a conclusive explanation of all these holidays:
Wiccan holidays explained
The Wiccan calendar contains eight holidays. They are:
1. Yule, Winter Solstice - December 20th, 21st, 22nd or 23rd
Yule is the longest night and shortest day of the year. Some Wiccans consider Yule to be either the year's beginning or end.
Wiccan Yule is a time to celebrate the light(Yule is the solar turning of the tides, and the newborn sun offers a fresh start and a new day). It is also a time for renewal and hope.
The day symbolizes the light and the sun's return as well as the Horned God's rebirth.
The holiday is celebrated by burning candles to welcome the sun and represent it in spells and rituals. The day can also be marked by decorating altars with seasonal herbs.
Yule's sacred plants include ivy, evergreen, and holly; while herbs linked with Yule include myrrh, star anise, myrrh, coriander, mistletoe, pomegranate., myrrh, frankincense, spikenard, star anise, apple, cinnamon, clove, coriander, and oak.
Yule is also celebrated through casting out spells. Yule's spells are those that deal with love, harmony, and enhancing love and peace.
Some people refer to Yule Wicca as Wiccan Christmas.
2. Brigid, Imbolc, Candlemas, Imbolg, or Brigid's Day - February 1st or 2nd
This holiday celebrates the promise of spring. During Imbolc, Wiccans clean and organize their environments, hearts, and minds in preparation for the upcoming season of growth.
Imbolc is a time to shake off the doldrums of late winter and light the fires of creativity and inspiration.
Imbolc is celebrated through ritual candle lighting; witches light candles in every room of a house just after sunset to honor the rebirth of the sun.
The symbols that signify Imbolc include plows, candle wheels, Brigid Crosses, and white flowers. Moreover, there are several sacred herbs and plants for this occasion, including bay, iris, basil, wisteria, coltsfoot, and blackberry.
Also, there are several images associated with this Sabbat, including the crown of light, the Goddess and the God's reunion, and various ceremonies and celebrations surrounding fertility and new life.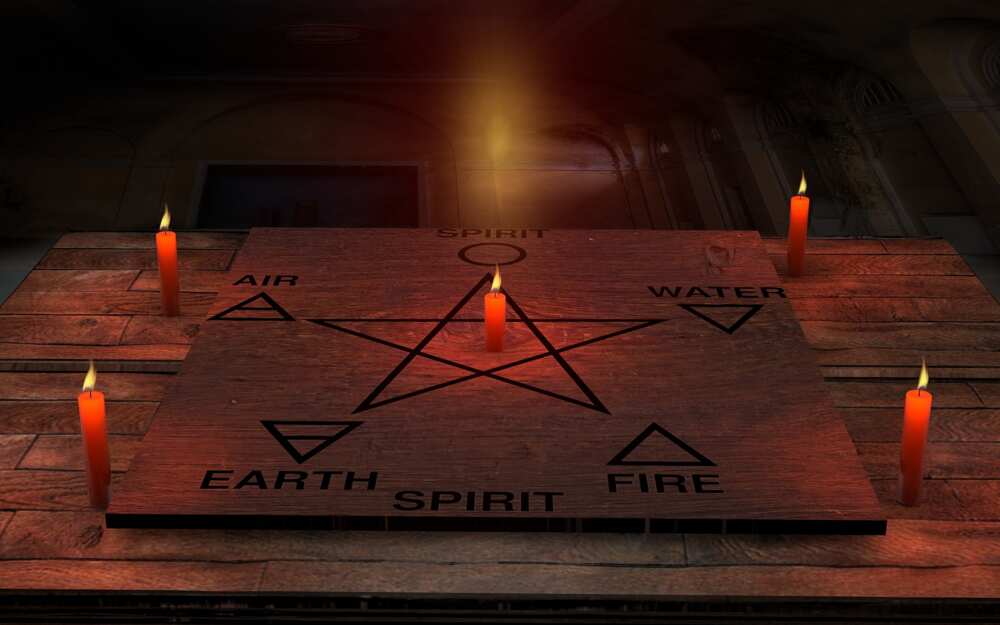 3. Eostar, Spring Equinox, Ostara Wicca, or Oestarra - March 20th, 21st, 22nd, or 23rd
Eostar signifies spring's official arrival. It is a time of fertility, birth, and renewal.
During Eostar, day and night are equal at the equinox, winter is over, and light increases. Growth is the theme of the day.
The day is celebrated by setting intentions and appreciating nature and the spring. On this day, Wiccans plant seeds, bless plants and scatter them across the home or altar.
They may also cast out various balancing and spring spells.
Some Wiccans may focus on honoring and worshiping the Triple Goddess during this time, while others use it as an opportunity for blessings of all kinds.
Ostara colors are the colors associated with springtime, such as grassy greens, pastels like pink, mint, lavender, yellow and robin's egg blue.
Ostara symbols include eggs, seeds, rabbits and hares, flowers, buds, grass, and sunrise.
4. Beltane, May Eve, Beltaine, Bealtaine, or May Day - April 30th or May 1st
Beltane is a time of marriage and union of the Goddess as Mother Earth and the God of Greenwood.
It is an ancient fertility festival marking the beginning of the planting cycle. The joyful/light-hearted festival is celebrated to ensure a good growing season and a bountiful harvest.
Beltane signifies the midway point between summer and spring.
Wiccans celebrate it by dancing around a distinct maypole or witnessing an emblematic Great Rite. The day may also be observed through bonfires, casting spells that invoke fertility and union, and by aligning feminine and masculine energies within oneself.
Since this Sabbat is labeled a Feast of Fire, one of the largest represented symbols signifying this holiday is fire. Colors signifying Beltane include red, green, white, and silver, and this holiday is celebrated with rosemary, cinnamon, apples, and gingerbread.
5. Litha, Wiccan Summer Solstice, or Midsummer - June 20th, 21st, 22nd, or 23rd
Litha is the longest day and shortest night of the year. It signifies summer's entrance.
During Litha, crops are planted and growing, and the woods and forests have reached their peak fullness. It is a time of abundance for wildlife and people.
It is a joyous occasion celebrated by meditating and meeting with groups of covens for celebration outside where the sun is shining. The day may also be commemorated through summer games and bonfires.
Litha represents a time for protection, truth, charisma, and cleansing spells.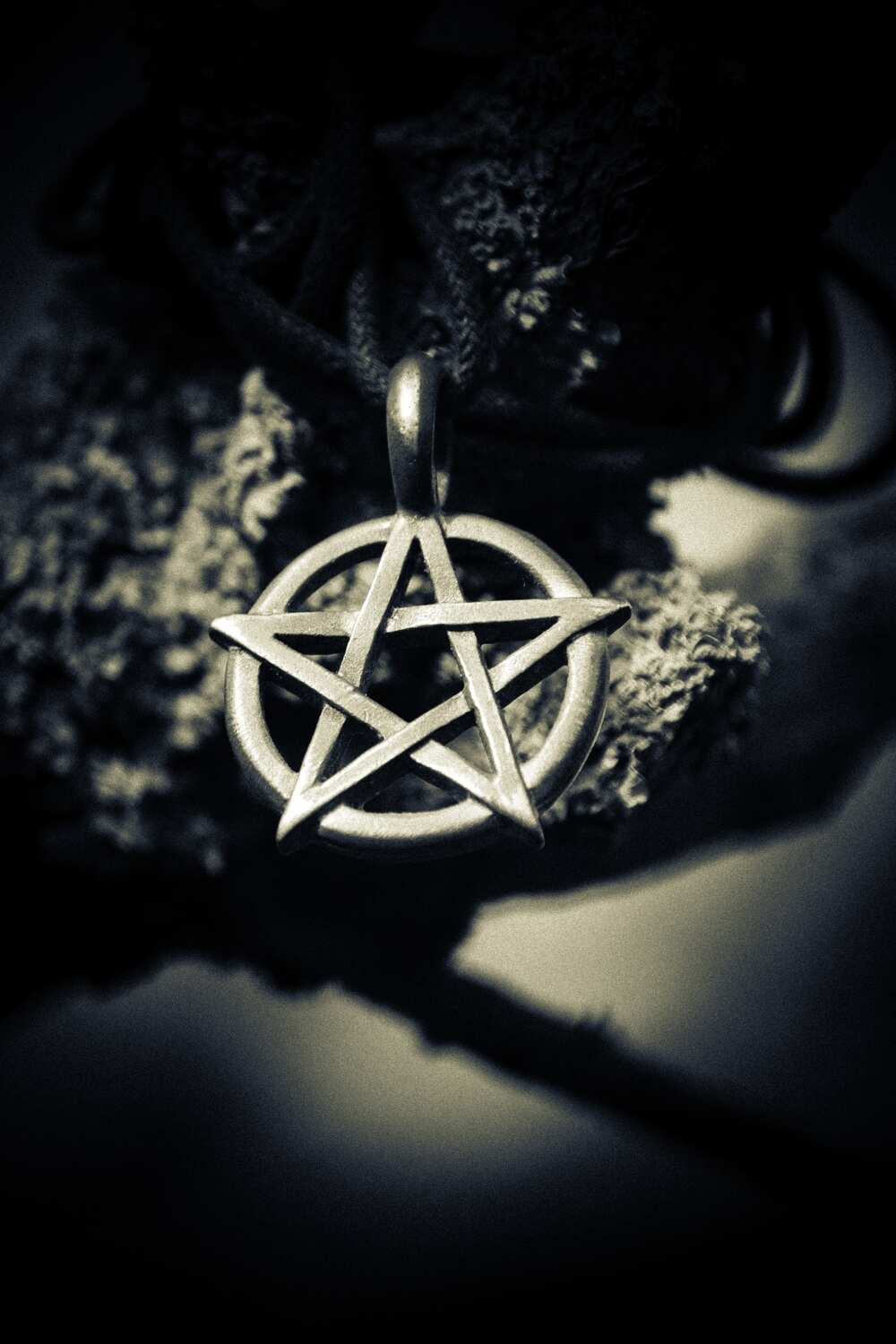 6. Lughnasad, Lughnasadh, or Lammas - August 1st
For ancient pagans, Lughnasad was a time of both hope and fear. They held hope for a bountiful harvest and abundant food but feared that the harvest wouldn't be large enough and that the cold months would be filled with struggle and deprivation.
Modern Wiccans face their fears and concentrate on developing their abilities; they take steps to protect themselves and their homes.
Lughnasad is a time to give thanks to the Goddess and God for the seeds, crops, and food to eat.
7. Mabon, Fall Equinox, or Harvest Home - September 20th, 21st, 22nd, or 23rd
During Fall Equinox or Mabon, the day and night are equal in length, in sublime balance. Mabon is a time for thanksgiving.
Mabon is an ideal time to perform massive outdoor rituals-mainly due to pleasant weather and that this holiday occurs when there are no major conventional holidays.
Numerous cities and towns host public Mabon rituals to commemorate their Pagan Pride Day annual gatherings. Sole pagans can offer hoe altars or take a reflective walk.
8. Samhain, All Hallow's Eve, Hallowmas - October 31st or November 1st
For many Wiccans, Samhain is the most important Sabbat in the Wiccan calendar. The day marks a new year, and it is a time to remember ancestors and to celebrate the harvest and all that has been accomplished over the year.
What is the next Wiccan holiday?
The next Wiccan holiday is Mabon/Fall Equinox/Harvest Home, to be celebrated on September 20th, 21st, 22nd, or 23rd.
How do Wiccans celebrate Yule?
During the twelve days of Yule, crops are harvested to make a meal, trees are decorated with pinecones, foliage, and candles, and gifts are exchanged with loved ones.
The Yule Log is also decorated with candles and berries which gets placed on an altar.
What are the Wiccan holidays of Celtic origin?
They are:
Samhain;
Imbolc;
Lughnasad;
Beltane.
What are the Wiccan holidays of Germanic origin?
They include:
Mabon;
Yule;
Litha;
Ostara.
Which are the Greater Sabbats?
They include Samhain, Beltane, Lughnasad, and Imbolc. Greater Sabbats occur between cross-quarter days. They are also called Fire Festivals and are of Gaelic or Celtic pagan origin.
Which are the Lesser Sabbats?
They include Mabon, Yule, Litha, and Ostara. Lesser Sabbats either fall on the equinoxes or solstices.
They are also called quarter holidays since they evenly split a year per the position of the sun, and they are primarily of Germanic pagan origin.
Wiccan holidays celebrate the earth's journey around the sun, also called the Wicca Wheel of the Year. These special days are a fantastic way of connecting with human life and the seasons' cycles.
READ ALSO: Public holidays in Nigeria in 2020
Legit.ng recently published a conclusive list of all the public holidays in Nigeria. The report concluded that Nigeria has three types of holidays: Public holidays, observance, and local/seasonal holidays.
While the public holidays are the same every year, the government might add some changes to them if need be.