Editor's note: Maiwada Dammallam a Katsina-based security analyst writes on Nigerian military's operations against terrorists in the northeast region of Nigeria. Dammallam tries to identify ways to improve the relationship between Nigerians, particularly the people of Katsina state and the Nigerian army.
PAY ATTENTION: Click "See First" under the "Following" tab to see Legit.ng News on your Facebook News Feed
Yesterday I had a fruitful conversation over breakfast with the amiable, agile and very alert Chief of staff of the Nigerian army, Lieutenant General Tukur Buratai, who is in Katsina state in continuation of his efforts to enforce peace and tranquillity in Nigeria.
His disarming optimism, pragmatism and confidence altogether, reassured me that the end of the ongoing banditry and insurgency is very near.
Although a private visit, I used the opportunity to discuss wide-ranging issues hoping to expand my knowledge of the intricacies and complexity of the ongoing war against banditry and insurgency and true to my conviction, the encounter confirmed my strongly held belief that security is not an everyday issue one could discuss intelligently without the requisite experience and of course, the finest information.
With this in mind, I avoided issues bordering on the technicalities of the ongoing war for lack of experience and requisite background. Instead, I concentrated on general issues with zero or little implication on the operations of the army viz-a-viz insurgency in the northeast and banditry in the northwest.
My purpose was to identify ways to improve the relationship between Nigerians, particularly the people of Katsina state and the Nigerian army for the mutual objective of ending the ongoing needless bloodshed for peace to reign.
In not so many words General Buratai explained to me the degraded army he inherited and the energy he infused into it to restore relative peace across Nigeria especially, in the northeast hitherto, the epicentre of insecurity in Nigeria.
We discussed social media and what role it plays in national security. We agreed it's as much a critical tool of making Nigeria a peaceful country as it is also a serious challenge to national security. Used with sincerity and objectivity, he's of the opinion the social media could achieve peace for Nigeria with little supervision. Applied irresponsibly, the social media is a box of matches in the hands of a madman in a filling station.
I wholly agreed with Gen. Buratai on the misapplication of social media as is prevalent today. Somehow the cheapness of the social media has made it a dangerous tool of distraction and unnecessary confusion in the system.
It's so dangerous a tool that today, fake and mischievous news in the social media has created unnecessary enmity between security agencies and citizens so much so one is tempted to believe the army is fighting against not for the citizens. And this is easily verifiable by the tonne of stories and atrocities of criminals shared on social media fora and platforms and the silence of citizens when the army score victories.
Sad as it is, no gainsaying the Nigerian army is not being dealt with fairly by the social media community. In every social media forum, there are more stories of their failures than successes.
No regular visitor to any of the social media platforms can say how many times he/she read pessimistic and cynical remarks about the Nigerian army doing nothing and also, how many times he/she read about soldiers killed by insurgents or bandits.
What could be more conflicting and unfair? Or could soldiers be killed without going to war? I once took up one of such cynical authors by asking how fair it will be to a widow or an orphan of a fallen hero to read his insensitive opinion about "Nigerian soldiers doing nothing" just at the time they are mourning the death of their breadwinner who sacrificed his life to make Nigeria safe?
The truth is, we need to properly identify who is the enemy in this war. With the right attitude and objectivity, I'm sure we will understand that the army is not just our friend but more a protective mother who will die for her children to live.
And like I said severally here, matters of security are better left for security agents. Attempting to discuss these matters flippantly will only lead to misinforming and confusing the public. I was exposed to this stark reality once.
It was about the $1 billion approval President Buhari gave to the military to procure weapons. In few months the entire social media was agog with stories saying the $1 billion was stolen. About 2 or 3 months later the then Army spokesperson, Brigadier General S. K. Usman (retired) was invited for an interview by a TV station I cannot readily recall.
During the interview, he was asked about the $1 billion. Only then I knew the approval was still in the corridors of the Federal Ministry of Finance, yet to translate into money much less, get to the Nigerian Armed Forces, to be stolen, as those pessimists will make us believe.
And many people believed this Mount Everest of a lie because most of us operate with a very shallow idea about government's bureaucracy while average thinking is that military weapons are purchased over the counter like chocolates. Imagine how traumatizing this would be to the people on whose ability to remain focused relies on our chances of surviving the war.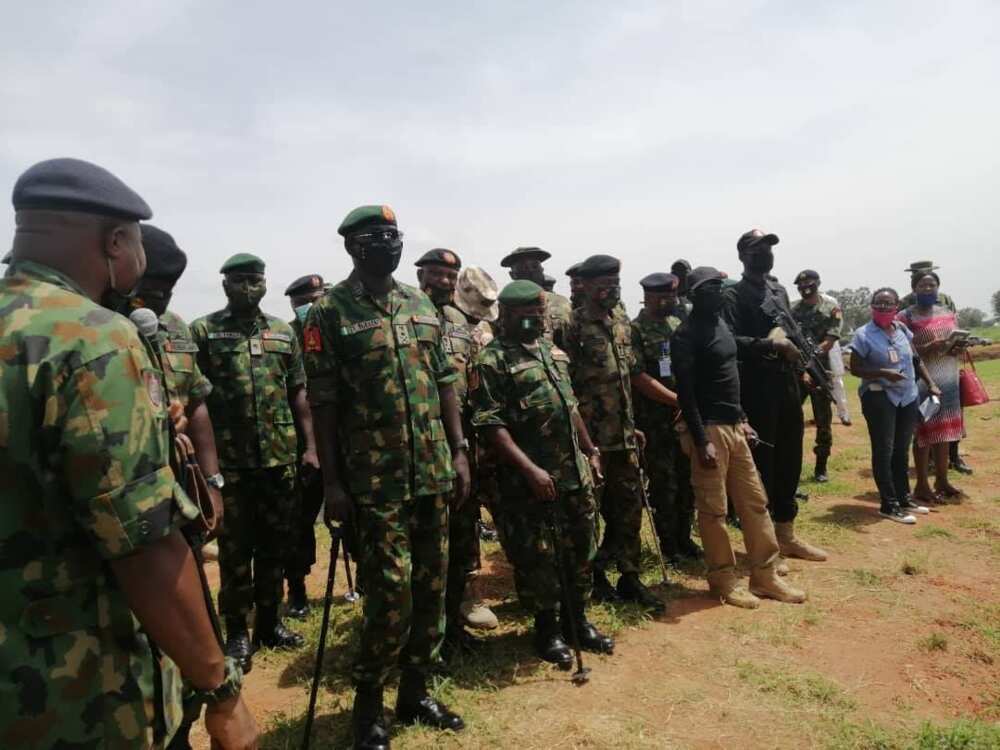 Before this social media influencer was done apologizing for this gaffe, he was out with another story about the failure of the Nigerian army which resulted in the kidnapping of 16 girls.
He was so much in a hurry to denigrate the army that he couldn't wait to read the Daily Trust story doing which he would have known that the event was in Niamey, Niger Republic, not in Nigeria. He simply read the caption and came out with a venomous opinion about the army.
Could this be a coincidence? Certainly not! It's a determination to confuse Nigerians and make the problem more complex and convenient to resolve political frustrations of certain people.
If that's not convincing, how about the social media debate about the "incorrectness" of Buhari's decision to retain his Service Chiefs? The true picture is, President Buhari is a well trained military officer who retired meritoriously as a Major General and after fighting many wars and finally achieving the position of the Commander-in-Chief of the Nigerian armed forces.
Using his best professional instincts and judgement and an added advantage of access to the finest information from a variety of creditable sources to handle the unique situation we have at hand, he decided to exploit a window offered him by the law and the Constitution to retain his Service Chiefs perhaps, to avoid upsetting the war blueprint with the potential consequences of reversing the gains made so far.
All of a sudden all social media users (many of whom could not identify correctly which end of an AK-47 oozes fire) became emergency security experts competent enough to challenge the decision of a war hero like "General Buhari." And they do this with nothing to work with but social media rumours and military expertise generated from James Bond and Rambo series.
The insistence that President Buhari must sack his service chiefs is the best proof of the absolute ignorance about the complexities of security matters.
For instance, it's a fact Buhari's service chiefs are not operating independently of the army but in conformity with its operational code.
Of course, General Buratai is the COAS but he's working with senior military colleagues to design and execute the war. It's not like it's entirely his decision how the war is fought. It's a collective decision of the leadership of the Nigerian army.
Every qualified successor of General Buratai is part of the success or failure of his tenure! It's from the circle of officers he's operating with that we expect President Buhari to pick a new COAS if and when he decide to substitute General Buratai.
In simple terms, whoever President Buhari will replace General Buratai with is just as "incompetent" as General Buratai because policing Nigeria is a group responsibility which could only be mischievously mistaken for a one-man job.
Where is such a substitute going to source for better ideas than he's contributing now to be a better COAS than General Buratai?
Unless we are to believe such a candidate is holding back his "revolutionary" ideas just so Gen. Buratai is ousted for him to take over, in which case, he's bad for the exalted post, I can't see any sense in the irritating calls for the sack of the Service Chiefs especially by novices.
PAY ATTENTION: Install our latest app for Android, read the best news on Nigeria's #1 news app
And is it not questionable that these calls are mostly aimed at Gen. Buratai? Why is nobody worried about the extension of the CDS, CAS and the CNS services?
This is enough to prove the uproar is not about the war but about something entirely unconnected to the war and the goodness of Nigerians. Unfortunately, many people are allowing themselves to be used as tools in a game that will lead Nigeria to nowhere but deeper into the abyss of destruction it's trying to get out.
This is a plea for Nigerians to respect the effort and sacrifices of the Nigerian armed forces and partner with them to restore peace in Nigeria.
Your own opinion articles are welcome at info@corp.legit.ng— drop an email telling us what you want to write about and why. More details in Legit.ng's step-by-step guide for guest contributors.
Contact us if you have any feedback, suggestions, complaints or compliments. We are also available on Twitter.
5 years after, Nigerians speak about Buhari's administration | Legit TV