Farming business in Nigeria: what types of farming will be profitable in 2019
All the people who always wanted to start farming can finally try to do it in the new year. Still, we need to know which farming business in Nigeria will be the most profitable and can potentially bring a lot of money. This article was created to analyze different farming businesses and tell you which of them can be the most lucrative in the coming year. Happy farming to you!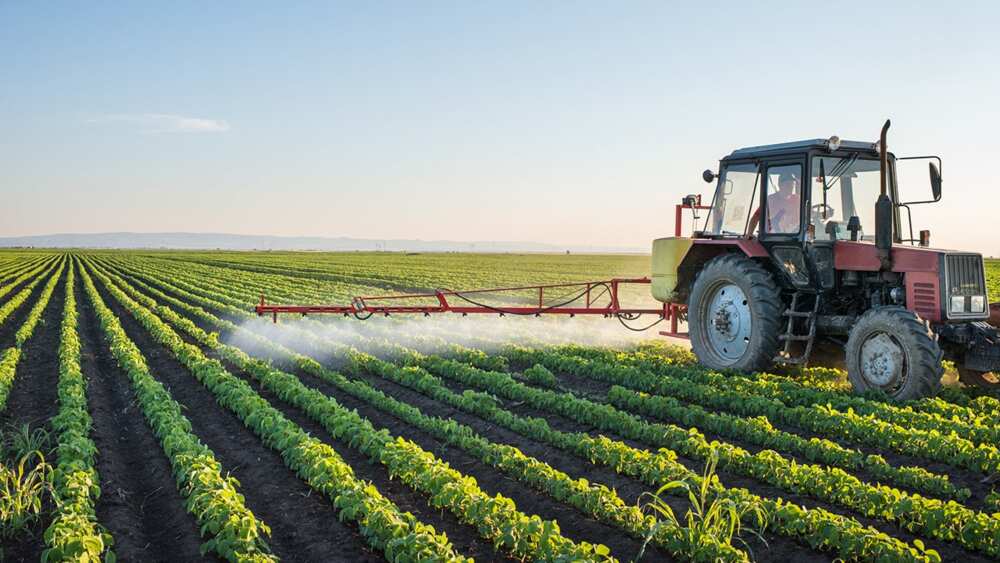 Photo: farmsafely.ie
Farming in Nigeria: which essential things will you need to know?
If you want to farm in Nigeria, you will have to prepare all the necessary things for the start. Obviously, the kit that you will need for farming will differ, depending on the particular type of farming that you are planning to choose. Below, we have prepared the basic essential information for the various types of farming, which, in our opinion, can become the most lucrative for you and earn you a lot of profit. Nowadays, farming in Nigeria is an occupation with a lot of opportunities and perspectives.
There are a lot of reasons why you should try farming on the vast Nigerian lands. At first, we will list these reasons for you, and, hopefully, convince you why this would be a good and profitable idea:
There are a lot of people in Nigeria – after all, the population of the country is more than 200 million people. This is twice more than combined populations of South Africa and Zimbabwe. The Nigerian population is very dependent on the foods which are produced by the farms, as it provides people with their daily meals. According to the searches, 80% of the Nigerians purchase the farm products on the market.
Nigeria has a lot of farmlands which are very fertile. This makes our country potentially perfect for those who enjoy farming and would like to make money off this business. The whole 70% of Nigeria's land is available for farming purposes.
The government of Nigeria is attempting to turn the attention to the farming promotion and boosting the production of food. The reason for it is that so many products are imported into Nigeria from abroad, and the government wishes to reduce the food importation to concentrate on producing the own food. This is why the government has different programs of assisting farming entrepreneurs by providing the necessary support.
Nigeria is the country with the biggest purchasing power on the African continent. A lot of people go to the stores and pay money for the products. Therefore, there is a large chance to sell your production if it is good enough. Nigerians also hold a lot of parties and festive events, and obviously, all of these need to be supplied with food.
Farming could potentially earn a comfortable amount of foreign currency. This means that the local Nigerian farmers could earn money not only in Naira but also in the American dollars and other currencies.
Now, that we have discussed the prospects of farming in Nigeria, we will move on to the pros and cons of this business, so you can have a look at them and evaluate them for yourself.
Photo: www.istockphoto.com
Pros of farming in Nigeria:
You will be able to choose your own specific development strategy, which will depend on your personal preferences and plans. You will not have to depend on anyone.
There are amazing opportunities for the foreign and Nigerian markets, and you will be able to sell your products in no time, given that your plan is effective and your product quality is high.
You will not necessarily need to have a huge budget to start – even with the small starting capital, you can achieve the great results eventually. Besides, there is a possibility to develop your business in a gradual manner and even combine it with the main job.
You can purchase all the necessary supplies on the Internet, and you can also sell them when you do not need them anymore.
If you invest your time, money and effort in your business, the expenses can be covered in about a few months, or even less.
Farming can be your constant and reliable source of regular income.
Cons of farming in Nigeria:
The first half a year or maybe even a year might be difficult for the business, but it depends on your specialization.
Before starting farming, you will need to do a huge amount of research, especially if you are not very experienced in this field.
If you started your business from scratch, some time would have to go on the search of partners, and looking for the trustworthy sale channels.
This occupation is extremely time-consuming, so you will need to drop other businesses for a while, and fully devote yourself to farming.
Not everything will always be bright – sometimes, farmers meet the challenges of bad weather, unpleasant environmental conditions, or virus epidemics.
Hopefully, you have weighed these pros and cons for yourself and decided whether farming is a good choice for you.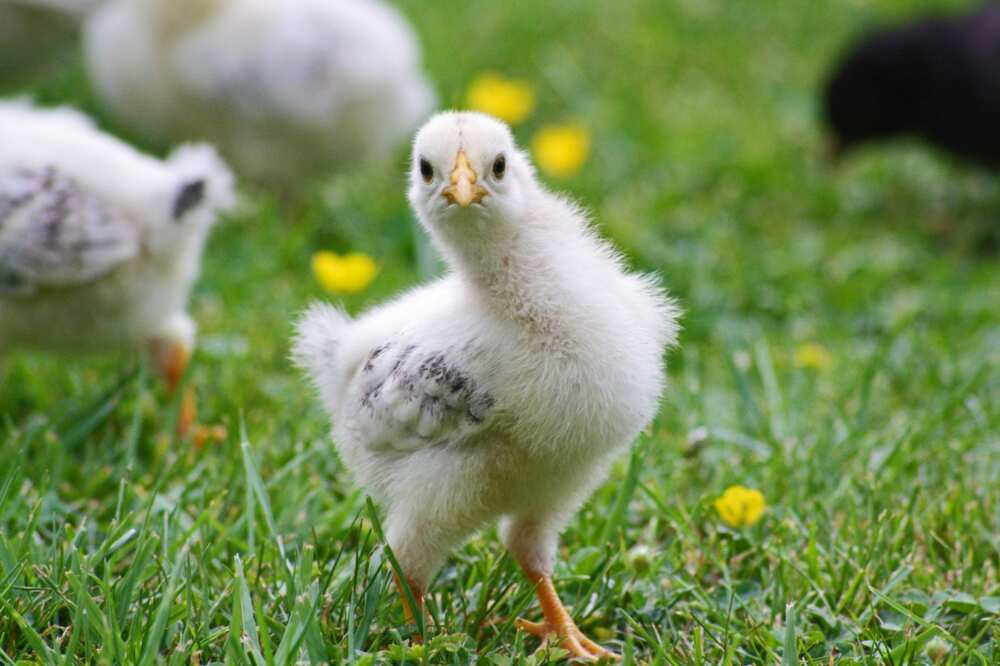 Photo: sisalto.es
Lucrative farming business in Nigeria
Our next topic will be some profitable business recommendations, which you could get inspiration from. We will tell you the basics about all of these types of farming, and you have a chance to choose what your heart desires.
Fish farming business in Nigeria
This is one of the most popular and profitable agricultural businesses in Nigeria. Nowadays, you can not only catch fish from the local pond or river but also grow it on the farm of your own. It is also very compatible with the poultry farm, as you can feed your fish with poultry drops. Here are some benefits of fish farming:
Fish business is very popular – the fish production in Nigeria is in very high demand in the market, and you will always find people who are interested in purchasing fish from you.
Fish contains protein – the fish is a container of many useful vitamins and substances, namely B2 and D, as well as phosphorus, calcium, zinc, iron, potassium, and magnesium.
The fish will sell very quickly – the experience shows that fish in the market sells quicker than the fellow animal production, and is cheaper than, for instance, the meat. This makes it affordable.
Fish quickly matures – you, as a farmer, will not have to wait for long to grow your fish. If you give them some good feeds that boost growth, you can even speed up this process.
Fish has Omega-3 – the Omega-3 acids are very useful for the human heart and brain. Our body does not produce these acids, so the only way we could receive it is by eating fish-related products.
Fish farming brings a lot of profit – all the farmers who planned their fish farm properly and managed it well have received a lot of profit within a few months.
There are no hazards to the environment – the fish farm can be set up wherever you want, this includes the residential areas. It does not affect the environment in any way.
If you are having trouble with choosing the type of fish you want to farm, there are some popular Nigerian species, which are mostly catfish, mackerel (or titus), and tilapia.
Starting a fish farming business is not as difficult as it might seem to be. Here are the primary things that you will need to do for getting started.
Secure a good land – this could be in any location. Calculate your budget and search for a land accordingly to your finances.
Construct the pond – for this, you may need to find the professional engineer and use the expert services, or you could also see how it is built at another fish farm.
Dig a borehole – your fishes will need enough water supply, and it has to be changed regularly. Usually, the borehole and river water are the most suitable choices.
Install the overhead tank – which means the water reservoir. From there, the water will be supplied to the pond. It is supposed to be connected to the pond through the plumbing system.
Buy the juvenile fish – you can get your fishes from some other farm, which specializes in them. Go for the high-yield catfish or tilapia species. Make sure that the farm you are purchasing from is healthy and reliable.
Get the training – by this, we mean the apprenticeship at another fish farm. You will need at least two months of professional training to start your own business.
Now you have learned the necessary information about how to farm fish in Nigeria. Keep reading for more farming tutorials!
READ ALSO: Agricultural grants in Nigeria 2018: how to get it and use wisely?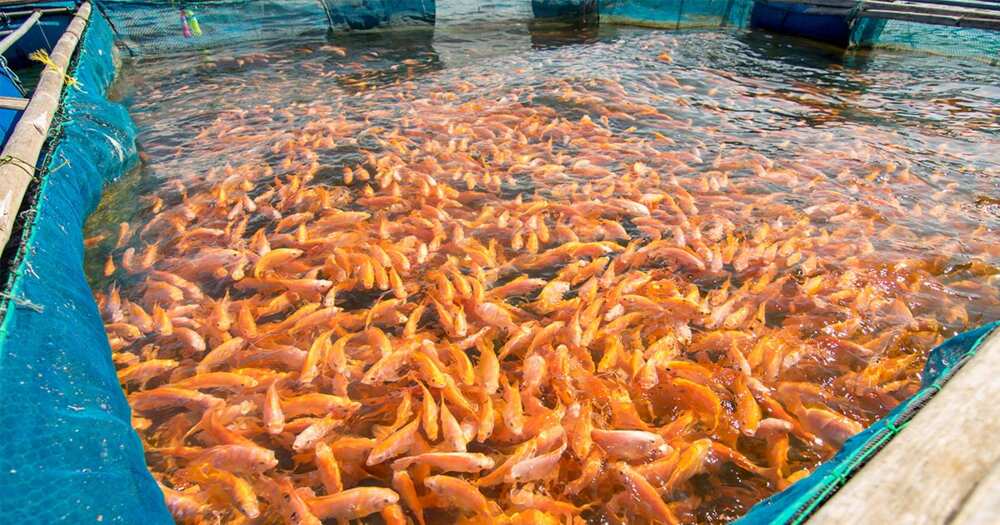 Photo: toxtown.nlm.nih.gov
Yam farming business in Nigeria
The yam farming business is connected with cultivating the yam crop, to consume it and process it in the market locally and internationally. There are a lot of opportunities for those who would like to be involved in the yam farming business. The yams can serve as food – it is possible to boil or fry them, and then eat them without any processing. As this is the primary purpose of it, yam is consumed and wanted in a lot of African homes, who eat this product on a regular basis. Yam is also used to make flour, which is, in turn, used for cooking different meals – namely pounded yam and amala. People use flour to make these meals prepare quickly, and avoid the unnecessary stress.
The yams were first known to be cultivated in Asia, in 8,000 B.C. Today, the worldwide production of yams annually is more than 30 million tons. The yams are considered to be a very rich source of vitamin C and are an excellent source of energy. Nigeria produces over 70% of the world's yam, and the other producers of this product are Cote D'Ivoire and Ghana. The most of Nigeria's yam production is concentrated in Benue State. Yam usually takes at least fourteen weeks to get mature.
If you want to start a yam farming business in Nigeria, here are some things you need to do first. Jumping into things unprepared will not always give you a good outcome, so be ready for everything.
Locate the farmland – it should preferably be an upland, which has a well-drained field. The yams grow best in these terrains. Except that, pay attention to the type of soil – the best yam crops grow in sandy and silt loam soils. However, the organic clay loam soils could also bring the desired effect.
Prepare for planting – the farmland that you have chosen should be prepared for farming and cleared before the rainy season. The best time for yam farming is February and April. You will have to do a lot of research on the farmland preparation.
Prepare the setts – after you are done with the land, you should move to setts. These are the tubers of healthy plants, and they can be cut into small pieces, or planted as the whole tubers without size reduction. There are four categories of setts – for head, middle, tail, and whole tubers.
Planting control – you will have to start the planting after preparing your land, somewhere within March and April, before the start of rainy seasons. You will have to plant around ten thousand setts for 0.5 land hectares.
Harvesting yam crops – when the foliage of your yams will dry up, or they will start turning yellow, the products can be harvested. Some of them can be replanted in the next season, and some will be sold on the commercial market.
Marketing yam crops – after you have gathered your harvest, your next step will naturally be selling them on the market. There are a lot of ways to put your goods on the market, and if you promote them well and pay attention to the quality, there is a big chance that you will find your buyers.
Of course, the yam business can be full of challenges, like various pest and diseases, the mistakes due to lack of experience, problems with finances and marketing. But eventually, you will gain your client base and all the necessary farming skills.
Photo: www.von.gov.ng
Plantain farming business in Nigeria
What is plantain? It is one of the staple African foods, which mostly grows in tropical areas. Nigeria and Western Africa, in general, is the best place for the plantain to grow. In our country, people prepare plantain by boiling, frying, or steaming it, and it is considered to be an exceptional delicacy. Plantain chips are also a popular way to prepare this food. Except that, plantain is often processed and made into the flour, and it replaces the wheat flour because of its high nutritional value. The export of plantain flour is made into many other countries worldwide.
Now, you will learn what to do if you would like to start plantain farming business and become successful in this sphere. We will give you a few necessary steps on starting a plantain farm and developing it.
Getting a land – this is obviously the first step for all the farming. You will need to get the farmland in the right place and pay attention to the usual weather conditions of this area, as they should be favorable for growing plantain. This plant grows the best in organic loamy soil which contains a moderate amount of moisture. In Nigeria, the best states for growing plantain would be Edo, Ekiti, Cross River, Delta, and Ogun, as well as the other tropical states.
Prepare the land – carrying preparation activities is significant for the healthy growth of the plants. You will have to clear the bushes, stones, trees and other things that would prevent the plant farming. Except that, you will need to do several things for the improvement of land fertility.
Buy the healthy suckers of plantain – these are the things which are used to grow the new plants. They could be acquired from the other farmers who can give you their reliable supplies. The suckers divide into water, maidenhead, and sword. For the best effectiveness, you should avoid the water ones, as they will produce the weak plants.
Get labor – it is up to you whether you would like to hire some additional people to help you. It mostly depends on the size and scale of your farm, and your financial possibilities.
Planting the suckers – they should be from 4 to 5 feet long. Keep the distance between them, which should be close to 8-10 feet. Make sure that the moisture of the soil is moderate, as the plantain does not have a big chance to grow in the areas logged with water.
Fertilizing the soil – you should regularly get rid of the unwanted plants which compete with your plantain for the soil nutrients. You also have to fertilize the soil on a regular basis and make sure it has enough useful nutrients like nitrogen, potassium, and phosphorus. The amount of fertilizer depends on whether your soil was already fertile.
Harvesting the plantain – your plantain fruits will be completely ready for harvesting after 8-10 months. During the harvest season, the plant will produce more and more fruit, until it is over, and the plant ripens.
Marketing – there is always a big demand for the plantain, and if you promote your product right, you are guaranteed to attract a lot of customers. It is possible to supply the plantain to the flour companies, sell them locally, and export the farming production.
The plantain market in Western Africa always increases. That is why this can be a very lucrative business, and you should certainly consider it.
READ ALSO: Farm tools and their uses with pictures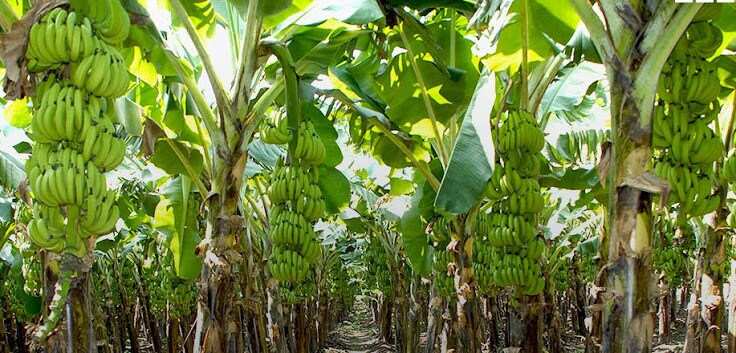 Photo: nextnaijaentrepreneur.com
Poultry farming business in Nigeria
There are a lot of advantages for starting poultry business in Nigeria. It is very lucrative for entrepreneurs. The birds will provide eggs and meat, which are very nutritional and in high demand. A lot of people consume poultry meat and eggs, and this is why this business could be extremely profitable. There are three breeds of poultry: layers, broilers, and cockerels. Each one of them has its own benefits and drawbacks. Now, we will list what would it take to start this business.
Finding a suitable farm location – it is easier to buy the piece of land in the rural area, because the ones closer to big cities can be expensive, and the city pollution can influence the quality of your poultry. The fresh environment is what you need for a successful business. You should also keep in mind some factors, like good water sources, being far away from the animal predators, proximity to the market, good transportation, etc.
Choosing a breed – you have to pick between layers, cockerels, and broilers. The layers are usually used for the eggs sales. You should choose this one if you want to earn money off commercially producing and selling eggs. The broilers grow very fast and are mostly used for meat. Finally, cockerels grow slower than the others, but they are more prone to survival, therefore more reliable and could withstand the environmental difficulties. They are also used for meat.
Housing – you will have to build the poultry house, or have it built by the professional engineers. The design of it will vary, depending on the type of your farming methods. But some things it needs to have are good ventilation which enhances the productivity of birds, enough fresh air, light, feeding, and watering for the birds.
Feeding – there are different sorts of food, which depends on the breed of your birds. Giving your birds food is very important for their everyday health and success. Except that, you will have to supply the birds with fresh and clean water, according to their demands.
Caring and managing the birds – the poultry birds are extremely sensitive. They are very likely to catch some disease and suffer from it. This is why you have to vaccinate your birds on time and visit the veterinarian every time you suspect something is wrong with your birds.
Marketing – the poultry products should be brought on the market and promoted enough, so you gain a decent amount of clients. Poultry is very lucrative in Nigeria because everyone wants to purchase the eggs and meat from birds, and these products are needed very often.
In general, poultry farming will bring you generous income if you put good effort into maintaining your bird farm.
READ ALSO: How to start a poultry farm in Nigeria?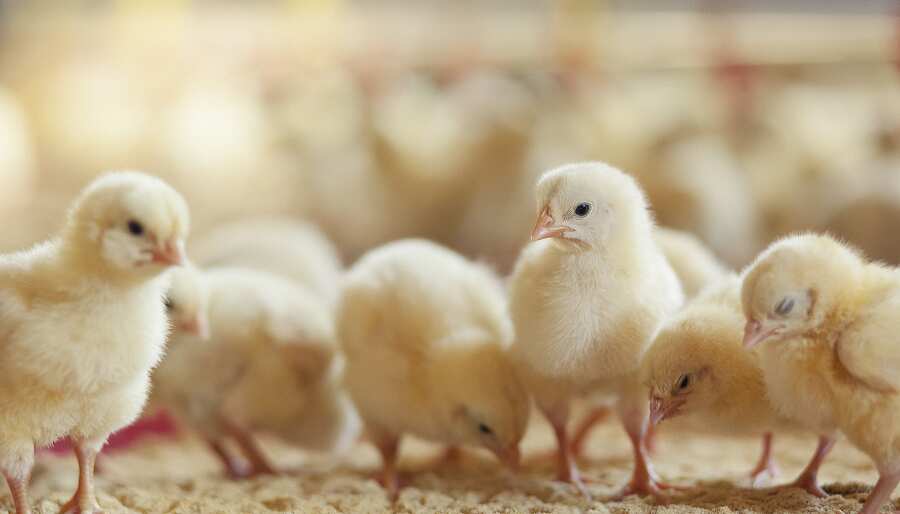 Photo: lbwhite.com
Vegetable farming business in Nigeria
Here is another business which could possibly bring the farmers some quick cash in the upcoming season. Instead of ignoring all the job opportunities and hoping for the miracle, you should try starting your productive vegetable farming business. Vegetable farming has a few types which you can choose between. We will now list all of them for your convenience.
Ugu leaf farming – the ugu leaf is a pumpkin vegetable, which is widely consumed by Nigerian people. It is very nutritional and can be used for a huge variety of dishes. People in Nigeria make ugu soup very often, and generally, most of the Nigerian soups are cooked with the help of ugu. The benefits of this product are obvious.
Green okra farming – the okra is a nutritious green pod vegetable, which also produces a slippery substance, making every soup delicious and smooth. It also serves for relieving constipation, as well as increasing the digestion. Okra soup is one of the most popular soups in Nigeria, and it is prepared with the help of smoked fish and ugu leaf.
Cabbage farming – you must know that cabbage is one of the most popular vegetables worldwide. You will have no problem selling it. The unforgettable flavor of cabbage makes people use it in many dishes, and also consume it in a raw form. It is definitely in very high demand among the Nigerians. It will grow on a soil which is fertile enough.
Cucumber farming – the cucumber is not only useful for foods but is also one of the most effective cosmetic products. Cucumbers are also eaten raw very often and used for the salads, soups, and various other dishes. If you choose to cultivate cucumbers and will do it in a productive way, you will definitely profit from this business.
Jute leaf farming – jute leaf, or ewedu, is a very popular and loved vegetable in Western Nigeria, and very important in the everyday meals of Yoruba people. So, it will bring a lot of profit to cultivate it if you live in the Western part of the country.
As you can see, vegetable farming in Nigeria has so many different kinds. You will just have to choose one which is resonating with you the most and could bring the most profit according to your calculations.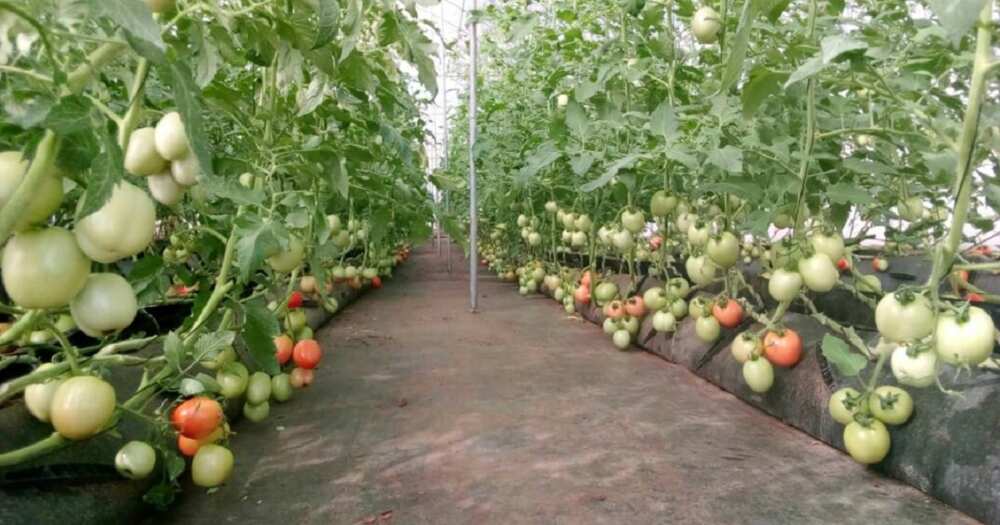 Photo: agrihomegh.com
Snail farming in Nigeria
Believe it or not, snail farming is a huge source of profit in the agricultural world. Snails have worldwide popularity because they can be very nutritional and their meat has a very unique taste. Except that, they are also used for cosmetic purposes. The African people do not know much about this type of farming, but it is extremely popular and large in the United States and Australia. Snails have a lot of benefits – they reproduce very quickly, lay eggs six times per year, and are rich in many useful substances like calcium, iron, protein, and phosphorus.
What do you need to start your own snail farm? Here are some steps that you will need to complete to start the snail farming business.
Finding a suitable environment – you should keep in mind that the snails should always stay hydrated, as it is very likely for them to become dry. It is important to find a good location for your snail farm establishment.
Searching for suitable soil – the soil is a natural habitat of snails, and to become a successful snail farmer, you will have to select the soil which contains the necessary components for snail survival. Usually, the perfect soil should be sandy-loamy and contain the low capacity of water holding.
Buying the fresh snails – when you are done with the environment and land, it is time to purchase some good quality snails from the other market or farm. Sometimes, you can get them from the forest directly – the farmers say that this type of snails will adapt themselves to the environment easier. Getting snail eggs and raising them into baby snails is another way of getting some fresh ones.
Build a snailery – of course, you will have to build a little snail house for your animals. This can be done by checking out the houses at the other farms and getting inspired for your own. Usually, they like staying in a dark cold place. You will also have to regulate the temperature, prevent the entrance of predators, and change leaves and cloth.
Feed your snails – the snails usually feed with the green leaves and some fruits or vegetables like bananas, cucumbers, mango, palm fruits, eggplants, tomatoes, and the others. The snails need healthy food for growing tissues and enough calcium for growing shells.
Marketing – your snails will grow very fast if you have done everything right. Usually, they reach a suitable size for marketing within a year. You can sell them in the local market, or export them internationally to make more money.
This is a lucrative idea for all the farmers. And finally, here is some information on our last profitable farming type – cash crops.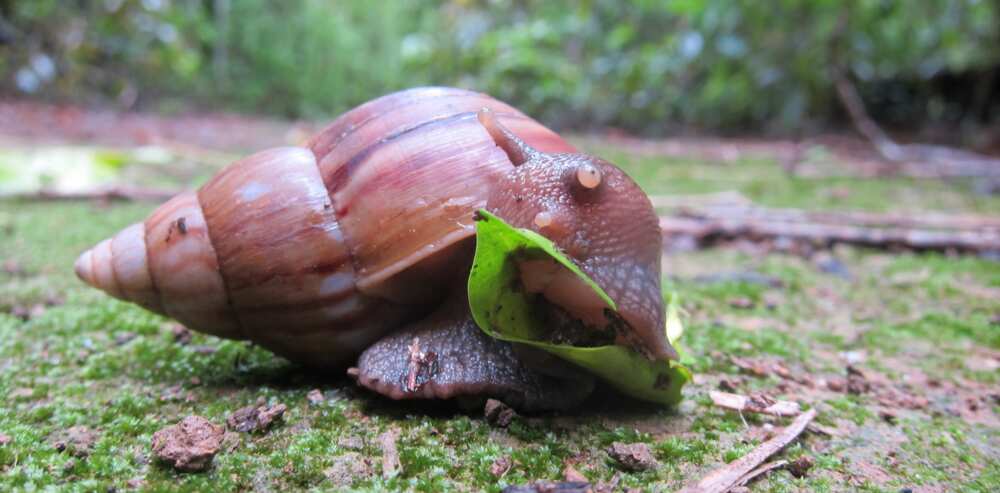 Photo: agricexperts.com
Cash crops in Nigeria
The cash crops are commercially successful crops, which usually are used for exporting and industry, and bring a lot of money. These are the following types of crops:
Root cash crops – cassava, yams, taro (or cocoyams), and the sweet potatoes. They are usually found in the southern areas of Nigeria.
Tree crops – rubber, oil palm, and cacao. They also grow in southern Nigeria, and if you have a farm in this region, you can consider cultivating the cash crops to make more income.
Northern Nigeria is usually a dry area, but some people grow cowpeas, millet, and guinea corn in there. Except that, rice and corn are cultivated in the lowland territories. As for middle-belt Nigeria, it is a good place for cowpeas, cassava, yams, millet, and sesame (beniseed) – one of the most significant cash crops in this region.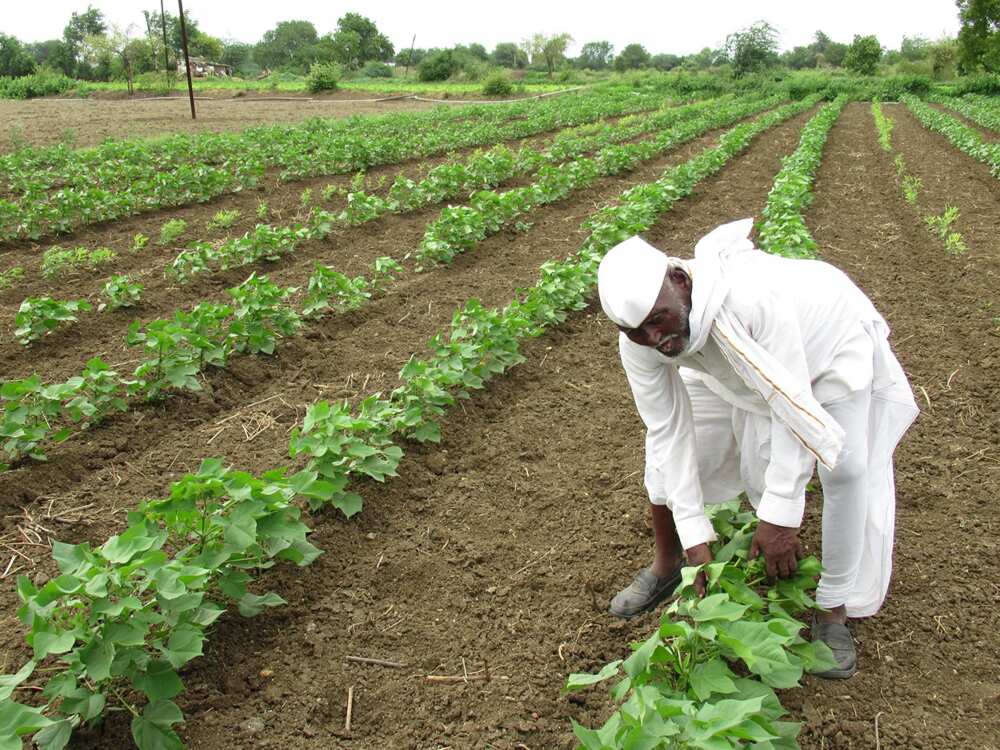 Photo: ruralindiaonline.com
Now you know everything necessary about the different farming types in Nigeria! Happy farming to you in the coming year!
READ ALSO: 10 food crops in Nigeria you can grow
Source: Legit.ng