Beauty is subjective for everyone, and different people might have different takes on it. However, sometimes the gorgeous kids win the hearts of many people all around the world and are labeled as "most handsome kid in the world" or "most beautiful girl in the world." Now, it is your chance to find out who are currently the most discussed boy and girl in the world, due to their looks! Are any of them Nigerian?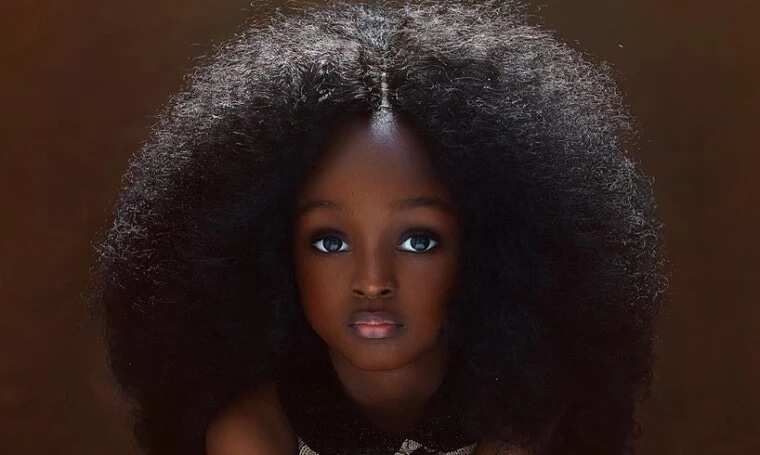 Photo: blackpeopleforum.com
The prettiest girl in the world
Without a doubt, all the girls are pretty, and the ugly ones simply do not exist. Do not ever believe anyone who tells you otherwise. But today, we will talk about the girl who captured people's hearts ever since she first appeared on the Internet. Her unique appearance and irresistible charm have appealed to many people, who now eagerly wait for the updates with her and predict her big future in a modeling career.
This pretty girl is our national pride – she is actually from Nigeria. Because of her, a lot of people know that Nigerian girls are incredibly beautiful. Her name is Jare Ijalana, and she is only five years old. Ever since she rose to prominence, people have been giving her fond names like "angel", "baby doll", and "absolutely stunning". Let us see how her international fame started.
In July 2018, Mofe Bamuyiwa, the Lagos-based wedding photographer, posted some new updates on her Instagram. Her new photoshoot featured a little girl of amazing beauty, and these photos were meant to be for the new project, planned by Mofe. The photographer surely did not expect such a huge feedback. The adorable pictures of little Jare got thousands of likes, and hundreds of positive comments, which all noted the natural beauty of this girl. Some commentators were in total awe, saying "She is gorgeous!" and "She is too beautiful for this world".
Mofe Bamuyiwa instantly understood that this girl can reach the astonishing popularity because of her unique looks. She knew that she wanted as many people as possible to see the potential of Jare. She even said that she would like to work with Jare as a model when she grows up. The photographer reached out to Jare's mother and advised her to create a social media page for Jare.
Her mother took the advice and she created a modeling page not just for Jare but also her two sisters, Joba (10 years) and Jomiloju (7 years) Ijalana. Their brand is now called "J3 Sisters", and you can follow their Instagram account @the_j3_sisters to see the regular updates of these beautiful young girls.
Currently, the page has more than 104,000 followers, who eagerly anticipate new photos of their young muses. Jare, Joba, and Jomiloju often pose in front of the camera, wearing stylish clothes and striking imaginative poses. Even if they are not professional models yet, they are open to new opportunities. We hope that Jare and her sisters will become professional models in the future, and most importantly, that they will enjoy this occupation.
Other girls famous for their beauty: who are they?
The story of little Jare strongly reminded everyone of that time when Thylane Blondeau, the French child model, got popular on the Internet when the photo of her, a little beauty with light hair and piercing blue eyes, went viral. She was only six years old at the time. Her online popularity made her famous and gave her endless opportunities for her modeling career. She became the youngest girl to be star in the French Vogue magazine.
Now, Thylane Blondeau is seventeen years old, and she is the same stunning girl. She is signed to IMG Models agency and has also tried herself as a movie actress.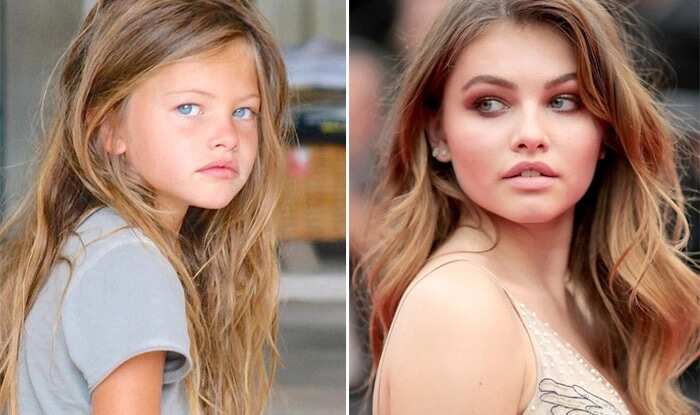 Photo: india.com
Another contender of Jare for the most beautiful kid in the world title is the girl from Russia, Anastasia Knyazeva, who is seven years old. She got famous for her doll-like face and amazing blue eyes that you could get lost in. Her Instagram account (@anna_knyazeva_official) is run by Anna, her mother, who often posts photos of her gorgeous daughter, and they gather plenty of likes. This page has 1,4 million followers, who are all amazed by her beauty. Anastasia has been participating in the various campaigns for famous Russian brands.
Now, that we have discussed the female beauties, we can move on to the handsome boys! Who is the most handsome boy in the world?
READ ALSO: The most handsome actor in Nigeria - Top 20
Most handsome boy in the world
There are surely a lot of good-looking boys in the world. So many young and handsome men attract the spotlight, especially if they can also sing and act. However, in this article, we will talk about the boy who, just like the girls we have already mentioned, got famous when his photo surfaced on the Internet.
The student from Melbourne, William Franklyn-Miller, was just a regular 12-year old boy with his school responsibilities, hobbies and friends, and a passion for modeling in his free time. He never thought that he will become the instant sensation on the Internet, but the luck came to him when he least expected it.
The schoolgirl from Japan posted a photo of him on her Twitter, and it quickly went viral, receiving thousands of retweets. People were smitten with his deep blue eyes, messy hair and flirty smirk.
READ ALSO: 10 most handsome Nigerian actors
Soon, the Instagram page of William was created and he started gaining a giant influx of followers. According to the young man, he first thought all these followers were fake because there were so many of them. His mother even assumed that her son's account was hacked. However, soon people told William the truth about the viral tweet, and he realized that he had become an internet superstar. The boy definitely was not prepared for such a massive fan base, especially seeing how the fame came to him in less than two days.
William did not complain about such instant fame, because as a model and an actor, it was very useful for him to raise his following numbers. In the past, he appeared in a few modeling campaigns and had minor roles in music videos and TV shows.
After he came to light, a lot of media outlets the intentions to interview him. Lots of fans have been leaving positive comments for William and asking him to visit their countries. As for now, William is adjusting to his new fame, focusing on school and auditioning for the new movies in the meantime. You can follow this boy on Instagram (@william.franklyn.miller) and check out the latest updates from his life.
READ ALSO: Most handsome man in the world: Mr. World and scientific beauty parameters
What do you think about these beautiful children? Do you have any other examples of charm and beauty among kids? Share your thoughts in the comment section and let us know!
READ ALSO: Most beautiful girl in Nigeria Nollywood