The relationship between Kylie Jenner and Tyga cannot be described as anything else but tumultuous. It started with a scandal, it ended with one. Besides, it was not all that bad, which is why we also want to share some cute moments that Tyga and Kylie had together.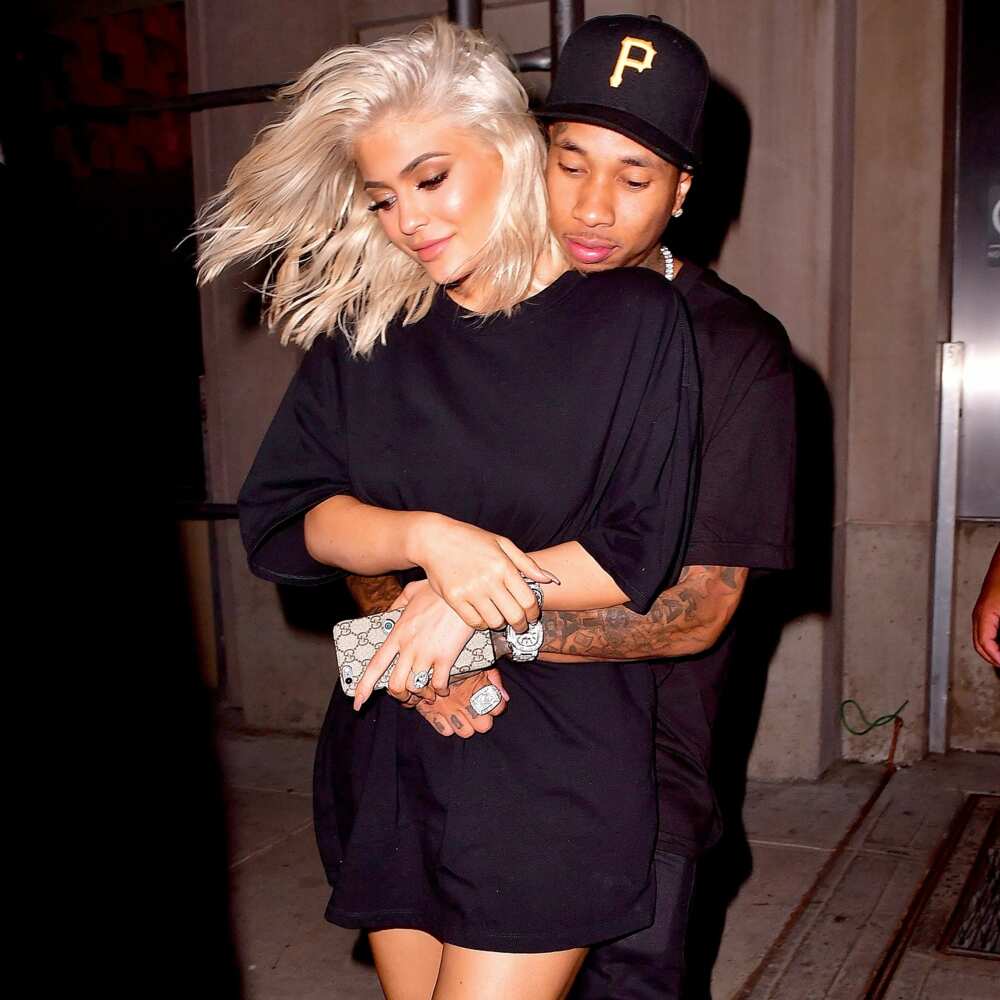 Kylie-Tyga relationship timeline
Over the years, the relationship between hip-hop artiste Tyga and Internet sensation Kylie Jenner has caused quite a stir. It was so popular that the fans of the couple even came up with the name for it — Kyga.
It is not exactly clear when Kylie officially started going out with Tyga, but the first time the two met was at Kendall's 16th birthday party in November 2011. Tyga was invited to perform for the guests, among which was, of course, 14-year old Kylie.
For the next few years, it seemed like the paths of Kylie Jenner and Tyga had not crossed, until Kylie decided to post a picture on her Instagram in July 2014, where she was hanging out with a bunch of musicians, including Tyga. A month later, the two were celebrating Kylie's 17th birthday, where the 25-year-old Tyga seemingly tried to get his underage companion drunk.
It would have all seemed like a regular hangout situation between two good friends, but the fact that Tyga decided to break up with his baby mama Blac Chyna just a few days after Kylie's birthday celebration made it all seem suspicious. The musician quickly took to Twitter to dispel the rumours that he was Kylie Jenner boyfriend, but it did not seem to have much effect on rumours already spread by the fans or media.
READ ALSO: 50 most popular women in the world
By the end of 2014, the two were seen together more often, with Kylie posting multiple cute pictures of Tyga on her Instagram. In addition to that, Jenner felt the need to announce on Twitter that she was not pregnant or getting married. Probably, the rumours have gotten that bad.
2015 came along and brought a new heap of rumours and scandals along with it. In case you have not noticed, there is an eight-year difference between Tyga and Kylie, which made the rumours of them dating even spicier, taking into account that Kylie Jenner age was just 17 when they reportedly started going out.
Thus, it was not surprising that their relationship (despite the protests from both sides that it wasn't that) was met with discontent. Among many voices who were against Kyga was Amber Rose, who spoke up against Tyga leaving her good friend Blac Chyna for a 17-year-old.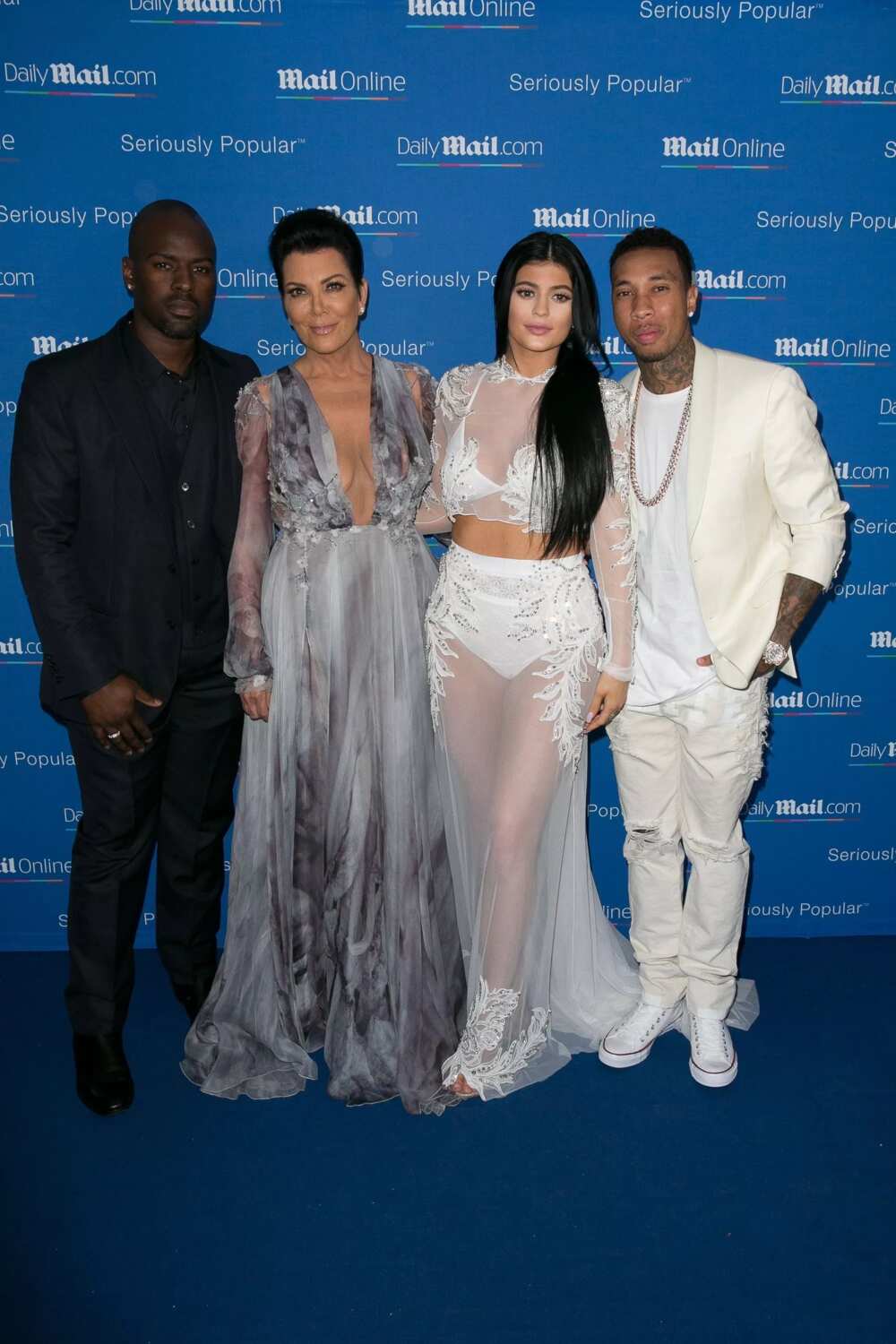 Despite all that, Kylie and Tyga stayed together and even appeared on the red carpet in Cannes alongside Kris Jenner and her boyfriend Corey Gamble in June 2015. Considering that a few months later, Kyga bought Kylie a $320,000 Ferrari 458 just in time for her 18th birthday, we would say that things were going steady between them by that point.
As if to prove that, over the span of the following weeks of August 2015, Tyga went on a family vacation with Jenner's family in St. Barts and released a music video to his song 'Simulated', where he gets awfully close with Kylie and sings about doing explicit things to her.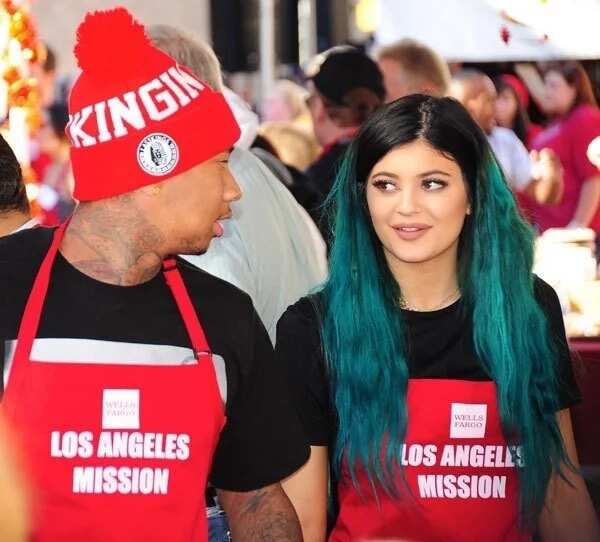 READ ALSO: Kylie Jenner net worth by Forbes and how she earned her money
In October 2015, their picture at Olivier Rousting's birthday party just screamed 'couple goals', and Kylie starred in yet another music video of her beau.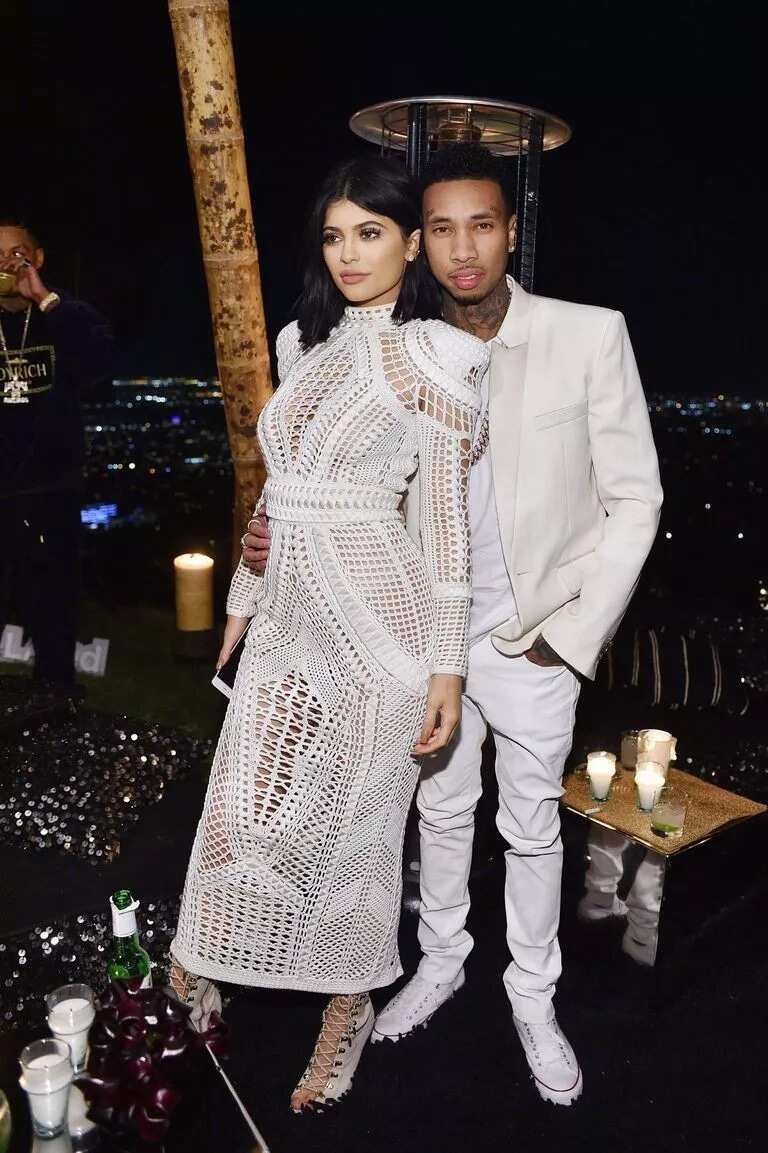 However, there has been trouble in paradise. Reportedly, Kylie broke up with Tyga (on his birthday of all days) because of something he did. That said, just a few days later, the two were seen together at the after party of the AMAs, so it must have not been all that serious. Moreover, Jenner even said on Ellen that the rumours about the breakup were fake. And the year ends with a lovely photo of the whole Kardashian/Jenner/West/Disick clan featuring none other than Tyga.
Once again, the new year began with a scandal, as Tyga was allegedly cheating on Kylie with a model by the name of Annalu Cardoso. A couple of days after this, Kyga were seen at the movies being all lovey-dovey as if nothing happened.
Everything seemed fine up until the 2016 MET Gala. On the day of the event, the two went separately, as they reportedly broke up once again just several days prior to it. After that, things seemed a bit on-and-off for a while, right until Kylie's birthday. As if to atone for his sins, Tyga bought his bae another car, this time a slightly cheaper $200,000 Maybach.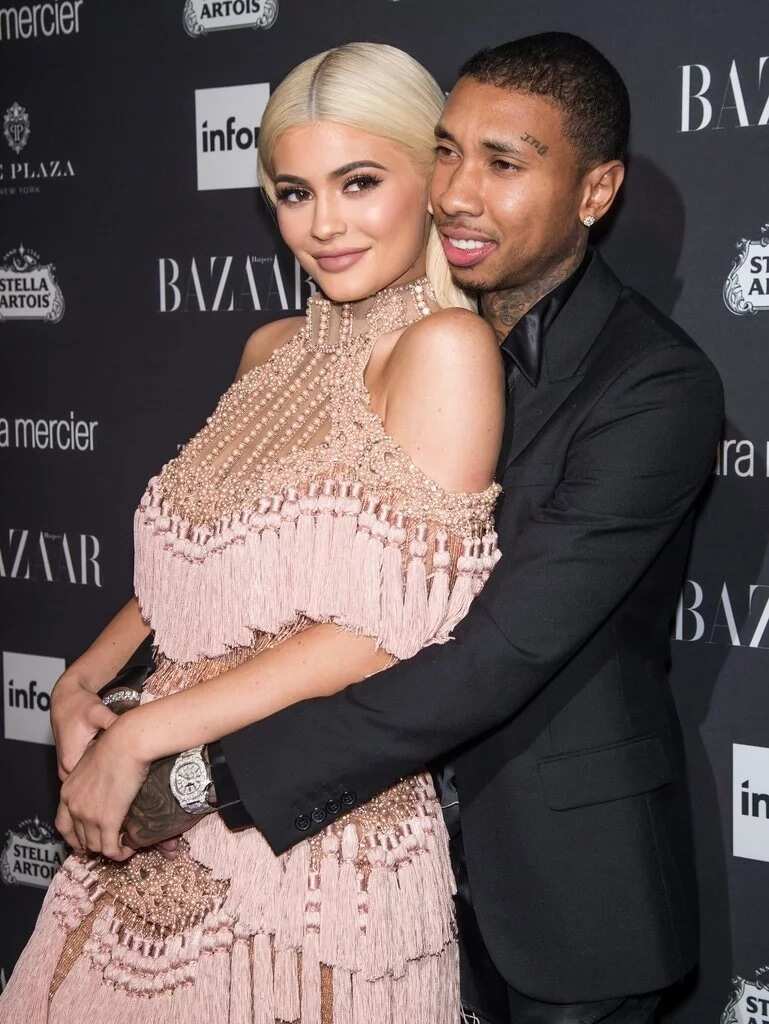 By 2017, the relationship seemingly got more serious, as Kylie went out a got a tiny ankle tattoo of a lowercase letter 't' to commemorate her loved one. The two remained at each other's side up until around April 2017, when the news came that they broke up yet again.
However, this time, it seemed like the breakup was for good. Just weeks after the breakup news, Kylie was seen getting more familiar with Travis Scott. A few months later, she changed the 't' tattoo on her ankle to 'la' and even got matching butterfly tattoos with Travis. It looked like Kyga was no more.
Who are Kylie and Tyga dating now?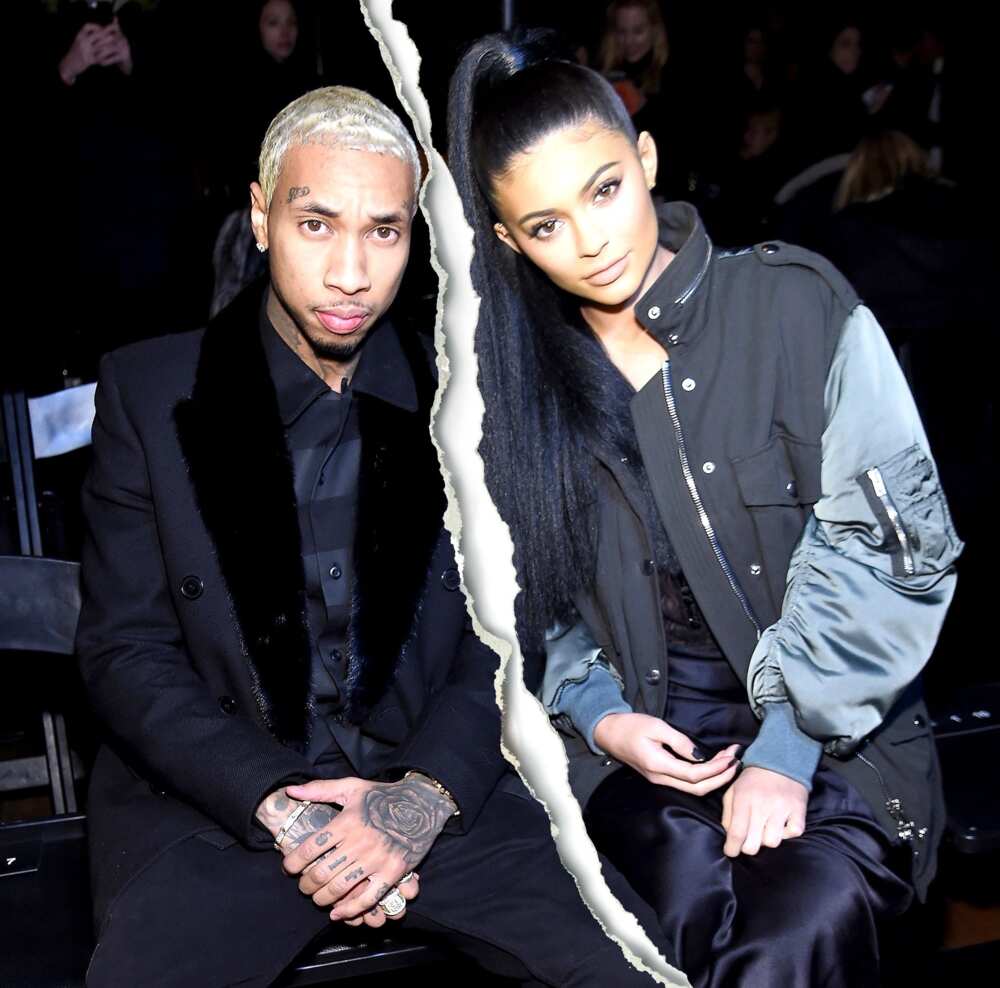 READ ALSO: Kylie Jenner baby: star shows her newborn daughter
It has been over a year since Tyga and Kylie broke up, so whom are they seeing now? Well, you probably know that Kylie stuck with Scott, and the two of them have a baby together (Stormi Webster, if you have been out of the loop). Tyga threw some words around that the baby was his, and that Kylie actually owed her success to his influence, but it did not really get him anywhere.
As for his personal life, he has been seeing many women since the breakup with Kylie, but, as far as we can tell, he got back with one of his previous girlfriends and is currently seeing Carla Howe, who is a model for Playboy. Judging from his 'track record', it is unlikely that he will settle down any time soon.
Alas, Kyga have broken up with very little chance of getting back together, but their fans can still enjoy their cutesy photos and think of the days past. We sincerely hope that both of them find love and happiness (that is, if they have not already found it) and that there is no bad blood between them anymore.
READ ALSO: Is Regina Daniels married? - Private life of the actress