22-year-old Muslim lady saves burning man's life by wrapping him with an Abaya (photos)
- A Muslim lady has saved the life of a man caught in fire
- She rescued him by using an Abaya to douse the fire burning him
A Muslim woman has saved the life of a man involved in a fire accident by using the robe worn by Muslim women while others watched without doing a thing.
The woman was identified as Jawaher Saif Al Kumaiti; she was driving home after visiting a friend when she saw two trucks burning. The young lady heard the victim calling for help and could not resist the urge to help even though others stood watching in horror.
Harkirit Singh, one of the drivers, managed to get out of the burning truck but not before his clothes caught fire. The young lady seeing this scene persuaded her friend wearing an Abaya to take it off so she could help the man burning.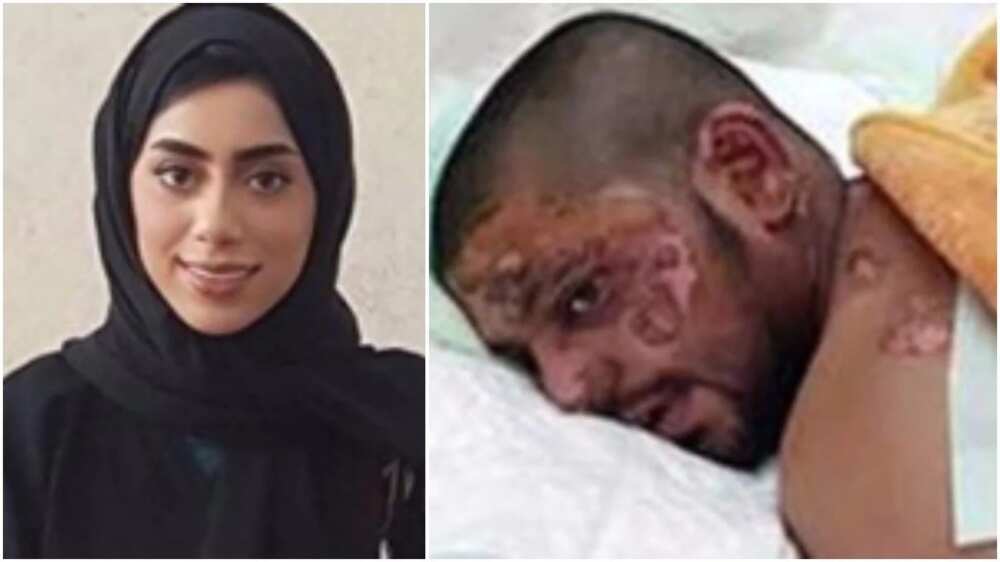 READ ALSO: Family members of Reverend Father being ordained storm church with masquerades in Imo (photos)
The Abaya is a robe-like material worn by some Muslim women. With the help of this fabric, the 22-year-old lady dashed out of the car and wrapped the man with it dousing the flames.
Kumaiti later spoke about the event in an interview in the UAE. "I was rattled to see the two burning trucks, and got shocked when I saw a man on fire screaming for help. I requested my friend – who was with me in my car – to give her abaya and asked her to stay inside.
I immediately rushed to the driver, put out the flames and covered him with my friend's abaya. I calmed him down, telling him that he would survive as the rescue teams will arrive soon," she explained.
The head of the ambulance and rescue team, Major Tariq Mohammed Al Sharhan, reacted to the report confirming the incident. It was discovered that both drivers suffered forty percent to fifty percent burns. They had been taken to a specialist hospital for proper treatment.
PAY ATTENTION: Install the latest android app to get updates from Nigeria's number one online news platform
It was depressing knowing there were people at the scene before Kumaiti got there. They did not do anything to help the victims. They simply watched as the man was burning and calling for help. The police in the city have said the young lady would be rewarded for her bravery.
Source: Legit.ng