High waisted Ankara skirts: Fresh designs 2017
Ankara is a style that captivates with its brightness. It reflects modern design ideas and the cultural features of Africa. With each season, designers continue to create great outfit from quality fabrics, using different prints. In 2017 high waisted Ankara skirts are very popular. Check out some of the most popular styles and get in on this fabulous trend.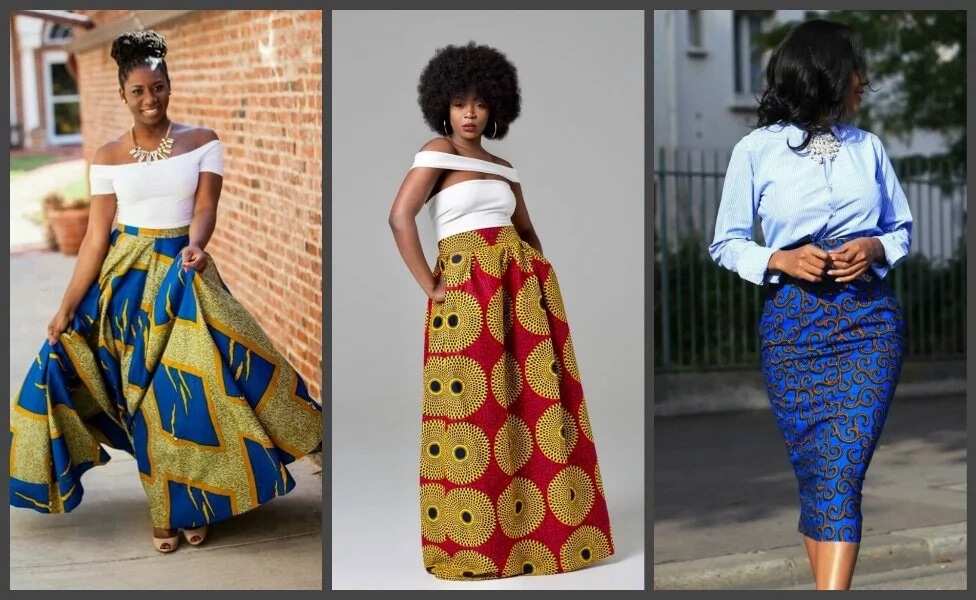 Advantages of high-waisted skirts
There are a lot of advantages to skirts with a high waist, below are the main positive facts:
● Your figure looks more proportional, slim and creates a balance in the perception of the female beauty. When it is well made, it suits shorter women as it elongates their form and also make you look slimmer.
● Ladies look very attractive and feminine in these skirts. The hips are favorably emphasized, and the waist visually narrows. It's a great way to show your femininity if, by nature, you have a wide waist and narrow hips.
● The pencil Ankara skirts with an overstated waist look great in combination with almost anything, whether it's a chiffon blouse or a dark turtleneck. Shoes like high wedge or heels also go perfectly with the look.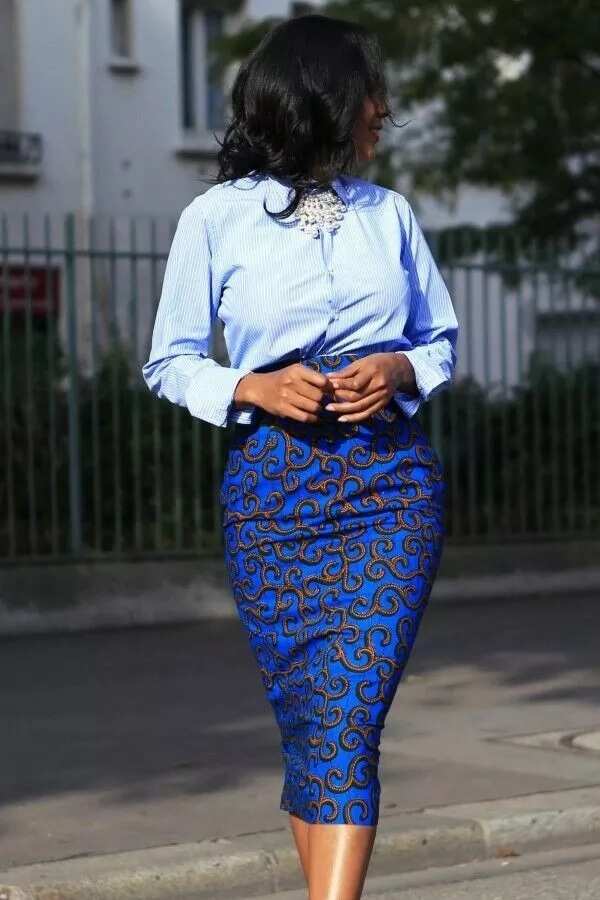 ● Fashionable lush skirts with an inflated waist can have different colours, lengths, often worn with tucked shirts, airy blouses, T-shirts and so on. Ladies with a more boyish figure would enjoy how ladylike this skirt makes them look.
● It is safer to go for natural materials, such as cotton, silk, wool, lacy fabric, jeans, chiffon, sometimes satin or polyester when making these skirts. The length of the skirt can be either mini or maxi.
READ ALSO: Unique Ankara styles 2017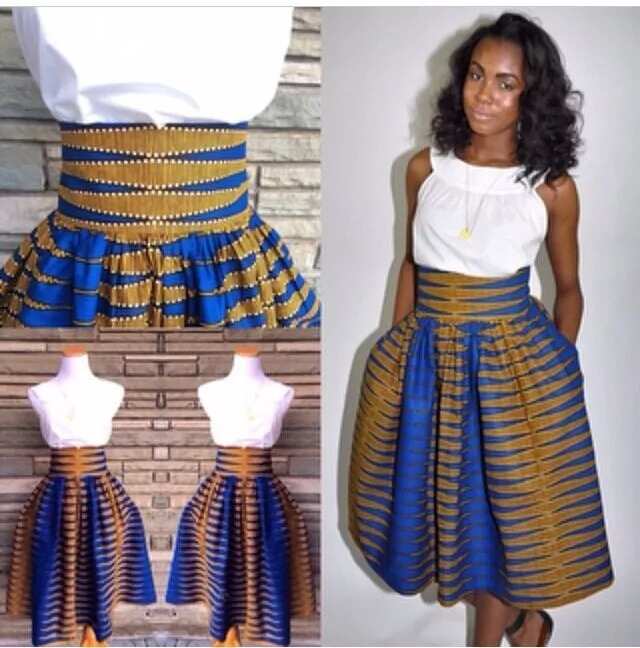 Latest Ankara styles in Nigeria
Look at this variety of colours and patterns. A maxi skirt can be combined with a neutral or bright top with long or short sleeves depending on the weather. Properly selected jewelry will help you an attractive look.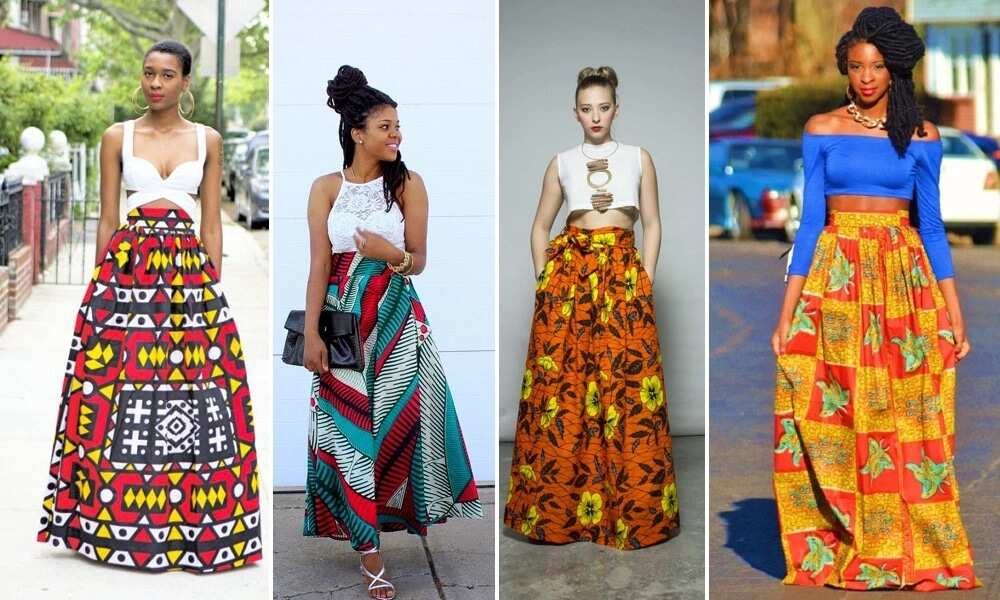 This look draws most of the attention to your length and upper body. The chest and arms are emphasized while the whole body look more svelte.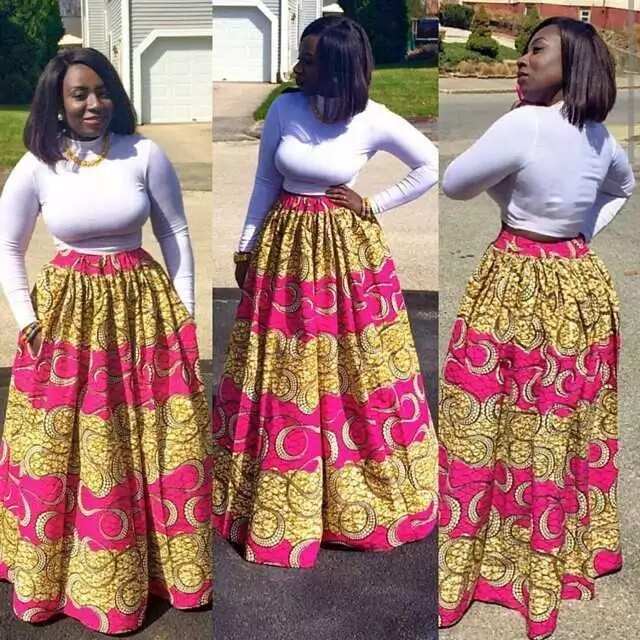 Massive necklaces combined with Ankara crop top and skirt will turn you into a real queen. There is a fascinating female grace in this image.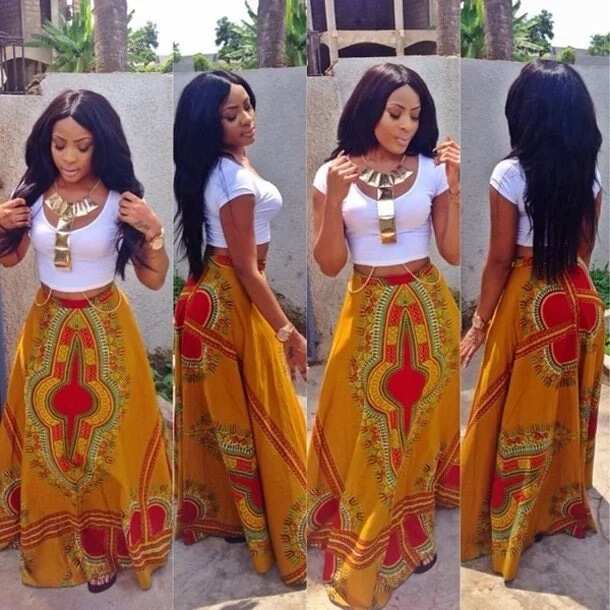 Girls who want to show off the beauty of their legs can also go for the shorter skirts.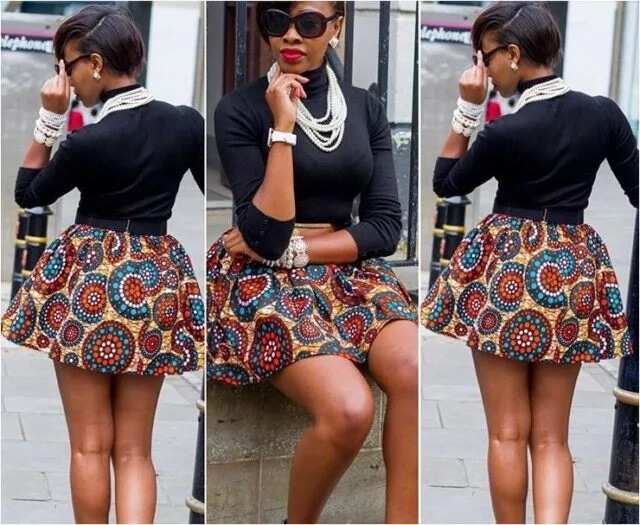 Colouring can be either bright or neutral. Grey skirts with conservative patterns can be worn for work or any place where a discreet dress code is required. For some styles, having pockets in the skirts makes it look more versatile. You can put some stuff in there like phone or cash. Or you can simply just put your hands in there and look fabulous.
If you wear a neutral top, you can put emphasis on shoes. Make sure the footwear is well combined with the patterns. People around won't be able to tear their eyes away from your beauty.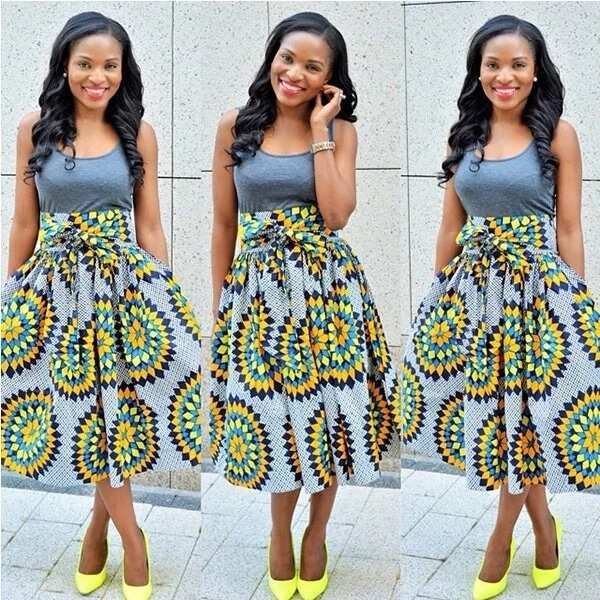 In the case of the black Ankara tops and skirts from bright materials, the emphasis is shifted to the hips. They seem wider, what makes the figure more feminine. Any girl can combine an essence of playfulness and spontaneity with elegance, refinement, subtle sense of style when rocking this look.
Designers have been able to create fantastic looks with nice Ankara styles. Look at this girl. She simply glows in her outfit.
The long skirt and sleeves make the look come together. While the bare shoulders might seem controversial, the long sleeves help balance the look so it does not seem too vulgar. She looks simple and elegant at the same time.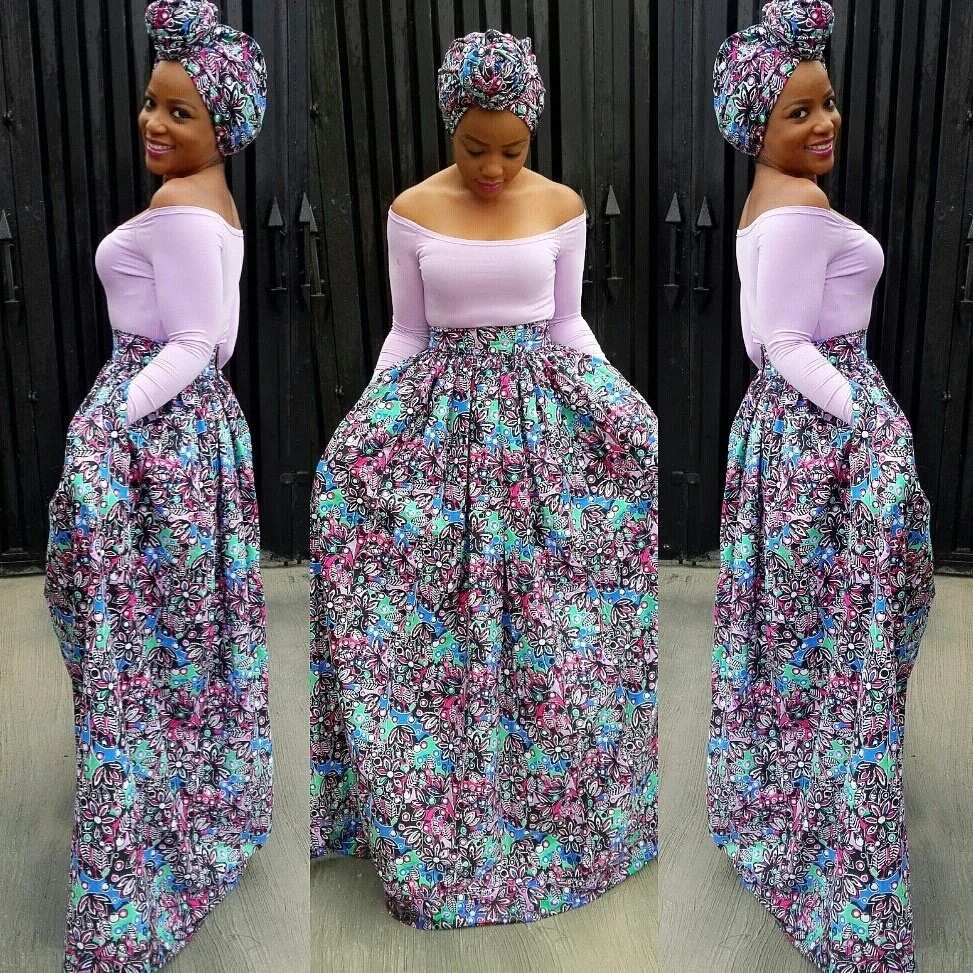 Now, you might be a big fan of ankara pattern but sometimes, the best looks come in an unexpected design. Take this photo for instance. This uniquely design skirt is sure to make her the cynosure of all eyes. You won't be afraid of wearing something too common and you will certainly stand out almost anywhere you go.
Keep searching and keep experimenting. You are sure to find something that suits you. Be stylish, bright, charming, and be confident in your own beauty. That is the most important part of fashion.
READ ALSO: Ankara skirt and blouse 2017
Source: Legit.ng