Dreadlock styles for short hair in Nigeria for 2018
Dreadlocks are a very popular hairstyle on different continents. It is difficult to say exactly who their creator was, but it is generally accepted that the first mention of them was in ancient Egypt. Despite the impressive lifespan, this way to decorate the hair does not lose its relevance to this day. There are a lot of questions about how dreadlocks are made, whether they are safe, and is it a good idea to use dreadlock styles for short hair.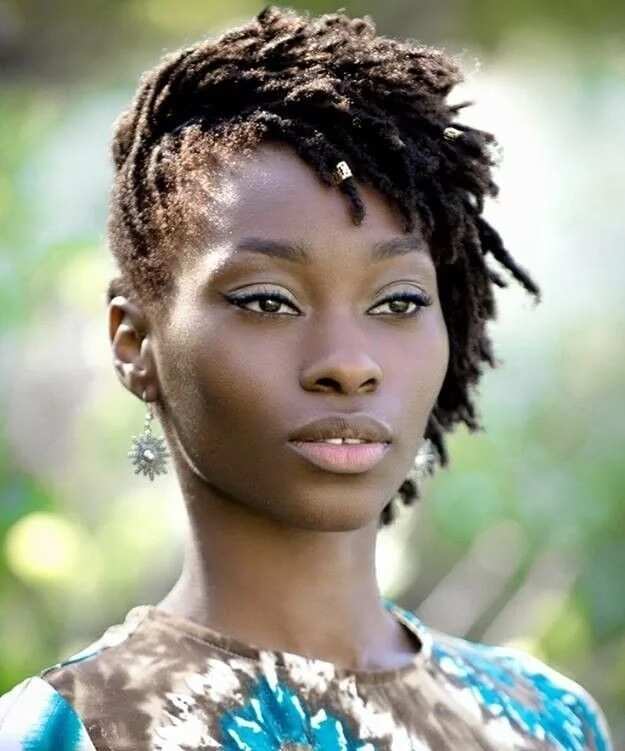 Who can opt for dreadlock styles?
First of all, it is necessary to understand that weak and diseased hair should not be exposed to any long-term styling methods such as dread hairstyles. Otherwise, you risk losing a significant part of the volume on your head.
If the condition of your hair is fine and healthy, feel free to go to the master and make natural dreadlocks. Remember that on the eve of the weaving you can't use conditioners, balms, or masks. Your hair should not be too smooth as this can make it difficult to turn into the dreadlocks.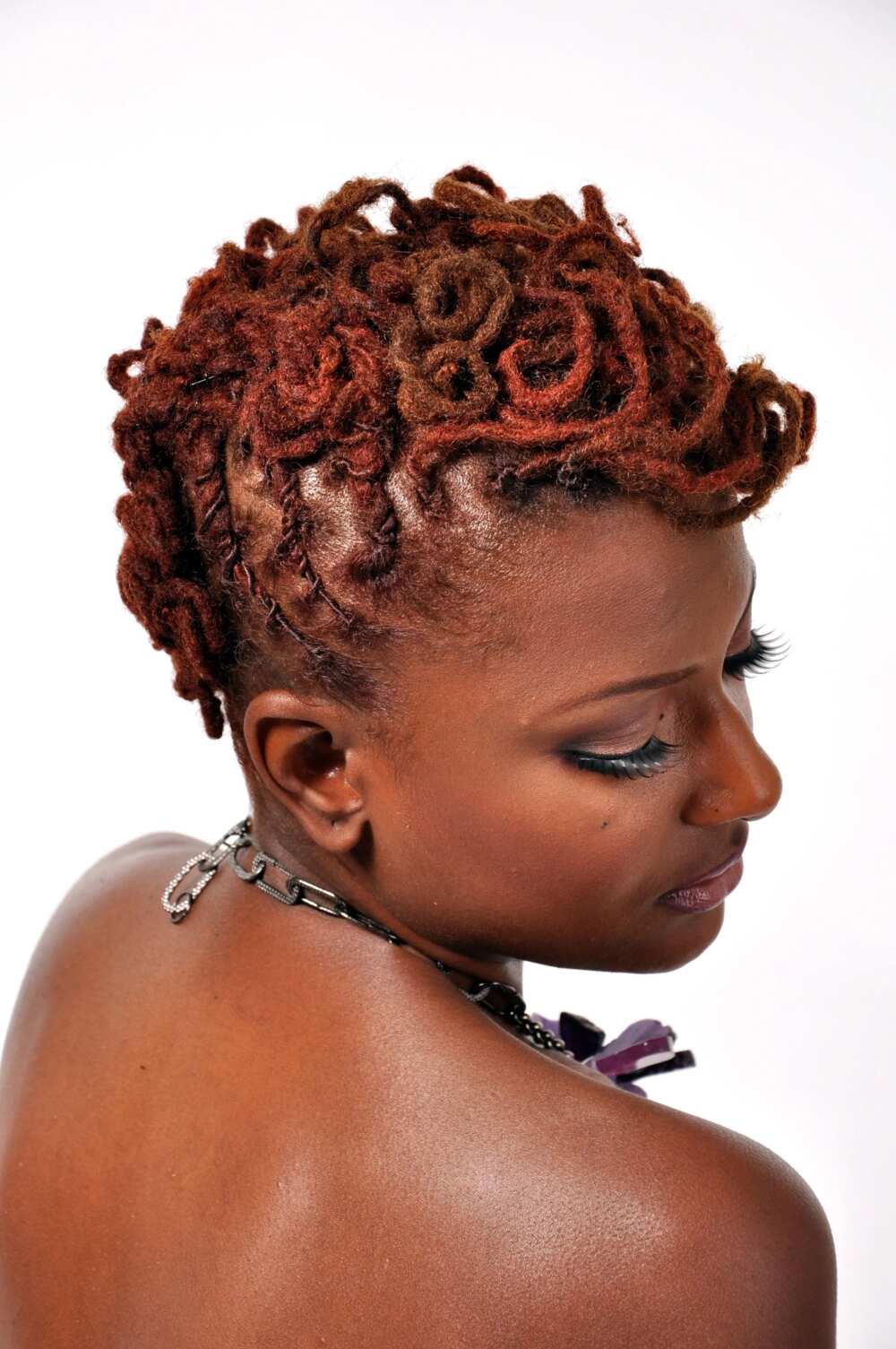 READ ALSO: See lady who has been growing her dreadlocks for 23 years (photos)
How are dreadlocks made?
If you decide to try dreadlocks, take into account the following:
First of all, you need to decide how many dreadlocks will be on your head. Usually, they are from 25 to 50, you should not go beyond this: a larger number will make it more difficult to care for, and the hairstyle will be less attractive.
Then the stylist will distribute the hair and divide it into the sections.
The process goes as follows: the hair is strongly combed from the roots, until the formation of a mat of hair, and then with a special hook the strands are tangled with felt. It is possible to use other materials, for example, natural hair or wool, but the first can lead to an allergic reaction, and the second one can give off an unpleasant smell when wet.
There are a lot of ways to make dreadlocks. Some stylists use the bouffant method, and others "roll" the hair with their hands. But the result is always the same, only the tips of the hairstyle differ, depending on the client's wishes, they can be left loose or crocheted to weave into dreadlocks.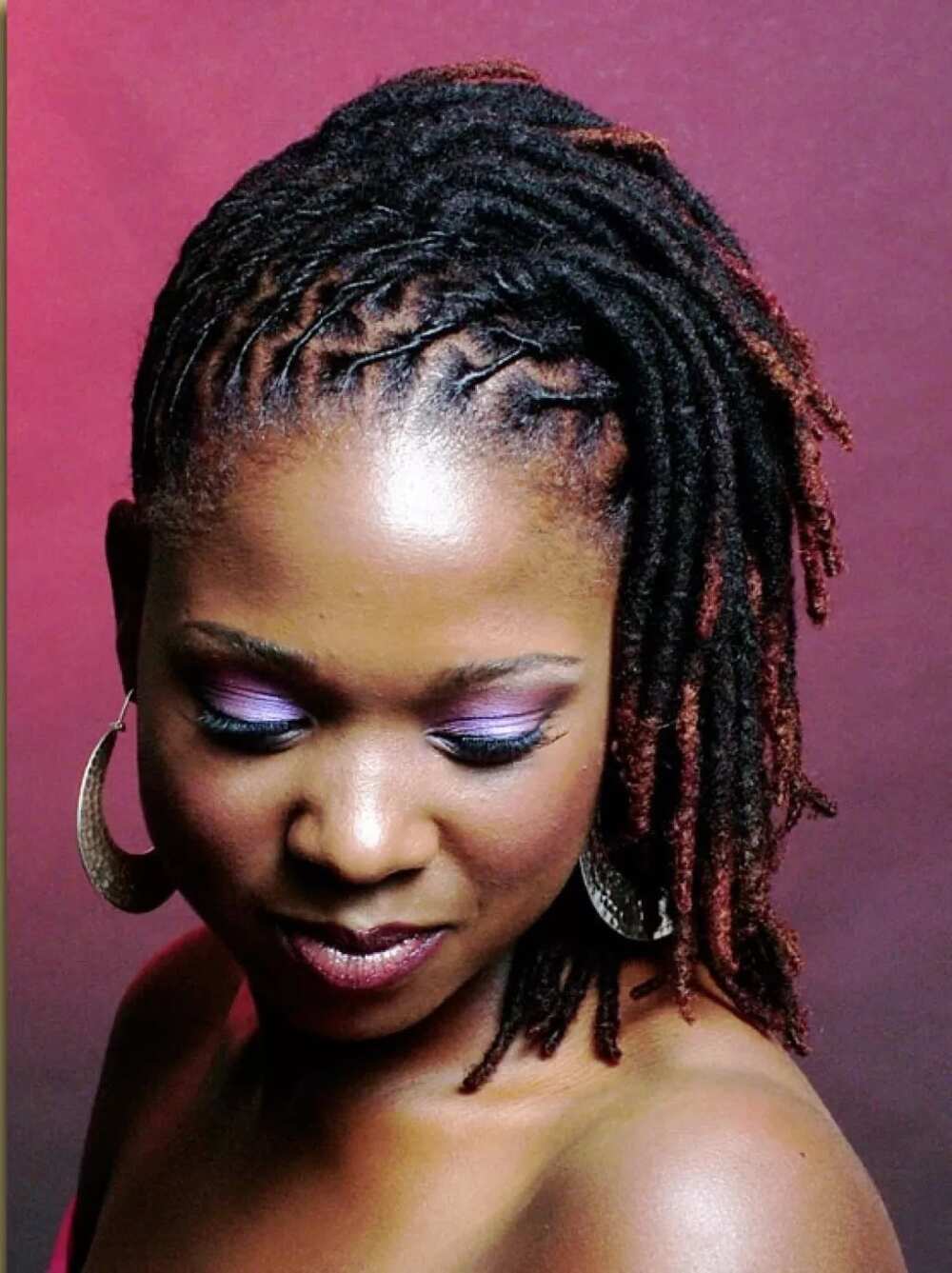 Short hair - is there any chance of rocking dreadlocks?
In the process of creating this hairstyle, the hair is shortened by approximately one third, so the professionals advise that you have a hair length of at least 15 centimeters. However, do not despair, for short hair dreadlocks are also made.
Look at these beautiful black ladies. Despite the short length, their hairstyles look great.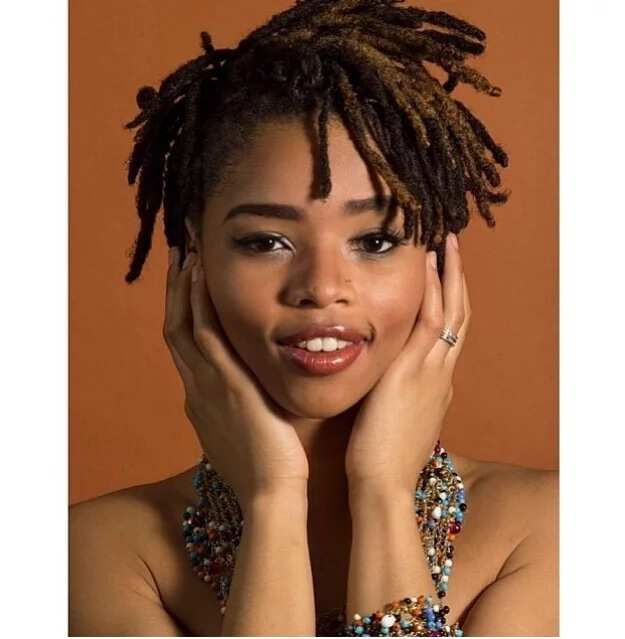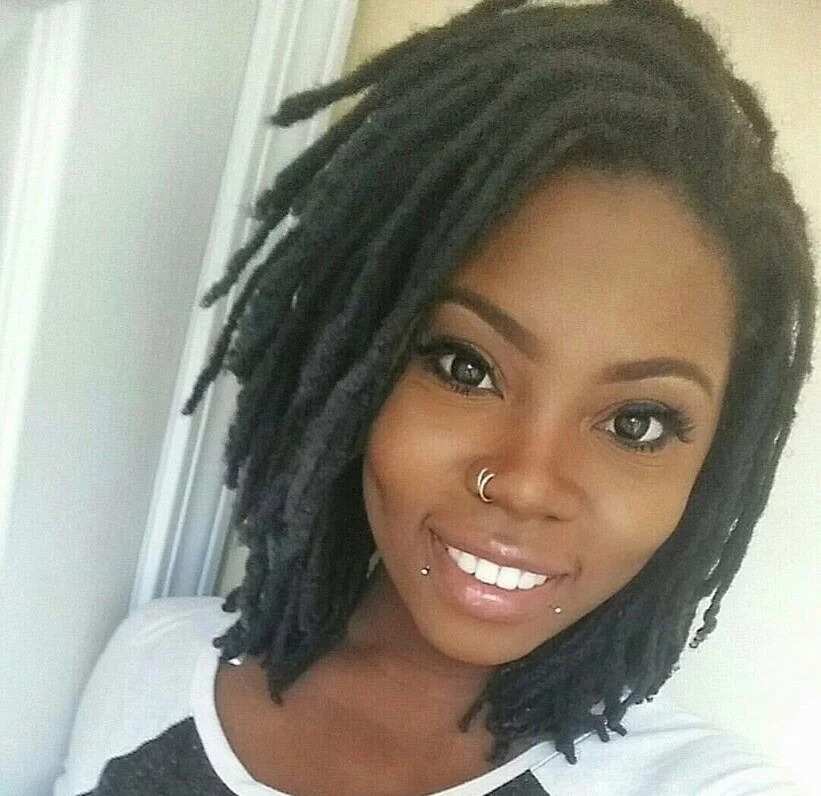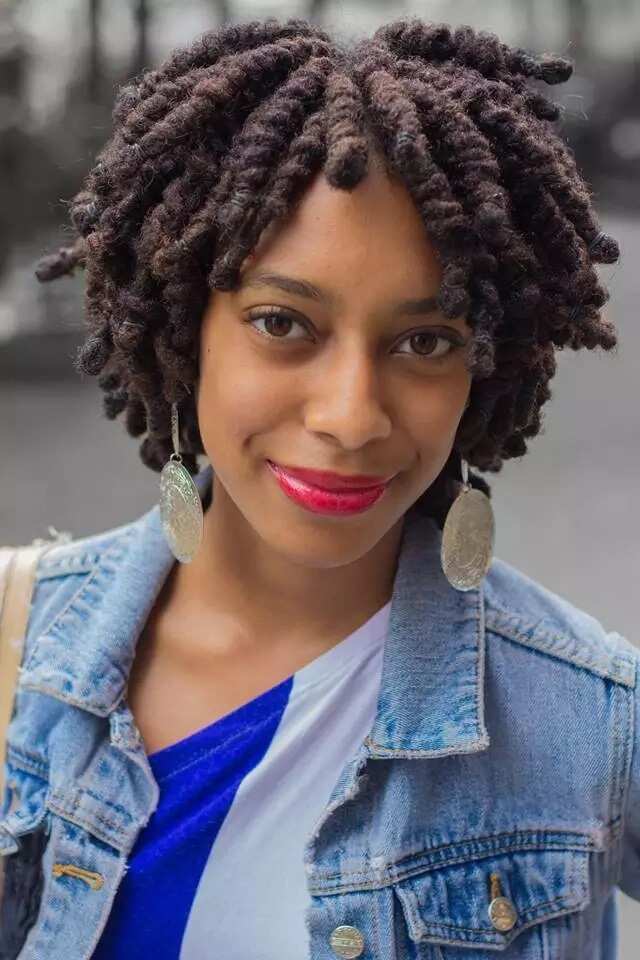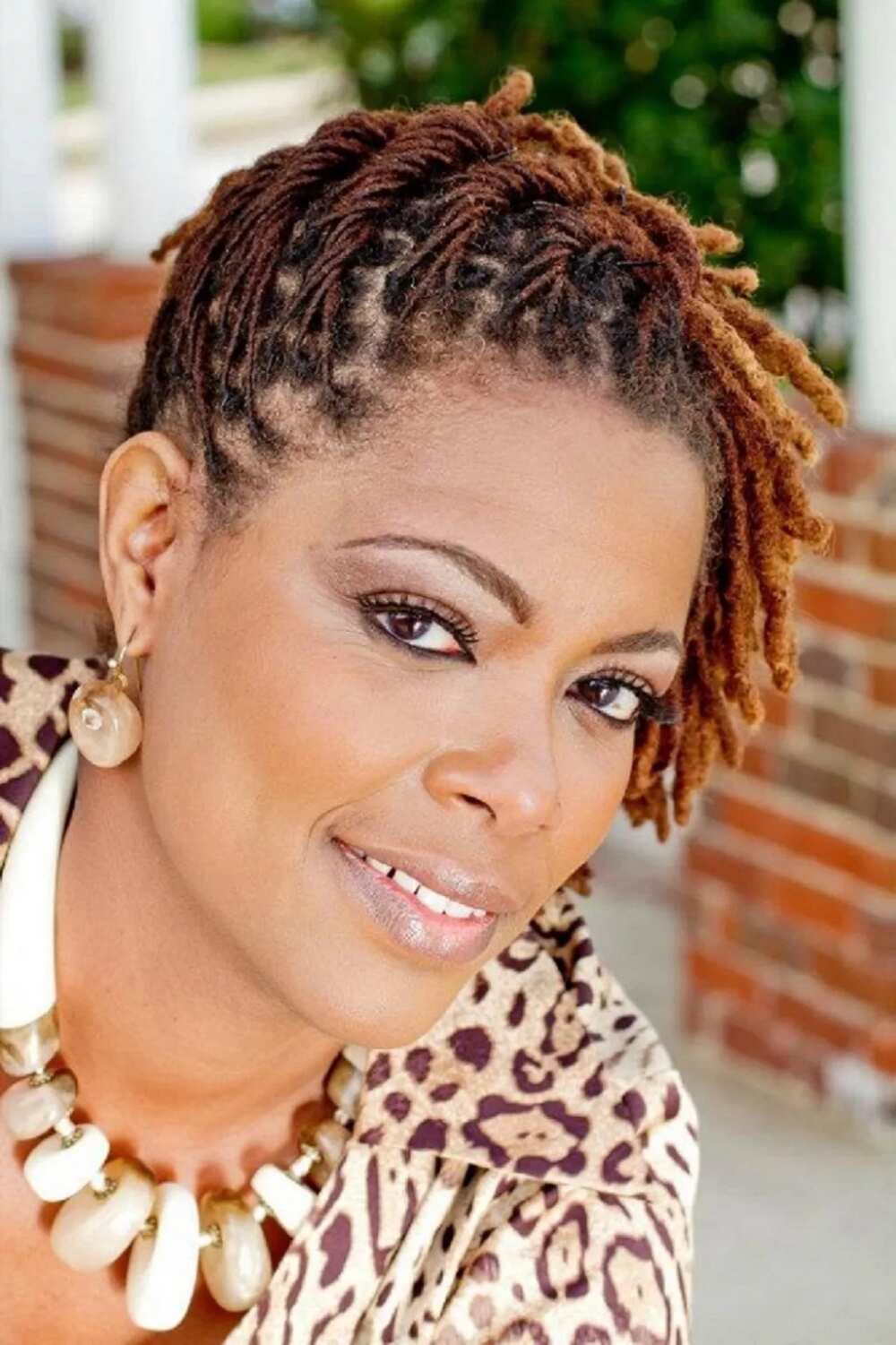 Of course, it is important to clarify that the word "short" does not mean 1 centimeter. The length of the hairstyle for short dreadlocks should be at least 5 cm. In this case, your stylist can advise you to fix artificial dreadlocks that will attached to your hair.
Of course, this option is inferior in quality and even comes at a higher price, but the health of your hair will not suffer, and you can remove the dreadlocks at any time.
The second option for dreadlock styles for short natural hair is weaving it from using synthetic attachment. The technique is not at all different from the classic look: They only differ due to the fact that, for this style, artificial strands are used.
Now you see that even the owners of short hair can opt for dreadlocks. All you need is to find a good and professional hair expert who can help you create what you desire.
READ ALSO: Kinky braids hairstyles in Nigeria
Source: Legit.ng