Come back and develop your countries, UK university tells African alumni
- A top university in the UK has urged her former students who are Africans to come back home for the purpose of developing their countries
- The vice chancellor of the institution posited that it is imperative to utilize the close ties with the UK institution for massive developments
- Consequently, the provost of Federal College of Agriculture Akure, a former student of the institution bagged outstanding leadership award and appointed Board of Trustees (BOT) member of the alumni association
The University of Wolverhampton, United Kingdom, has urged her former students in Africa to come back home and impact their countries and humanity at large positively with the skills acquired from the institution.
The vice chancellor, Prof. Geoff Layer, reiterated this during the alumni dinner and award nite last weekend at Sheraton Hotel and Towers Abuja, expressing confidence in their capabilities.
READ ALSO: Official: 7 governors off to London to meet President Buhari in London (List)
Layer, who was represented by the regional head, West and Central Africa, Mr. Dare Ojo, said it was imperative to utilize the close ties with the UK institution for massive developments.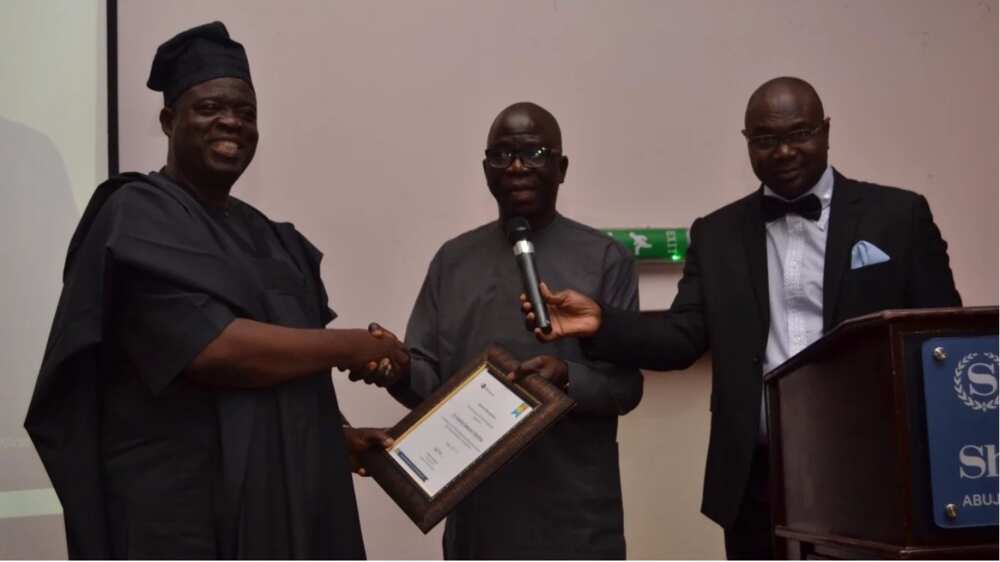 Though the institution noted the difference between the two continents that might want to discourage them from coming back home, he stressed that the greatest service they could render is to make it better for coming generations.
He added that six of the alumni members, who have distinguished themselves in their various endeavours as worthy ambassadors of the university were selected for honour to propel them do more and encourage others.
The association conducted its first election as Mr. Chima Victor Kalu emerged the president, while the Provost of Federal College of Agriculture Akure (FECA), Dr. Samson Adeola Odedina got Outstanding Leadership Award and appointed Board of Trustees (BOT) member.
Odedina, who acquired a Post Graduate Certificate in Agricultural Education at the institution 26 years ago, formerly Wolverhampton Polytechnic, mentioned the significant roles performed by the foreign education.
He emphasized that the skills acquired on agricultural value chain greatly helped to enrich and sharpen his career, enabling him pass it on to generation of Young Farmers in Nigeria.
The Provost hinged this on his renowned innovations on Bio-fortified Vitamin A maize and cassava, foreign and local partnerships under the Switzerland Government supported Capacity Building for Agricultural Education in Nigeria (CBAEN).
Reenacting foreign experience in Nigeria, he said FECA has been able to sustain "learn and earn" job opportunities for its students, train thousand of young farmers in agro-villages and secondary school students.
PAY ATTENTION: Watch more videos on Legit.ng TV
These expertise, according to him, earned the college a leading agricultural training institution in Africa, currently embarking on 2-week FADAMA Graduate Unemployed Youth Support (FADAMA GUYS) training in Akure.
"This collaboration has produced the first ever curriculum for value chain students in Nigeria; and the curriculum has been approved by National Board for Technical Education (NBTE) for use in value chain studies in all polytechnics and colleges of agriculture in Nigeria."
Meanwhile, Legit.ng had reported that for many Nigerians, the dream is to travel outside the country and then miss the country from abroad. Emigrating is almost like the goal for many, especially to European countries.
There are of course many reasons why this is the case, below are some of the most important:
The hope of increased income especially for skilled workers is a big reason most people make the move. The income difference between Nigeria and the developed European countries is so large, many are willing to uproot their families to better their economic status.
Watch this Legit.ng video on the state of Nigeria:
Source: Legit.ng