"If my wife divorces me, her children will not inherit my property dead or alive, " man tells court
- A man has told the court that his children will not inherit from him if his wife divorces him
- The incident happened at Igando area of Lagos state
- The man accused his wife of depriving him of his conjugal rights
"My children will never inherit my property either dead or alive if my wife divorces me,'' a 39-year-old fruit seller, Amidu Olalere, told an Igando Customary Court on Friday in Lagos.
Olalere said this while responding to a divorce suit filed by his wife, Adeola, for the dissolution of their 11-year-old marriage on the grounds of constant battering.
Olalere, who accused his wife of starving him of conjugal rights said: "My wife is always denying me my conjugal rights, and whenever I reported her to her mother, she will ask me how many times will I be having it with her daughter.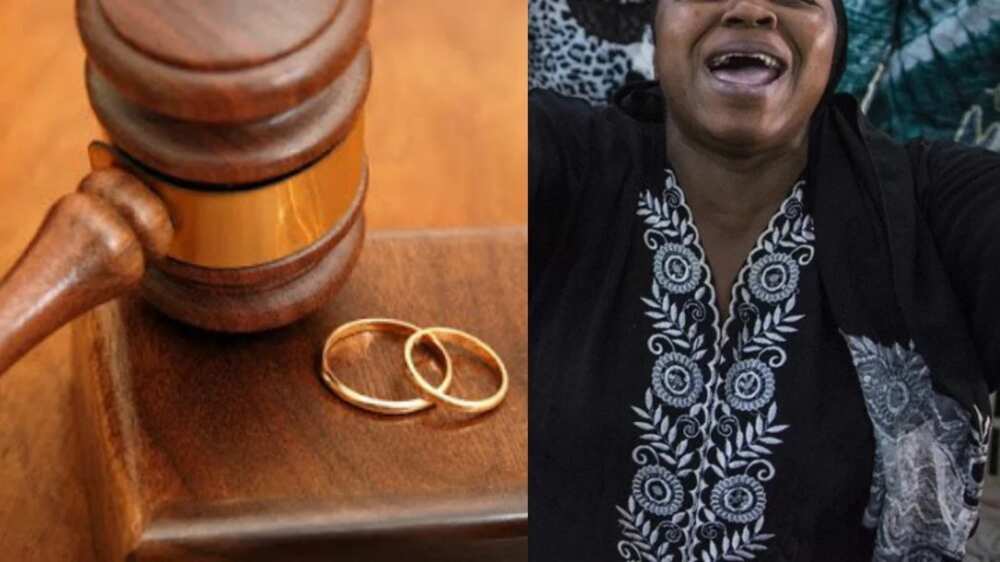 "She would ask me not to kill her with what is rightfully mine, instead of admonishing her."
The respondent said his wife moved out from his house with the children in January to stay with her mother and that whenever he called her, her mother would be raining curses on him.
"There was a day my mother-in-law cursed me, and I also cursed her that thunder will kill her."
He said his mother-in-law was always accusing him of planning to use her daughter for ritual.
On whether the children are his, Olalere said that he doubted the paternity of the four children.
"Whenever my wife and I quarrel, she tells me that the children are not mine; so, I am confused if truly the children belong to me,'' he said.
The husband, however, pleaded with the court not to dissolve the marriage, saying in spite of her shortcomings he still loves her.
Earlier, the wife had accused her husband beating her on the slightest provocation.
"He once beat me to the point that I fainted and I was hospitalised for four days.
"When I was on admission, none of his family members came to see me since we all live in a family house and my husband also refused to pay the bills," she said, urging the court to terminate the marriage.
"I am no longer interested in the marriage."
After listening to their submissions, the President of the court, Mr Adegboyega Omilola, adjourned the case until July 25 for judgment.
Meanwhile, some suspected Fulani gunmen have allegedly kidnapped the 60-year old a Kaduna village head.
Consequently, this has thrown the residents of Kagurdna, Kakau district of Chikun local government area of Kaduna state in a state of fear.
The abduction of the 60-year old wife of the village head, Chief Amos Yerima by suspected Fulani gunmen was said to have taken place on the morning of Friday June 2.
Meanwhile, our Legit.ng team has given us reasons why you cannot take your life for no just reasons. Watch the video.
Source: Legit.ng