Woman wakes up to find 2 metre black mamba napping next to her
- Black mamba secretly slithered into woman's house and went straight to bed
- She found the reptile sleeping next to her bed when she woke up from a nap
- The lady then dashed out of the room and locked the snake in her bedroom
- She immediately called a snake catcher to come get it
- By the time help arrived, the reptile had moved inside a wardrobe
What would you do if you were to wake up to find a snake napping next to you?
Most people would not hesitate to flee the room. That is what a Westville woman did when she woke up from deep afternoon slumber only to find a black reptile sleeping next to her bed.
She left the bedroom in haste and locked the venomous reptile inside as she grabbed her phone to call for help.
READ ALSO: See the strange animal found inside students' hostel in Ekpoma, Edo state (photo)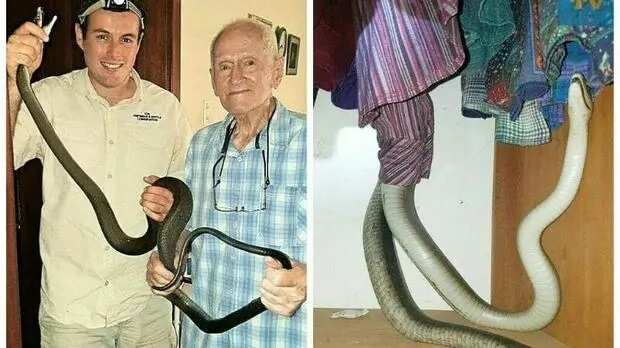 Nick Evans, founder of the KZN Amphibian and Reptile Conservation, soon arrived at the scene, ready to take on the black mamba, which he estimated to be 2 metres long.
According to Evans, the terrified home owner had called him saying she had woken up from an afternoon nap to find the dark-skinned reptile next to her bed.
"Everybody thinks any dark snake is a black mamba but when she told me it was three to four metres long, I knew it was mamba," says Evans.
READ ALSO: How my URINE helped me shed 50kg – 54 years old man opens up (photos)
The lady, Evans says, was lucky to escape unhurt, as black mambas can be lethal, especially when provoked. The snake can deliver a venomous bite enough to kill an adult in less than 15 hours.
So where did Evans find the snake when he arrived?
"The room was quite cluttered with things everywhere but I saw the cupboard was open so had a feeling it would be in there," he says. And he was right.
Right inside the wardrobe was the dark snake bobbing its head in and out of the clothes.
"I used tongs to secure its head then picked it up with my hands. He was trying to hide behind the clothes, getting a little bit cheeky and opened the mouth to show the black inside as a warning, but the poor thing was terrified and just wanted to be left alone," says Evans.
He managed to get the snake out of the house. The homeowner was thankful that he did because she was not planning to get back there with the reptile still inside.
Nobody was hurt.
Watch video of a man trying to get black mamba out of his bedroom:
Watch the video below about Lagos school surrounded by snakes:
Source: Legit.ng