Adams Oshiomhole Blows Hot, Accuses Atiku, Peter Obi of Lying Against INEC, APC
Former governor Adams Oshi0omhole has accused Peter Obi of the Labour Party and Atiku Abubakar of the Peoples Democratic Party of lying
The former governor and senator-elect said Obi and Atiku are lying against the Independent National Electoral Commission and the All Progressives Congress
Oshiomhole said the two opposition presidential candidates are accusing themselves of rigging each other out
Adams Oshiomhole, a former national chairman of the ruling All Progressives Congress (APC), has accused Atiku Abubakar of the Peoples Democratic Party (PDP) and Peter Obi of the Labour Party (LP) of lying for claiming victory in last Saturday's presidential election.
Oshiomhole's accusation followed the call for the cancellation of the declaration of the 2023 presidential election results by the Independent National Electoral Commission (INEC).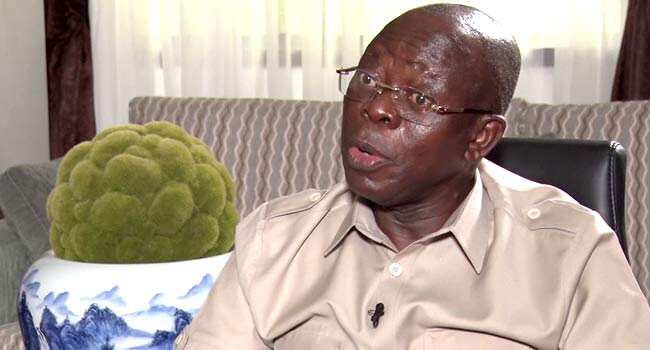 The former Edo state governor who won the Edo North senatorial election said the two opposition presidential candidates are accusing themselves of rigging each other out.
His words:
"Between His Excellency Peter Obi my very good friend and His Excellency Atiku Abubakar, one of them must be lying. That is clear by the fact that Atiku who came second said he won, Obi who came third said no he is the one who won.
"So, between the two of them, they must be trying to rig each other out, so one of them must be lying and when they go to court I am sure that is one thing that will be showing when you have two people claiming victory.
"So, they are indirectly accusing one another of rigging each other out even for the second position."
Former southeast governor Explains why INEC must not cancel 2023 presidential election
The Independent National Electoral Commission (INEC) had earlier been urged to ensure it rights all the wrongs experienced in the collation of the 2023 presidential election.
The call was made to INEC by a former governor of Anambra State, Chukwuemeka Ezeife, on Thursday, March 2.
According to the former governor, the election cannot be cancelled because of the enormous amount of money spent on it.
Peter Obi Speaks for the 1st Time 72 Hours After 2023 Presidential Election, Full Video Emerges
Peter Obi speaks on alliance with Atiku, Kwankwaso after election The 2023 flagbearer of the Labour Party, Peter Obi, has called on every Nigerian, especially supporters of his presidential ambition, to remain calm and law-abiding.
Obi's call for calm comes at the peak of controversies surrounding the coalition of the just concluded 2023 presidential elections across Nigeria.
A Twitter user, Goodluck Okeechukwu, in a video post made on Tuesday, February 28, said his friend had met Obi on board a flight from Asaba, Delta state capital city, to Abuja.
Source: Legit.ng