Big Brother Titans: Nigeria's Nana, SA's Justin Become Most Nominated Housemates, Fans Ask Questions
The Big Brother Titans reality show has now had its first round of nominations for possible eviction
The 20 housemates went into the diary room one at a time to mention two of their colleagues for possible eviction during the next live show
Interestingly, Nigerian housemate, Nana, and SA star, Justin, were mentioned the most number of times
The Big Brother Titans show has already gotten down to business of nominations about 24 hours after it started on January 15, 2023.
In the evening of January 16, 2023, not long after they played their Head of House games, the 20 housemates were told to nominate two of their colleagues for possible eviction.
They all entered the diary room one at a time to mention two of their colleagues that could possibly be going home during the next live show.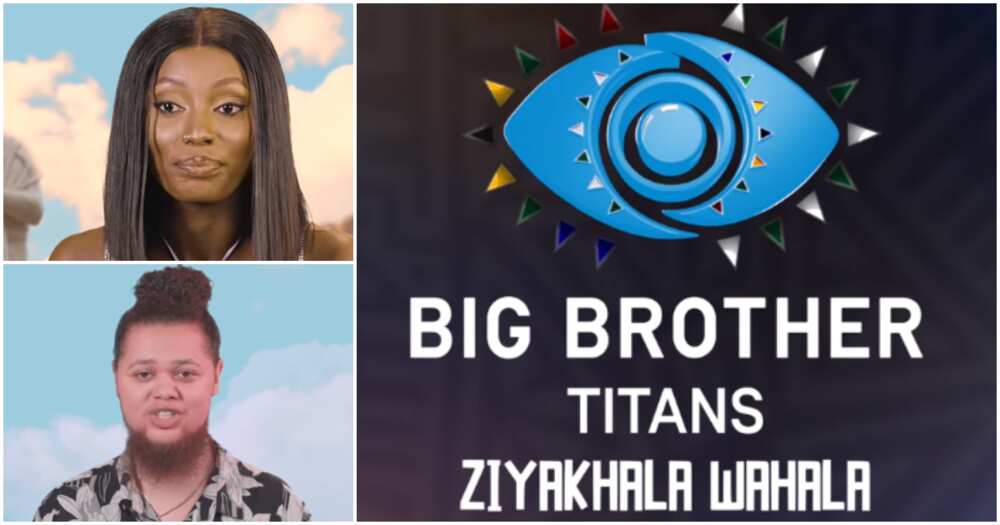 Interestingly, some housemates' names emerged more than others including Nigerian star, Nana and South African star, Justin.
See how they voted below:
Ipeleng : Jenni O and Olivia
Blaqboi: Yemi Cregx, Yaya
Yaya - Nana and Blaqboi
Ebubu - Justin, Nana
Nelisa: Khosi, Nana
Marvin: Justin, Khosi
Yemi Cregx: Olivia, Nana
Khosi: Jaypee, Jenni O
Kanaga Jnr: Olivia, Lukay
Tsasii: Nana, Lukay
Olivia: Khosi, Yemi Cregx
Justin: Nelisa, Nana
Jaypee: Yemi Cregx, Khosi
Thabang: Justin, Nana
Yvonne: Marvin, Tsasii
Lukay: Olivia, Justin
Nana: Yemi Cregx, Jaypee
Juicy Jay: Nana, Justin
Jenni O: Khosi, Tsasii
Mmeli: Nana, Kanaga Jnr
Number of nominations per housemate
Ipeleng - 0
Blaqboi - 1
Yaya - 1
Ebubu - 0
Nelisa - 1
Marvin - 1
Yemi Cregx - 4
Khosi - 4
Kanaga Jnr - 1
Tsasi - 2
Olivia - 4
Justin - 5
Jaypee - 2
Thabang - 0
Yvonne - 0
Lukay - 2
Nana - 9
Juicy Jay - 0
Jenni O - 2
After the nominations were concluded, Big Brother explained that those up for nomination will not be named and all the housemates should prepare for eviction during the next live show.
Nigerians react to nomination list
A number of netizens took to social media to speak on the high number of nominations some housemates bagged. Read some comments below:
heather_loves_afrobeats:
"Nana had 9 nominations "
mosh_creations:
"Wetin Nana do these housemates? "
blackgirl.charm:
"Who Noticed South Africans were mostly putting Nigerians up but Nigerians were busy putting themselves up. Same thing Trenches house did last year."
shop_withanny:
"Ebubu is safe ❤️❤️"
joanodenu:
"Nana just dey chop nomination like tomorrow nor dey"
oluwanifemi_dabira:
"Nobody Nominated My Thabang❤️"
itz_tide122:
"This nana just Dey chop nomination ni haha"
faithel_barbie:
"Nana and Justin dey chop nomination "
Mmeli becomes first BBTitans Head of House
The Big Brother Titans show kicked off on a great note and the 20 Nigerian and South African housemates had their first ever Head of House games on January 16.
In usual Big Brother fashion, the housemates were told to move to the arena for the games and were given instructions on how it would be played.
Mmeli eventually emerged as the first Head of House and was made to pick a female housemate as his guest.
Source: Legit.ng