First Bank Sponsors Africa International Trade Exhibition, Promotes Foreign Direct Investment
First Bank of Nigeria Limited, Nigeria's premier and leading financial inclusion services provider, sponsored the Africa International Trade Exhibition (A.I.T.E 2023), held on 21 and 22 September 2023 at the Hilton Hotel Midtown, New York, U.S.A.
The event was themed "the imperatives of global trade for African SMEs as a game changer for the Continent's future prosperity".
Woven into the fabric of society, with the rich heritage of being the premier Bank in West Africa, FirstBank's sponsorship of the event reiterated its commitment to being the bank of first choice and financial gateway in supporting businesses to boost the growth and socio-economic development of the continent in today's fast-evolving business landscape.
Notable personalities and dignitaries at the event include Dr. Doris Uzoka-Anite, Minister of Industry Trade and Investment and representative of Senator Bola Tinubu (GCFR), President and Commander in Chief of the Armed Forces, Federal Republic of Nigeria; Mr Festus Keyamo, SAN, Minister of Aviation and Aerospace Development of Nigeria; Dr Mariya Mahmoud, Minister of State Federal Capital Territory; His Excellency, Adeyinka Asekun, Nigeria's High Commissioner to Canada; Hon Abike Dabiri, Chairman/CEO, Nigerians in Diaspora Commission; Ambassa Bolaji Akintemi, Director, Economic, Trade and Investment, Ministry of Foreign Affairs, Nigeria; Mr Olukayode Pitan, Managing Director, Bank of Industry; Mrs Kanayo Awani, Executive Vice President, Intra-African Trade, African Export-Import Bank (Afreximbank); Dr. Adesola Adeduntan, Chief Executive Officer, FirstBank Group; Mr Oluwatosin Adewuyi, Executive Director, Corporate Banking, FirstBank and Mr Ini Ebong, Executive Director, Treasury and International Banking, FirstBank.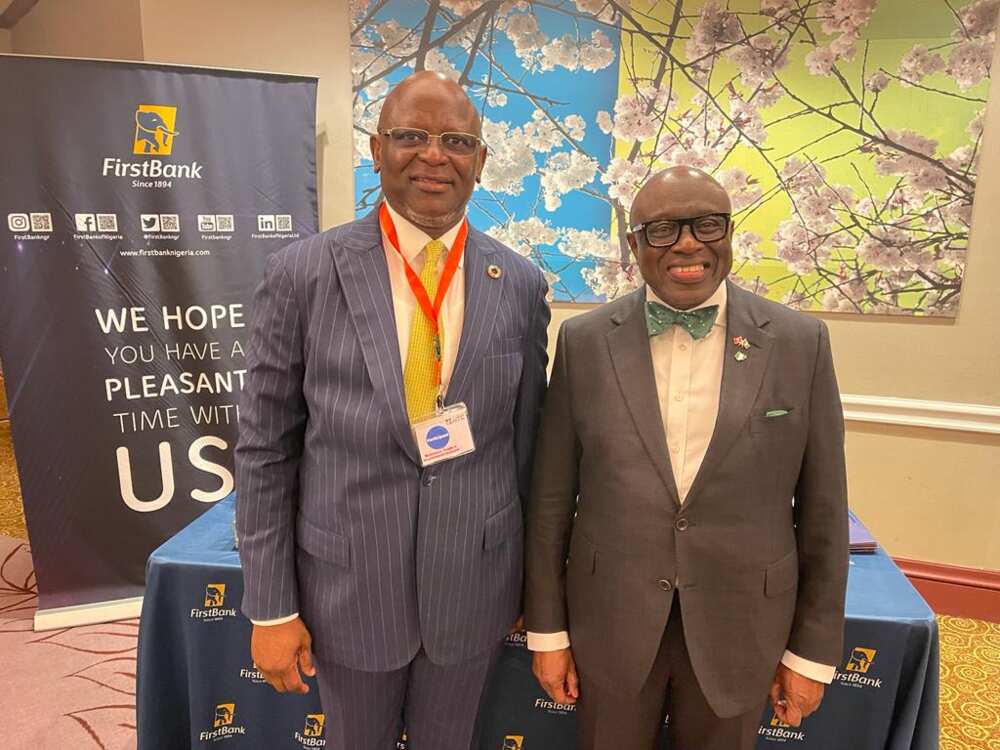 Tunde MacAlabi, Visioner of the African International Trade Exhibition project said "The AITE project is conceived to assist African SMEs to gain greater penet'ration in the North American market that has huge potentials.
The African American population in the US is 30 million strong, spending close to 1.2 trillion dollars as consumers.
The popularity of our afrobeat music, the ground that it is gaining in North America and the globe is remarkable. With this idea, pushing authentic African made products into the market to rise on the wave of the popularity of our music can diversify the sources of foreign exchange income that we accurately need in Nigeria and Africa.
Our effort is a complementary private sector driven initiative to help bridge the commercial gap to increase the commercial engagement between Nigeria, Africa and the USA.
Speaking at the event, Dr. Adesola Adeduntan, CEO of FirstBank Group said: "I am particularly delighted that this year's theme beams the spotlight on a sector that can be referred to as the bedrock of Africa's economic prosperity. Africa's SME sector is also a good representation of the unyielding and resilient spirit of the African people in the face of many daunting challenges."
With a vision to become "Africa's Bank of First Choice", FirstBank's commitment to the development and economic transformation of the African continent is unwavering and we will continue to make the required investments to actualize this goal. I make bold to say that, in FirstBank, Africa has a dependable ally.
Indeed, it is the turn of Africa to rise, and FirstBank is strategically positioned to provide the required financial services support to the SME sector that will catalyze the next phase of Africa's growth and development," he concluded.
Representing Prof. Benedict Okey Oramah, President & Chairman, African Export-Import Bank (Afreximbank), Mrs Kanayo Awani, Executive Vice President, Intra-African Trade, African Export-Import Bank (Afreximbank) said "I am grateful to the African International Trade Exhibition (AITE) for the kind opportunity to participate in this event. I congratulate AITE for building this unique platform to rally global investments and policy support towards the attainment of the goals of the African Continental Free Trade Agreements. These activities of AITE are significant complements to Afreximbank's trade facilitation agenda. We are therefore pleased to be associated with AITE and its activities.
We must continue to leverage the platforms created by the Bank and AITE to forge partnerships, share ideas and contribute to the growth and development of African SMEs to ensure that their potentials as the driving force for the transformation of the continent. As l like to say, the opportunity is now, and it has a shelf life.
Festus Keyamo, Minister of Aviation and Aerospace Development of Nigeria noted that "the importance of the aviation sector in Nigeria and any country cannot be overemphasised. The gains of the African Continental Free Trade Area (ACFTA) cannot be realized without a robust Aviation policy in Africa that will enhance the movement of goods and personnel across Africa.
We need to promote a robust Africa Aviation policy and find a way to liberalize the aviation sector within Africa.
I call on investors to come to Nigeria as the Aviation sector is the gateway for investment into the country, taking a cue from the speech of Mr. President yesterday to the world (during his address at the 78th Session of UN General Assembly), we are asking investors to come and partner with us as opportunities abound in Nigeria. We have the population, market, traffic and economy to support businesses.
Encouraging Nigerians in the diaspora to drive foreign direct investment into the country, Dr Uzoka-Anite, Minister of Industry, Trade and Investment spoke on behalf of Senator Bola Ahmed Tinubu (GCFR), President and Commander in Chief of the Armed Forces of Nigeria. She said "I enjoin Nigerians in the diaspora to invest in Nigeria. I know the spirit of being a Nigerian because I am one.
We are very prosperous, resilient, persistent, bold, audacious. We like to make decisions in our favour profitably. We are also very warm and welcoming. Galvanizing all these qualities and focus it back home will lead to us doing a whole lot.
The A.I.T.E 2023 Business, Trade, and Investment Summit convened business leaders, entrepreneurs and government functionaries from diverse sectors across Africa and the globe.
Held on the sidelines of the 78th Session of UN General Assembly (UNGA), the event promotes networking amongst think tanks whilst being a viable avenue for organisations to showcase cutting-edge products and services, thereby building valuable business relationships to drive economic advancement and cooperation beyond the African continent.
About FirstBank
First Bank of Nigeria Limited (FirstBank) is the premier Bank in West Africa and the leading financial inclusion services provider in Nigeria for 129 years.
With over 750 business locations and over 215538 Banking Agents spread across 99% of the 774 Local Government Areas in Nigeria, FirstBank provides a comprehensive range of retail and corporate financial services to serve its over 42 million customers. The Bank has an international presence with subsidiaries operating in 9 other countries. These subsidiaries are FirstBank (UK) Limited in London and Paris, FirstBank in The Gambia, FirstBank in Sierra-Leone, FirstBank in the Republic of Congo, FirstBank in Guinea, FBNBank in Ghana, FBNBank in Senegal as well as a Representative Office in Beijing, China. The Bank is at the forefront of promoting digital banking in the country and has issued over 12 million cards, the first bank to achieve such a milestone.
FirstBank has continued to make significant investments in technology, innovation and transformation, and its cashless transaction drive has been steadily accentuated with almost 22 million active FirstBank customers signed up on digital channels including the USSD Quick Banking service through the nationally renowned *894# Banking code.
FirstBank's commitment to Diversity is shown in its policies, partnerships and initiatives, such as its employees' ratio of female to male (about 39%:61%; and 32% women in management) as well as the FirstBank Women Network, an initiative that seeks to address the gender gap and increase the participation of women at all levels within the organization.
In addition, the Bank's membership of the UN Women is an affirmation of a deliberate policy that is consistent with UN Women's Women Empowerment's Principles - Equal Opportunity, Inclusion, and Nondiscrimination.
Since its establishment in 1894, FirstBank has consistently built relationships with customers focusing on the fundamentals of good corporate governance, strong liquidity, optimised risk management and leadership. Over the years, the Bank has led the financing of private investment in infrastructure development in the Nigerian economy by playing key roles in the Federal Government's privatisation and commercialisation schemes. With its global reach, FirstBank provides prospective investors wishing to explore the vast business opportunities available in Nigeria an internationally competitive world-class brand and a credible financial partner.
For six consecutive years (2011 – 2016), FirstBank was named "Most Valuable Bank Brand in Nigeria" by the globally renowned The Banker Magazine of the Financial Times Group and "Best Retail Bank in Nigeria" eight times in a row, 2011 - 2018, by the Asian Banker International Excellence in Retail Financial Services Awards.
Notably, in 2022, the Bank took a long stride on its growth trajectory with the Bank's Viability and Long-Term Issuer Default Ratings upgraded to 'B' from 'B-' (with Outlooks Stable) by Fitch, a leading global rating agency. This is an indication of the Bank's strong internal capital generation and the corresponding recession of its risks to capitalisation. Fitch also upgraded the Bank's National Long-Term Ratings to 'A (nga)' from 'BBB (nga)', to reflect its improved creditworthiness relative to that of other issuers in Nigeria. Furthermore, the Top 100 African Bank Rankings 2022 released by The Banker Magazine revealed FirstBank's ranking as number one in Nigeria in terms of Overall Performance, Profitability, Efficiency and Return on Risk.
Other laudable feats in 2022 include FirstBank's international recognition on major indices by Euromoney Market Leaders, an independent global assessment of the leading financial service providers where FirstBank was crowned:
• Market Leader: (tier-1 recognition) in Corporate and Social Responsibility (CSR),
• Market Leader: (tier -1 recognition) Environmental, Social and Governance (ESG),
• Highly Regarded: in Corporate Banking and Digital Solutions,
• Notable: in SME Banking.
Also, in 2022 International Finance Magazine named the Bank "Most Innovative Banking Product in Nigeria" and "Best Retail Bank in Nigeria". FirstBank was also awarded "Best Corporate Banking Western Africa, 2022" and "Best CSR Bank Western Africa, 2022'' by Global Banking and Finance Magazine. Other notable awards in FirstBank coffers include: "Best Bank in Nigeria" by Global Finance Magazine - fifteen times in a row; "Best Private Bank in Nigeria-2021" awarded by Global Finance magazine; "Best Internet Banking Nigeria" and ''Best CSR Bank Africa'' by International Business Magazine.
In 2023, FirstBank received notable awards including "Best Private Bank for Sustainable Investing in Africa 2023" by Global Finance Awards; "Best Sustainable Bank in Nigeria 2023" by International Investors Awards; "Best Bespoke Banking Services in Nigeria 2023" by International Investors Awards; "Best Financial Inclusion Service Provider in Nigeria 2023" by Digital Banker Africa; and "African Bank of the Year" by African Leadership Magazine.
Our vision is 'To be Africa's Bank of first choice' and our mission is 'To remain true to our name by providing the best financial services possible. This commitment is anchored on our core values of EPIC - Entrepreneurship, Professionalism, Innovation and Customer-Centricity. Our strategic ambition is 'To deliver accelerated growth in profitability through customer-led innovation and disciplined execution and our brand promise is always to deliver the ultimate "gold standard" of value and excellence to position You First in every respect.
Folake Ani-Mumuney
Group Head, Marketing & Corporate Communications
First Bank of Nigeria Limited
SPONSORED
Source: Legit.ng