This is terribly heartbreaking!
A malnourished 9-year-old boy was rescued at Celestial Church of Christ key of Joy Parish Ajiwo. The boy was seen chained (and has been like that for weeks) in the premises of the church which is located at Ajibawo in Ado-Odo Ota division 2. He was said to have been rescued by some NSCDC officers.
PAY ATTENTION: Get all the latest gossips on NAIJ Gossip App
See shocking photos below: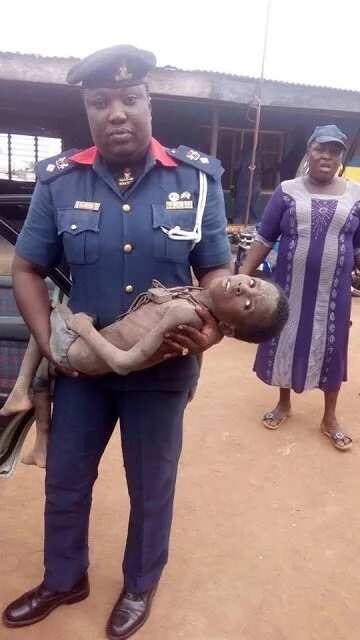 See the story as posted by NSCDC on Facebook:
UPDATE **********************************
The 9-year-old boy chained around his neck and rescued by the NSCDC from the premises of the Celestial Church of Christ, Key of Joy Parish, Ajibawo in Ogun state, has finally spoken up and says he does not want to go back to his father.
The Punch reports that the shocking act of child abuse was done by the boy's father, Francis Taiwo, who is also a pastor of the church. While in the custody of the state yesterday, July 23, the boy finally spoke up and narrated how he was maltreated by his own people.
"I was not fed regularly when I was chained. My father and my step-mother only fed me twice a day. Some days, I was not given any food. I want to go back to school because I want to be a doctor in the future. I also do not want to go back to my father's house," the boy said.
Investigations reveal Korede had been chained and put in that state since January. He was however rescued when neighbours who found the act outrageous tipped off the security agents. And now, his father is on the run. The chained boy was accused of stealing and running away, and to 'cast out' the 'spirit', his father chained him and left him in a room in the church premises. His father also reportedly took the boy chained to a river to bath him this May.
"It is true that I stole a pot of soup and bowl of eba in our house," the boy told Punch. "I also stole in the neighbourhood. My father's inability to give money to my step-mother for the upkeep of the family caused it. But I promised not to go back to my old ways."
He also added that his parents stopped him from attending his Onse Community Primary School after he tried to take food from a vendor in the school. "I still want to return to school. I want to be a medical doctor," he said.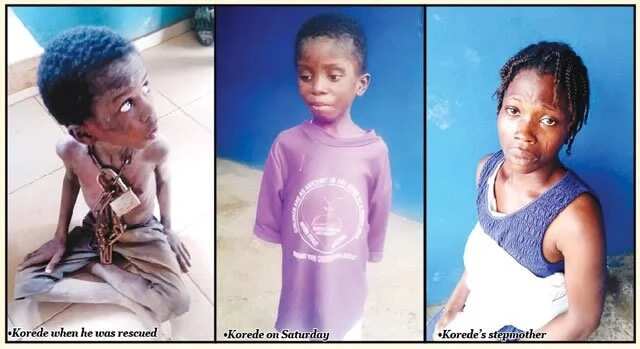 Meanwhile, the victim's stepmother, who has been arrested by the police, told the press that she had warned her Celestial Church pastor husband to desist from such punishments.
"I usually warned him concerning the way he chained Korede. I had reported him to his twin brother, Kehinde, who lives in Ota, and I also reported to a friend of his. When the two talked to him, he would relax a bit, but as soon as they left, he would return to his old ways. We got married three years ago but I learnt that he was once married to a woman from Benin, Edo state. The woman, I was told, bore him 4 children- 2 boys and 2 girls. I only saw the woman in a picture, I have never met her physically. She was said to have left 9 years ago, shortly after she gave birth to Korede. All I have been doing is to beg him to stop stealing, as such act does not portray the family in good light."
Confirming the update on the Celestial Church of Christ case, the Ogun state Police Public Relations Officer, SP Muyiwa Adejobi, said the police are currently searching for Korede's father. He also added that the assistant inspector-general of police in charge of Zone 2 command, Abdulmajid Ali, had taken over the case.
He said: "The police operatives of the command attached to the Onipanu Division rescued Korede from where he was chained on the neck to a heavy log of wood in a room by his biological father, Pastor Francis Taiwo, for more than a month. The stepmother of Korede, Kehinde, who has been arrested by the police, revealed that Korede's father's cruel act was connected with the habit of stealing exhibited by Korede. The assistant inspector-general of police in charge of zone 2 command, Lagos, who is presently on the ground in Ogun state, Abdulmajid Ali, has condemned the pastor's criminal and inhuman act and directed that the matter be properly handled, while the fleeing pastor be apprehended without delay.
"The AIG has ordered that the young boy be given proper medical attention. He will soon be handed over to the Ministry of Women Affairs and Social Development in Ogun state for necessary action."