FOCUS: The Late Olu Of Warri
The late Olu of Warri, His Royal Highness, Godwin Edomi, Ogiame Atuwatse II, passed away on Saturday, September 5, in Lagos.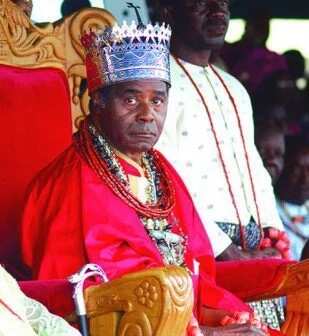 The king who is the head of the Itsekiri people in Warri town was one of the most influential traditional leaders in Nigeria.
[article_adwert]
Legit.ng researched on the life and times of the revered ruler and bring to your reading 10 things about him that you should know about.
Read below:
1. His full name is Godwin Toju Emiko and he was famously known as "The Defender Of The Warri Nation"
2. The late king started his reign on April 2, 1987. In April this year, the late king celebrated the 28th anniversary of his coronation as the Olu of Warri in his palace.
3. He was the only son of his father, that was made a member of the Warri Traditional Council since 1983 and was also a member of Warri local government council, where he served in several capacities.
4. He was a lawyer by profession and the second university graduate to ascend the throne of Warri Kingdom.
5. He was a thoroughbred born-again Christian as he built a Foursquare church inside his palace.
6. In 2013, the late king announced his decision to relinquish the traditional title of Ogiame, saying it was from a river goddess, but he later changed his mind after his plan was vehemently resisted by the people and this palace chiefs.
7. Known for his bluntness, the late King told former president, Goodluck Jonathan during a meeting before the general elections that he failed the Itsekiri people during his tenure and that he could not guarantee his people's votes for him.
8. The late king was reputed to have put enormous pressure on Jonathan and ensured the former president inaugurated the 16 billion dollars Export Processing Zone (EPZ) project in Warri town before the general elections.
9. On the 7 of January this year, President Muhammadu Buhari visited the late king to solicit for his support during the electioneering campaign
10. In 1997, the late king presided over the Warri kingdom in one of its darkest days in history when riots ensued and hundreds died because of the late Nigerian military leader, Gen. Sani Abacha, created a number of local government areas, including Warri south-west local government council, headquartered in the Ijaw area of Warri. After much pressure by the Itsekiri on the federal government, the council was relocated to Ogidigben, an Itsekiri area of Warri, which sparked crisis known subsequently as "Warri Crisis".
Source: Legit.ng