Nigerian Professor Claims To Have Cure For HIV/AIDS
In spite of the growing concerns by some sections in Nigeria over the claims of a cure for the dreaded Human Immunodeficiency Virus and Acquired Immunodeficiency Virus (HIV/AIDS) that have for years eluded erudite scientists all over the world.
A Nigeria university don, Professor Maduike Ezeibe, has insisted that he stands by his cure for the virus.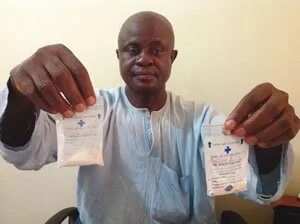 Ezeibe, a Professor of Veterinary Medicine Michal Okpara University of Agriculture Umudike, Abia State, has reiterated that his current therapy is authentic and effective, adding that his discovery is a major breakthrough in the search for the cure of the virus.
The professor made this disclosure while speaking with Southern City News in his office. He further stated that his research into this therapy known as 'Antivrit' (Anti-Viral Therapy) started in 1994, as his own quest to be part of the solution to finding cure for the global scourge called HIV/AIDS that have claimed many life all over the world.
READ ALSO: HIV CURE - South African Studies May Now Make HIV Vaccine
Ezeibe stated that his breakthrough took 19 years of hard work culminating in 2013, when he discover this therapy which he said has been published in the British Journal of Medicine and Medical Research and in an American-based medical journal known as The Health.
The university don opined that he decided to publish his findings in order to prove to those that doubt that a black man is capable of finding cure for HIV/AIDS.
He further boasted that his therapy remains valid and effective that could be verify anywhere in the world under same condition and pointed out that the two minerals –aluminum silicate (kaolin) and magnesium silicate used in the production of the therapy are in large deposits in Umuahia and other parts of Abia state, adding that this make the therapy cheaper and at the reach of all HIV/ACIDS patients.
READ ALSO:SEXUAL HEALTH: What You Need To Know About These 6 Common STDs
Ezeibe hinted further that with his therapy, it will take an average of two to three months to cure a patient. He obtained his first degree in same discipline at the University of Nigeria Nsukka in 1986, Masters in Ruminant Medicine, and doctorate degree in Canine Medicine all in UNN.
Meanwhile, scientists at Johns Hopkins have managed to repeat what is known as one of the biggest medical breakthroughs when they cured the second baby born to an HIV-positive mother.
Source: Legit.ng