Be Nice to Bandits, Sheikh Gumi Tells Nigerians, Releases Tips on How To Live Peacefully With Them
Sheikh Gumi has called on Nigerians to treat the armed bandits terrorising them with dignity and respect
The controversial Islamic cleric also released tips on how Nigerians can live peacefully with the criminals
Meanwhile, Nigerians on social media are not happy with his statement with many people blasting him
Nigerians have been asked to treat bandits with respect. This is the position of controversial Islamic cleric, Ahmad Gumi.
Specifically, he gave the terrorised people of northwest the tip they can use in living peacefully with the armed bandits occupying their forests.
He said the people can develop "mutual relationship with the bandits without being harmed", Premium Times reported.
He said this while delivering a lecture at Ahmadu Bello University, Zaria.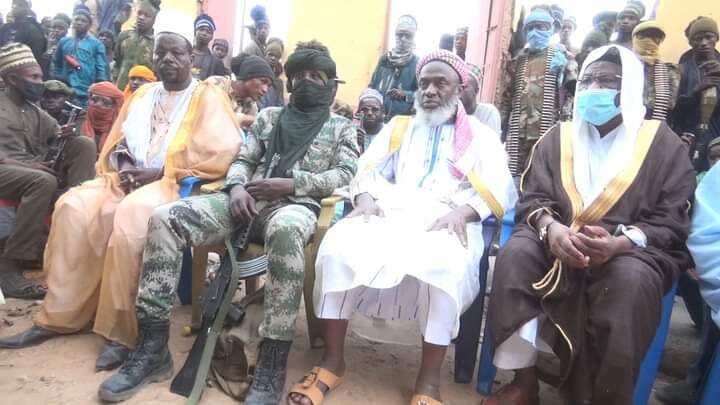 He said:
"I go through the door, not the window. If you go through the door, you will go in and come back safely," Mr Gumi said, responding to questions from students at the event.
"if people listen to the bandits, they would become amenable to abandoning their violent ways.
"That is the respect I give them. I say come, come and sit with me. Come and sit down. I want to hear from you. With that respect, the Fulani man, you can get him.
"So don't be surprised, if you are nice to him, if you are ready to listen to him, if you are trying to understand his problem, if you put your legs in his own shoes, he will listen to you, you will go to the forest and return safely, God willing."
Nigeria @ 61: Military restates commitment to end Boko Haram, banditry
Meanwhile, the Nigerian Armed Force has assured the people of the country that the activities of Boko Haram insurgents and bandits would soon be a thing of the past.
Legit.ng reported that the assurance was given on Wednesday, September 29, by the Chief of Defence Staff (CDS), General Lucky Irabor, at an Open Ears Press Dialogue 2, organised via zoom.
In his response to the questions posed by the participants, Irabor said the military would not rest on its oars, saying that they need to engage other stakeholders to end the insurgency in the country.
In what will gladden the heart of many Nigerians, given its bluntness, the Emir of Katsina, Abdulmuminu Usman, declared death for bandits.
According to the respected emir, bandits killing people in the northwest deserve nothing but death. He declared this while speaking during a security stakeholders' meeting in Katsina.
He insisted that since the bandits have decided to go after people's lives, they also "don't deserve to live". Going further, he called for speedy prosecution of the criminals. He said the delay in prosecuting them will be counterproductive since it won't serve as a deterrent.
Source: Legit.ng