From Zero to 100: Unique Business Model, COVID-19 and Competitors that Threaten Kwik Delivery
- For Kwik Delivery founder, Romain Poirot-Lellig, competitors are good for business despite the threat they possess in the market
- The company is planning to expand its business to more English-speaking countries in Africa
- Poirot-Lellig's company is operating with a different business model that has positioned Kwik for rapid growth in two years
PAY ATTENTION: Join a community of CEOs, founders and decision-makers: subscribe for a free monthly business newsletter Digital Talks and succeed BIG!
Nigerian business environment is one of the toughest place to operate as a startup, and Kwik Delivery co-founder, Romain Poirot-Lellig, is one of the businessmen that have cracked the code in scaling for growth.
The company started operation in Nigeria's last-mile two years ago, precisely June 2019, but already has over 50,000 businesses it provides logistics service to. Kwik created a niche for itself by positioning between delivery operators and B2B customers.
Competitors are good for Kwik business
This strategy has earned it a spot among the fastest growing startups in Nigeria's last-mile market. In order to tighten its grip on the market, Kwik recently raised $1.7 million in a market African Centre for Supply Chain valued at N250 billion in 2018.
The extra cash raised reflects the faith of investors in Kwik's longevity in a market consisting of Jumia Delivery, Kobo360, DHL, Africa Courier Express, and Gokada.
In an interview with Legit.ng, Poirot-Lellig said:
"A business without competitors is a dead business. Having said that, we do things very differently. First, as I mentioned, we are tech-focused company. The value we create is through data, processes and technology, not through asset-leasing or financial services.
"It's a longer play. Secondly, we are a B2B-centric company, we enable businesses to reduce their capital layouts and to grow their business by streamlining their logistics operations." He said.
The company is accelerating its competitiveness to FedEx, offering a better delivery timeframe compared to the giant.
"the operating timescale of Fedex is in days across states or countries. Kwik's timescale is in hours and minutes across a city."
Kwik delivers a different business model compared to market rivals
Kwik's business model is one that is unique compared to its competitors. Explaining how the company operate, Poirot-Lellig stated:
"We do not own vehicles; we do not employ riders: we provide tools to empower e-commerce merchants and delivery riders alike and we ensure that all actors abide by the rules of the platform. To quote Lawrence Lessig, "code is law". What it means is that we are an organizer, innovator and promoter for the last-mile market. Once a market is organized through technology, it can foster close integration, which can translate into economies of scale and growth for all stakeholders."
This seem to be working for the firm considering the number of clienteles in its portfolio. The operation of Kwik is aided by the close integration of the Big Four of e-commerce technologies, WooCommerce, Shopify, Prestashop and Magento.
"This means that whether you are a retailer in Abuja with a WooCommerce site or a wholesaler in Surulere with a Magento B2B platform, you can integrate Kwik Delivery's ground-breaking last-mile service to your online store in a few minutes and at zero cost.
"We also opened our platform to vans and trucks recently and we have plenty of other innovations to roll out soon." he told Legit.ng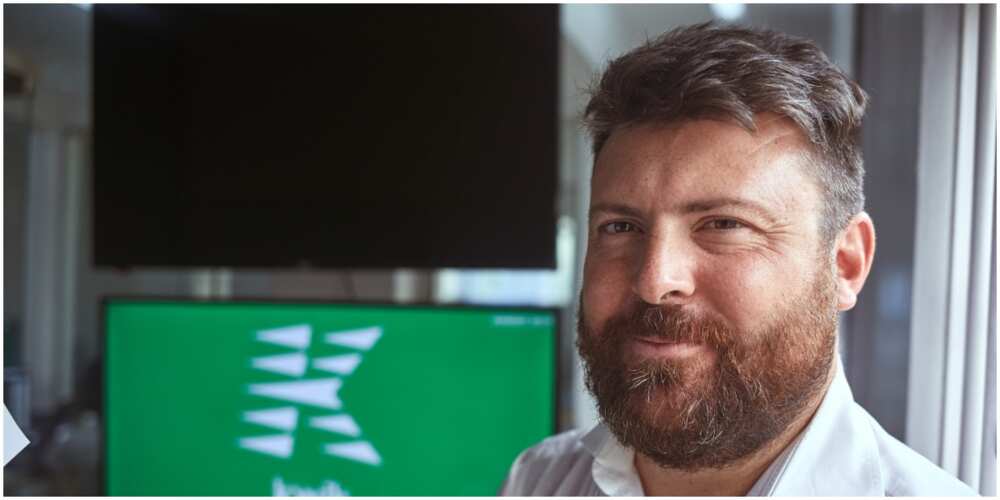 Overcoming challenges by complying with local laws
For Poirot-Lellig, it is simple, adhere to the rules and there won't be a bump on the road:
"The riders on our platform have faced limited challenges, because the Kwik Delivery platform puts a premium on a strict enforcement of local rules.
"Bikes below 200cc have never been allowed on the platform and we have been operating under a nationwide NIPOST license from the beginning. You can innovate and stay on the good side of the law at the same time."
Although, he mentioned data bundle price as albatross to the growth of the digital market which Kwik also operate in.
"I was saying in a discussion with Vice President Osibanjo last year, several issues will need to be addressed for Nigeria to become the digital behemoth it deserves to be.
"One of them is the price of data bundles in the country, which doesn't make sense (they are pricier that in France) and which constitutes a clear hurdle to a large digital market in Nigeria."
COVID-19 as a wake up call
Poirot-Lellig said the pandemic period opened the eyes of several sectors to the digital transformation. He mentioned banks and industrial companies had a wake-up call.
"I believe it was a wake-up call for all economic actors in Nigeria, from banks to retailers to industrial companies. The digital transformation of the Nigerian economy is now ongoing and it's a great opportunity and will have significant benefits for the population."
Lellig tight lip on profitability of last-mile business
Poirot-Lellig wasn't direct with how profitable the delivery business is, but he said there are added-value services that the space offers.
The last-mile market which is said to be worth at least N250 billion as at 2018, will benefit from the Nigerian economy which Poirot-Lellig project will double in size in the next 20 years.
"Logistics anywhere in the world is a volume business. But the value of last-mile is phenomenal for any large international player that wants to enter the Nigerian market, the largest and most diverse market in Africa, set to double in size in the next 20 years.
"I would add that, given the very fragmented nature of Nigerian retail, there are hundreds of added-value services to bring to populations through last-mile deliveries and apps." Poirot-Lellig stated.
For him, the last-mile sector in Nigeria has a vital role to play in the restructuring and growth of the Nigerian economy, as COVID-19 made clear. He said streamlining logistics operations is a key priority for all Nigerian businesses base on his experience during the pandemic.
While he didn't suggest policies that he believes need changing, he said there are tremendous opportunity which the policymakers in Nigeria can take advantage of to transform Nigeria into a digital giant - but not without affordable internet.
He suggested efficient digital procedures for key administrations would be a plus to the industry.
Kwik plans to conquer more markets
It is believed that if a business can succeed in Nigeria, it can survival anywhere in the world, so it's no surprise that Kwik is positioning to spread its tentacles beyond the country.
On the company's plan with the recently raised funds, Lellig said
"Our plan is to keep innovating and to keep growing in Lagos and in other cities. We barely scratched the surface in Lagos, where 500,000 last-mile deliveries take place each day."
He added separately that:
"The vocation of Kwik is to provide its service in every African city with at least 2 million people. So that should tell you what we have in mind. For obvious reasons, we are focusing on English-speaking African cities first."
Source: Legit.ng