Vaccination is not our problem: Mixed reactions as Buhari, Osinbajo receive COVID-19 vaccine
- Nigeria got the first batch of Oxford/AstraZeneca COVID-19 vaccines on Tuesday, March 2
- President Buhari and VP Osinabjo are among those who have been administered the vaccine
- While some Nigerians are pleased and have commended the Nigerian leaders, others are still in doubt
PAY ATTENTION: Join Legit.ng Telegram channel! Never miss important updates!
President Muhammadu Buhari and his vice, Yemi Osinbajo, have finally taken the AstraZeneca COVID-19 vaccine.
Both men were given their jabs on Saturday, March 6, and photos were shared on social media for Nigerians to see, just in case some might still be in doubt.
A number of Nigerians are happy about this and have commended Buhari and Osinbajo for leading by example.
Some others, however, still have their doubts and have shared their varying opinions on social media.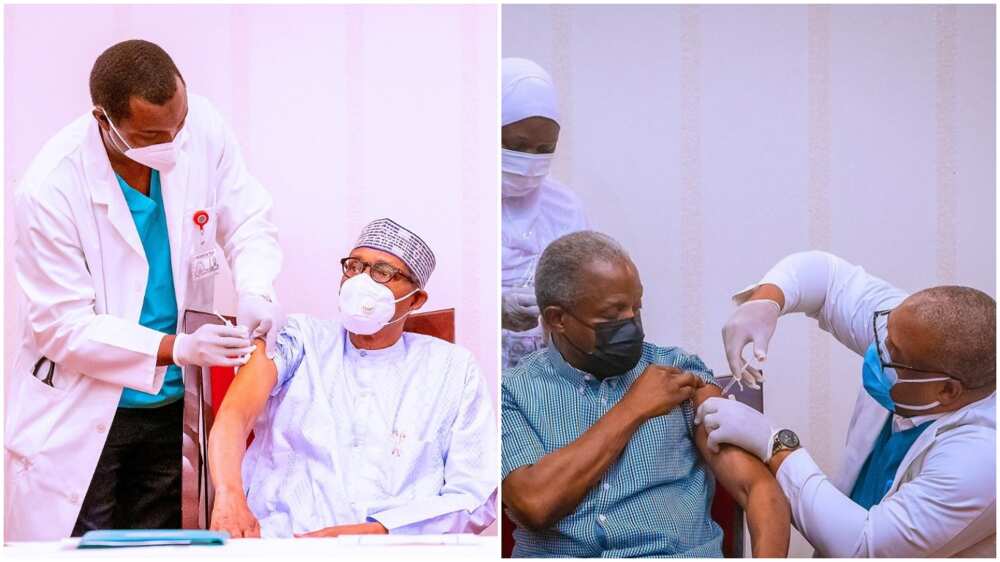 Legit.ng has gathered some of the reactions below.
Nigerians commend Buhari
Dr. Dípò Awójídé with the Twitter handle @OgbeniDipo wrote:
"Minus the reception yesterday, President Buhari and VP Osinbajo taking the vaccine on live TV is actually good for confidence building in a country where a Governor and some amusing religious leaders have been trash talking."
On his part, @DrOlufunmilayo stated:
"President Buhari and Vice President Buhari have both received the Covid19 vaccination today.
"This is good and commendable. It shows the vaccine is safe and people can trust it.
"Let's hope there's no "Presidential Vaccine Collection Party" later today in a fancy hall in Abuja."
Lending his voice, @DrVaries called on the Presidential Task Force to roll out the Vaccine on time.
IFA FUNSHO with the handle @funshographix took a swipe at African leaders.
The doubting Thomas
@Dopevince007 is wondering if it was really the COVID-19 vaccine Buhari took.
According to @raphaelboffin, anything is possible in Nigeria.
Another tweep shared his doubts.
As for @Mohnice_, what Nigerians need currently is security and not vaccine.
"Dear President Buhari, Vaccine can not protect Nigerians. Those in north needs adequate security more than the vaccine.... Vaccination is not our problem, we need security and eradication of high cost of living in Nigeria. Hunger is too much, people are suffering."
Legit.ng reported that the first batch of Oxford/AstraZeneca COVID-19 vaccines arrived at Nnamdi Azikiwe International Airport, Abuja, on Tuesday, March 2.
Dr. Ngong Cyprian was the first person to be given the vaccine in the country. He was also Nigeria's first health worker to receive the jab.
He received the jab during a launching ceremony of the COVID-19 vaccination exercise on Friday, March 5, at the National Hospital, Abuja.
Speaking after his vaccination, the doctor said he has dreamt of taking the vaccine and he feels good.
---
Nkem Ikeke is a senior editor at Legit.ng with over 8 years of experience. She is a graduate of Mass Communication from the University of Nigeria, Nsukka. Music, books and her sewing machine keep her busy when she's not copy-editing or writing for Legit.ng.
Source: Legit.ng