Chuck Norris net worth: how wealthy is the martial artist/actor?
If you are a great fan of action movies, then Chuck Norris' name is not new. He is a well known Hollywood star who has captured many fans' hearts from his action tricks in various films. He is also a film producer, screenwriter, author and a martial arts expert. Throughout his career, he has accumulated a lot of wealth. A look at Chuck Norris net worth will help us understand how rich he is.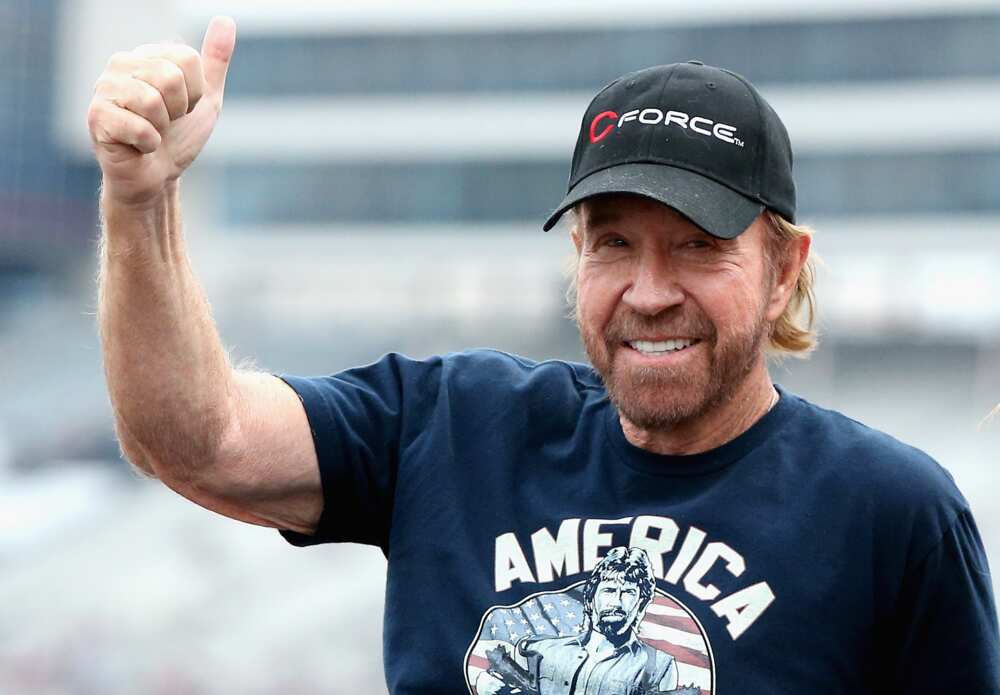 Carlos Ray Norris, aka Chuck Norris, was born on March 10th 1940, in Ryan, Oklahoma, USA, to Wilma and Ray Norris.
His parents divorced when he was a teenager, and his father walked out of his life. He then helped his mother raise his younger brothers.
As a famous martial arts expert, he has a black belt in Taekwondo, Karate, Judo, Brazilian Jiu-Jitsu and even own school of fighting, called Chun Kuk Do.
Having been in the entertainment industry, Chuck has accumulated great wealth from his career. He is one of the richest actors who ventured into acting for along time.
What is Chuck Norris net worth?
How much is Chuck Norris worth? According to Celebrity Net Worth, Chuck Norris net worth is estimated to be $70 million. This is predominantly a result of his work as a martial artist and his acting career.
Where does Chuck Norris live now?
Chuck currently lives on his ranch in Texas with his family. He owns multiple properties across the United States and often resells them for a good value.
The famous actor owned a home in Dallas that was put on the market in 2013 for $1.2 million. He lived there during his Walker, Texas Ranger days, and he co-owned it with his brother Aaron.
The 7.362 square foot home has four bedrooms, seven bathrooms, a theatre, a weight room, and a lake. The property also has a separate building used as a studio during Walker, Texas Ranger production.
He also sold his North Tustin estate for $3.5 million.
Cars
Below are some of the famous cars the actor owns:
Ford Mustang
Karate Corvette
Dodge Ram
GMC Sierra
Books
Here are some of the most popular books written by Chuck.
Against All Odds: My Story
The Secret Power Within
Black Belt Patriotism: How We Can Restore the American Dream
The Secret of Inner Strength: My Story
A Threat to Justice: A Novel
The Justice Riders
The Official Chuck Norris Fact Book
Winning Tournament Karate
Toughen Up!: The Chuck Norris Fitness
Career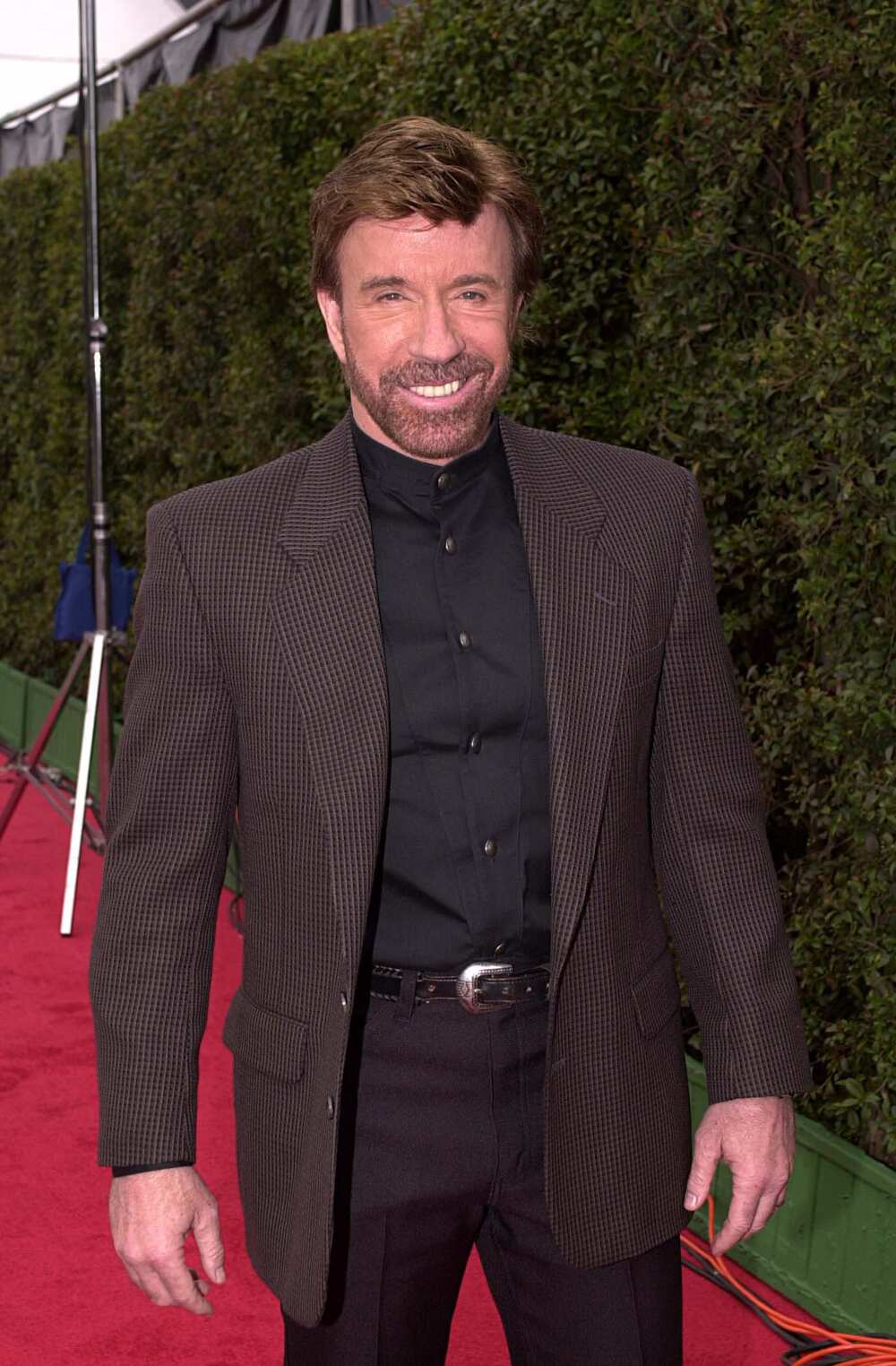 Chuck began studying martial arts in Korea in the 1950s. He was serving in the US Air Force at the time. Later on, after returning home, he opened his karate studio.
In the 1970s, he switched to acting, appearing in his first movie, Way of the Dragon.
Chuck Norris became the most prominent star at the time and appeared in eight films in four years. Many of the films were produced by his brother, Aaron.
In 1993, Norris made a transition to TV, when he began shooting the series Walker, Texas Ranger. The show made Chuck very famous worldwide.
Later on, after acting in Expendables 2 in 2012, he announced his retirement from acting. In his career as an actor, Chuck has appeared in numerous number of films and TV shows. They include:
Films
1972: Way of the Dragon as Colt
1973: The Student Teachers as Karate Advisor
1974: Yellow Faced Tiger as Chuck Slaughter
1977: Breaker! Breaker! as John David
1978: Good Guys Wear Black as Maj. John T. Booker
1979: A Force of One as Matt Logan
1980: The Octagon as Scott James
1981: An Eye for an Eye as Officer Sean Kane
1982: Silent Rage as Sheriff Daniel
1982: Forced Vengeance as Cf. Josh Randall
1983: Lone Wolf McQuade as Ranger J.J. McQuade
1984: Missing in Action as Col. James Braddock
1985: Missing in Action 2: The Beginning as Col. James Braddock
1985: Code of Silence as Sgt. Eddie Cusack
1985: Invasion USA as Agent Matt Hunter
1986: The Delta Force as Maj. Scott McCoy
1986: Firewalker as Max Donigan
1988: Braddock: Missing in Action III as Col. James Braddock
1988: Hero and the Terror as Det. Danny O'Brien
1990: Delta Force 2: The Colombian Connection as Col. Scott McCoy
1991: The Hitman as Cliff Garret
1992: Sidekicks as Himself
1994: Hellbound as Sgt. Frank Shatter
1995: Top Dog as Lt. Jake Wilder
1996: Forest Warrior as Jedidiah McKenna
2003: Bells of Innocence as Matthew
2004: DodgeBall: A True Underdog Story as Himself
2004: Birdie & Bogey
2005: The Cutter as John Shepherd
2012: The Expendables 2 as Booker
Television shows
1986: Karate Kommandos as Himself
1993: Wind in the Wire as Himself
1994: Walker Texas Ranger 3: Deadly Reunion as Ranger Cordell Walker
1998: Logan's War: Bound by Honor as Jake Fallon
1999: Sons of Thunder as Ranger Cordell Walker
2000: Martial Law as Ranger Cordell Walker
2000: The President's Man as Agent Joshua McCord
1993–2001: Walker, Texas Ranger as Ranger Cordell Walker
2002: The President's Man: A Line in the Sand as Agent Joshua McCord
2003: Yes, Dear
2005: Walker, Texas Ranger: Trial by Fire as Ranger Cordell Walker
2007: Inside World Combat League
2015: The Goldbergs
2019: Chuck Norris's Epic Guide to Military Vehicles
2020: Hawaii Five-0 as Sgt. Maj. Lee Phillips
2020: TNA iMPACT! Wrestling
Awards and achievements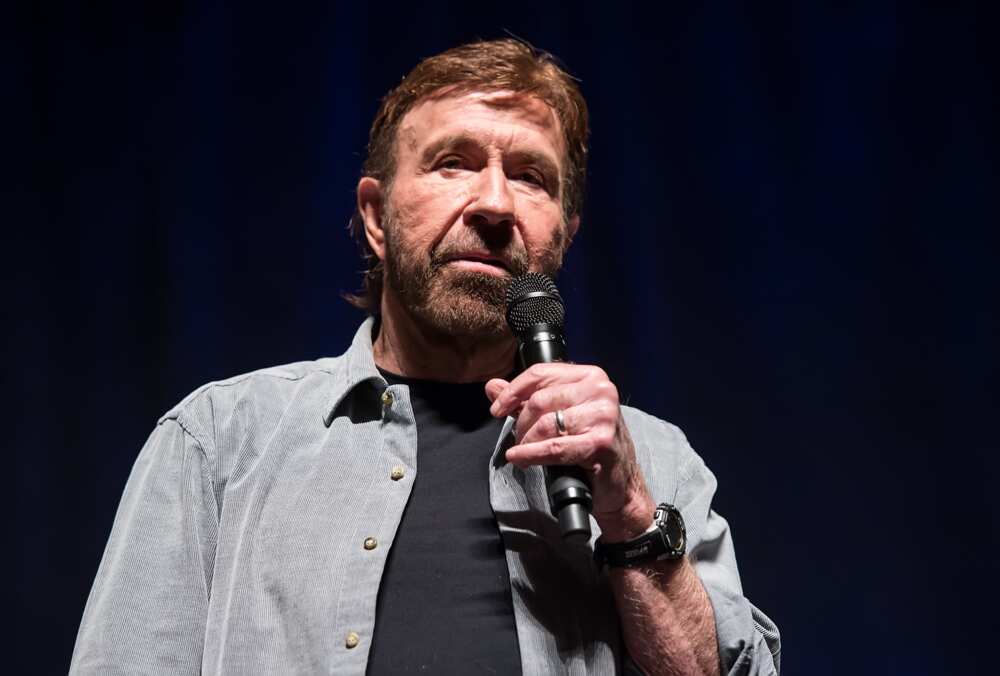 Here are some of the awards he has won over the years:
Sparring Grand Champions at the S. Henry Cho's All American Championship
Professional Middleweight Karate champion title
Karate's triple crown for the most tournament wins of the year
Fighter of the Year award by Black Belt magazine
Action Star of the Year at the ShoWest Convention
Received his Star on the Hollywood Walk of Fame
International Box Office Star of the Year at the ShoWest Convention
Special Award of being a Texas legend at the Lone Star Film & Television Awards
BMI TV Music Award at the BMI Awards
Norris was inducted into the Martial Arts History Museum's Hall of Fame
Nominated for Favorite Actor in a Drama by the TV Guide Award
Inspirational Acting in Television Award at the Grace Prize Award
Norris was presented the Golden Lifetime Achievement Award by the World Karate Union Hall of Fame.
A veteran of the year at the American Veteran Awards
Golden Boot and the Golden Boot Awards
Commandant Gen. James T. Conway made Norris an honorary United States Marine during a dinner at the commandant's residence in Washington, DC
Texas Governor Rick Perry awarded him the title honorary Texas Ranger
Lifetime Achievement Award at the ActionFest
He was honored as an "Honorary Texan" because he had lived at his Texas ranch near Navasota for many years
In 2020 two editions of a book honoring Norris were published titled Martial Arts Masters & Pioneers Biography: Chuck Norris - Giving Back For A Lifetime by Jessie Bowen of the American Martial Arts Alliance
Chuck Norris endorsements
Norris has:
Promoted Total Gym home fitness equipment
Advertised T-Mobile in the Czech Republic
Advertised the World of Warcraft video game
Appeared in a series of commercials for the Polish bank BZ WBK
Norris has also appeared in a commercial for Mountain Dew
Where is Chuck Norris now?
Chuck is currently with his family. In January 2021, Norris was falsely accused of being a part of the crowd involved in the DC Capitol riots.
The veteran actor denied the claims through a post on his Twitter account saying:
I recently learned there was a Chuck Norris lookalike at the DC Capitol riots. It wasn't me and I wasn't there. There is no room for violence of any kind in our society. I am and always will be for Law and Order. Your friend, Chuck Norris
Chuck Norris net worth is proof that he has beaten the odds. His journey to fame and success is definitely worth reading.
READ ALSO: Markiplier net worth: how wealthy is this famous YouTuber?
Legit.ng recently published an article Markiplier net worth. He is one of the most recognized and charismatic YouTubers, who has acquired a large following due to his insightful gaming commentary videos.
Naturally, his ventures brought him not only fame but also a lot of money. Learn everything about Markiplier net worth, salary, and house.
Source: Legit.ng