Georges LeBar bio: who is Rupaul's husband?
There is no fixed or straight path to fame. People become popular through different means, and it can be through family fortune, personal hard work, friendship or marriage. However, talents and exceptional qualities have always been an underlying factor. Someone like Georges LeBar has ridden on the back of his popular personality partner to rise to fame. Apart from his love life, he has ranches that he manages and a fantastic career in a few other areas.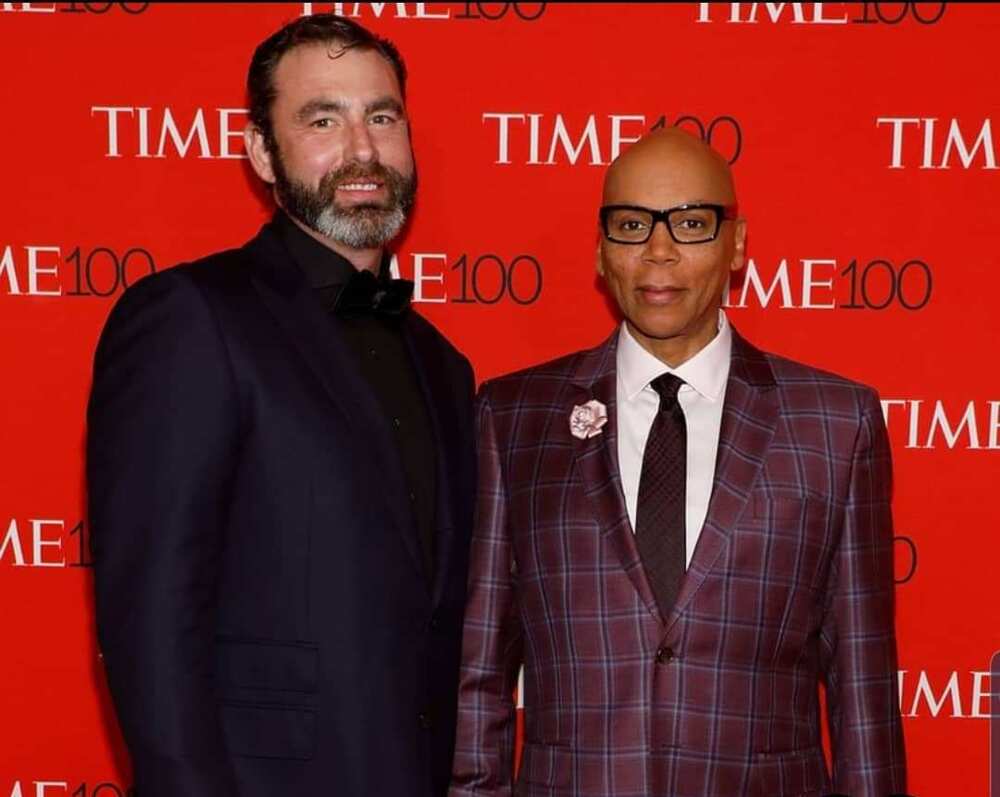 Many people know George as RuPaul husband, a celebrity that has been considered as the most successful US-based drag queen. LeBar has been caught in the web of public attention as a result of his relationship with the songwriter. What started as a friendly chat in a nightclub, has grown into a forever association. Though RuPaul Georges LeBar union seems to have overshadowed the author's life, he still has an excellent track record in his line of duty and satisfying personal life.
Georges LeBar summarised profile
Full name: Georges LeBar
Date of birth: 24th of January, 1973.
Birthplace: Australia
Residence: New York City, New York, USA
Age: 47 years old
Zodiac sign: Aquarius
Profession: Author and painter
Famous as: Being RuPaul's husband
Nationality: Australian
Ethnicity: White
Religion: Christianity
Net worth: $1.5 million
Eye color: Dark brown
Hair color: Dark brown
Height: 6 feet and 5 inches
Weight: 98 kg
Background information on Georges
RuPaul's partner was born in Perth, Western Australia. He is of Australian nationality. Georges LeBar spent his childhood in Australia, and his parents still live there. He has a good relationship with his mother, who is also a great friend of RuPaul. Right from his childhood, the author has been developing an interest in fine arts, and he did many paintings. His parents supported his passions.
He completed his high school education in Australia in 1991 and then studied fashion and design in New York, Paris, and Miami. He has, on several occasions, shared photos of his artwork on his Facebook space. He loves painting, and he is good at what he does. RuPaul partner manages many ranches, including the one in Wyoming while still engaged in his career as an artist. The ranch has a total capacity of 6,000 acres.
The other ranch in Nebraska measures 2,972 while the one in South Dakota measures 6,280. Aside from managing multiple ranches, RuPaul spouse is the author of many best-selling books and as well works as a painter in the USA. He has the Six Inches Way and Pillow Talk as part of the books that he has written. The two books, which are well known to many avid readers, were both published in October 2007.
How old is Georges LeBar?
Currently, Georges LeBar age is 47 years. He was born on the 24th of January, 1973. He grew up in Australia, the same place where he was born, but his family comes from Douglas, Wyoming, in the U.S.
What is Georges LeBar net worth?
LeBar has earned an income through his ranches, published books, and painting. However, details about his annual income are not known to the public. We can only say that he is rich judging by the kind of revenue accrued from the ranching business. George LeBar net worth is approximately $1.5 million. He is also married to a wealthy model that is estimated to have a net worth $60 million.
How tall is Georges LeBar?
RuPaul's husband stands at 6 feet 5 inches. Georges LeBar height is an advantage that many models hope for. The author and painter has a bodyweight of 98kg. His chest, arms, and chest measurement are given as 44-16-34 inches. The renowned painter has dark brown hair and eyes. His shoe size is 14 (US).
Who is RuPaul?
RuPaul was born in California, United of States of America. His full name is RuPaul Andre Charles. His parents divorced when he was seven years old. At the age of 15, he relocated to Atlanta, Georgia, where he stayed with one of his older sisters. He also attended a performing arts high school. RuPaul started performing in drag while on underground movies and nightclub circuit in Atlanta.
After that, he moved to New York in 1987 and began his career in hot bars and television by appearing on The Gong Show and MTV. Standing about 1.96 meters tall and wearing sophisticated makeup and dresses, RuPaul garnered much acclaim on the club scene in New York. He has been on the screen for decades as an actor, a singer, author, model, songwriter, and television personality.
He has been viewed in many lights by people of different sexual orientation because of the RuPaul's Drag Race, a competition series he owns and hosts. The show which he started in 2009 has made the list of Emmy Award winners three times. He released a dance-pop album Supermodel of the World, featuring the eponymous single Supermodel (You Better Work) in 1993.
With the help of a music video in which he cut into a blond wig and various shiny outfits, the song became a surprising mainstream hit. His success has led to his appearances in several films, including Crooklyn (1994), Blue in the Face (1995), The Brady Bunch Movie (1995), and the dramatic comedy To Wong Foo, Thanks for Everything, Julie Newmar (1995).
RuPaul and Georges LeBar wedding
RuPaul and Georges LeBar met for the first time in 1994 at a club called The Limelight, located in New York when Georges celebrated his birthday with friends. They immediately felt drawn to each other. They were partners for 23 years before tying the knot in 2017 in a private wedding that was attended by a few people. RuPaul Georges LeBar's wedding became known to the public after they decided to announce it during an interview two months after the wedding.
The American actor thanked those who wished them well on their marriage through his twitter account. Besides, there is a very distinctive difference between RuPaul and his husband in terms of their response to publicity. Charles is a person who enjoys publicity and likes getting along with people. Georges LeBar, on the other hand, loves a quiet and private life. He does not even engage actively on social media, but he has always been a backbone to his wife's career.
Andre has made the list of the most influential people in the world in the past. Georges LeBar wife has an eye for investing in properties. He owns a condo and an exotic apartment in West Hollywood, California and New York respectively. His magnificent house in Beverly Hills was worth $13.7 million at the time he bought it.
Though he has been successful in the areas of his work, Georges LeBar was not a popular figure until he associated with RuPaul a few decades ago. With the long relationship sealed in marriage, the couple has been having some good time together in the eyes of the public.
Source: Legit.ng