30 inspirational Tupac quotes about love and life
Tupac Shakur is arguably one of the most influential rappers of all times. In his 25 years of life, he produced an impressive number of meaningful songs. Moreover, despite being young, he was an active member of society. Therefore, Tupac quotes are a rich source of wisdom and valuable thoughts everyone should be acquainted with.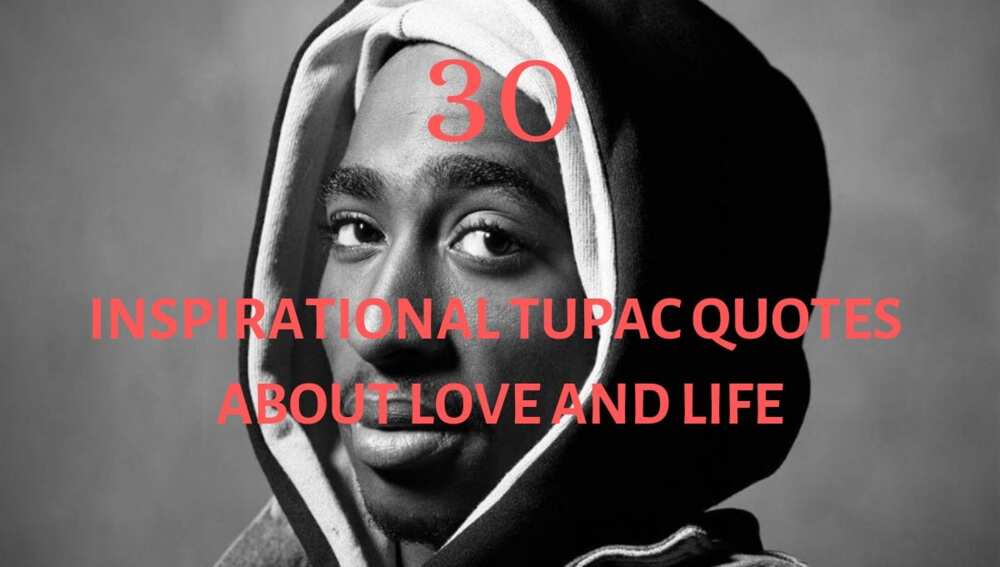 Tupac Shakur quotes span a wide range of topics. It is quite impressive taking into account the fact that he was actually a very young man. From love and friendship to hatred and sorrow – he had his own opinion on every matter.
Tupac inspirational quotes that will make your day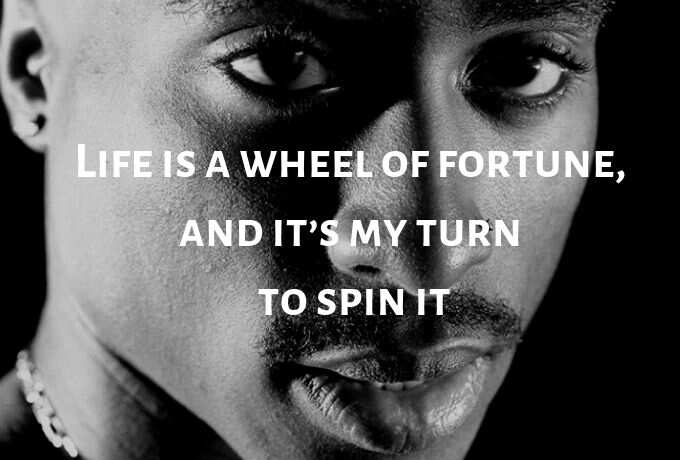 This sincere musician was a genius when it came to giving his support or to motivating people. Even now, when he is no longer with us, quotes by Tupac continue to inspire many people around the globe:
"Start making changes. Let's change the way we eat, let's change the way we live, and let's change the way we treat each other."
"Life is a wheel of fortune, and it's my turn to spin it."
"And if you fall, stand tall and come back for more."
"Sometimes, the harder you fall, the stronger you rise."
"You can spend minutes, hours, days, weeks or even months over-analyzing a situation; trying to put the pieces together, justifying what could've, would've happened… Or you can just leave the pieces on the floor and move on."
Tupac quotes about life that will make you think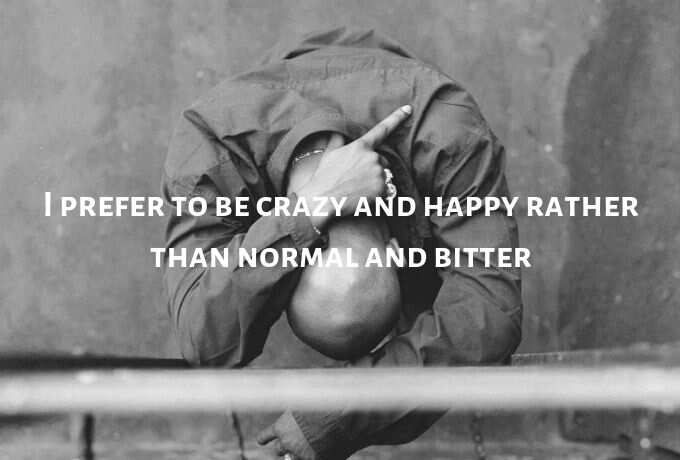 Though the rapper lived for a comparatively short period, he had a lot to say about life in general. Here are the best quotes from Tupac that can change your perspective on life:
"We live in a culture where people are more offended by swear words and middle fingers that they are by famine, warfare and the destruction of our environment."
"I prefer to be crazy and happy rather than normal and bitter."
"I don't see myself being special; I just see myself having more responsibilities than the next man. People look to me to do things for them, to have answers."
"Happy are those who dream big dreams and are ready to pay the price to make them come true."
"They have money for war but can't feed the poor."
"Everybody's at war with different things. I'm at war with my own heart, sometimes."
"Behind every sweet smile, there is a bitter sadness that no one can ever see and feel."
Best Tupac love quotes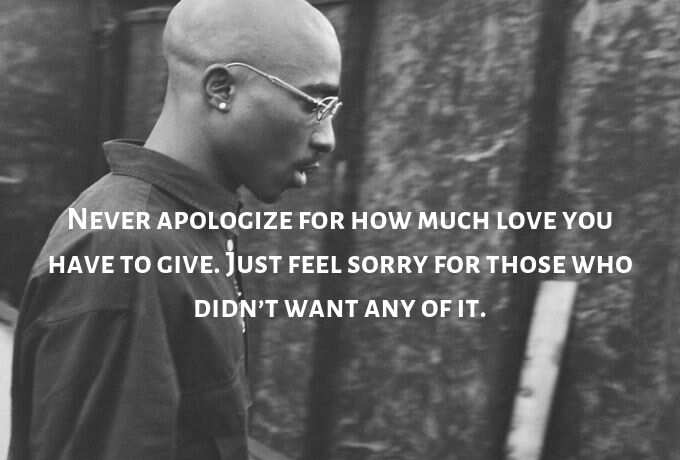 Love, being one of the most important aspects of life, also gained the attention of the rapper. Tupac quotes about love are deep and wise. All of us have something to learn from them:
"I'm not saying girls are perfect, 'cause we know that's not true. But why be unfaithful to her if she's always true to you?"
"Forgive but don't forget, girl keep your head up. And when he tells you 'you ain't nothing', don't believe him. And if he can't learn to love you, you should leave him."
"It's Fu***d up how people get judged for being real, and how people get loved for being fake."
"Never apologize for how much love you have to give. Just feel sorry for those who didn't want any of it."
Tupac quotes about women you need to know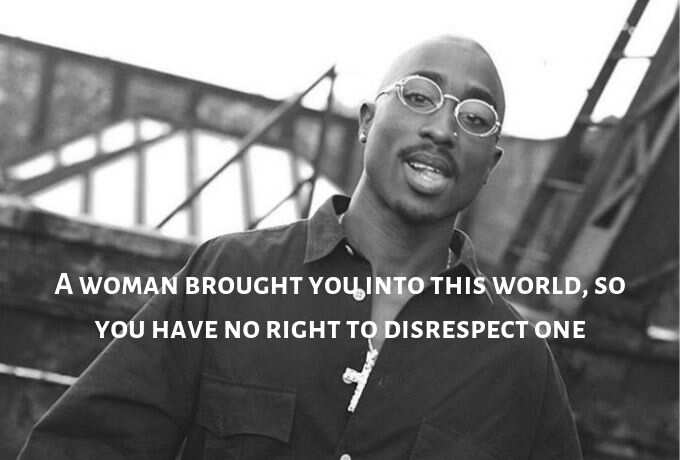 The artist demonstrated great respect for women in his life. Therefore, all his words about women are soaked through with true love and deference for this gender. Here are the best Tupac quotes that reflect his opinion about women:
"A woman brought you into this world, so you have no right to disrespect one."
"Since we all came from a woman, got our name from a woman, and our game from a woman, I wonder why we take from women, why we r*pe our women, why do we hate our women? I think it's time we killed for our women, be real to our women, try to heal our women, 'cause if we don't, we'll have a race of babies that will hate the ladies, who make the babies. And since a man can't make one, he has no right to tell a woman when and where to create one."
"A man that doesn't respect his mother, will never respect his wife."
"Ain't a woman alive that can take my momma's place."
Tupac quotes about friends and friendship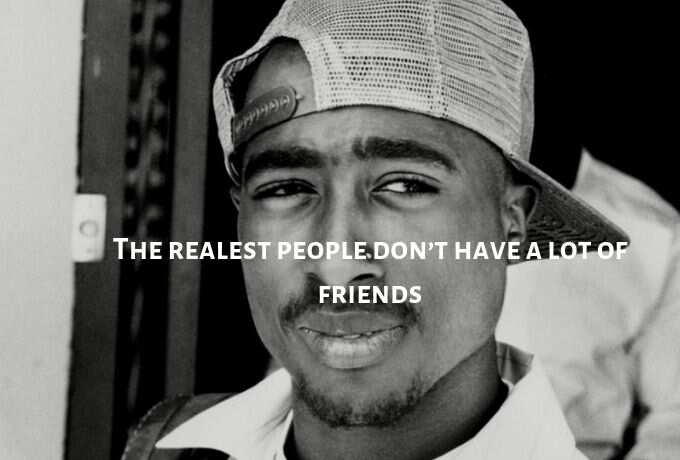 Friendship is a crucial aspect in the life of any person. Without it, we would be less human. The rapper understood it and cherished his friends as we can see from the following quotes:
"The realest people don't have a lot of friends."
"You can never "just be friends" with someone you fall in love with."
"It seems like every time you and friends come up something happens to bring you back down."
"It takes skill to be real, time to heal each other."
The most emotional Tupac song quotes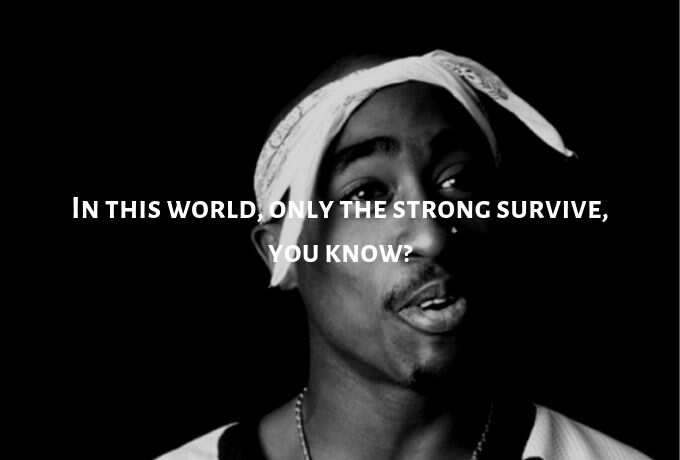 Being a singer, Tupac expressed most of his thoughts and opinions through his songs. In them, we can find a lot of wisdom and emotion that the rapper held:
"A coward dies a thousand deaths, A soldier dies but once." – If I Die 2Nite
"I shall not fear no man but God." – So Many Tears
"How many brothers fell victim to the streets? Rest in peace, young niggar, there's a Heaven for a G. Be a lie if I told you that I never thought of death." – Life Goes On
"The only way to change me is maybe blow my brains out." – Nothing To Lose
"In this world, only the strong survive, you know?" – Hold On Be Strong
"I see no changes, all I see is racist faces, misplaced hate makes disgrace to races." - Changes
All Tupac quotes are impressively deep for such a young man. They are a great source of wisdom everyone can reach now. We have a lot to learn from this phenomenal person. What Tupac quote inspires you the most? Share your opinion below in the comments section.
Source: Legit.ng