Aisha Atkins biography and facts
Aisha Atkins is an American star. You could see her in reality television shows, and this is, probably, the most significant part of the information people have about her. Still, what is behind the curtain? Today, we have a chance to peek through the hole and see what Aisha's life is like when she is not only in the spotlight but also away from it.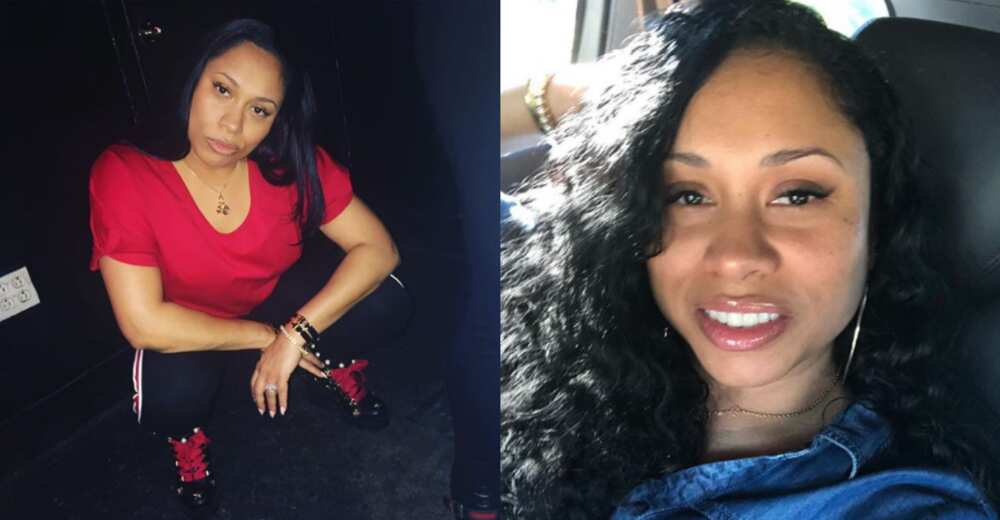 As a rule, the audience knows little about wives of famous rappers (if they are not Kim Kardashian, of course). However, the case of Aisha and her husband Jeffrey Bruce Atkins, aka Ja Rule or the Grizzly Voiced rapper, is totally different. Aisha herself is a famous personality and receives her amount of adoration from fans without any connection to her husband.
What do we know about Aisha Atkins early life?
A child of Queens, New York, Aisha Fatima Murray was born on October 21, 1977. The family was not very rich, but neither was it poor. The girl's mother was a professor and her father, Dr Winston Churchill Murray, was a former member of Parliament of Tobago West. The family has another daughter, Melita Murray, who is Aisha's only sibling.
READ ALSO: Olamide history
As a child, the future star attended the Martin Van Buren High School and eventually graduated from it in 1994. While at a high school, the girl met her future husband, Jeffrey Atkins. She was 14 at that time. In 1994, the sweethearts decided to start dating, and Aisha's pregnancy followed very soon.
First, nobody even knew her, and nobody heard anything about her but she gave birth to the rapper's first child, first and the only daughter so far, Brittney Atkins, and the fame found her in a little while.
The musician became famous in 1999 after he issued his very first album, and the woman stepped into the spotlight to become the famous Ja Rule's wife in public eyes. It lasted for about the whole ten years while they were on the news due to a lot of rumours and talking about their complicated marriage and certain controversies connected to the music star.
Later, the couple started their own reality show on MTV known as "Follow the Rules." It was the year 2015, and since then, Mrs. Atkins has made numerous appearances on social media.
What is like to be Mrs. Aisha Atkins?
The romance between the two teenagers was very hot at first. Everything was quite quick and rushing: right after the birth of their first child, Aisha became pregnant again and gave birth to the second one, a son this time, named Jeffrey Atkins Jr. This happy event took place in 2000.
The couple thought that having two kids together is enough for getting married after all and tied the knot on April 14, 2001. Four years after the wedding, the family was replenished with a third baby, another boy, named Jordan.
Being the wife of a Christian man (Jeffrey was born and raised in the family of Jehovah Witnesses), Aisha recognised Christianity, too. The couple was baptised together only in 2013. This was a wise step during a promotional campaign for Jeffrey's movie "I'm in Love with a Church Girl."
However, in spite of this bright side of their married life, the two used to have quite dark times together. Since 2000, Ja Rule has been involved in many scandals and controversies and had troubles with the law several times. In 2003, he was caught punching a man and paid a significant fine. In 2004, the rapper was involved in a very unpleasant fatal shooting story at a party he hosted. The same year, Aisha had to put up with his fines for driving while having a suspended license and possession of weeds.
The sharpest blow on the family happened in 2007 when her husband was charged with illegal possession of the weapon and certain intoxicating means. The rapper started his imprisonment in 2011 and was about to stay there for two years only, but in the middle of all this, it was discovered that the family evaded tax payment from 2004 until 2006. This added 28 months more to the imprisonment.
The musician was released in 2013, and through this time, Aisha was the only support for her children and both her and her husband's family, discovered rumours about her husband's infidelity spreading across social media. It was a horrible time for the woman since her husband was talked about a lot and many things were scandalous and controversial enough to ruin their marriage.
Some time back, it was said that Ja Rule had discovered his homosexuality and had a romantic affair with an inmate while in prison. Aisha has also heard rumours about a love affair between her husband and Karrine Steffans.
In spite of all this, Aisha has always stayed loyal and visited her husband in jail even though it cost her 9 hours to get to the prison and back again. She denied all the charges and rumours and demonstrated nothing but devoted love.
Also, there were reports that after Ja Rule release from prison in 2013, Aisha accused the rapper of leaving the family to face their destiny all alone and accused him of adultery with his cellmate. However, all these rumours were cleared and put to rest by a picture of the spouses kissing posted in social media.
Since that time, the couple has lived together, raising their children and planning their future as a whole family, in which everyone is loyal to others.
Trivia facts about Mrs. Atkins
Here we have a couple of facts about the lady, which create a short description of her life and personality:
She has a nickname Ish, which is used by her husband and her family
Jeffrey was her first man even though she used to date his friend before dating him while studying in high school
She first appeared at The Wendy Williams Show
She played herself in the MTV reality show "Follow the Rules" about her and her husband Jeffrey (on air between October and December 2015)
It is very likely that a big career in reality television or even full-size movies is waiting for Aisha Atkins. Maybe, she will decide to dedicate her efforts to her family and give birth to more babies, only time will tell.
READ ALSO: History of Tiwa Savage
Source: Legit.ng