Everyone dreams of being rich and successful and hanging out with the worldwide celebrities who would see you as their friend. In fact, some people reach this objective at the very young age – they are just lucky to be born in the wealthy family. Today, we will talk about one of such people. Find out who the richest kid of Dubai is and why he has become so widely discussed!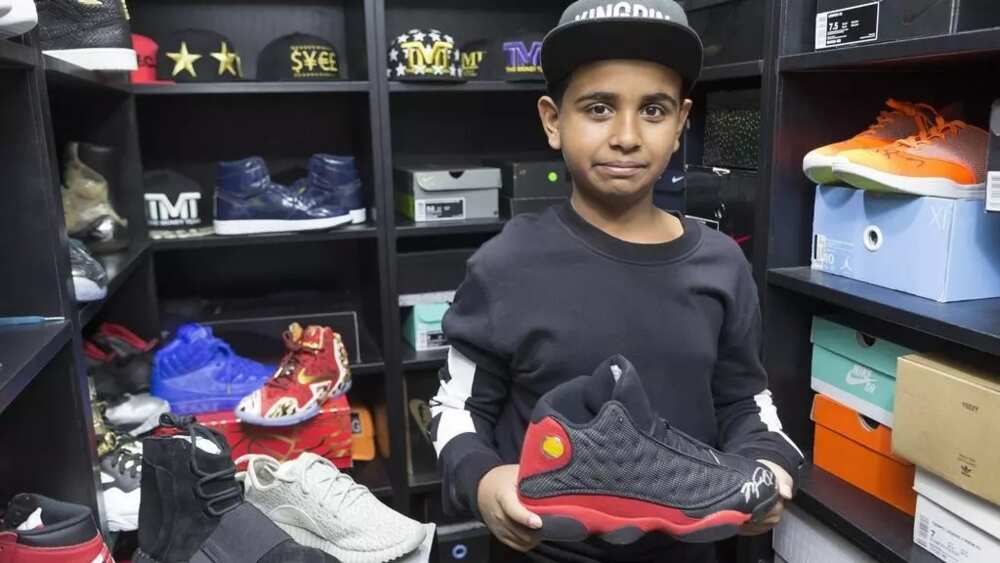 Photo: thenational.ae
Richest boy in Dubai: the full story
This article will bring you a lot of unknown and fascinating facts about Dubai's richest kid. What is his name? How old is he? Which superstars has he befriended? And, most importantly, is he just famous for his father's money, or does he do something by himself? All of that you will know just in a while.
The richest kid in Dubai name is Rashed Saif Belhasa, though the media refer to him as just Rashed Belhasa. His birthday is January the 5th, 2002, which means that he is only 16 years old. His star sign is Capricorn. Rashed Belhasa is of Emirati nationality and was born in Dubai to the wealthy parents. The father of Rashed, Saif Ahmed Belhasa and his mother Sarah Belhasa are one of the wealthiest families in the United Arab Emirates.
Rashed won a huge lottery in life because when he was born, his parents were already very wealthy. The family owned a few luxurious residences all over the world, and he often traveled around the globe together with them, ever since he was a little boy.
Rashed is not the only child in his family – he has the older brothers, Abdulla Saif and Mayed Saif. However, he is the most popular rich kid in his family. The reason of Rashed's popularity is that despite his parents being incredibly wealthy and able to afford everything, he did not want to be famous just for their money. He decided to start making videos on YouTube, and this is how he gained his own fans, who watch and love his productions.
The growth and development of Rashed Belhasa's YouTube channel
Originally, the thing that inspired Rashed's YouTube career was the sneakers. He once saw how much people liked the trendy limited edition sneakers of his older brother, and got influenced. He began ordering sneakers from all over the world, and eventually, he created his own sneakers collection, where he had many different types of these shoes. Rashed decided to show his collection on the Internet, and he posted a video, where he proudly showcased all the sneakers that he had.
The video called "Legendary Sneakers Collection" was posted on November 3rd, 2015. At the time, Rashed was only 13 years old, and he did not expect his little video to gain such a huge popularity. The demonstration of his sneakers gained him about 4,000 new subscribers. In the next few days, the numbers blew up, and Rashed's channel, which he named "Money Kicks", reached the proud mark of 50,000 subscribers.
Just a few weeks later, the young boy posted a video, which would later become a breakthrough and bring him even bigger popularity among the worldwide audiences. In this video, he was showing the famous rapper Young Thug his collection of sneakers. People were in total awe after watching young Rashed proudly demonstrating the collection to the rapper, and this is how his channel became super-popular, and the boy unexpectedly for himself became an internet sensation. In the next couple of months, Rashed's fame came to him in larger quantities. A lot of media agencies and different channels on YouTube began talking about this young boy with the collection of sneakers, and all this advertisement gained him more viewers.
READ ALSO: Top 20 richest countries in Africa
The influence of Rashed's wealthy father helped him to attract many other celebrities and feature them in his videos. For instance, some of the stars who appeared on his channel are star footballers Mesut Ozil and Wayne Rooney, as well as the rappers DJ Khaled and Wiz Khalifa. The regular videos about his sneakers are called "Sneaker Talk Aside talking about his impressive footwear collection, Rashed also posted the videos of unboxing his new purchases.
Currently, the number of Rashed Belhasa's subscribers is more than one million and still counting. Plenty of celebrities continue their appearances on his channel, featuring in his new releases. He also has a large following fanbase on other social media, such as Facebook and Instagram. His Instagram account was created long before his YouTube channel came to light. Nowadays, he has more than 1.4 million followers on Instagram, where he posts his daily updates for his fans.
The young man often shows his photos with the international superstars – some of the most recognizable buddies of Rashed were Shah Rukh Khan, Salman Khan, Paris Hilton, and Rihanna. From Rashed Belhasa's Instagram, you can take a peep into his lavish lifestyle, and see him showcasing the photos from his own private zoo.
As the reports stated, Rashed's father spends about one million dollars per year to manage the private zoo that he created specifically for his youngest son. The "pets" of Rashed are lions, tigers, chimpanzees, cheetahs, zebras, and giraffes, as well as many other animals. The boy is extremely proud of such a possession. He even showed his zoo in one of his YouTube videos, called "My exclusive private farm tour in Dubai", which you can watch below. The famous Indian rapper Raftaar also appeared in this video.
READ ALSO: 10 most handsome Nigerian actors
And this is not all – Rashed also has a few costly cars. The boy claimed that he bought these cars for himself using the money that he earned from his YouTube videos, without the help of his father. This might not be entirely true, as one of his cars, the luxurious SUV, was a gift from his dad, and appeared in the video called "My new Yeezy car".
Not everyone loves Rashed Belhasa. In fact, he is quite a controversial person, because a lot of people see him as just a spoiled child of rich parents. Many people criticize him because they think that he does not deserve his popularity, and he owes everything to his wealthy father.
They are certain that there are more talented YouTubers than him, who are not getting such a huge recognition. However, Rashed does not mind haters and says that he wants to become a self-made man in the future, instead of relying on his father's riches. He is already a young entrepreneur, as he pursues his own clothing line called "Streetwear Line KA-1", as long as the backpack brand "Sprayground".
READ ALSO: Top 10 richest rappers in Africa in 2018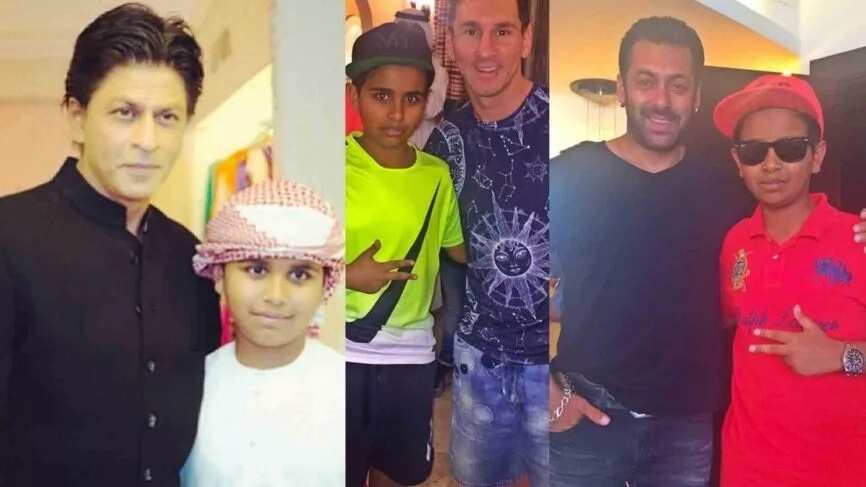 Rashed Belhasa and celebrities, photo: gqindia.com
The richest kid in Dubai net worth
There is no information about how much money Rashed Belhasa has earned personally from his YouTube videos and other business, but there is an estimated net worth of his family. According to the sources (thewealthrecord.com, biowikis.com, highlightsindia.com), his father Saif Ahmed Belhasa net worth is more than $2 billion. He is one of the most influential figures in Dubai and can afford everything he wants for his family.
Some people might think Rashed Belhasa is a young talent and the future of YouTube, while some are sure that he is nothing more than a spoiled child who always gets all the best and does not know real life. What is your opinion about this boy? Feel free to discuss in the comment section!
READ ALSO: Richest kid in Nigeria - Top 10
Source: Legit.ng