Groundnut benefits and disadvantages widely used in cooking
Groundnuts are widely used in cooking, especially when cooking meat, pastries, sweets, sauces, salads, and so on. However, not only the fantastic taste but its useful properties as well make it such a valuable component of many dishes. Many people know groundnuts as part of walnuts family, and do not even think they can belong to legumes. But it does not matter much since groundnut benefits and disadvantages will be of more importance than its category.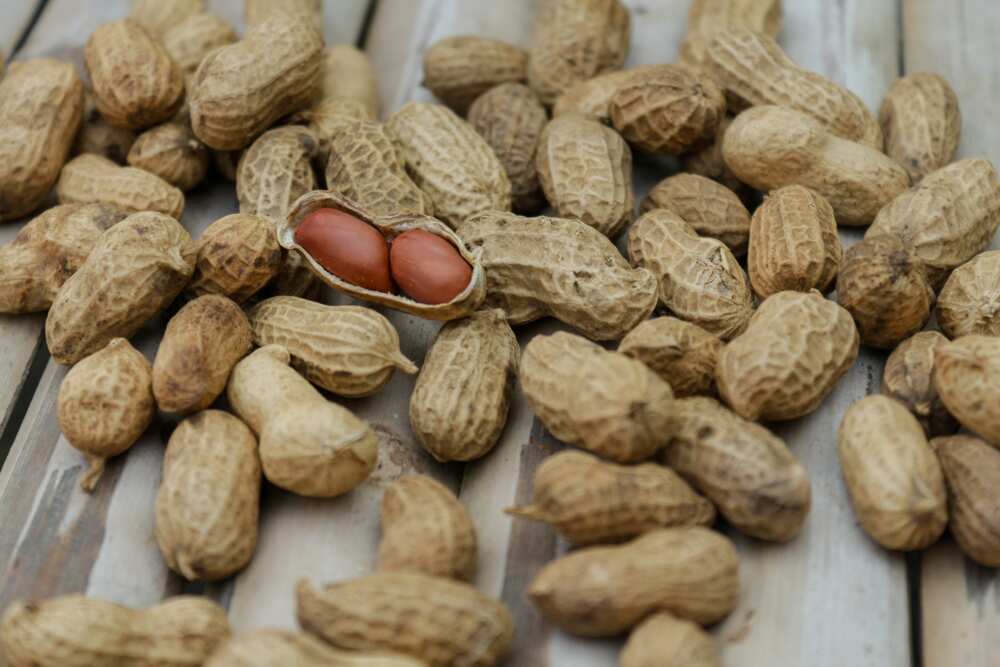 What are groundnut advantages and disadvantages?
Today, we will tell you about the most important benefits and side effects of groundnuts, you should know about. Thus, do not waste any more time and find out all the benefits of eating them!
What are the main benefits of groundnut?
The nutritional value of groundnuts cannot be overestimated since they possess various nutrients supply. These nuts contain more than 35% of proteins, about 50% of fats, as well as the most vitamins and trace elements necessary for human well-being.
Exactly all the presented vitamins and micro-elements, as well as a large amount of unsaturated fatty acids, alongside the total cholesterol absence and, of course, the exquisite taste, make the groundnuts an indispensable product for a wholesome diet. Also, groundnut is an excellent source of folic acid, which promotes cell renewal. Moreover, it contains fats which present a slight choleretic effect, and are useful in curing gastric ulcer and gastritis.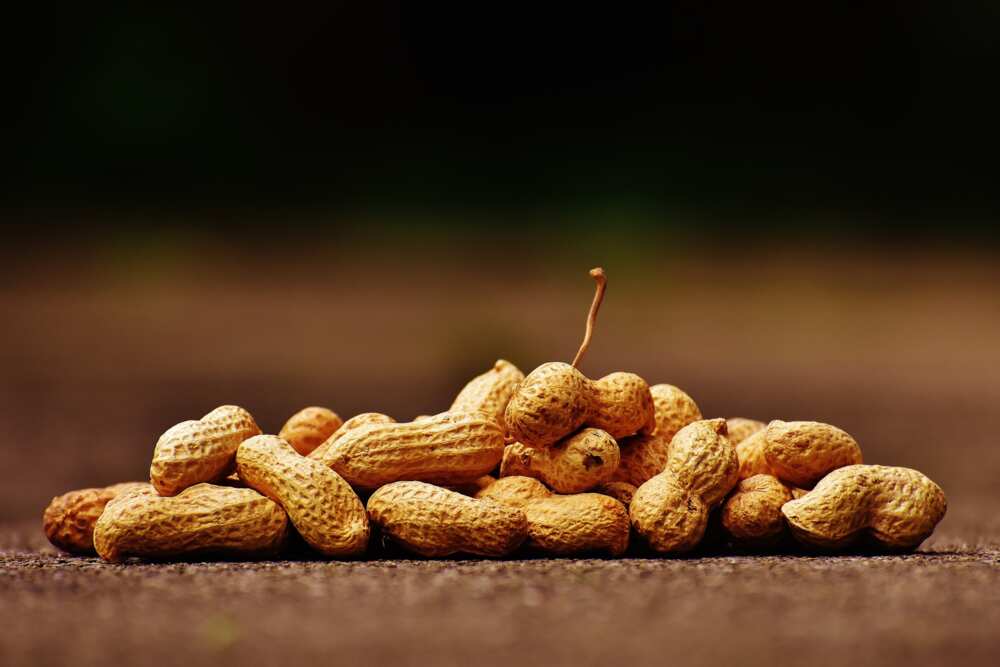 So, why is it so useful? Let's look more precise at what groundnut does in your body:
normalizes the blood pressure;
helps in preventing cardiovascular diseases, including heart attacks;
reduces cancer cells development;
reduces the blood cholesterol level;
helps in preventing sclerosis;
improves the digestion and absorption processes;
normalizes the hormones
helps in preventing diabetes;
strengthens bones;
stimulates the mental activity;
helps in concentrating and memory improving;
stimulates the immune system to protect the body better;
normalizes life;
regulates the nervous system;
slows down the ageing process.
Having learnt all the excellent benefits of eating groundnuts, one should also know the right form of these nuts to consume, so that your body will obtain all its useful elements in full. It is often heard that all the necessary vitamins and minerals can be destroyed within the high temperatures.
However, everything is slightly different with groundnuts. Since it is not recommended to consume raw groundnuts because it is heavy for digestion, it is better to eat them roasted. And do not worry about the vitamins reduction, because the concentration of antioxidants, which are also very useful for the whole body, will rise significantly!
And remember! If you want to get all the necessary vitamins and antioxidants, it is better to cook groundnuts.
And some pieces of advice for you on how to choose the best groundnuts:
pick the smaller ones instead of bigger;
choose only the fresh product without the accumulated toxins which can harm your body significantly;
and never buy peanut with mould on it.
Stick to these simple rules to get all the possible health benefits of eating groundnuts!
Are there any possible side effects of consuming groundnut?
Almost every product has both positive and negative aspects. And, unfortunately, groundnuts are not exceptions. Nevertheless, they have more advantages than disadvantages anyway. But you are to know all the possible side effects to prevent yourself from serious troubles.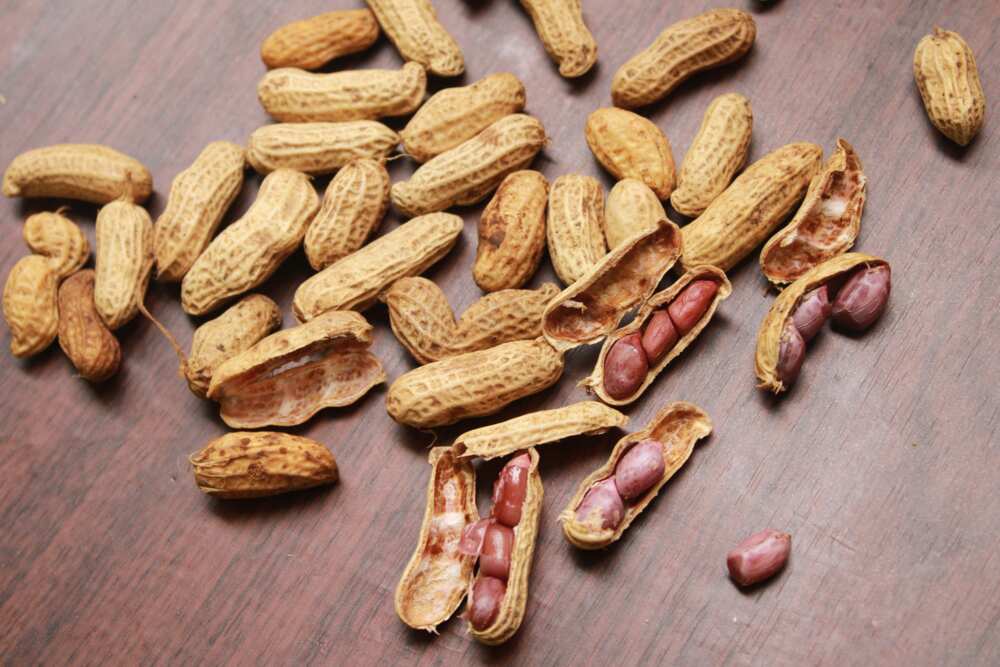 The main side effects are:
Groundnut belongs to high-calorie food. So, if you do not want to gain extra weight, eat not more than twenty nuts per day. Also, the daily ration for children is not more than ten nuts.
It is prohibited for those people who have asthma, ulcers, joints diseases, and allergies.
Eating fresh groundnuts is not also recommended. The raw peanuts contain specific inhibitors that block the enzymes work and make it hard to absorb the proteins.
Also, you should be very careful when giving the groundnuts to little children, since they -cause allergens.
You should also remember that those groundnuts which are stored in warm placements with high humidity for a long time, can be damaged by insects or infected with mould. Or can contain such harmful substances as aflatoxin, which can cause severe liver damage. Thus, it is better to buy them in supermarkets and store in refrigerators to be sure they are safe and useful.
Now, you know all the pros and cons of eating groundnuts, as well as the possible side effects of their consumption. So, choose the best ones and be always healthy!
DISCLAIMER: This article is intended for general informational purposes only and does not address individual circumstances. It is not a substitute for professional advice or help and should not be relied on to make decisions of any kind. Any action you take upon the information presented in this article is strictly at your own risk and responsibility!
Source: Legit.ng