How to make vegetable sauce with ugu
Do you want to how to make a vegetable sauce with ugu? What is ugu and why it is so popular? First of all, pumpkins are very useful, they, as well as watermelons, contain a lot of water, and even more, there are a lot of vitamins in pumpkins such as carotene, vitamin A, vitamins group B (6 vitamins), vitamin E, vitamin C, etc. It is suitable for those who are trying to lose weight, because of the small amount of colaries in it (22 calories per 100 grams of pumpkin).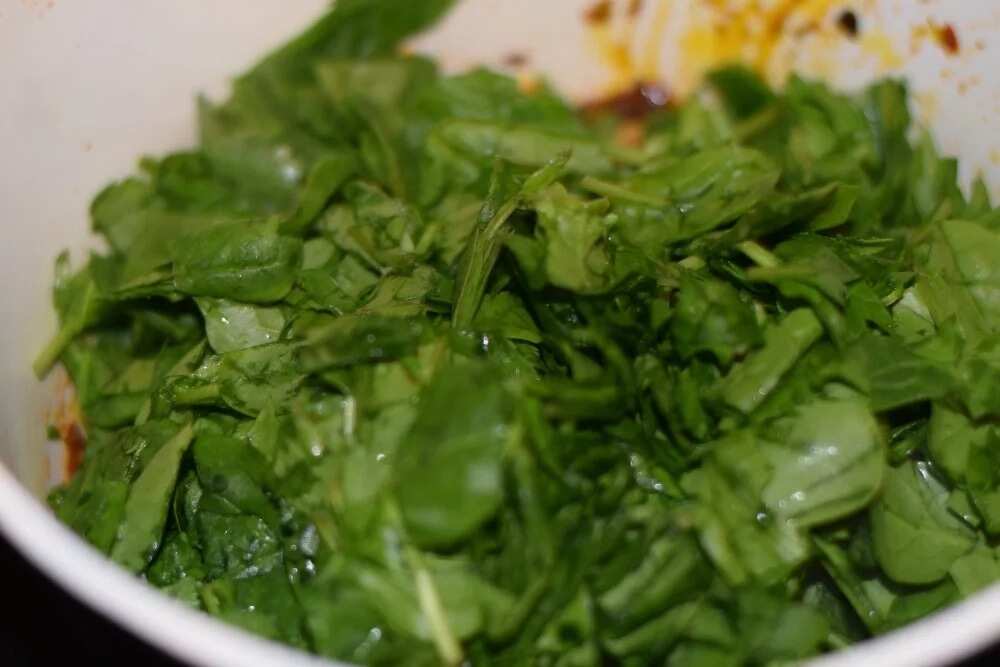 What is ugu?
As for ugu, or as it is called all over the world, fluted pumpkin leaves have even fewer calories. They are very juicy because of high concentration of water. There is a wide variety of dishes from ugwu vegetable leaves. We would like to present you several simple recipes that can be done just in few minutes.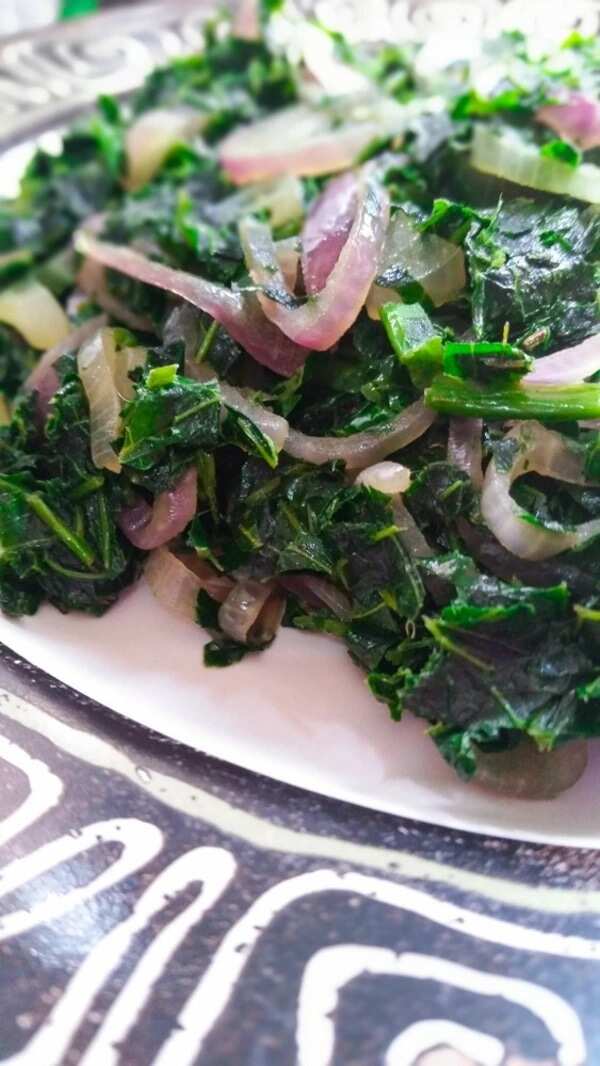 READ ALSO: How to make puff puff with milk
Sauteed fluted leaves with ugu
Very often we can get into the situation when you are starving, and you need to do something to eat without going to the market or the supermarket. The most significant struggle in this situation is that you have the minimum of products; otherwise, you want to get a tasty meal in the shortest time. Let's imagine. You have rice, vegetable oil, salt, ugu and onions. Not the best situation, isn't it? But, you won't need to eat simple rice plus salt with this simple recipe.
We will need 4 of these five products:
Vegetable oil
Salt
An onion (or several)
Ugu vegetable leaf (washed and drained)
So, you need to make next simple steps:
Slice the onion into quarter circles;
Chop ugu (remember this is fluted pumpkin leaves);
Take a pan;
Place it on a cooker on the medium heat;
Add 2-3 spoons of vegetable oil
Wait for the pot to be hot;
Add the onion;
Add a pinch of salt;
Frequently stir for 1 minute;
Add the chopped ugu;
Stir it for one more minute;
Take it from the pan and serve as the additional dish;
Be happy because you are the best.
Quite easy and will take no more than 5 minutes. While rice will be ready, you've done a side dish. This is simply perfect! Let's go on.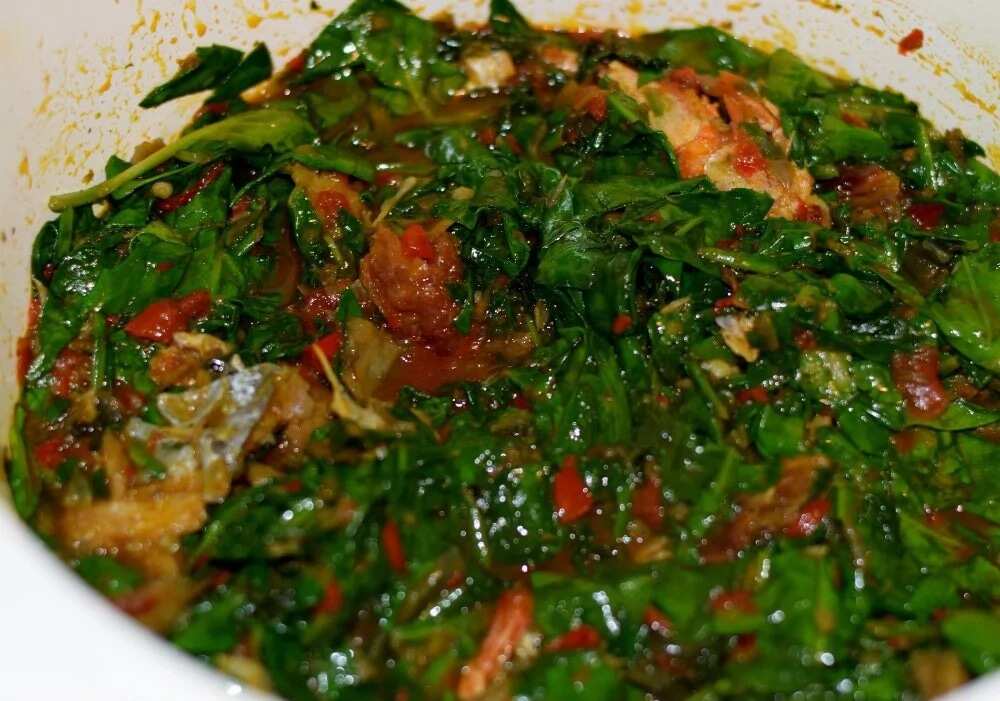 Ugwu sauce
There are more ingredients and a few more steps. So, to create a good ugu sauce we will need the following foodstuffs: ugu (sliced), waterleaves (sliced, twice less), fresh tomatoes (medium size), an onion, pepper (grinded), spices, chicken/beef/fish, vegetable oil and salt.
Wash all the ingredients;
Put into pot meat, onion slices and a little salt and cook until done (previously you can marinate the chicken, it will give it an unforgivable taste);
Add pepper, tomatoes, and waterleaves, and wait for 3-4 minutes;
You can also optionally add the vegetable oil;
Add sliced pumpkin leaves and stir all the mass well. Cook it for 5 minutes.
Voila! Serve and be ready to see some unforgettable emotions on your family and friends faces.
The best sauce for a real gourmets
The third and the last recipe is for the true gourmets and fans of Nigerian food. If you like to foster your taste receptors – this dish is for you! But be ready, you need to spend some time doing it. As it is sauce, it will make any meal the best moment of the day.
So, as it is important, we will start from the list of the components of the sauce:
Palm oil;
Onion (cut);
Fresh pepper (blended);
Seasoning;
Salt;
Crayfish;
Dry fish;
Chicken;
Ugu leaves(!!!).
So, the process includes 11 steps, and you should directly follow them to get the perfect product:
spread palm olive all over the pan on low heat till it gets hot;
take the cut onion in the pan and cook it for 2 minutes;
put there a blended pepper and give it to seethe for 10 minutes;
put a pinch or two of salt (as you feel);
add seasoning and stir it well;
put on top the crayfish;
cover with pan cover and let the sauce to simmer for 2 or 3 minutes;
add dry fish;
add chicken;
stir it good for 4 minutes;
cover the dish in the pan with the ugu leaves and leave it for 5 minutes.
If you've done everything correctly, you will get the perfect meal, covered and saturated with ugu liquid extract. Bon appetite.
We've described to you three different recipes of the vegetable sauce with ugu. As you see, any of these meals can become a piece of art, and more, create not only the appetizer, but even a complete tasty dish with the whole healthy arsenal of ugu leaves.
READ ALSO: How to make turmeric powder at home
Source: Legit.ng