Life and times of Usman Dan Fodio (1754-1817)
Shehu Usman Dan Fodio was born on December 15, 1754 in the village of Maratta, in the Hausa city-state of Gobir in what is today northern Nigeria. He was a promoter of Islam, a religious teacher and writer who founded the Sokoto Caliphate.
He was well educated in classical Islamic science, theology and philosophy. The Hausa kingdoms were criticised by this scholar for their unjust taxes, confiscation of property, bribery, compulsory military service, gift taking and enslavement of other Muslims.
He was also a critic of the Hausa rulers who condoned paganism, worshiped fetishes and believed in the power of talisman, divination and conjuring. Some of the things he also condemned were the mixing of men and women, dancing at bridal feasts, pagan customs and inheritance practices that deviate from Islamic law.
READ ALSO: History of Hausa traditional architecture
He was a prolific writer who wrote more than hundred books that centred on religion, government, society and culture. Dan Fodio encouraged literacy and scholarship for women. Many of his daughters were scholars and writers.
His early years
Usman Dan Fodio was born on December 15, 1754 in the Hausa state of Gobir, in what is now northern Nigeria.
He was a son of a scholar, Muhammad Fodiye, who hailed from the Toronkawa clan. The clan had emigrated from Futa-Toro in Senegal about 15th century.
As a young boy, Dan Fodio moved with his family to Degel, where he studied Quran with his father. He would later move to other relatives who were also scholars. He was rooted in Islamic science as a result of his interest in the field and his voracious reading.
Dan Fodio respected a power intellectual and religious influence, Jibril Ibn Umar, whom he also criticised. Umar admitted Dan Fodio into the Qadiri and other Sufi orders.
His active life as a teacher began about 1774-75. For the next 12 years, he combined study with peripatetic teaching and preaching in Kebbi and Gobir, followed by a further five years in Zamfara. Dan Fodio was allowed by the sultan of Gobir to propagate Islam
Leadership
Between 1780s and 1790s, Dan Fodio's reputation increased. The size and importance of the community that looked up to him for religious and political leadership also increased during this period.
There was, however, a division between his substantial community and the Gobir ruling dynasty. Sultan Nafata reversed the liberal policy he had adopted toward him 10 years earlier and issued his historic proclamation forbidding anyone but Dan Fodio to preach, forbidding the conversion of sons from the religion of their fathers, and proscribing the use of turbans and veils.
Yunfa succeeded Nafata as sultan in 1802 and failed to improve the status of Dan Fodio's community. Dan Fodio led his followers into exile after an attempted assassination by Yunfa. The exile would later begin a political and social revolution which spread from Gobir throughout Nigeria and Cameroon.
Despite his own apparent reluctance, he was elected imam (leader) of the community, and the new caliphate was formally established.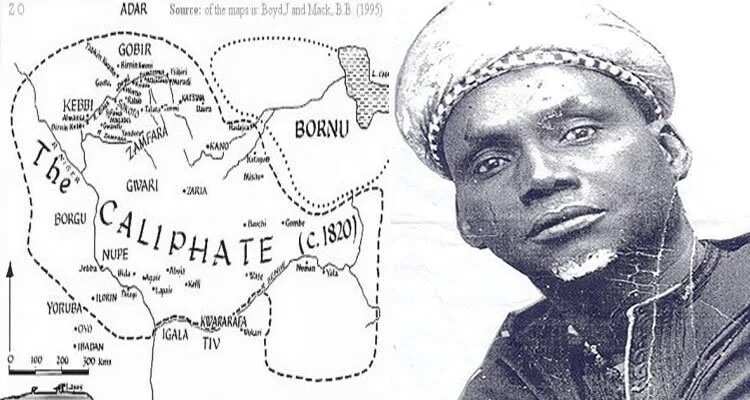 Jihad
In 1804, the military commander of Gobir, sent his army to challenge Dan Fodio's community. This led to Dan Fodio's call for jihad against the ruler of Gobir. During the war, Fulani communications were carried along trade routes and rivers draining into the Niger-Benue valley, as well as the delta and the lagoons. The call for jihad reached not only other Hausa states such as Kano, Daura, Katsina, and Zaria, but also Borno, Gombe, Adamawa, Nupe, and Ilorin.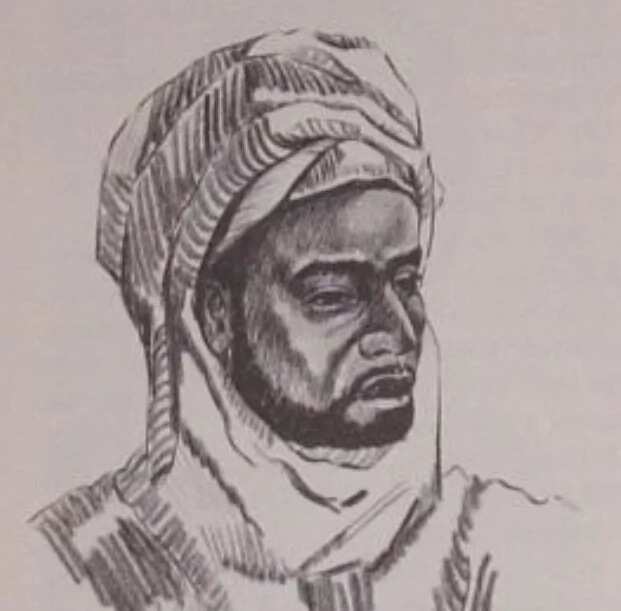 With his followers, he was able to conquer Gobir, Kano and other Hausa city-states in 1808. . He expanded territory south of Lake Chad and into Nupe and Yorubaland as far as the forest zone. In 1811, he retired from battle and returned to teaching and writing but his armies didn't stop their conquest until 1815.
PAY ATTENTION: Install our latest app for Android, read best news on Nigeria's #1 news app
After Dan Fodio's armies ended their conquest, his religious empire included most of what is now Northern Nigeria and Northern Cameroon as well as part of Niger. For the first time in history, all of the Hausa city-states were under one ruler. Dan Fodio established a new caliphate in Sokoto that was called the Sokoto Caliphate.
Later Life
Even though the jihad had succeeded, Dan Fodio believed that the original objectives of the reforming movement had been largely forgotten. Because of this, he withdrew into private life. His son Bello, moved to Sokoto and built a home for him in Sifawa, where he lived with his students. He died at the age of 62 in 1817
His legacy
Dan Fodio was regarded as the most important reforming leader of the western Sudan region in the early 19th century. His importance lies partly in his work as a teacher and intellectual. His importance also lies in his activities as founder of an Islamic community, the Sokoto caliphate, which brought the Hausa states and some neighbouring territories under a single central administration for the first time in history.
Top 5 facts you didn't know about the Hausa people - on Legit.ng TV
Source: Legit.ng