White lace styles 2017 for any occasion
Marvelous white color is considered aristocratic, refined, gentle, and feminine. With its help, you can easily create unique and very beautiful looks. White lace styles can look modest and cute, and may be very solemn, spectacular, and cheeky. We will tell you about the intricacies of choosing these wardrobe items, as well as what shoes will best suit white lace attires.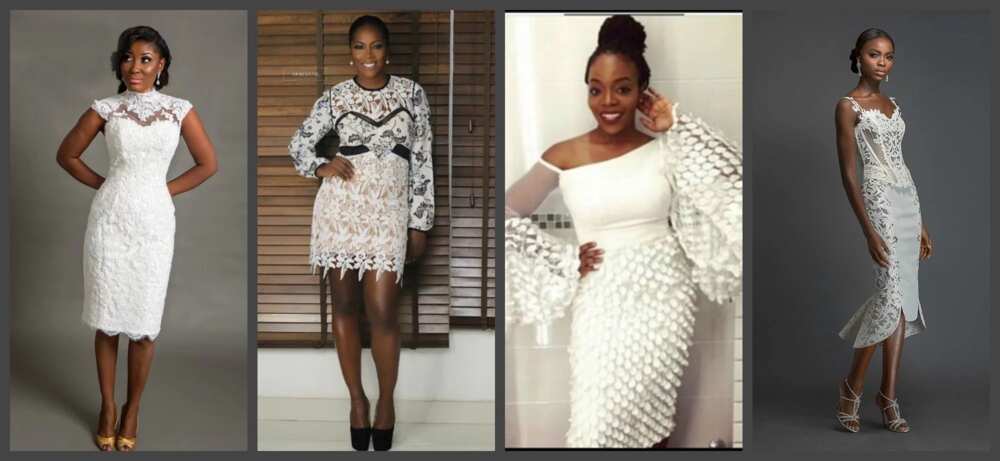 Should you wear or not wear white dresses?
It's fair to start with the shortcomings of a white dress. Let's take a look at them so we can find ways to solve the indicated "problems":
1. The material of this color must definitely be of high quality, otherwise, lace materials will look cheap. Do not deny yourself good attires. Let your costume last long as possible for you. In extreme cases, make your purchases the times of sales and discounts but never choose a low price at the expense of quality.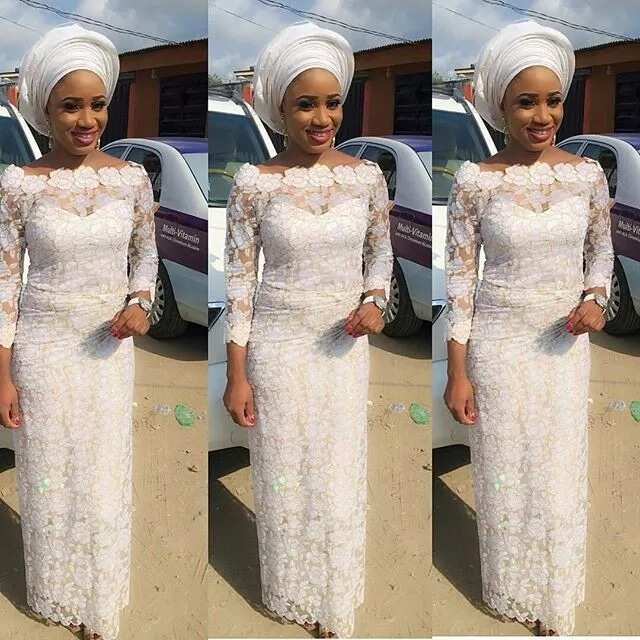 2. It is very important that the fabric shouldn't be transparent in zones which you wouldn't like to. Lace dresses can have open hands and shoulders areas and some other parts of the body, but in general, they should look decent and elegant. You need exquisite chic - not tackiness.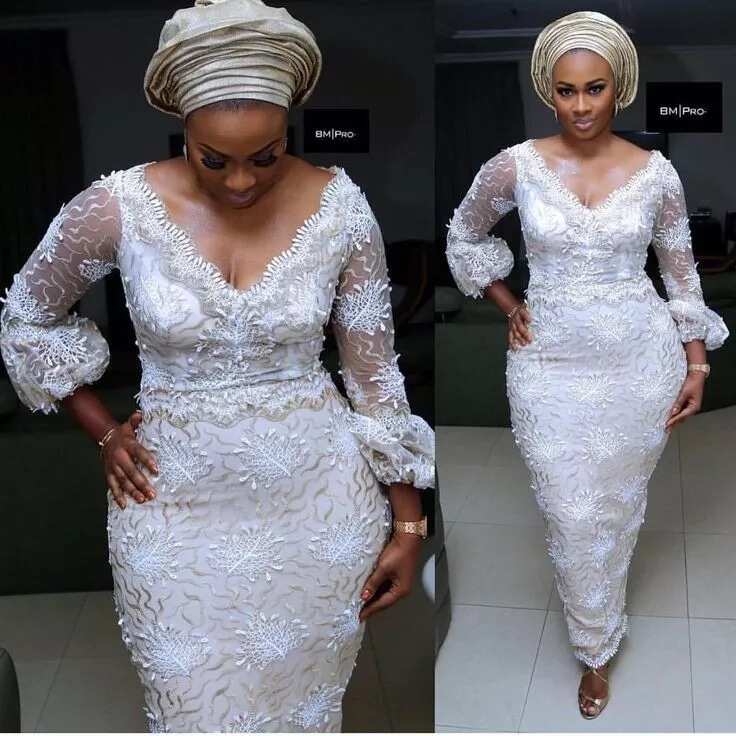 3. So always pay attention to this nuance during the purchase. The presence of the lining does not always correct the situation. Check the fabric: place it against the light and put a hand behind it. If you can clearly see your hand, this dress will be too transparent.
4. It is necessary to wear a white dress with white underwear. If you go for black, you could look too vulgar. If the fabric of the dress is thin, the underwear should be smooth - for white clothes this rule is very strict because of their translucent nature.
5. Of course, a white dress is easily soiled and requires careful treatment. This is another reason why you should not save on quality. Remember that the earlier you try to remove dirt, the higher probability of success. It is worth buying a stain remover.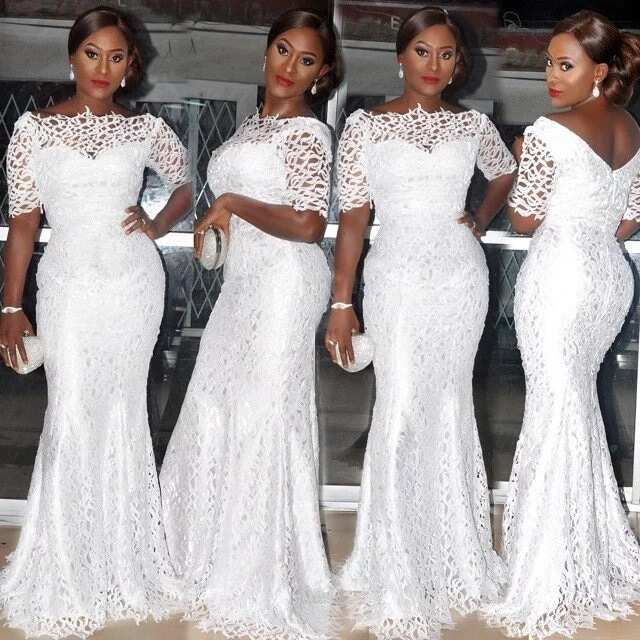 Fashion experts say that having a white dress in your wardrobe in no less important than bright red or practical little black. It is worn to create a mood of purity and add a special soft aura of subtle magnetism around you, tenderness and femininity. Men will take you more seriously, want to take care of you and protect you. It is even said that the abundance of white things in the wardrobe helps to attract luck, happiness, and stability to your personal life.
White colour is not suited for everyone. But for those with dark skin, it's a great choice! You would enjoy a delightful contrast.
READ ALSO: Kamdora lace styles 2017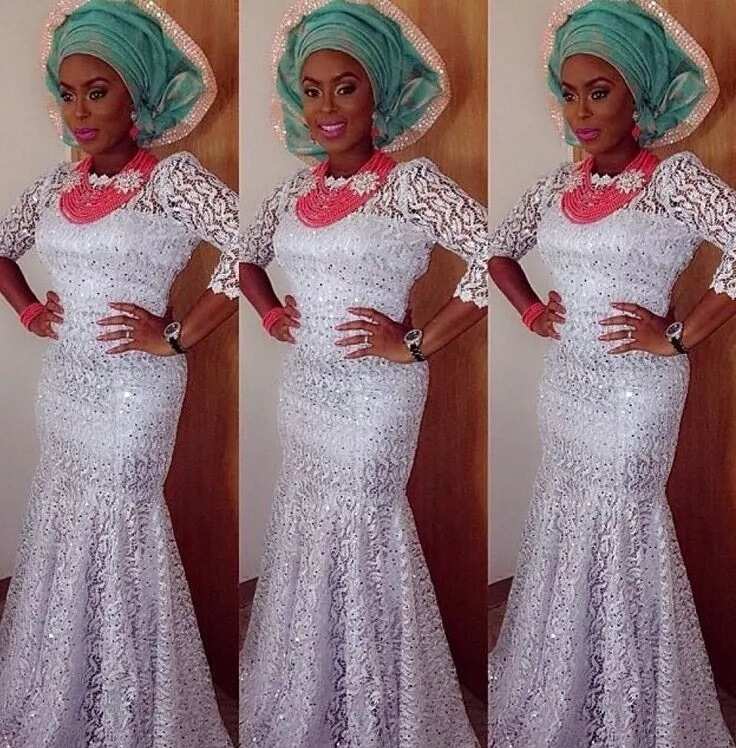 Latest lace styles
In Mexico, for a long time, Maya women wore dresses with coloured lace patterns. The French Queen Anne of Bretagne, who lived in the 15th century, portrayed aristocratic nobility with lace wedding gown. Today we see models dressed in elegant dresses with lace folds on covers of magazines and TV screens.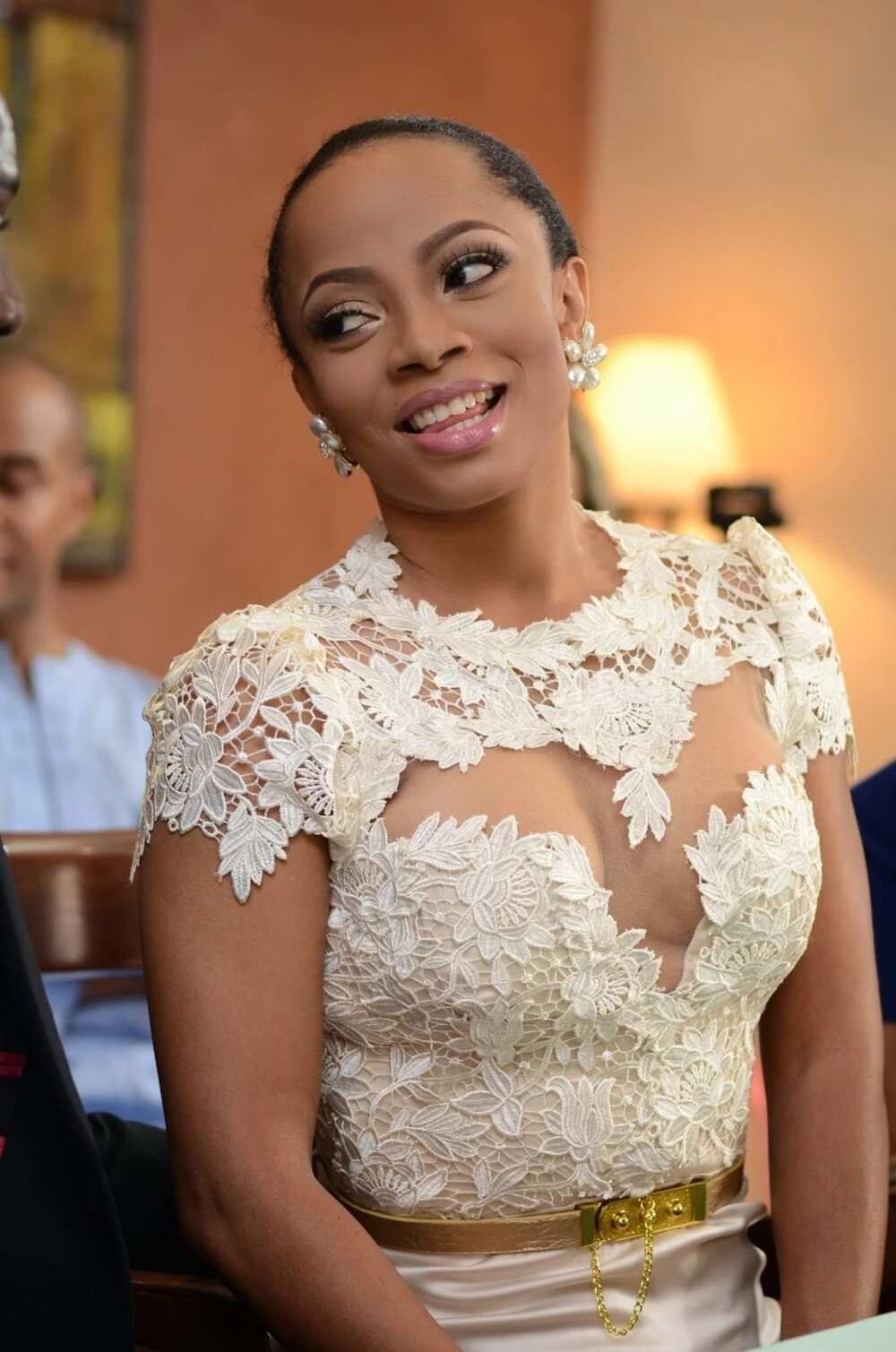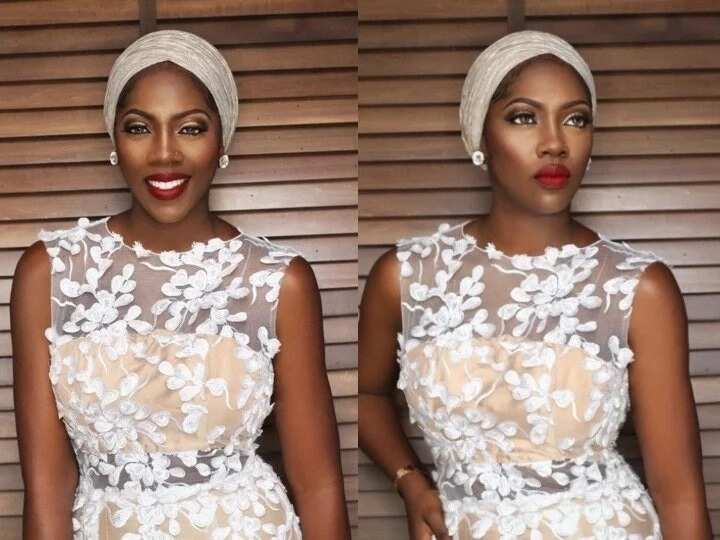 The distance between these women is thousands of kilometers and many centuries. However, they have something common - unrivaled lace attires. Nigerian ladies are among them and with pleasure, they wear elegant dresses and outfits with a delicate white lace.
Lacy dresses can rightly be called a masterpiece of art. These products are sewn of lace, mainly handmade, and sometimes machine. Nigerian fashion lace styles are very popular today! You will certainly see the proof in the number of celebrities that wear them.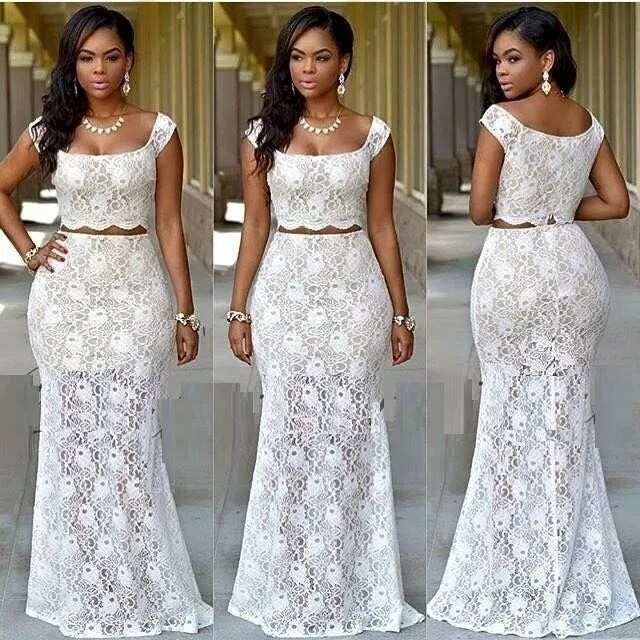 Delicate, refined and exuding a calm beauty, the wearers of such dresses can advantageously emphasize the slenderness of ther legs and look great with high-heeled shoes. One of the merits of such attires is originality. They can be compared to a sparkling cocktail, consisting of original patterns, intricate shapes and designs. It's no wonder that one of the reasons for the popularity of French lace styles is the ability to show off your creativity, create a playful mood, and strengthen the femininity of women.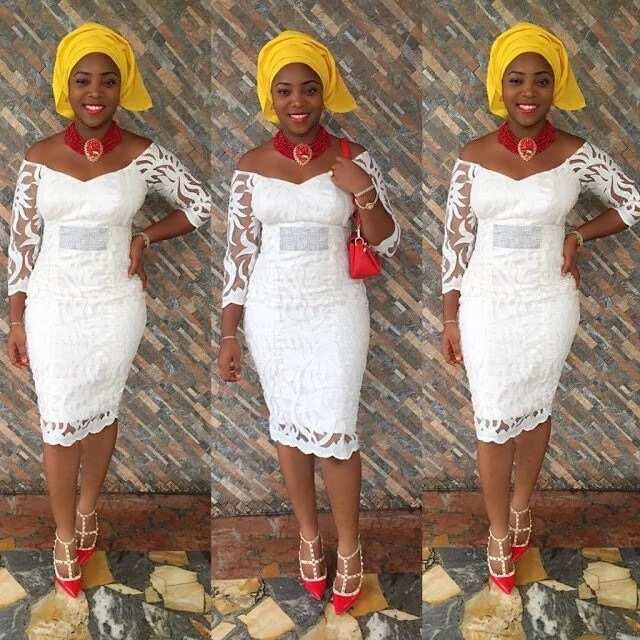 Manufacturers use light and very expensive fabrics, for example, silk, chiffon, satin, taffeta, but the main role in such dresses is given to lace. It can act as a decoration or special inserts. Long and short lace gown styles are decorated with translucent sleeves or back.
Thanks to the efforts of modern designers, there is a rich choice for all tastes, preferences, fashion trends, and traditions. Dresses are decorated with both voluminous majestic patterns and refined thin traceries. Shapes of this garment, especially handmade, can give women incredible sophistication and attractiveness.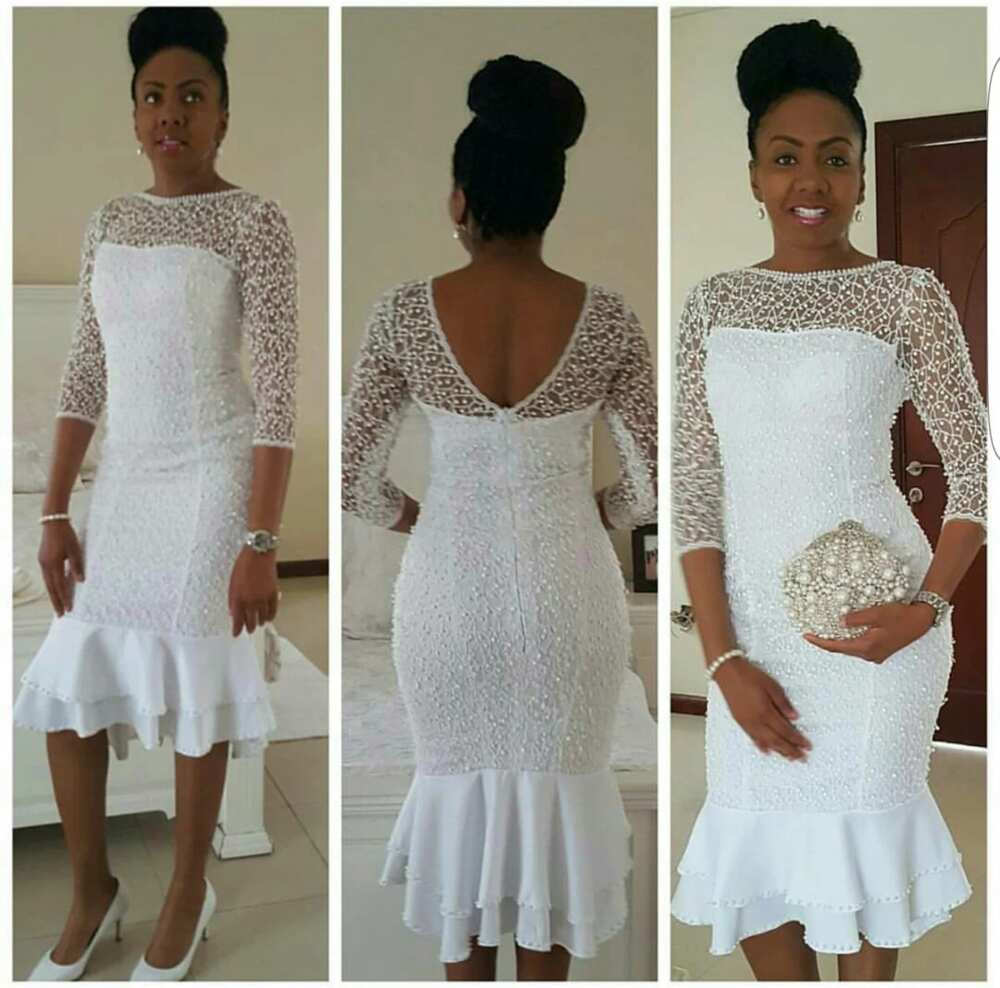 In which situations should lace attires be used?
People say: "Each buyer finds his product, and each product has its use". What is the purpose of lace dresses? They serves as an ornament for women. Depending on the chosen style, such attires can be used in different situations.
Nigerian lace skirt and blouse styles can be worn casually or for occasions.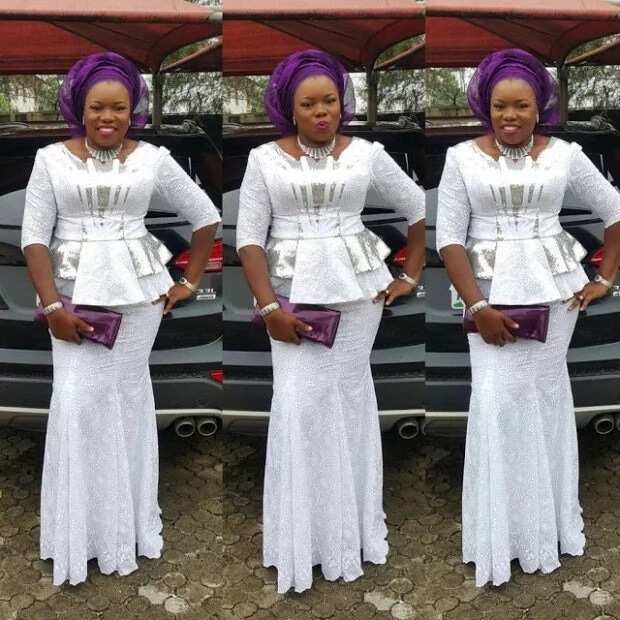 Wedding gowns in Nigeria are also very popular. The nuptial altar is the most worthy place for lace dresses. People at all times and in different countries admired the clothes decorated with lace at wedding celebrations.
In fact, lace wedding dress is an eternal classic of wedding fashion. A wedding is the very first day of the joint happy life of the newlyweds. Exquisite dresses are the best ways to showcase this.
Latest cord lace styles perfectly suit solemn occasions and emphasize the allure of feminine figure. They can be worn not only for weddings but for any event where you want to look elegant and refined.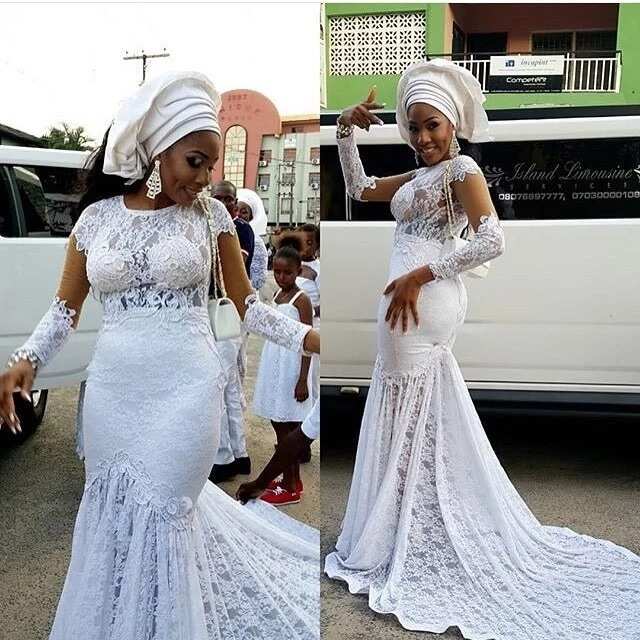 Some dresses look like real works of art. Today designers create amazing lace dresses which are very difficult to forget.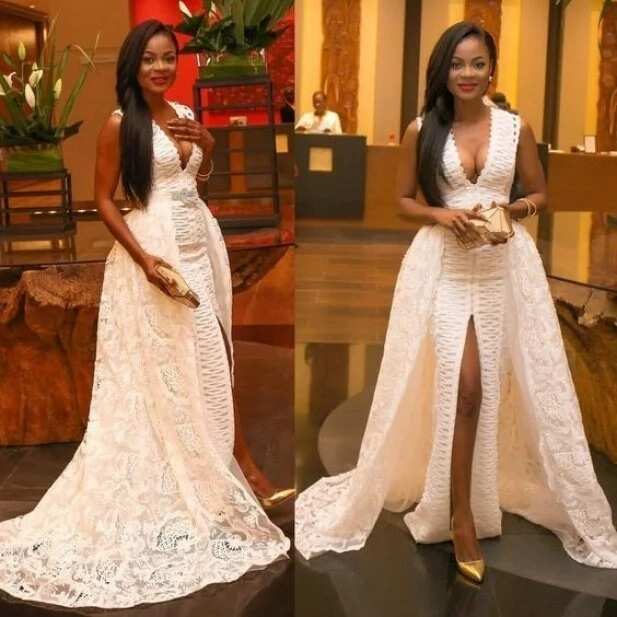 Which shoe fits the lace attires?
One of the main advantages of white clothes is that they can be worn with shoes of almost any colour. It all depends only on your desires, preferences, and fashion trends, which recently do not restrict our choice too much.
Bright shoes with a white dress are a stylish and bold solution. Do not be afraid to add colours or choosing a belt and a purse of unusual shape. The bright and festive look will be obtained by adding cornflower blue, orange, juicy green or emerald color to the look. Turquoise, deep purple, and red heels look irresistible with white dresses.
A beautiful addition to a light, airy white dress can be flats or platform shoes. You can also wear sandals. In the heat, it's better to choose pastel shades and simple design. But if you like to experiment, to mix styles and surprise people, then simply have your pick of whatever is available.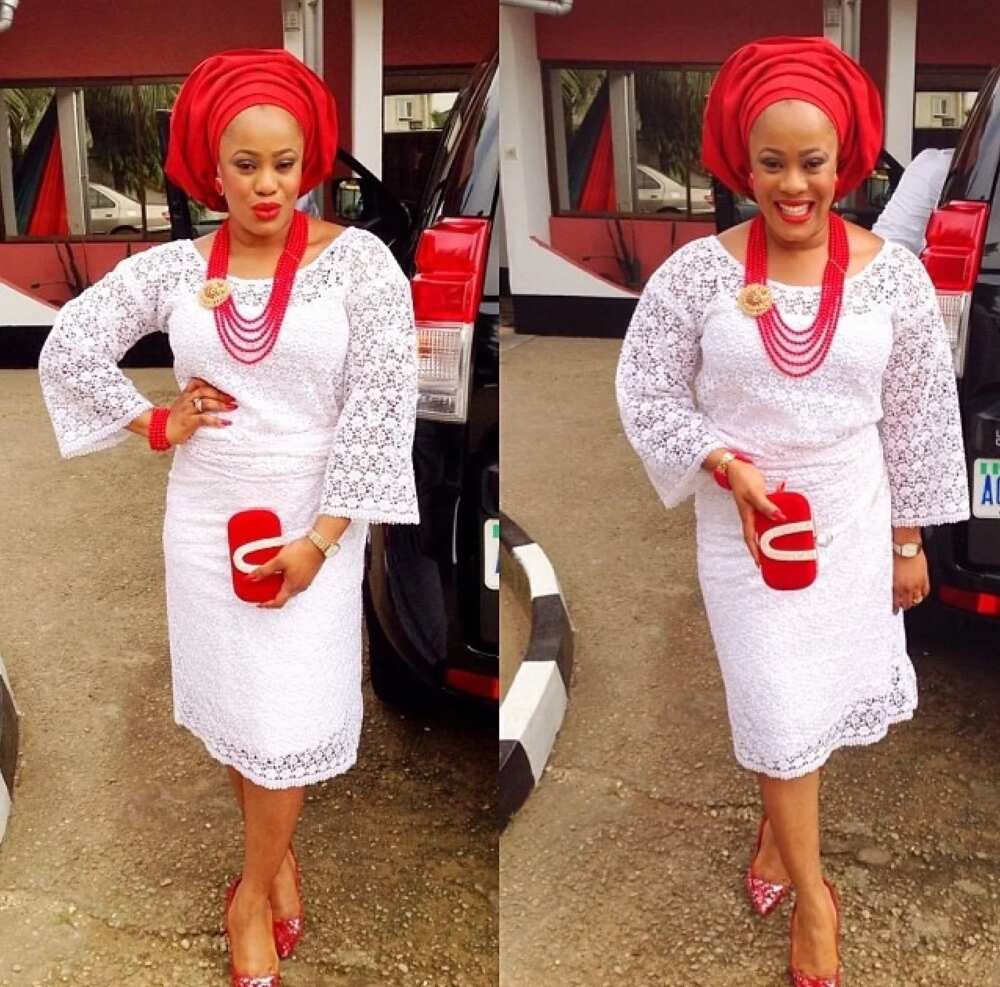 Be trendy, stylish and charming. White is a gorgeous colour that goes with almost everything. It brightens up the dullest colours and also dims colourful accessories. It always blends perfectly. Have some fun with lace attires.
READ ALSO: Lace and velvet Aso Ebi styles 2017
Source: Legit.ng