Nollywood Actor Kenneth Okonkwo Highlights Buhari's Numerous Achievements in Southeast
Actor Kenneth Okonkwo has opened up on his stance with some of the achievements of President Muhammadu Buhari
The actor said despite his position on open grazing and roaming of livestock on the streets of Nigerian cities, he thinks the present administration has done a lot for the southeast region
Okonkwo also highlighted some of the achievements of the All Progressives Congress-led administration in the region since assuming office in 2015
A Nollywood actor, Kenneth Okonkwo, has said that the southeast region has enjoyed numerous benefits under President Muhammadu Buhari's led All Progressives Congress (APC) than any other administration.
Okonkwo who had recently joined the ruling APC took to his Instagram page on Tuesday, November 23, to highlight some of the achievements of the president.
The actor's comment is a sequel to a previous post he had made concerning the reckless roaming of livestock in Abuja city centre.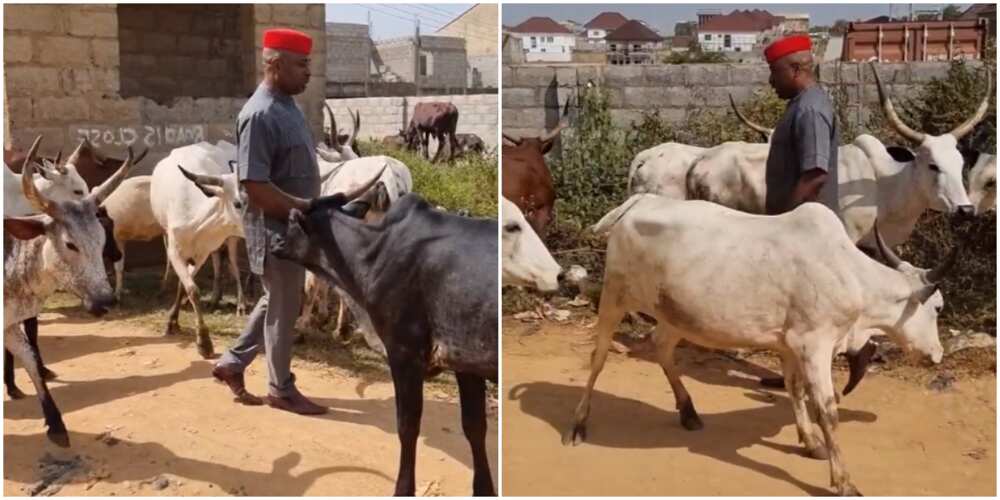 Okonkwo, posting a video of himself struggling to use the road with some livestock said ranching is both desirable and inevitable.
He also queried how unbelievable it is for humans and animals to struggle for the right of way in the Federal Capital Territory.
The actor said:
"This is why ranching is both desirable and inevitable. How can humans and animals be struggling for a right of way in the Federal Capital City of Abuja?"
"We must move on to the 21st-century system of animal husbandry to reduce tensions between passers-by, commuters, farmers, and herdsmen."
A follower critiques Okonkwo's support for President Buhari
Following his post, one of his followers in the comment section accused the actor of supporting the president's campaign.
To this, the actor responded, stating that he is proud to have been part of the campaign team that saw the emergence of President Buhari as Nigeria's president for the second time in 2019.
He said if given the opportunity again, he would campaign for the president especially seeing the present administration's feat in the southeast.
Listing some of these feats, Okonkwo said:
"Yes, I did and I stand by my decision. When I see that the second niger bridge is about to be completed. When I see that runway at Enugu Airport has been expanded to accommodate international flights.
"When I see that Enugu-PH express roads are being rehabilitated when I remember all other things Buhari had done for the South East and remember that PDP was there for 16 years and did nothing for us."
He further added that he is proud to have taken the decision to support President Buhari's presidential ambition and has no apologies for his actions.
Okonkwo ditches acting for a few minutes goes back to the bar
In other news, Okonkwo who is a known actor who has graced the Nollywood screens for many years took a decision to retrace his steps to the profession he studied in school.
The Nollywood actor surprised many after he shared a photo of himself in a court robe and wig, apparently after a case heard in a courtroom.
He posed to take photos with his younger counsels who doubled as his fans and were also in the courtroom with him.
Kenneth Okonkwo shares adorable photos with siblings
Meanwhile, Legit.ng previous reported that two siblings of Okonkwo are in the law profession taking cases in different courts across the country.
In a photo shared by the actor, we found out that Kenneth is the third of his family to become a lawyer by profession.
Okonkwo shared photos of himself and his siblings fully clothed in their law regalia on the premises of Enugu High Court.
Source: Legit