"He Came With Speed": Baby Boy Rushes into House After Hearing His Mum's Cry, Video of Wise Action Goes Viral
A boy has been praised on TikTok because of his caring attitude towards his mother when he heard her cries
In a short video posted by Temmy Wama, the boy speedily came when his mother suddenly started yelling
His responsive nature and the way he touched his mother to find out what was wrong made the video go viral
TikTok users are praising a caring little boy who rushed to see what happened to his crying mother.
In the video posted by Temmy Wama, the boy was outside the house when his mother started crying out loud.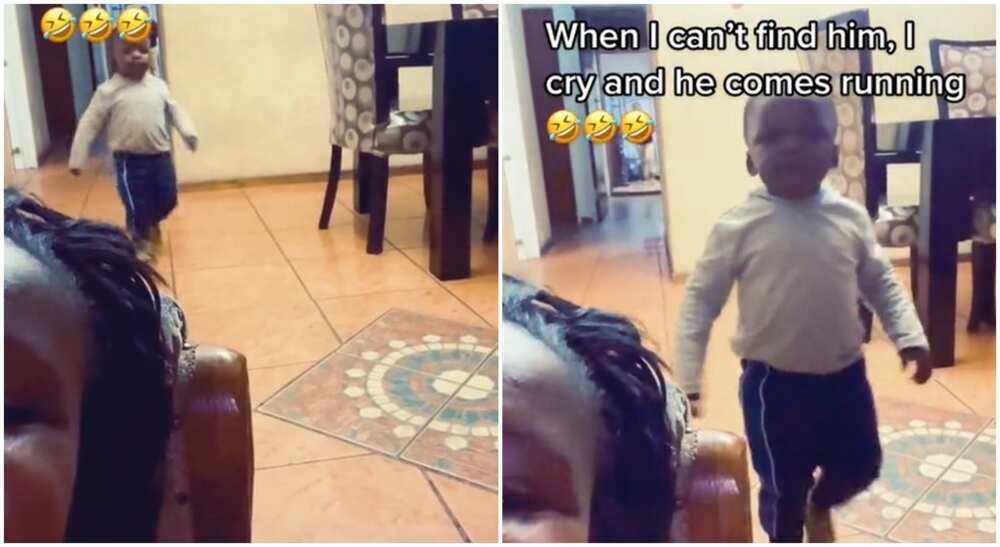 However, his mother said it was a pretence and a trick to lure the boy into the house as she could not find him.
Video of a boy rushing into house to check on his mother
The mother said whenever she cannot find her son, she cries and he comes running from wherever he is.
That was exactly what happened in the video as the boy stormed the room with speed to find out why mum was crying.
He touched his mother as soon as he got close to her as if to say 'mummy what is wrong with you.'
His caring attitude has attracted fans and admirers for him.
Watch the video below:
Reactions from TikTok users
@Zikalala Chle said:
"MrSpoon with caring heart."
@Taffy commented:
"He be like i'm here now mummy, whats wrong."
@Maydene Denee reacted:
"The way he comes running."
@Slk8003 said:
"That's sons for you."
@B2C wa ROXIE commented:
"This boy is so funny."
@Lydiah Kalondu said:
"You have a hard task sister."
@eleanorbaloyi7 said:
"Easy way to locate him."
@samishka115 commented:
"Iyohh my child would say you are a crying girl."
@Mai 5 said:
"He is a brother's keeper."
@Braidbysonia said:
"My daughter is like that."
Girl applying her own make-up
Meanwhile, Legit.ng reported that a beautiful baby girl nicely applied her own make-up.
The girl picked up her make-up brush like a professional and gave herself a make-over.
The result of the process completely blew the minds of so many people.
Source: Legit.ng