I am Still Running Away; Man Who 'Disappeared' from Nigeria after 6 Years Shows off His PhD 2 Years in Korea
A Nigerian man, Nwakanma Mfonobong Aderibigbe Cosmas, has celebrated finally getting his PhD in Korea after 'disappearing' from the country
Mfonobong who began his PhD in Nigeria in 2012 ran off to Korea after 6 years and bagged the same degree in 2 years
Describing his time at the Nigerian university as wasted years, the scholar highlighted some of the achievements recorded abroad in the space of 2 years and some months
After spending 6 years studying for his PhD in Federal University of Technology, Owerri (FUTO), a Nigerian man took a surprising decision to quit and has now reaped the benefit of that move.
Nwakanma Mfonobong Aderibigbe Cosmas despite his CGPA pegged at 4.86 dumped an academic endeavour started in 2012 to start afresh in Korea and got his PhD over there within 2 years.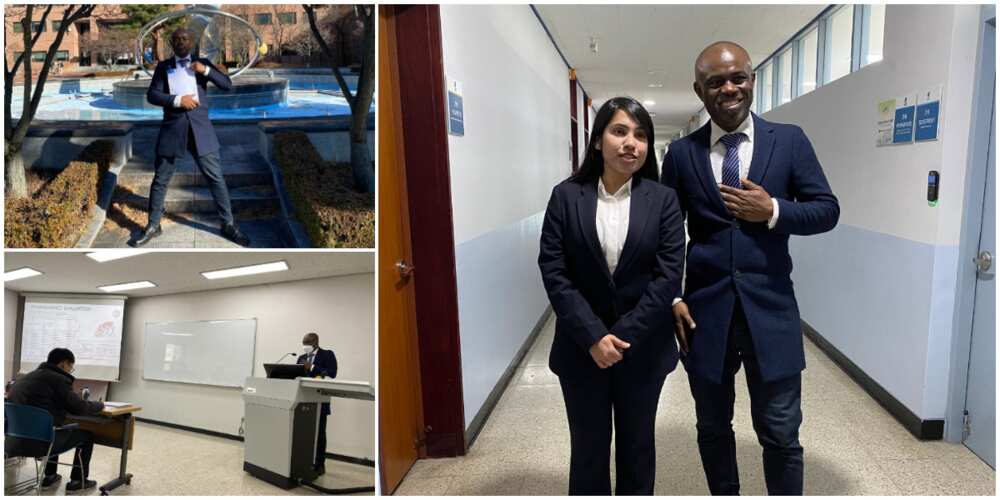 Celebrating his academic feat on Facebook, Mfonobong said he became depressed while in FUTO as he would discover that the country's educational system wasn't one that guaranteed timely completion of graduate studies.
"I became depressed and sad that we are running a system with no clear rules and sustainable standard to guarantee a timely completion of graduate studies in Nigeria."
Do you have a groundbreaking story you would like us to publish? Please reach us through info@corp.legit.ng!
He highlighted his feats in Korea
Sharing beautiful abroad photos, he stated that since taking that decision to run away from Nigeria on 11th of October 2018, a lot has been achieved.
The brilliant scholar said he has 21 Domestic Korean Conference papers, 6 International Journals, 21 International conference papers along with his PhD certificate.
About the wasted years in a Nigerian university
Reacting to why he tagged his 6 years at the Nigerian school as wasted, the man told Legit.ng's Victor Duru that it is because he couldn't make it to the point of graduation despite having a high CGPA.
In his words:
"The phrase Running is my signature language since I joined Facebook. It simply means Keep working hard and focusing on the most important thing for your future. Run away means go away from anything or anyone or anywhere draining you and flourish. In simple terms it means choose your battle.
"I used it also during the 2015 and 2019 elections to mean avoid politicians with no plan for Nigeria.
"My 6 to 7 years was "wasted" since I could not make it to the point of graduation despite my CGPA of 4.86. So, if I did 6 to 7 years on something and could not graduate it is a wasted years."
Nigerians react
Fabian Ifeanyi said:
"Keep running my brother. No be today you start to dey run. I remember how you ran away from FBN Plc, even when they have offered to make you a branch manager, you ran away. As you ran, you keep chasing something ahead.
"So, you don't just need to run, as you dey run from something, make sure say you dey run after something until you escape from the one you are running from and catch the one you are running after. Bravo Baba oo. Bravo Dr. Ifeanyi Mfonobong Cosmas Nwakanma PHD."
Nneka Ibekwe Abiayi opined:
"Congratulations brother. More wins
"And to your wife, I say a bigger congrats. God bless her for being a strong support."
Nazarus Maduba wrote:
"Yesooo .To the Glory of God it is a "Grace-filled and Blessed Race".Congratulations Dr Ifeanyi Cosmas Nwakanma Mfonobong Aderibigbe."
Temitayo Treasure remarked:
"You will actually think they put my name of this certificate with my excitement!
"Congratulations my brother!
"Keep conquering territories!"
Man mocked by his chemistry teacher bags 2 PhDs from foreign universities years later
Meanwhile, Legit.ng previously reported that a Nigerian man mocked by his chemistry teacher had bagged 2 PhDs from foreign universities 12 years later.
Kelechukwu Onwukamike who currently holds a PhD in organic and polymer chemistry from KIT Germany and the University of Bordeaux, France said he recalled how his secondary school teacher had questioned his resolve to bag an A-grade in chemistry.
The incident happened during the 2007 GCE exams. To the teacher's surprise, he got an A in the course eventually.
Years later, he was awarded in Germany for having the best PhD in that same chemistry. This was after he bagged a first-class in chemistry as an undergraduate.
Source: Legit.ng