Minna, Dutse; List of Idle International, Domestic Airports in Nigeria With no Passenger Traffic in 2 Years
According to National Bureau of Statistics data, Nigeria currently has 31 domestic airports and 20 international airports
However, in the first six months of 2021, only 17 domestic airports welcomed passengers and 14 foreign airports were utilized by travelers
In fact, in the last two years, six of the airports have not been used by international passengers
Many Nigerians who want to travel to other areas of the country during the holiday season by air will be forced to do it by road, despite the fact that airports are available at their destinations.
According to data analyzed by Legit.ng from the National Bureau of Statistics many airports located across the country are currently idle with some welcoming one or no passengers in the last two years (2020 to 2021)
For instance, in the first six months of 2021, only Lagos, Abuja, Kano, Port Harcourt, Enugu, Kaduna, Calabar, Sokoto, Benin, Maiduguri, Jos, Owerri, Yola, Ilorin, Ibadan, Akure and Katsina recorded the arrival and departures of domestic passengers.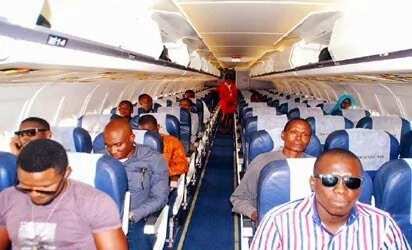 Breakdown domestic travels
As the first six months of this year, Lagos had 1.62 million passengers traffic but behind Abuja 1.94 million passenger traffic.
355,219 passengers arrived and departed the Port Harcourt airport while Kano airport welcomed 212,279 passengers and Enugu 226,794 passengers
The five aforementioned airports accounted for 82.9 percent of 5.27 million total passenger traffic in all airports in the first six months of the year.
List of Airports without passenger traffic in first six months of 2021
Osubi
Minna
Makurdi
Akwa Ibom
Asaba
Gombe
Eket
Zaria
Bauchi
Escravos
Forcados
Kebbi
Finima
Dutse
The above-listed airports have not since the start of 2020 been used except Osubi and Minna that recorded activities in the first three months of 2020.
Breakdown of International Airport numbers
For international travels, NBS data shows at out of 20 international airports in the country only 6 recorded passengers traffic in the first six months of 2021.
The six airports are Lagos, Abuja, Kano, Port Harcourt, Maiduguri, and Katsina.
As expected Lagos and Abuja recorded the highest number of passenger traffic with a combined figure of 881,122 out of the total 888,102 international passengers.
The international airports without a single passengers
Enugu, Kaduna, Calabar, Sokoto, Jos, Yola, Ilorin, Minna, Makurdi, Akwa Ibom, Gombe, Bauchi, Kebbi and Dutse all had no single passengers despite being listed as an international airport.
In fact, all the aforementioned airports have not had single passenger traffic in two years except for Yola airports in the first three months of 2020.
Travelling by air getting more expensive
Legit.ng had earlier reported that the cost of traveling by air within the country has skyrocketed in recent months.
The report noted that between January to June in 2021, Nigeria recorded 5.27 million domestic passengers' arrival and departure traffic.
With airline operators taking advantage to increase the cost of purchasing a ticket to travel around the country.
Source: Legit.ng