UK's high-speed rail row derails Tory party conference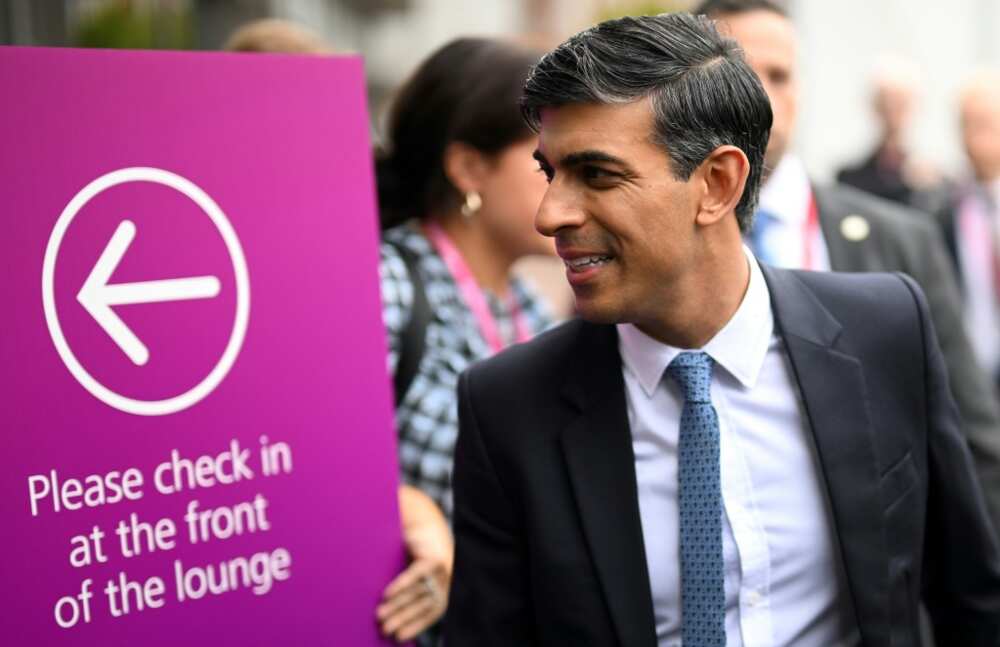 British Prime Minister Rishi Sunak on Tuesday dodged questions over the future of the UK's second high-speed train line, as the issue overshadowed his Conservative party's annual conference.
Sunak's finance minister Jeremy Hunt fuelled speculation about the fate of the northern section of the HS2 line last month when he warned costs were "getting totally out of control".
Several British newspapers and other media outlets reported Tuesday that the decision had been made to abandon the leg between Birmingham and Manchester.
The increasingly controversial infrastructure project was originally intended to link London with Birmingham in central England and other northern cities.
It would be only the UK's second high-speed railway after the one leading to the Channel Tunnel, linking England's southeast with northern France.
HS2 has already been pared back, with an eastern extension towards Nottingham and Leeds ditched it 2021.
Estimated at £37.5 billion ($46 billion) in 2013, the cost has since soared to around £100 billion or possibly more.
Refusing to be candid about the fate of the section in a series of broadcast interviews, Sunak insisted to Sky News he had not made a final call.
"It's right that I'm not going to get forced into making premature decisions, not on something that's so important that costs this country tens of billions of pounds," he added.
Work on HS2's first section between London and Birmingham began in 2020, with the first trains due to run between 2029 and 2033.
'Right decisions'
In his interviews, Sunak faced accusations the annual four-day gathering of grassroots Tories in Manchester which started Sunday has been chaotically eclipsed by the HS2 furore.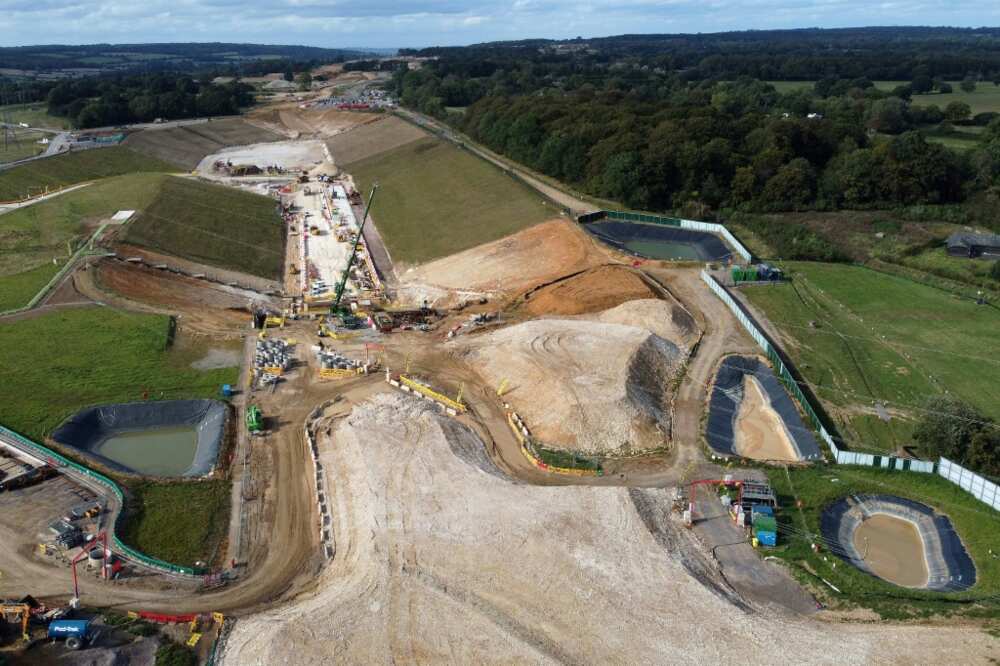 He is trying to unify the party heading into a general election expected next year which it is on track to lose.
Reports about the project's northern leg have dominated coverage and exposed internal splits in the Tories.
At an impromptu press conference Monday, the Birmingham region's Conservative mayor Andy Street implored Sunak not to cancel it.
"You will be turning your back on an opportunity to level up -- a once-in-a-generation opportunity," he told reporters.
"You will indeed be damaging your international reputation as a place to invest," he said, adding he did not rule out resigning over the issue.
Scrapping the section could leave Sunak's government open to accusations of abandoning the Conservatives' much-touted "levelling up" policy.
It aims to reduce economic inequalities across the country, including between the north and the more prosperous London-centred south.
Alongside Brexit, it was a key promise of the Tories' 2019 election campaign, helping them to secure a landslide win in former "red wall" heartlands of the Labour opposition across northern England, dubbed "the red wall".
The Conservatives look hard-pressed to repeat the feat next year, with or without HS2 heading to Manchester.
"The red wall has pretty much made up their minds anyway," Daniel Soan, 35, a Tory member from central England, told AFP on the conference's sidelines.
"I don't think it will help us in the red wall... and I don't think it will help us in the south either," he added of the rail project.
'A bereavement'
The Conservatives, in power since 2010, are still reeling from the crisis-strewn tenures of former prime ministers Boris Johnson and Liz Truss.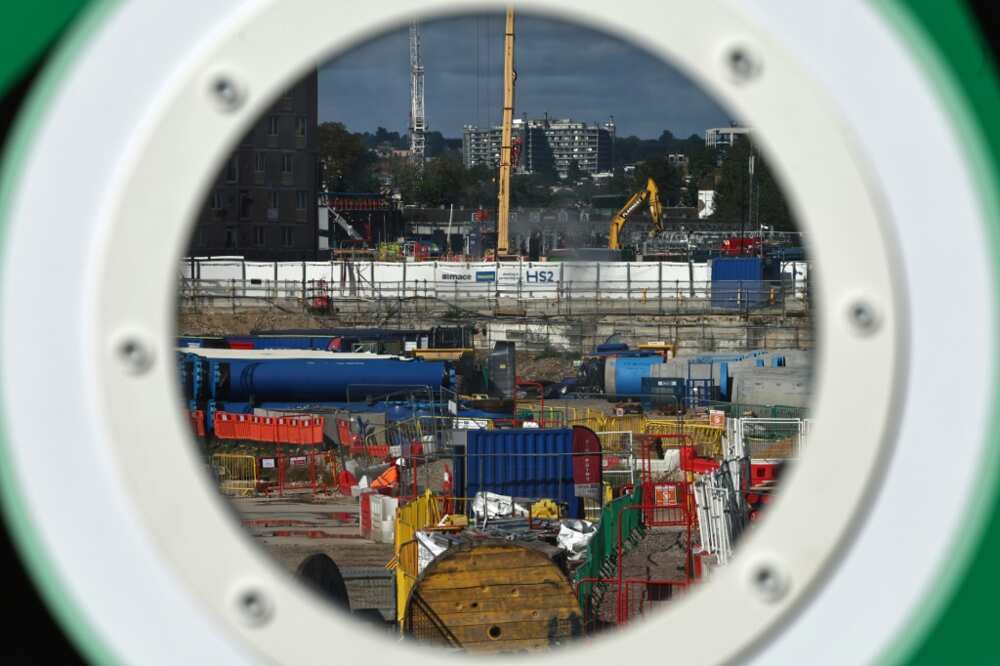 The worst cost-of-living crisis in a generation, stubbornly high inflation and widespread industrial unrest have added to their woes.
Junior doctors and consultants in England are in the midst of their longest joint strike over pay, with hundreds noisily rallying in support of their cause outside the Tory conference Tuesday.
Meanwhile, Sunak has faced calls from within his own party -- spearheaded by Truss -- to slash taxes and reduce spending.
He has insisted lowering inflation remains the "best tax cut".
The former finance minister is set to close the event with a keynote speech Wednesday.
It is tipped to include the announcement about HS2's northern section, with speculation he could unveil new funding for east-west rail connectivity in northern England.
That was welcomed by some Tories.
"East to west is what we need -- a lot of people up my way have been saying that for a long time," said lifelong party member Yvonne Peacock, 71, from North Yorkshire.
"If you want to level up the north, that's how you do it."
But Manchester resident Kathryn Morley, 61, representing a youth charity at the conference, said axing HS2's northern leg felt "like a bereavement".
"It's the symbolism as well as the practicalities," she told AFP.
Source: AFP