Warsaw, Kyiv make breakthrough on Ukrainian grain transit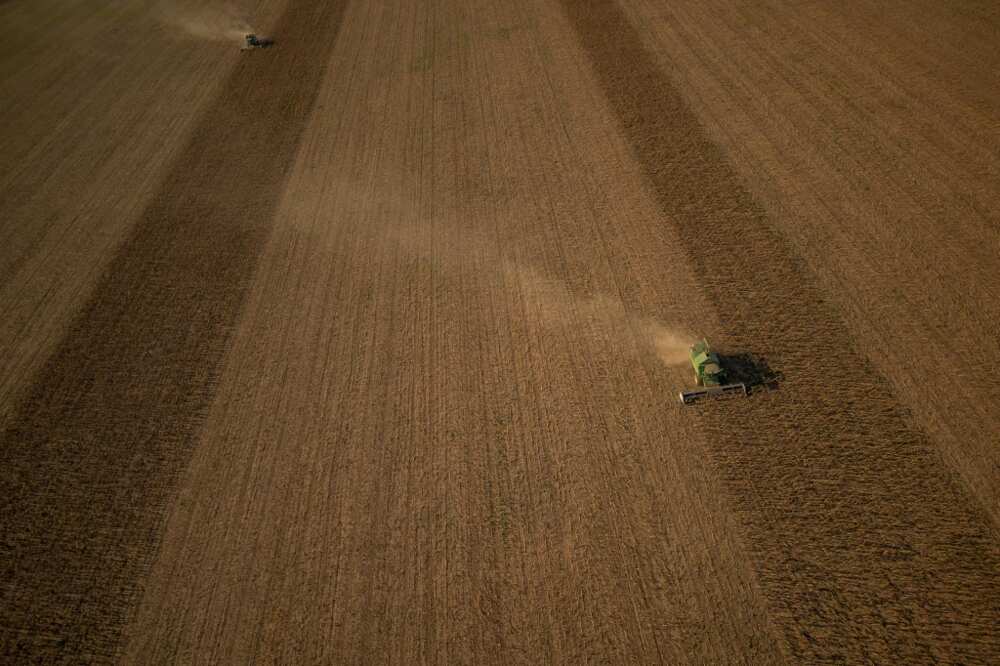 Warsaw and Kyiv announced on Tuesday they had agreed to speed up the transit of Ukrainian cereal exports through Poland to third countries, a first step towards resolving their "grain war".
It is the first breakthrough since the start of a diplomatic spat between the two allies that was triggered when Poland slapped a ban on imports of Ukrainian grain.
The populist government in Warsaw, which faces a general election on October 15, said the embargo was designed to protect local farmers against a collapse in cereal prices.
Ukrainian exports transiting Poland on route to world markets -- in Africa and the Middle East in particular -- remain authorised.
Under Tuesday's agreement, which also involves Lithuania, some Ukrainian grain destined for world markets will transit directly through Poland without undergoing quality checks at the Polish border.
"We have agreed on an important question," Polish Agriculture Minister Robert Telus told journalists after an online meeting with ministers from Ukraine and Lithuania.
"From tomorrow, grains that transit (to world markets) via Lithuania will undergo checks at a Lithuanian port and not at the Poland-Ukraine border."
The Ukrainian agriculture ministry said the deal would "speed up transit through Poland".
Ukraine and Lithuania "support this control mechanism and consider it to be a constructive step", it said.
Unilateral ban
After Russia blocked Ukraine's Black Sea ports -- the main route for its exports -- the European Union lifted customs duties on Ukrainian grains in May 2022 so the commodities could transit to world markets by land via the bloc.
But because of logistical problems, the grain began instead to pile up in EU states neighbouring Ukraine, driving down local prices.
The EU allowed several countries to impose a temporary embargo on Ukrainian cereals, on condition that transit routes remained open.
Brussels ended those restrictions in mid-September and Kyiv pledged to better control its flow of exports.
But Poland, Hungary and Slovakia unilaterally extended the ban, prompting Kyiv to file a lawsuit against them at the World Trade Organization.
Negotiations on allowing Ukrainian grain to enter the Polish domestic market have started but are progressing slowly.
Ukrainian Foreign Minister Dmytro Kuleba said on September 28 the grain war was detrimental to both countries.
"We have conveyed clear signals to Poland about our commitment to a constructive solution," Kuleba told Interfax-Ukraine.
"We don't need this grain war and neither does Poland."
Poland has been one of Ukraine's staunchest supporters since Russia invaded in February 2022 and is one of Kyiv's main suppliers of weapons.
Source: AFP